Lying landlocked in the middle of South America, Bolivia isn't usually regarded as a must-visit country by itself. However, being home to the highest capital city and the largest salt flats in the world, Bolivia has some pretty impressive sights. Add in adventure activities, hiking opportunities and it being one of the cheapest places to visit the Amazon rainforest, and you've got a pretty amazing holiday.
In this article, we'll suggest some of the top destinations in Bolivia and give you a recommended itinerary for a 1 to 2-week trip.
Places include: Copacabana, La Paz, Rurrenabaque, Sucre and Uyuni/ Tupiza
---
Where to start?
Bolivia's main international hub can be found in its capital, La Paz, which is where most travellers arriving on international flights will start their trip.
For those travelling into Bolivia overland from Peru, you'll cross the border along the side of Lake Titicaca and start your trip in the cute lakeside town of Copacabana. Want to see flights? Start here.
---
When to go?
Although you can enjoy Bolivia all-year-round, May to October is generally regarded as the best time to visit. Although this is the Bolivian winter and the temperatures will be cold, this is also the dry season so you will benefit from clear skies and less rain.
---
Bolivia itinerary ideas
Here is a list of some of the best destinations worth visiting and a suggested itinerary for a 1-2 week trip to Bolivia.
Copacabana (optional)
Not to be confused with the famous Brazilian beach of the same name, Copacabana is a small town sitting on the shore of Lake Titicaca. If you're entering Bolivia overland from Peru then this will be your first stop.
Highlights of Copacabana
Visit Isla del Sol – Isla del Sol is an island sitting in Lake Titicaca, about a two-hour boat ride from Copacabana. Take a boat early in the morning and spend the day on the island exploring the many hiking trails. The island is small and can be explored within a day, but if you have the time then why not stay the night. That way you can enjoy sunset and sunrise on the island and take advantage of its beauty and peacefulness once all the day-trippers have left.
Walk up to Cerro Calvario – This viewpoint provides you with the perfect photo opportunity of Copacabana and Lake Titicaca (see below). Visit just before sunset and watch as the orange sky is reflected in the lake.
Try trucha – Trucha is Spanish for trout, and it is one of the must-try meals when visiting Copacabana. Freshly caught from the lake, enjoy it at one of the kiosks sitting by the waterfront or even in your hotel (see our suggestions further below).
Tour ideas
Here are some tours and activities you might like during your visit.
Length of stay
2 days is enough to see Titicaca Lake and visit Isla del Sol.
Accommodation
Budget: Hostal La Cupula – Offering basic rooms with a shared bathroom this highly-rated property comes with great views over the lake.
Mid-range: Hotel Estelar del Lago Titicaca – In a great location with lake view rooms and close to the city's main square. Here you can enjoy private rooms along with free breakfast.
Luxury: Hotel Rosario Lago Titicaca – Located along the Titicaca Lake and in a central part of the city, this hotel is highly rated and would be a great place to stay. Also within the hotel you can enjoy food at the restaurant which includes trout and Bolivian wine.
How to get to Copacabana
If you're coming from Peru you will take a bus from Puno along the shore of Lake Titicaca. From La Paz it's a 3-hour bus ride to get here.
ADVERTISEMENT
CONTINUE READING BELOW
---
La Paz
La Paz is the capital city of Bolivia and at 3,640m above sea level it's the highest capital city in the world. The bustling city is filled with local markets and is a great place to experience Bolivian culture. There's also plenty of cool day trips to take from the city, making it a great place to base for a while.
Highlights of La Paz
Walking tour – Take a walking tour to see and hear about the highlights of the city, including the witches market, presidential square and the infamous San Pedro Prison (setting of the best-selling book, 'Marching Powder'). Note: tour suggestions further below.
Cholita Wrestling – Perhaps the weirdest thing you can do in Bolivia, Cholita wrestling is a one of a kind event featuring local indigenous women taking to the ring and battling it out. Whilst this is undoubtedly for the benefit of tourists only, the sport has been a way for Bolivian women to reclaim the once derogatory word "Cholita" in a positive and empowering way.
The teleferico system – Offering stunning birds-eye views of the city, the highest cable car ride in the world is not just a tourist attraction but a fast and reliable public transport system providing the best way to get around La Paz. For the best views take the red line up to El Alto, where you can also visit Bolivia's largest market (Thursday and Sunday only).
Visit Valle de la Luna – If you want to see a unique, lunar-like landscape then take a trip to Moon Valley, just 10km outside of downtown La Paz. Full of strange, naturally made rock formations, a visit here can often be combined with a visit to Chacaltaya.
Visit Chacaltaya – Once the highest commercial ski resort in the world, Chacaltaya is now closed but is an interesting place to visit. Standing at approx 5,375 metres you may find yourself surrounded by snow just a couple of hours' drive from the city.
Mountain bike down Death Road – One of the most popular things to do in Bolivia is to bike down the notorious Yungas Road. Not one for the fainthearted, it is known as the most dangerous road in the world due to the number of fatalities that have occurred here. Safety measures have now been introduced and the views are indeed stunning, but make sure to choose a company with a good safety record. Here's a tour option from GetYourGuide.
Climb Huayna Potosi – If you want to be able to say you've climbed a 6,088m mountain then this is the place to do it. Although the altitude sickness makes climbing Mt. Potosi no easy feat, it is one of the few places in the world where you can climb to over 6,000m with no prior mountaineering experience.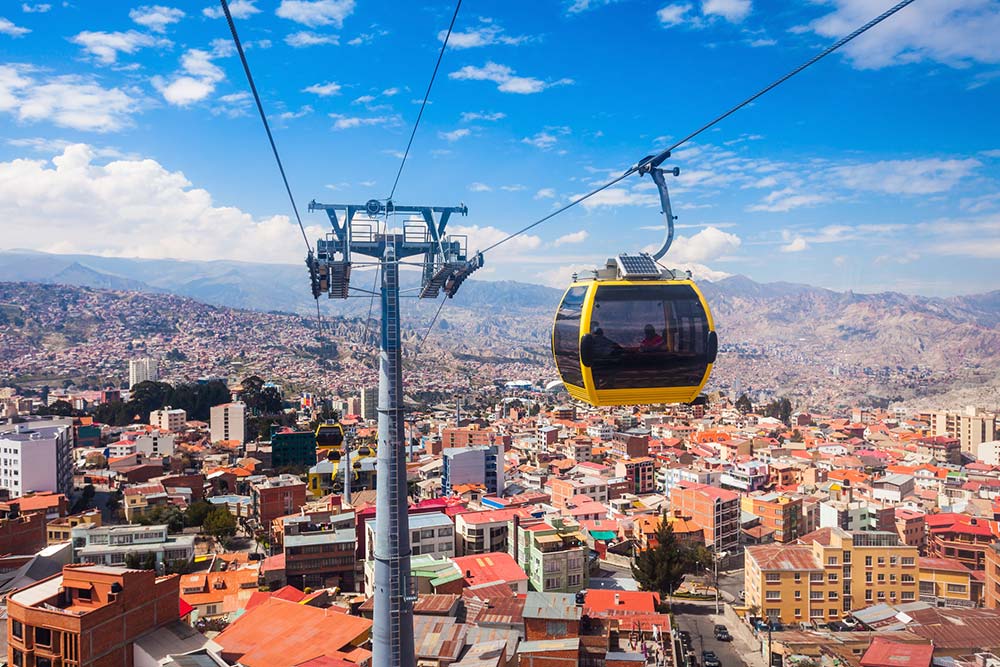 Tour ideas
Below are some tours and activities you might like during your visit to La Paz. Click the blue-button to see more.
Length of stay
2-3 days is enough to fully explore the city. Stay longer if you'd like to do lots of day trips from the city.
Accommodation
Budget: The Adventure Brew Downtown – As can be expected from the name, this hostel is in a great location. It also has extremely cheap dorms (from £5) so perfect for budget travellers.
Mid-range: Stannum Boutique Hotel & Spa – This beautiful boutique hotel offers some great wellness facilities including a spa, massages and sauna. As well as this, some of the rooms will offer you fantastic views of the city and mountains. There is also a bar and restaurant on-site.
Luxury: Atix Hotel – For those after a luxury stay then consider the Atix Hotel. Featuring fantastic facilities such as a swimming pool, steam room, sauna, as well as an on-site bar and restaurant you may not want to leave your hotel.
How to get to La Paz
La Paz has an international airport which most travellers will fly into and has plenty of connections to places around the world.
ADVERTISEMENT
CONTINUE READING BELOW
---
Rurrenabaque (Optional)
Rurrenabaque is the place to visit if you want to do a tour of the Amazon Rainforest. Lesser known than Amazonian tours in Brazil and Peru, it provides a cheaper and more remote opportunity to experience this natural wonder.
For more information on planning a visit to Rurrenabaque, check out our Travel Guide to Visiting the Amazon in Bolivia.
Highlights of Rurrenabaque
Tour of Madidi National Park – Take a jungle tour to fully experience the Amazon Rainforest. Hike through the jungle and see the flora and fauna, birds, monkeys and, if you're lucky, leopards.
Tour of the Yacuma River – If it's wildlife you're after then take a pampas tour on the Yacuma River. You'll see capybaras, turtles, alligators, caimans, monkeys and more and may even get the chance to swim with pink river dolphins.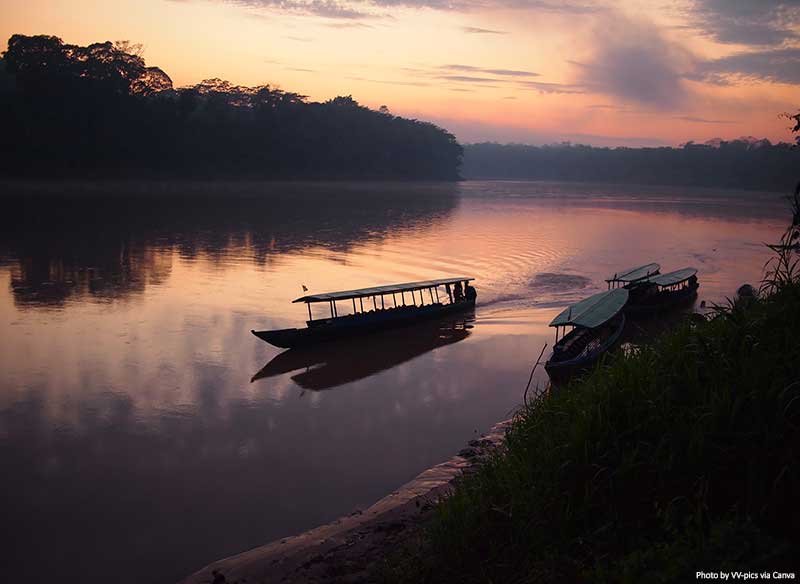 Length of stay
5 days is a good amount of time to explore both the jungle and the pampas.
Accommodation
Budget: Hostal El Lobo – Offering free breakfast, a swimming pool, bar, games room and tour desk this hostel will be a great choice for budget travellers.
Mid-range: La Isla de los Tucanes – Complete with an outdoor pool and in a central location this property would be a good option. There is a mix of rooms including singles, doubles and twins.
Higher-end: Hotel Hotel Maya de la Amazonia – Our top choice of hotels, here you'll get well-equipped rooms, nice views, a pool, as well as an on-site restaurant and bar. What's more, you get free breakfast.
How to get to Rurrenabaque
Take an overnight bus or one hour flight from La Paz.
ADVERTISEMENT
CONTINUE READING BELOW
---
Sucre
Although it is the constitutional capital of Bolivia, Sucre has more of a small-town feel. It is a relaxed and charming city full of colonial buildings and nice cafes and is well worth a visit on any Bolivian itinerary.
Highlights of Sucre
Temple de San Felipe Neri – A hidden gem in Sucre, if you can find the entrance to this place then climb the stairs to the roof and you'll be rewarded with stunning views of the orange rooftops spreading out over the city.
Plaza de Armas – Sitting in the centre of the city surrounded by cafes and ice cream shops, this is a great place to spend an afternoon people watching.
Walk up to Recoleta – Walk up to this old monastery sitting on a hill for a panoramic view of the city between the arches.
Learn Spanish – Sucre is known as one of the best places in South America to learn Spanish. With the Bolivian dialect being slow and clear and Spanish lessons being offered for cheap prices, Sucre is a great place to get back to school and learn a new language.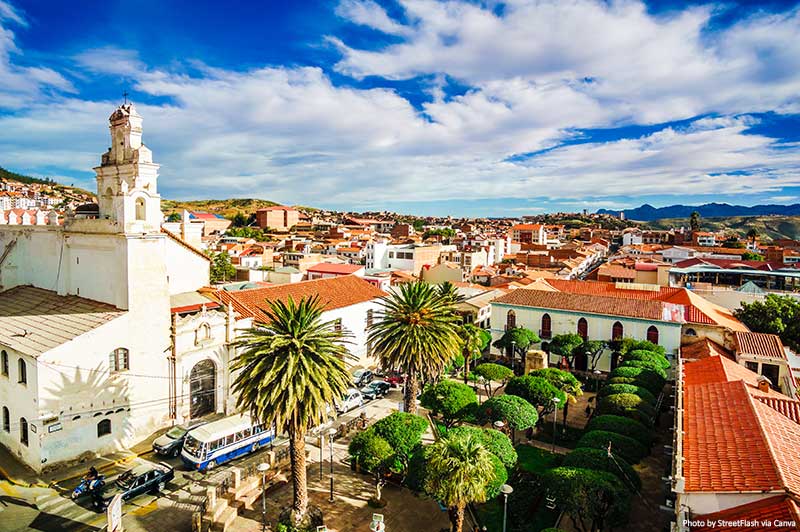 Length of stay
If you're not studying Spanish then 1-2 days in the city is probably enough.
Accommodation
Budget: Celtic Cross Hostel – Offering dormitory rooms and an on-site bar, this hostel would be a good choice for backpackers.
Mid-range: Hotel Boutique La Posada – A boutique hotel only 200 yards from the main square. Offering free Wi-Fi, breakfast and other perks and a range of rooms for a decent price.
Luxury: Parador Santa Maria La Real – A lovely hotel with beautiful rooms located in a central spot in the city. The hotel includes luxury features such as a sauna, spa and wellness centre, hot tub and massage. There is also a bar and restaurant available. Definitely a top choice for those after something a bit special.
How to get to Sucre
Take an overnight bus from La Paz.
ADVERTISEMENT
CONTINUE READING BELOW
---
Uyuni or Tupiza
If you're visiting Bolivia there is one thing that you really can't miss, and that is the chance to see the world's largest salt flats.
Whatever time of year you'll be overawed by the landscape here. In the dry season take advantage of the endless white plains of salt to take some cool unique photos. In the rainy season you'll get to see some great reflections as the rain turns the salt flats into a natural mirror.
You can visit the salt flats from either Uyuni or Tupiza. Uyuni is the more common option, and so generally busier, but tours departing from both towns and will ultimately visit the same spots, but just in a different order.
Highlights
Tour to the Salt Flats – Although you can take a 1-day tour of the salt flats, it really is worth spending more time here so you can get deeper into the desert. This way, as well as seeing the train cemetery and Incahuasi, a rocky island filled with cacti sitting in the middle of the salt flats, you'll also be treated to steaming geysers, colourful lakes filled with flamingos, volcanoes, hot springs and more.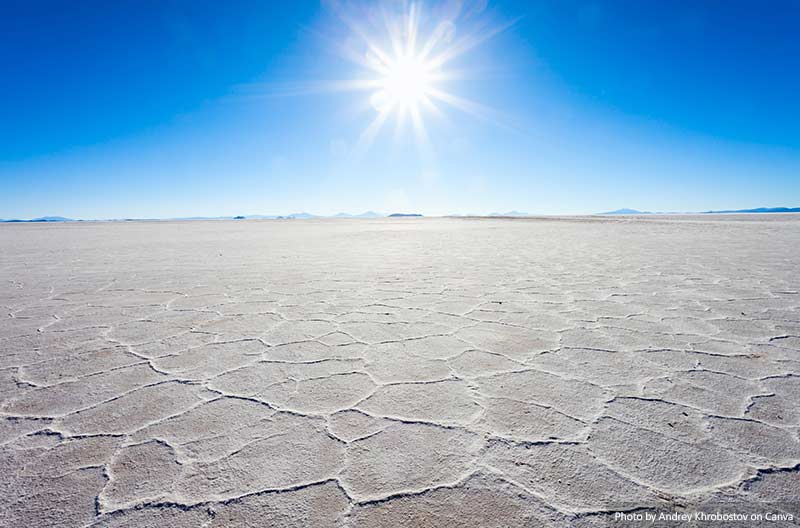 Tour ideas
Here are some tours and activities you might like for Uyuni.
Length of stay
Start your salt flats tour as soon as you can as there is nothing much to do in the towns themselves.
Accommodation
Budget: Hostel Bunker (Uyuni) – Offering private and shared rooms as well as free WiFi and breakfast. The hostel is also located in a central location close to the train station.
Mid-range/Luxury: Hotel Boutique Atipax – A beautiful boutique hotel offering mountain view rooms and packed with features. Including WiFi, a bar, restaurant and coffee-house on-site. What's more, many of the rooms come with breakfast included.
How to get to Uyuni/Tupiza
Take an overnight bus from La Paz or Sucre.
ADVERTISEMENT
CONTINUE READING BELOW
---
Have more time?
If you have more time in Bolivia then visit the working silver mines of Potosi or the modern, up and coming city of Santa Cruz. If it's nature and hiking you're after then make a trip to Samaipata, a small town in the eastern foothills of the Bolivian Andes and the gateway to Amboró National Park, with its cloud forest, waterfalls and diverse birdlife.
---
Summary
Bolivia offers something for everyone. From hurtling down Death Road to wildlife spotting in the Amazon, to driving across the world's largest salt flats, there is so much to see and do that it's impossible to be bored here. Add in the varying scenery, from lakes to mountains to rainforest to desert, and you'll find that Bolivia is an ideal destination for everyone.
You may also like our article on a Peru Travel Itinerary: What to Do on a 1-2 Week Trip.
Ready to book? Search for:
---