Peru is on most travellers' bucket list due to it being home to the world-famous Machu Picchu. However, Peru has way more to offer than just the Unesco World Heritage Site. As well as a rich culture and history, it offers breathtaking scenery ranging from mountains to beaches, abundant wildlife and cool cities.
In this article, we fill you in on some of the top destinations in Peru and give you a recommended itinerary for a 1 to 2-week trip.
Places included: Lima, Paracas, Huacachina, Cusco, Machu Picchu, Arequipa
---
Where to start?
Peru's main international hub can be found in its capital, Lima, which is where most travellers will fly into. Lima is situated right in the middle of the Peruvian coastline, and for this itinerary you would then start heading south to the suggested destinations below.
---
When to go?
The best time to visit Peru is generally regarded as during the winter, between May to September, as this is when there is the least rain. However, this is only really an issue for hiking in the more mountainous areas. In the coastal areas, you'll enjoy the warmer temperatures of summer. Peru can therefore be visited and enjoyed year-round, with the only real month to avoid being February when Machu Picchu is closed.
---
Peru itinerary ideas
Here are some of the best Peru destinations worth visiting on a 1-2 week trip to Peru.
Lima
The capital city of Peru is a bustling metropolis which can feel overwhelming when you first arrive. However, with tons of good restaurants, a peaceful waterfront and cheap markets, give Lima a chance and it may surprise you. Miraflores is the best area to base yourself in when exploring the city.
Highlights of Lima
Barranco District – Known as the bohemian district of Lima, Barranco is famous for the street art which adorns the walls of the colourful buildings. It's also home to some of the best bars and restaurants in the city.
Historical centre – See the Presidential Palace and Lima Cathedral which sit around the central square of Plaza de Armas de Lima. A great way to explore this area is by taking a free walking tour where you will hear all about the sights from a local.
Visit Larcomar – If you're after some retail therapy then visit the Larcomar shopping center in Miraflores. As well as shops there are loads of restaurants with a great view over the Pacific.
Eat Ceviche at a local fish market – There's no better place to try the national dish of Peru than at a local fish market. Pair it with a pisco sour to really get a taste of Peruvian cuisine.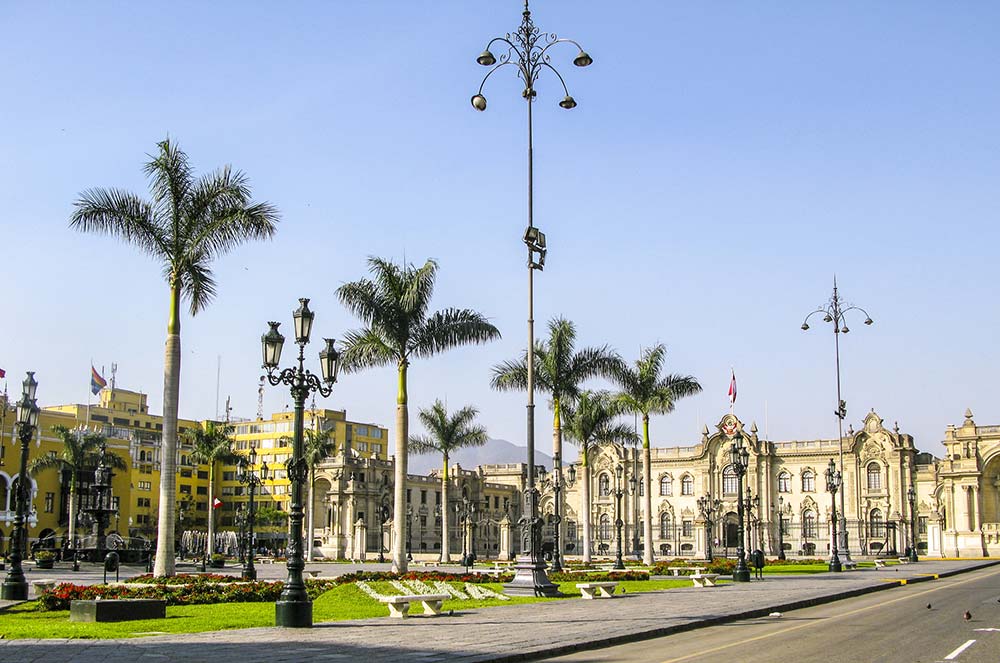 Tour ideas
Here are some tours and activities you might like in Lima. Click the blue-button to see more.
Length of stay
1 or 2 days is enough to fully explore the city.
Accommodation
How to get to Lima
Lima has a large international airport to which it is possible to fly direct from most European countries. See flights.
ADVERTISEMENT
CONTINUE READING BELOW
---
Paracas
Paracas is a small beachside town which sits just outside a sprawling national reserve. Not only is the scenery of the desert meeting the ocean striking, but the reserve is home to an abundance of wildlife, so it is worth a stop as you make your way down the coast.
Highlights of Paracas
Paracas National Reserve – This protected area is home to beaches, incredible rock formations and a dramatic wind and wave sculpted shoreline. It's well worth a visit, particularly at sunset to see the golden sandy clifftops.
Boat tour to Isla Ballestas – Known by some as the poor man's Galapagos, if you won't be making a trip to the Ecuadorian islands anytime soon then a visit to Isla Ballestas will make up for it. Home to birds, sea lions and even penguins, it's a great place to get your wildlife fix whilst in Peru.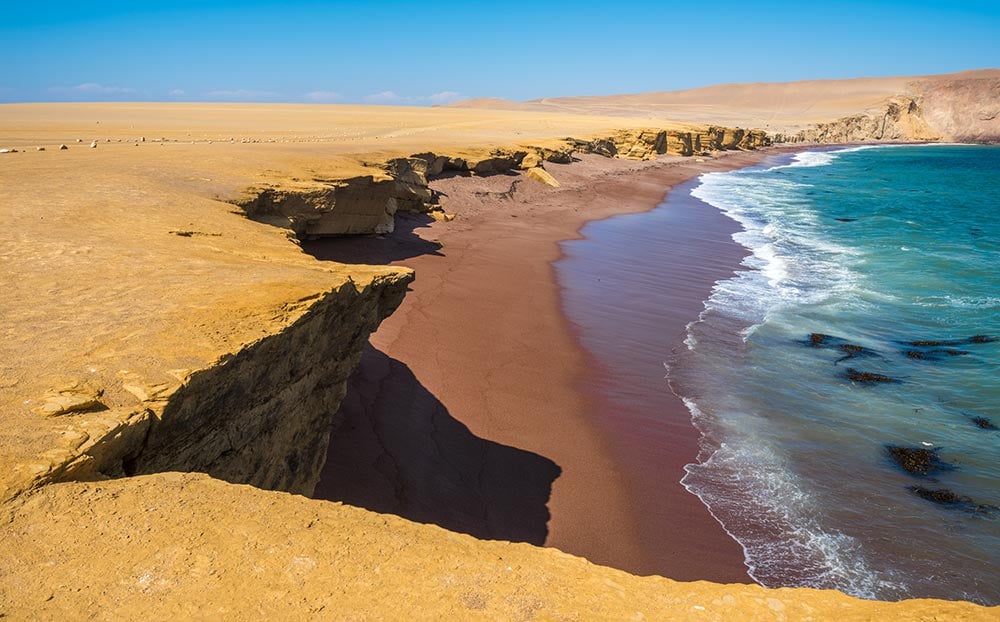 Tour ideas
Here are some tours and activities you might like during your visit.
Length of stay
1-2 days to explore the National Reserve.
Accommodation
How to get to Paracas
Paracas is about a 4-hour bus journey from Lima.
Buses in Peru are regular and well set up for tourists. Many bus companies operate routes between the destinations here, with Cruz del Sur being one of the most popular. Use the RedBus (Android | IOS) and/or BusBud apps to check timetables and book all your buses whilst in Peru.
ADVERTISEMENT
CONTINUE READING BELOW
---
Huacachina
Huacachina is a tiny village situated around a desert oasis. Around the lagoon you'll find a couple of streets dotted with restaurants and bars, and beyond that it is sand dunes as far as the eye can see.
Highlights of Huacachina
Dune buggy riding – Take a dune buggy and go riding off into the desert. Not only will it allow you to see the full expanse of the area but it will get the adrenaline going as you fly over the dunes.
Sandboarding – There's no better way to fully experience the sand dunes than getting up close and personal with them whilst lying on a small plastic board. Hold on tight as you fly down the dunes or, if you're feeling confident, tackle them standing up snowboarder style.
Tour ideas
Here are some tours and activities you might like during your visit.
Length of stay
1 full day is enough time to enjoy the sand dunes.
Accommodation
How to get to Huacachina
To get to Huacachina you will need to catch a bus to Ica, the closest city. Ica is about a 1.5 hour bus from Paracas or a 6-hour direct bus from Lima. From Ica grab a taxi for the 10-minute journey to the oasis.
ADVERTISEMENT
CONTINUE READING BELOW
---
Cusco
If you're visiting Peru to experience the rich history of the Inca's and the dynamic local culture then Cusco is the place to be.
Cusco is a touristy town and the base for reaching some of Peru's most famous sites, such as Machu Picchu and Rainbow Mountain. With lots to see in the town itself, tons of good restaurants and bars and a whole list of things to do in the surroundings, Cusco is a place which deserves a good amount of time on any Peru Itinerary.
Highlights of Cusco
Cusco Cathedral – Sitting along one side of the central Plaza de Armas, the cathedral is the icon of Cusco.
San Blas Viewpoint – Tackle the short but steep walk up to the San Blas viewpoint to see the whole of Cusco laid out in front of you with the mountains as a backdrop.
Visit the Sacred Valley – The birthplace of the Inca civilisation and home to archaeological complexes, colonial churches, salt ponds, agricultural terraces and more. There are so many places to see in the Sacred Valley, but a stay in the old town of Ollantaytambo is a popular option.
Day trip to Laguna Humantay – A great day hike to do from Cusco is to Laguna Humantay, a green-blue lagoon surrounded by snow-capped mountains.
Tour to Rainbow Mountain – A visit to Rainbow Mountain is up there with Machu Picchu as being a must-visit when in Peru. Situated at 5,200m above sea level a trip here shouldn't be taken lightly, but provided you're fully acclimatised it really is worth the trek. Yes, it's super busy, but when you witness the iconic stripes of natural colours across the mountain ridge you'll see it's for good reason.
Tour to the Red Valley – Combine a tour to Rainbow Mountain with a visit to the Red Valley. Although only walking distance apart, the Red Valley is overlooked by most visitors to Rainbow Mountain and so you'll have this mars-like landscape pretty much all to yourself.
Multi-Day trekking tour – There are tons of multi-day trekking opportunities around Cusco. One of the most popular is the Salkantay trek. At 74km over 5 days it's tough but very rewarding, and you'll finish the trek in Agua Caliente with a trip to Machu Picchu (see further below).
Tour ideas
Here are some tours and activities you might like in Cusco. Click the blue-button to see more.
Length of stay
Not including your trip to Machu Picchu (see below), 4-5 days is enough to see the main attractions in and around Cusco, but there's plenty of things to do if you have time to stay longer.
Accommodation
How to get to Cusco
Overnight bus from Huacachina. Cusco is also home to an international airport and there are regular flights from Lima for those short on time.
ADVERTISEMENT
CONTINUE READING BELOW
---
Machu Picchu
Standing at 2,430m above sea level, the image of the Incan ruins lying amongst the Andes mountains is iconic and synonymous with Peru. Despite undoubtedly seeing the picture hundreds of times, you will still find your breath being taken away when you see it with your own eyes.
Tickets to Machu Picchu need to be booked in advance and it is best visited either very early morning or late in the afternoon to avoid the crowds.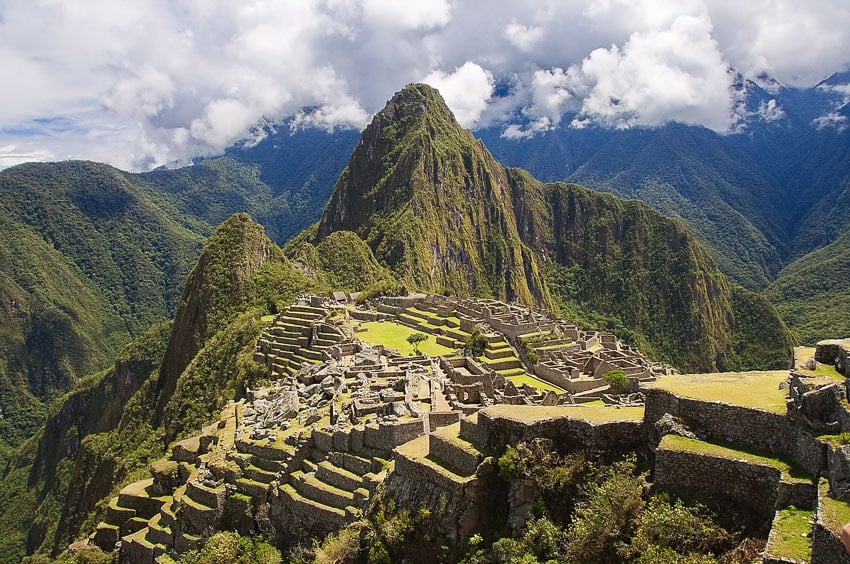 Tours and Activities
Here are some tours and activities
Length of stay
1 day. There is not much to do in the touristy and overpriced Agua Caliente so only plan to stay for as long as it takes you to see Machu Picchu.
Accommodation
How to get to Machu Picchu
If you're lucky enough to have secured a place on the Inca Trail (there's a limited number of permits given out each year) then this will take you directly into Machu Picchu. For everyone else, coming from Cusco you'll first need to get to Agua Caliente, the small town at the base of Machu Picchu. There are three ways to do this:
Trekking tour – If you sign up for a tour from Cusco (such as the Salkantay Trek or the Jungle Trek) then chances are the tour will finish in Agua Caliente for you then to explore Machu Picchu independently.
Bus then hike – From Cusco book a bus from any of the tourist agencies to Hidroelectrica. This is where the road ends and so from here you will have to walk the final part to Agua Caliente. The walk is straightforward, it simply follows the railway tracks, and takes about 3 hours.
Train – The most expensive option but the only way to get directly from Cusco to Agua Caliente. Book ahead as trains can get booked up quite far in advance.
From Agua Caliente you can then walk to Machu Picchu (beware it's a hard steep walk up the mountain) or take a 30 minute shuttle bus there and back.
---
Arequipa
Known as the "white city" and named a UNESCO World Heritage Site, Arequipa is a charming city full of colonial whitewashed buildings, good food and a nice climate.
Highlights of Arequipa
Santa Catalina Monastery – Almost a mini city itself with its own alleys and squares, you can get lost exploring the painted arches and beautiful frescoes of this Monastery.
Plaza de Armas – Sitting in the centre of the city, this palm tree-filled square overlooked by the Basilica Cathedral provides the perfect spot to sit back and people watch. At sunset head into one of the rooftop bars around the plaza and watch the sun setting over the cathedral spires.
Walk up to the Yanahuara Viewpoint – Arequipa is surrounded by three volcanoes and a walk up to this viewpoint will provide a perfect view.
Colca Canyon – Just outside Arequipa lies Colca Canyon, one of the deepest canyons in the world. If you like hiking then a visit here is a must. Spot condors flying overhead as you descend through the canyon to the lush green centre.
Food – Arequipa is known for having some amazing local specialities that can't be found elsewhere in Peru. Try"cheese ice cream" from one of the carts sitting on the square (named after its golden colour, it doesn't actually contain any cheese). Check out Victoria Picanteria for a taste of all the local offerings, including alpaca, quinoa and rocoto relleno (hot pepper stuffed with meat served with boiled potato covered with cheese).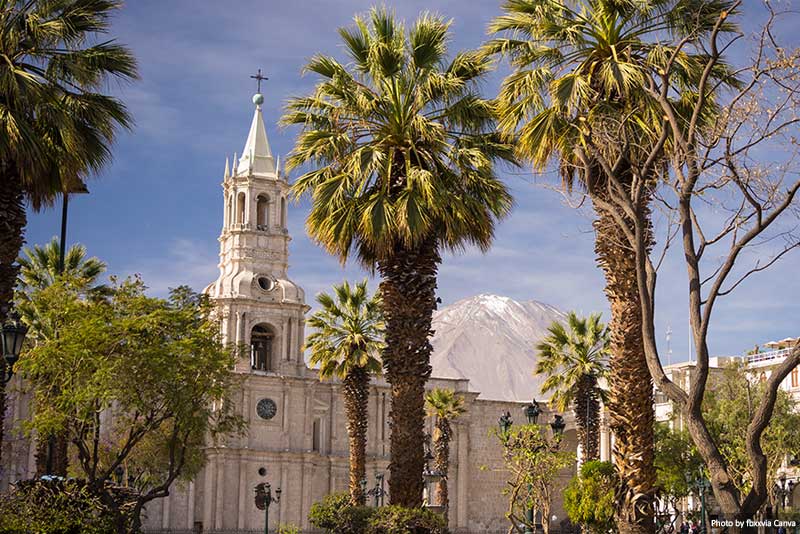 Tour ideas
Here are some tours and activities you might like during your visit.
Length of stay
1-2 days in the city (not including a visit to Colca Canyon) is enough, although you may find yourself wanting to stay longer.
Accommodation
How to get to Arequipa
Take an overnight bus from Cusco or a 1-hour flight from either Lima or Cusco.
---
Have more time?
If you have more than two weeks and want to extend your Peru itinerary, then why not explore the north of Peru? Go hiking in Huaraz amongst snow-covered mountains and picture-perfect blue lagoons, hit the beach town of Mancora for sun and surfing galore, or explore the Amazon rainforest from Iquitos.
---
Peru Guided Multi-Day Tours
Another way of seeing Peru and highlights around the country is through a guided and specialist tour. A recommendation would be G Adventures who offer great itineraries which come packed with features. Below is one example that they offer (subject to change).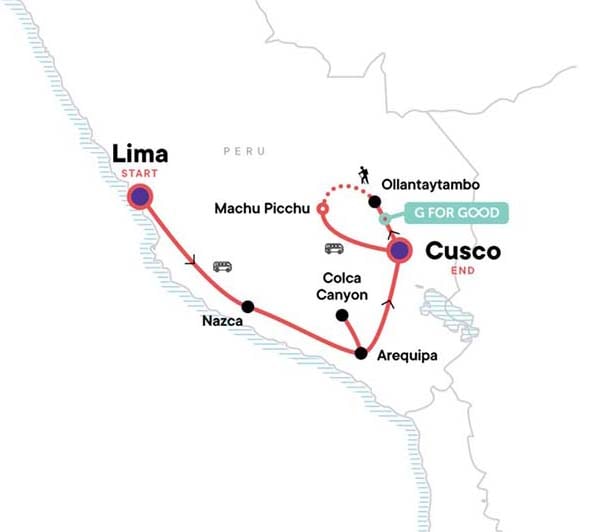 ---
Summary
Full of Inca ruins, Peru is a country rich in history. But it also offers amazing hiking opportunities, adventure activities, wildlife spotting, good food and a unique local culture. It's little wonder it's one of the most popular countries in South America.
Use this itinerary to see all the highlights, and make the most of your trip to Peru.