Peru is a country that is steeped in rich history, vibrant culture, and breathtaking scenery. From the ancient ruins of Machu Picchu to the vibrant streets of Lima, this South American country offers a wealth of experiences that will leave any traveller in awe. Explore the Andes mountains, hike along the Inca trail, or paddle through the Amazon rainforest.
With its diverse terrain and breathtaking scenery, Peru is a traveller's paradise. Immerse yourself in the local culture by trying traditional Peruvian dishes like ceviche or attending a lively dance performance. And let's not forget about the iconic llamas and alpacas that roam the countryside.
Whether you're an adventure-seeker looking to hike the famous Inca Trail, a foodie eager to try traditional Peruvian cuisine, or a history buff interested in exploring ancient ruins, Peru is a destination that has something for everyone.
Read some of our Peru travel articles below for tips and inspiration. You can find yourself a top hotel using our accommodation map and also discover some fun and exciting activities that you may like on your trip. So get ready to discover the magic that makes it one of the most incredible travel destinations in the world.
---
Articles, tips and inspiration on Peru
Here are some articles about or that include Peru:
---
Popular and famous places to visit in Peru
Not sure where to go? Here are some of the most popular and famous places to visit in Peru:
Lima, Peru's capital where you could experience the food and culture.
Huacachina, a beautiful desert oasis.
Machu Picchu, located in the Andes and one of the most famous historical sites in the world.
Arequipa a UNESCO World Heritage City with old colonial buildings.
Cusco, a top city to base yourself for visiting highlights such as the Rainbow Mountain, the Sacred Valley and even Machu Picchu.
For more inspiration and ideas read:
Peru Travel Itinerary: What to Do on a 1-2 Week Trip
---
Peru hotel map and accommodation
Find your perfect Peru accommodation using this interactive map. You can search for both hotels and apartments. Use the filters to adjust your search.
Note: Please wait a moment for the map to load as well as the suggestions of places to stay. Sometimes you may also have to just move the map slightly or zoom into your desired location to see additional properties which are available.
Click the button below to find more accommodation options:
---
Top tours and activities in Peru
Here are some of the best activities that you may like for Peru. These are provided through our partners. You can also use the blue-button a little below where you can be more specific with your search, including adding your dates, filtering by type of tour and many more options.
---
Peru guided and specialist tours
For multi-day (or longer) guided itineraries then consider G Adventures who are specialists in these types of tours and have some great options such as below.
Their Peru tours come with heaps of features and will show you highlights from around the country helping you to see top cities such as Lima and Cusco, as well as the ancient Machu Picchu. You can also pick tours that help you see other countries throughout South America too.
Depending on which tour you choose they often include local guides, internal flights, additional transport, hotels, certain meals and more.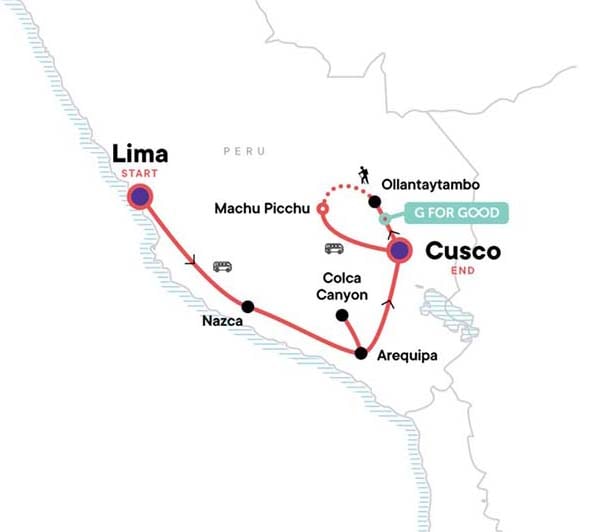 ---
Transport
Below are services for finding transport. You can start searching for flights through a site such as Skyscanner.
Here are some other services that can help you get around, such as by using trains, buses and cars.
---
ADVERTISEMENT
CONTINUE BELOW
---
Want to find somewhere else? You can use the button below to find a different country.