South America is a continent that is on many people's bucket list but planning a trip here can feel overwhelming given its huge size. There are indeed so many places to visit and things to do that it can seem like months here wouldn't be enough. To help you with your travel planning, here is a list of some of the best and most iconic things to do in South America.
---
1. Enjoy nature on the Galapagos Islands
A 2-hour flight from mainland Ecuador brings you to the Galapagos Islands, a must-visit for animal lovers and underwater enthusiasts.
The Galapagos Islands are famous worldwide for having some of the most incredible and diverse nature and wildlife in the world. Sea lions, turtles, marine iguanas, flamingos, giant tortoises and, of course, the famous blue-footed booby, can all be spotted here, amongst many many more. Whilst a visit here is expensive, it's likely to be a highlight of your trip to South America and the opportunities to spot wildlife are really unparalleled anywhere else in the world.
Country: Ecuador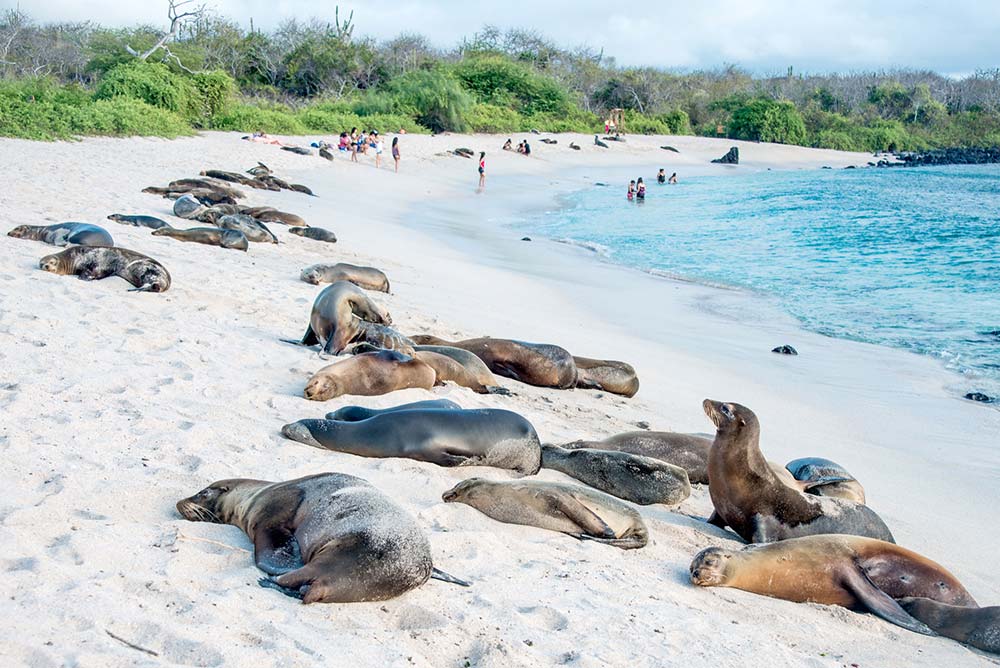 2. See the mighty Iguazu Falls
On the border between Argentina and Brazil you can find the largest waterfall system in the world by volume, the mighty Iguazu Falls.
It's possible to visit the falls from both countries, with the Brazilian side giving you more of the postcard panorama whereas the Argentinian side gives you not only a view of the falls but the chance to walk among the cascades. The Garganta do Diablo (Devil's Throat) takes you right to the precipice, and although you should be prepared to get wet, there is no better way to appreciate the full force of mother nature than feeling the water thundering down around you.
Countries: Argentina and Brazil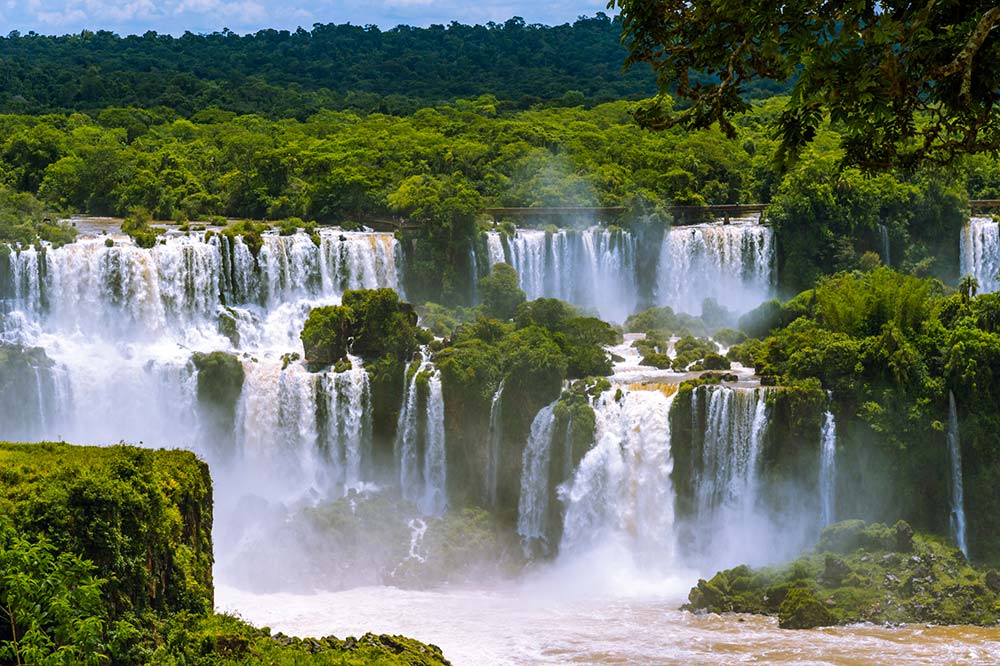 3. Hike in the Torres del Paine National Park
One of the most famous hikes in South America and up there with some of the top multi-day hikes in the world, a visit to Torres del Paine National Park is a must whilst in South America.
On the Chilean side of Patagonia, it is the location of the famous Las Torres Towers. These three granite peaks of the Paine Massif loom over a lagoon, and are the postcard image of the National Park. If you're short on time these can be visited as a day trip from the nearby town of Punta Arenas, but if you can take the time to do one of the multi-day hikes here. The W trek is a "W" shape hike around the south of the park and the "O" trek is a longer full loop of the park. Whichever hike you choose, you'll be treated to some unreal scenery, including the iconic Glacier Grey, which can be viewed from multiple viewpoints including some pretty epic hanging bridges, the 770m high Mirador Britanico. Read our Ultimate Guide to Hiking the W Trek in Torres del Paine National Park.
Country: Chile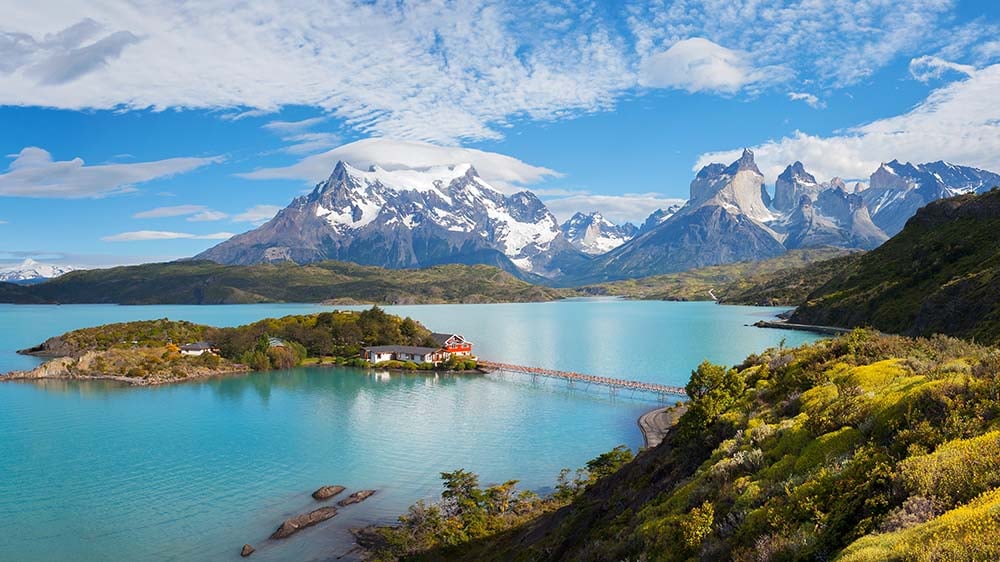 4. Relax on stunning beaches in Brazil
If you're looking to visit stunning beaches then Brazil has got you covered. With a coastline stretching for over 7000km, there are so many sandy beaches to visit that you'll be spoilt for choice.
Of course there are the iconic beaches of Copacabana and Ipanema in Rio de Janeiro, with their long stretches of sand right next to the city, but these are nothing compared to what the rest of Brazil has to offer.
Florianopolis is a paradise for hiking and beach lovers. Ilha Grande has water so crystal clear you can watch the fish without even getting in the water, plus is home to Lopes Mendes beach, known as being one of the most beautiful beaches in Brazil. And the towns of Arraial do Cabo and Buzios have stunning white-sand beaches and turquoise waters just a few hours away from Rio. Read about some of the most beautiful places to visit along the coast of Brazil.
Country: Brazil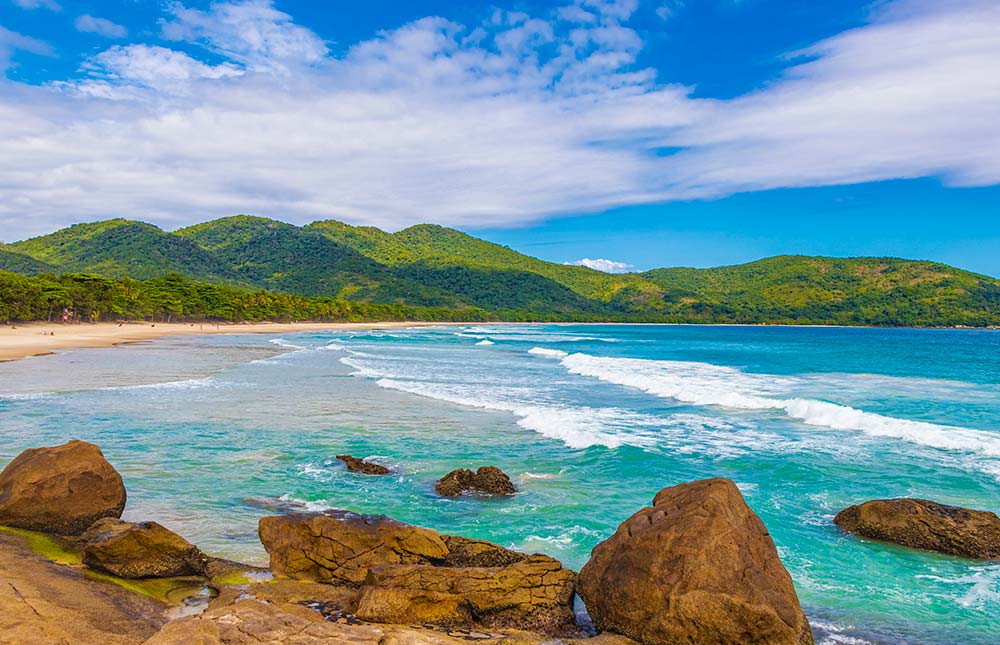 5. Explore the Amazon Rainforest
The Amazon is the world's largest tropical rainforest and is a must-see for anyone visiting South America. Whilst two-thirds of the Amazon can be found in Brazil, it actually scans eight different countries across the continent, including Peru, Ecuador, Bolivia, Colombia and Venezuela. The latter options can often provide a less expensive and more accessible opportunity to visit this natural wonder, and so there's no reason not to take the opportunity to visit whilst on the continent.
With the chance to see the amazing flora and fauna, including monkeys, toucans, capybaras, alligators, caimans, and even pink river dolphins and the ever-elusive leopard, visiting the Amazon really is a must-do whilst in South America. Read our Travel Guide to Visiting the Amazon in Bolivia.
Country: Brazil, Bolivia, Peru, Colombia
6. Visit Machu Picchu
Standing at 2,430m above sea level, the image of Machu Picchu rising up amongst the mountains is the postcard image of Peru and the whole of South America, and visiting here is often one of the main reasons travellers choose to visit South America in the first place.
Visit independently, as part of a tour from nearby Cusco, or visit as part of a multiday trek around the region with the ruins as your finale. However you choose to visit, you can't come to Peru without seeing this incredible wonder. Despite undoubtedly seeing the picture hundreds of times, you will still find your breath being taken away when you see it with your own eyes.
Country: Peru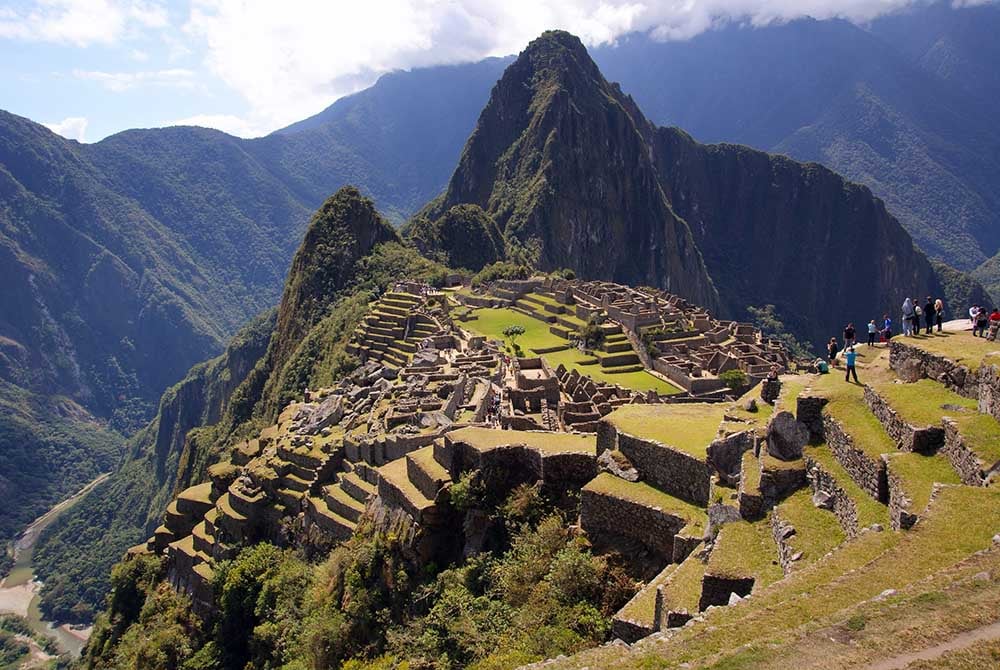 7. Explore the coffee region of Colombia
We've all heard of Colombian coffee and it really does live up to the hype. Even if you're not that big of a coffee drinker before coming here, as one of the biggest coffee bean producers in the world and with high-quality coffee sold everywhere, you're sure to be one by the time you leave.
Salento is the most visited town within Colombia's coffee region but nearby Jardin is a lot less touristy and arguably home to even better cafes and coffee shops.
Make sure to visit a coffee farm and see exactly where and how your coffee is made from bean to cup. After discovering that all coffee beans are actually picked by hand you'll have a newfound appreciation for your morning coffee.
Country: Colombia
8. Drive through the Salt Flats in Bolivia
If you're visiting Bolivia there is one thing that you really can't miss, and that is the chance to see the world's largest salt flats.
Another iconic image of South America, the landscape here is unworldly, with miles and miles of flat white ground. Whilst you can visit on a day trip, it's really worth spending more time here. Then not only can you get deeper into the desert, but you can also actually stay in a salt hotel! Plus the landscape here is not limited to the salt flats, you'll also be treated to steaming geysers, colourful lakes filled with flamingos, volcanoes, hot springs and more. Read our Bolivia Travel Itinerary: What to do on a 1-2 week trip.
Country: Bolivia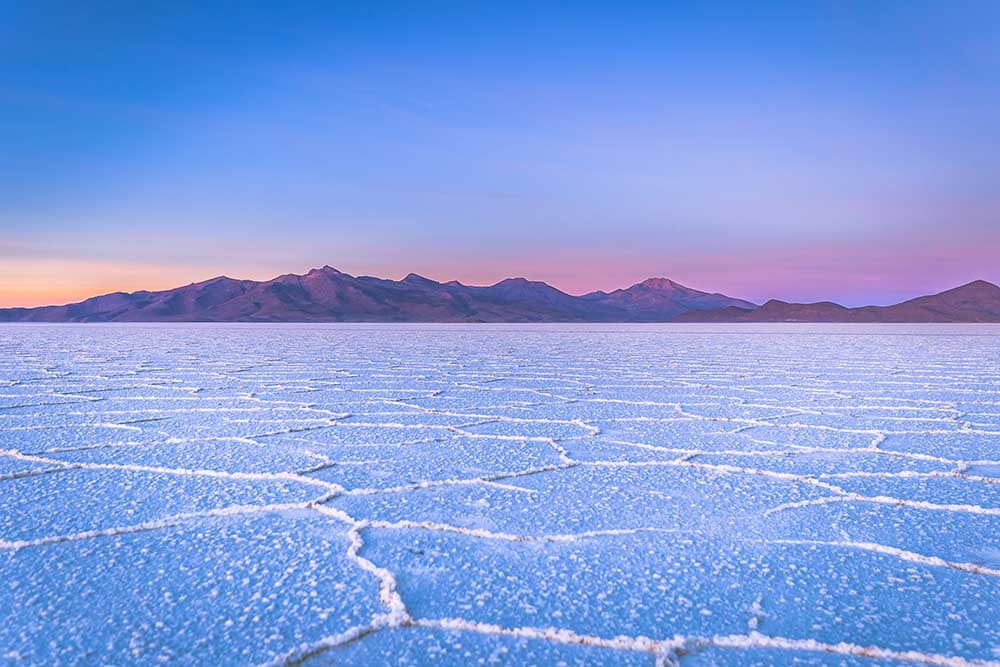 9. Party at carnival in Rio de Janeiro
Without a doubt the most famous city in South America, Rio de Janeiro really is a special place unlike anywhere else.
A large crazy city with the world-famous beaches of Copacabana and Ipanema backed by skyscrapers on one side and green mountains on the other, Rio de Janeiro is a must-visit whilst in South America. However, a visit here goes to the next level if you can coincide with Carnival.
Held the week before Lent, Rio is famous as having the biggest Carnival in the world. The main event is the Sambadrome parades, where the city's best samba schools try their best to impress the judges with their elaborate dances and costumes. But you don't need to have tickets to the Sambadrome to enjoy carnival.
With around 2 million people simply celebrating on the city streets, there's a reason why it's known as 'the greatest show on earth'.
Country: Brazil
10. Explore Patagonia
Patagonia encompasses pretty much the whole southern tip of South America. Shared by Argentina and Chile with the Andes mountains running through the middle, it's a paradise for hiking and outdoor lovers.
A must-visit spot in the region is El Chalten where you'll find Los Glaciares National Park. Here a variety of trails await, including the most popular hike to Laguna de Los Tres which harbours one of the best views of the iconic Mount Fitz Roy.
Another must visit is the Perito Moreno Glacier near El Calafate. At 70m high, it really is hard to comprehend the sheer size of this face of ice. Spend some time here and you'll see huge chunks of ice breaking off and crashing into the water below.
Patagonia is also home to the world-famous Torres del Paine (see further above).
Countries: Argentina and Chile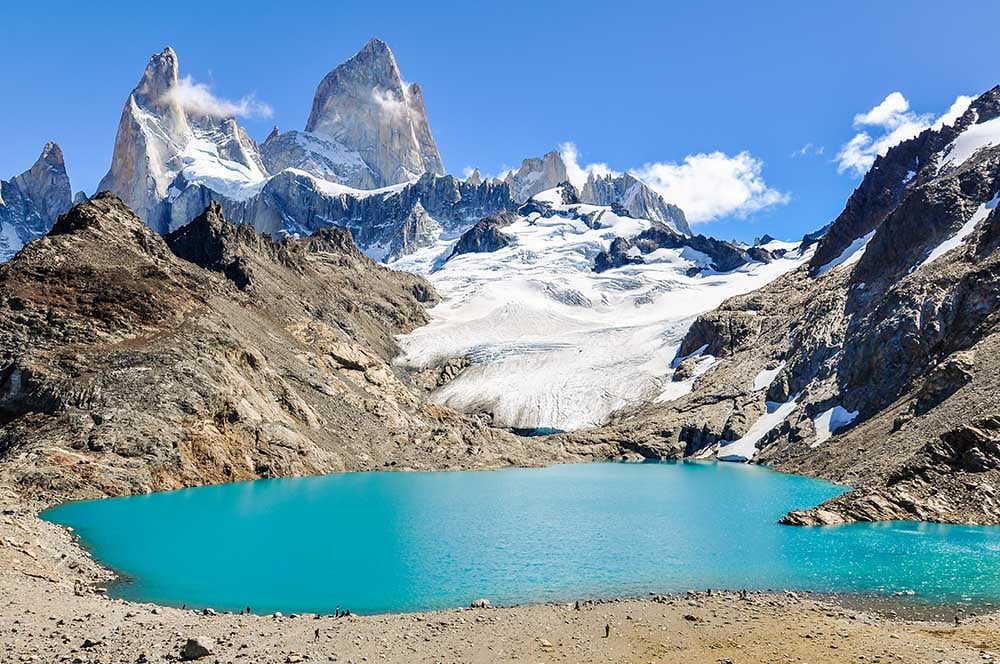 11. Drink wine and eat steak in Argentina
Argentina is known for its wine and it would be pretty crazy to visit without making a stop in one of its wine regions. Mendoza is without a doubt the wine capital and is known worldwide for producing some of the best Malbec on offer. There are three different wine regions surrounding the city and a visit to a vineyard, most of which offer free tastings, is a must whilst you're here.
The other thing Argentina is famous for is its steak. and you'll find amazing steak restaurants at reasonable prices all over the country. You can order your preferred cut or get a parrillada (mixed grill plate), but either way, consider sharing with a friend as steak in Argentina is a serious business and the portions are huge!
Country: Argentina
12. Go stargazing in the Atacama Desert
In the north of Chile near the Bolivian border lies the Atacama Desert and the small town of San Pedro de Atacama. The landscape here is unworldly and includes everything from desert and volcanoes to lagoons and salt flats.
But the must-do whilst here is to go stargazing. Given the desert location, it's as easy as stepping outside and looking up, but if you want to learn more then take a stargazing tour to discover the different constellations, planets and galaxies within view. If you can, time your visit with the new moon and you will be rewarded with unparalleled views of the milky way.
Country: Chile
Summary
South America is a huge continent with so much to offer. The variation of landscapes is huge, from mountains to waterfalls to jungle to beaches, it really has it all. With so many amazing sights to see and things to do, your trip here is guaranteed to take your breath away.
Related Articles