Colombia is one of the most amazing and diverse countries in Latin America. From beautiful beaches to lush green mountains to bustling cities to arid deserts, the variety of landscapes here is unreal. If you want to plan a trip here, then use this guide to make sure you don't miss out on any of the top places to visit when travelling around this incredible country.
---
1. Tayrona National Park
Tayrona National Park is one of the most popular attractions in Colombia and for good reason, it's quite simply stunning. The park is full of pristine white sand beaches, which are only accessible by boat or by hiking through the lush jungle and towering palm trees.
In our view, the best way to fully experience Tayrona is to take the ~ 2-hour hike to Cabo San Juan del Guia and stay the night there. Known for its twin beaches that mirror each other, it's one of Colombia's most famous beaches. Rent a hammock or a tent here and enjoy the quiet of the beach at sunset once all the day-trippers have left.
2. Santa Marta
A small city on the Caribbean coast, Santa Marta should definitely be added to your Colombia itinerary.
The city itself has a mix of everything with a lively pedestrian-only centre which is packed in the evenings and weekends with locals and tourists alike. Whilst just 10 minutes drive away you'll find El Rodadero, a long sandy beach perfect for tanning and watching the sunset. Short boat trips can also take you to the nearby white-sand beaches of Playa Blanca or Playa Grande which are both incredibly beautiful.
Not only is Santa Marta a nice place to visit, but it's also a great spot to base yourself when visiting nearby attractions such as Tayrona National Park (above) or Minca (below). It's also the best starting point for one of the best hikes in Colombia, the Lost City Trek, where you'll hike through lush rainforest and gorgeous rivers before eventually arriving at the Lost City, a sacred site thought to be over 600 years older than Machu Picchu.
ADVERTISEMENT
CONTINUE READING BELOW
3. Minca
Just half an hour from the coastal city of Santa Marta brings you to a totally different landscape, the green mountains of Minca. Whilst here, take the chance to stay in one of the hotels and hostels that have gorgeous infinity pools with views over the stunning natural scenery. For a budget option but with anything but budget facilities, check out Casas Viejas Hostel. It has the most incredible infinity pool with mountain views right in the jungle.
If you can drag yourself away from the pool then there are lots to do here, from swimming in waterfalls, visiting coffee farms and hiking in the jungle.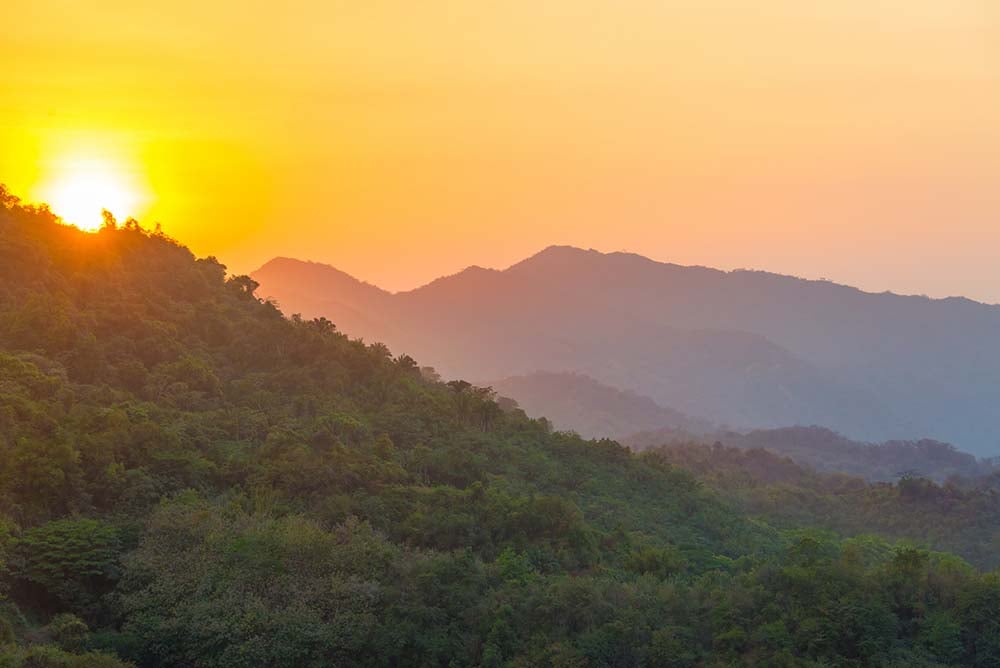 4. Cartagena
Cartagena is one of the most popular cities in Colombia and it's not hard to see why. The old walled city is incredibly photogenic, with charming cobblestone streets and old colonial buildings. It is also being named a UNESCO World Heritage Site. The best thing to do here is simply to wander the streets and admire the city.
Outside the city walls, make sure to check out the Getsemani District. What was once a poor area has now been rejuvenated by colourful street art, hipster cafes and lively bars. Visit Plaza de la Trinidad in the evening and you'll find locals and tourists alike sitting around the square eating street food, drinking cocktails and watching the multiple performers. The atmosphere is relaxed and fun with everyone having a good time, which Colombians certainly know how to do!
If you want to escape the city, then take a trip to Playa Blanca or Isla Grande, home to white-sand beaches which are known as being some of the best in Colombia.
5. Barichara
Often regarded as the most beautiful town in Colombia, Barichara is a must-visit if you're in the Santander region of the country. Think cobblestone streets, beautiful buildings and a pretty main square, all surrounded by hillsides offering stunning views of the surroundings.
The best way to really appreciate the scenery is to hike from Barichara to Guane, another smaller but equally pretty town just 6km away. The hike here is along the Camino Real, a historic path once used by Colombian natives to transport goods between the towns. It's an easy and pleasant walk through the gorgeous countryside.
San Gil, the adventure capital of Colombia, is the nearest city and is itself a great place to visit with plenty of exciting activities on offer such as bungee jumping to paragliding to white water rafting.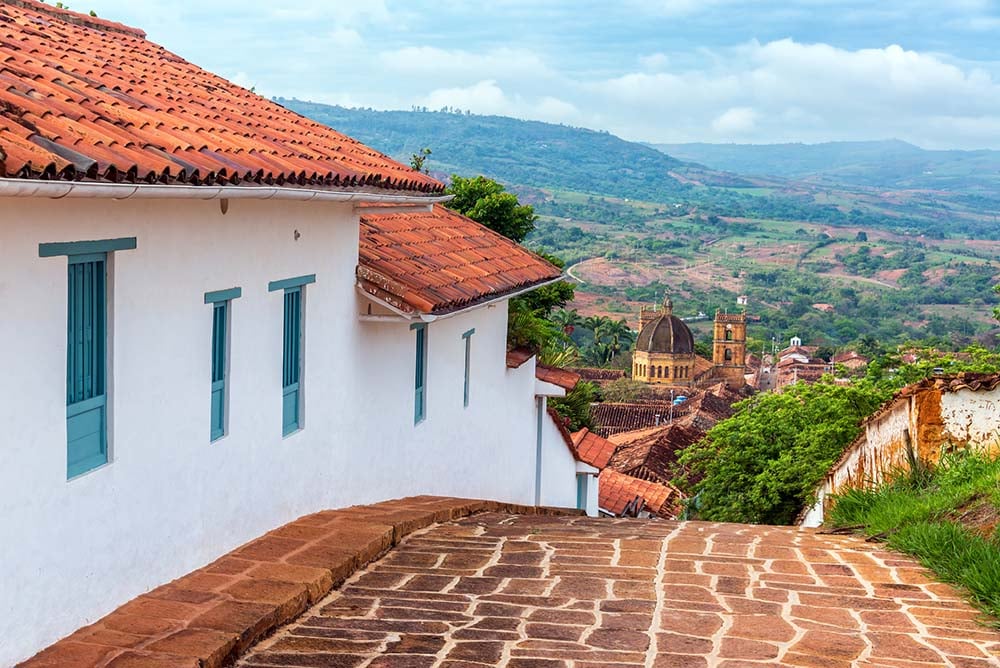 ADVERTISEMENT
CONTINUE READING BELOW
6. Medellin
Medellin is the second-largest city in Colombia but with a temperate climate, excellent public transportation system, and gorgeous mountainous surroundings, it's not difficult to see why most people prefer Medellin to the capital.
Once considered one of the most dangerous cities in the world, it's now one of the most popular in Latin America. To really see the transformation, take the metro to Comuna 13, once infamous for being the most dangerous place in Colombia and home to Pablo Escobar, it's now considered one of the biggest success stories in Medellin's rejuvenation. A system of covered escalators will take you up and down the small streets where you can admire the colourful street art, watch live musicians, and grab a drink at one of the many makeshift bars lining the streets. As one of the most popular tourist destinations in Medellin, it now feels anything but unsafe.
If you're looking for nightlife, head to the Poblado area which is full of lively bars and clubs, as well as plenty of cafes and upscale restaurants.
There are also lots of nice day trips that can be taken from the city, such as to Guatape (see further below) or small colonial towns like Santa Fe de Antioquia.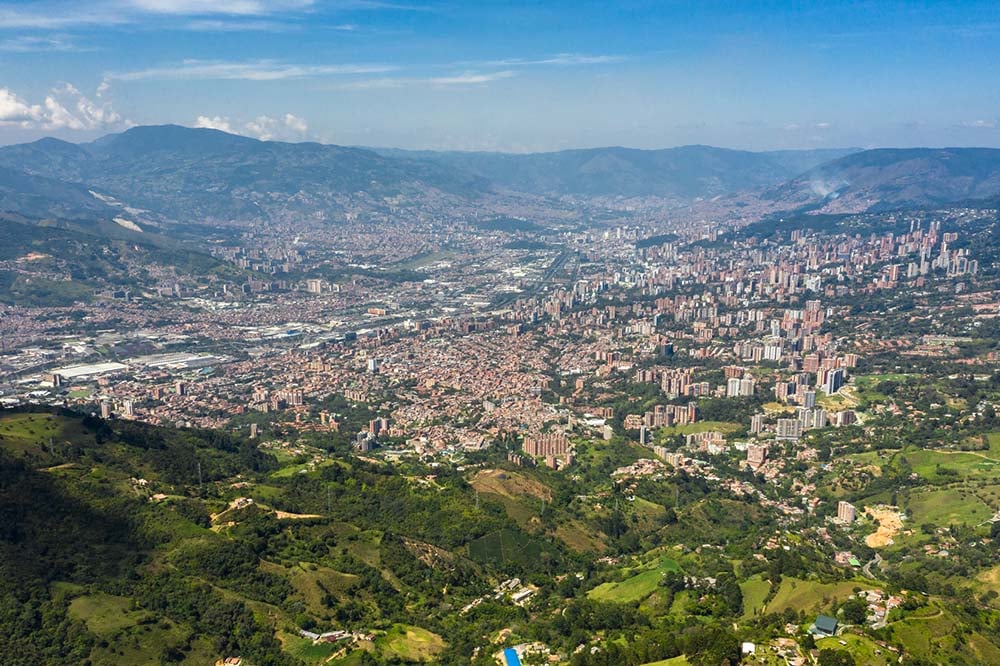 7. Guatape
Most people visit Guatape as a day trip from Medellin, but it really is worth staying a night and treating it as a destination in its own right.
The town itself is extremely colourful with the houses and doorways being decorated with brightly painted frescos. These combined with the cobblestone streets, painted stairways and a pretty waterfront make it a photographer's heaven.
However, the main reason people visit Guatape is to climb to the top of Piedra del Penol for stunning 360-degree views of the lake and the hundreds of islands. With over 600 steps to the top, it's a sweaty climb, but the views are simply incredible.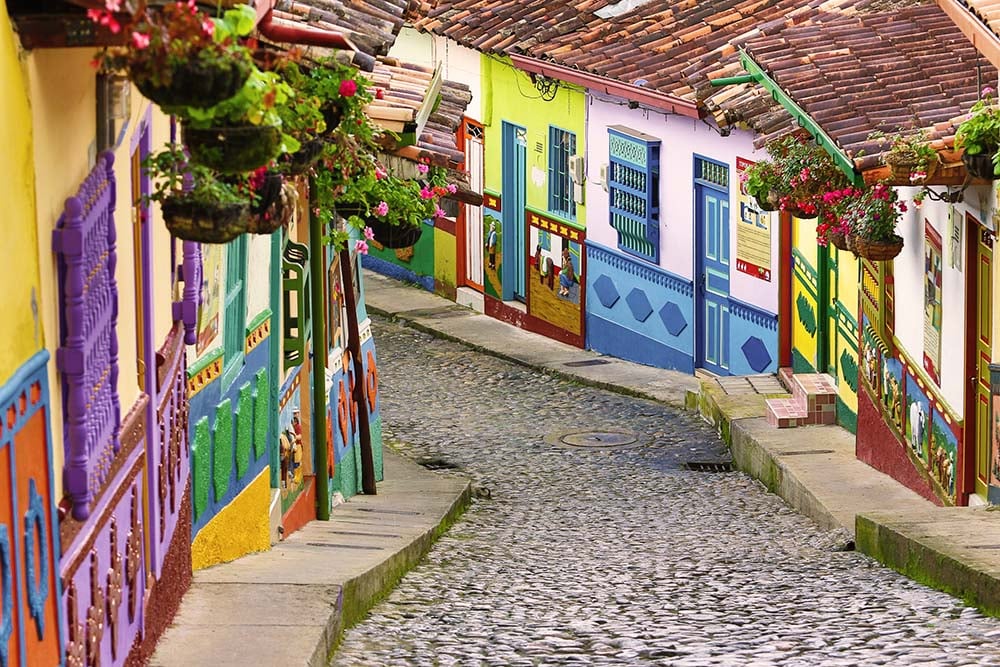 You May Like
8. Bogota
Located high up in the Andes, Bogota is a fascinating city to explore, with century-old cathedrals and shiny new skyscrapers on the same block. La Candelaria is where you'll find most of the historical and cultural sights plus plenty of museums. There's also some amazing street art dotted around the streets here just waiting to be discovered.
With its mountainous surroundings, it's easy to escape the city bustle and go for a hike. The best is the walk to the top of Monserrate. Easily accessible from the centre, you'll find lots of locals doing their daily exercise here. The hike up takes about an hour or so, but with the top being over 3000m above sea level it makes for a breathless climb, although the views at the top are, of course, worth it.
In the evening check out the city's excellent restaurants, bars, and music venues which fill with locals and travellers alike.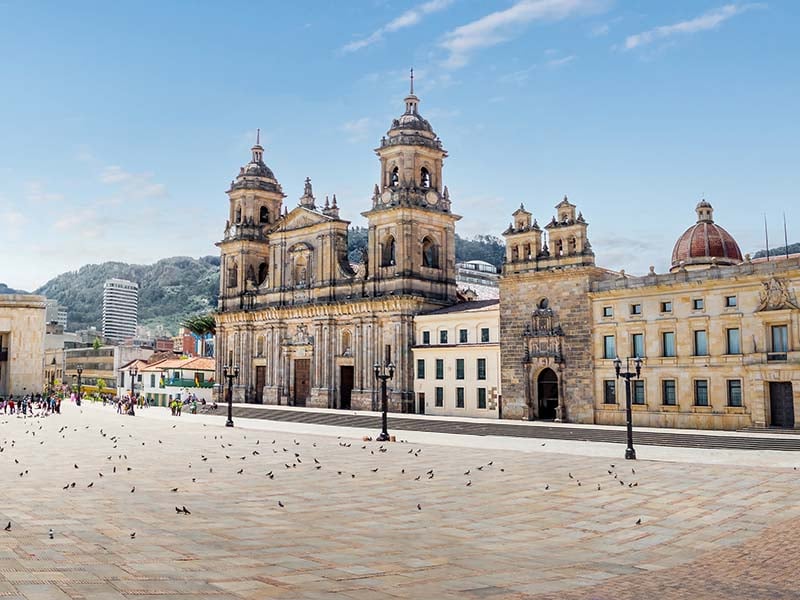 ADVERTISEMENT
CONTINUE READING BELOW
9. Villa de Leyva
Known as one of Colombia's most beautiful and historic towns, Villa de Leyva is a favourite getaway for Colombians living in Bogota who want a weekend escape just 3-4 hours drive from the capital.
A charming town with a huge central square, pretty cobblestone streets and whitewashed colonial buildings, the town has managed to preserve most of its original architecture. There are so many cafes and restaurants here that you'll be spoilt for choice. Be sure that you don't leave without trying a Milhoja, the famous pastry originating from the town which is covered in arequipe and absolutely delicious.
Every Saturday there is a great market where locals from all the surrounding towns come to sell their fresh local produce. The market is located at the bottom of the hill from where you can hike to Mirador El Santo, the small Jesus statue overlooking the town. It's only a short hike but extremely steep, but the views at the top make it totally worth it.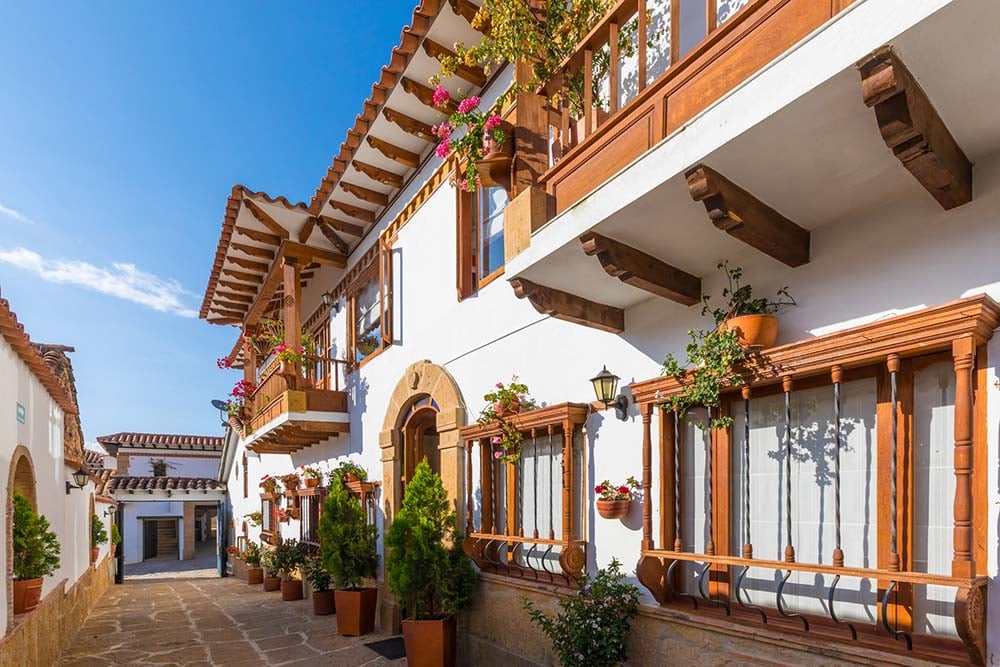 10. Guadalupe
If you want to get off the beaten path in Colombia then Guadalupe is your place. Sitting between San Gil and Villa de la Leyva, Guadalupe remains off the radar of most tourists, and even many Colombians will be surprised to hear you made a visit here.
A charming but quiet town, this is the true Colombia with locals riding around on horseback and enjoying the quiet life.
Guadalupe is home to Quebrada Las Gachas, a little known but totally unique natural attraction that is a must-visit whilst here. A pleasant 40-minute walk from the centre of town brings you to a shallow river which you can walk along (wear socks to avoid slipping). The river is dotted with deep natural plunge pools, coloured red and purple by the algae, which you can jump into for a refreshing dip. Completely free to visit, devoid of tourists and beautiful, natural and unique, Las Gachas really is an attraction that won't stay hidden for long.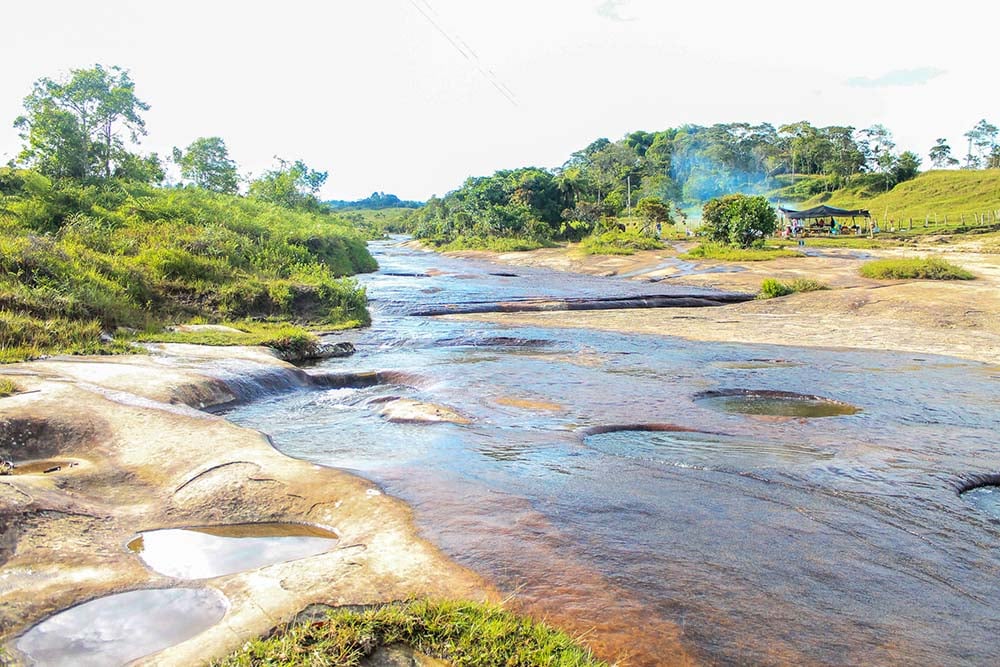 ADVERTISEMENT
CONTINUE READING BELOW
11. Jardin
If you like coffee and nature then Jardin is the place for you. Sitting in Colombia's coffee region, Jardin is a lot less touristy than Salento but arguably home to even better cafes and coffee shops. Try De Los Andes, a two-level cafe right on the main square that brews its own coffee right on-site. It not only serves amazing drinks but also absolutely delicious coffee ice cream and frappes topped with arequipe (dulce de leche or caramel sauce). There's also Cafe Macanas. Hidden behind the church, it sells great coffee and food in an Instagram worthy setting.
Around your coffee visits make sure to hit the hills that surround the town for some excellent hiking. Walk to Mirador Cristo Rey for views over the town, and then onwards to Cascada La Escalera where you can take a dip in the waterfall to cool down. If you want to see the views but aren't so keen on walking, then take the La Garrucha cable car. Not for the faint-hearted, the little wooden cart takes you across the ravine to the hills on the other side of town. Riding in this is definitely an experience you won't find in many places.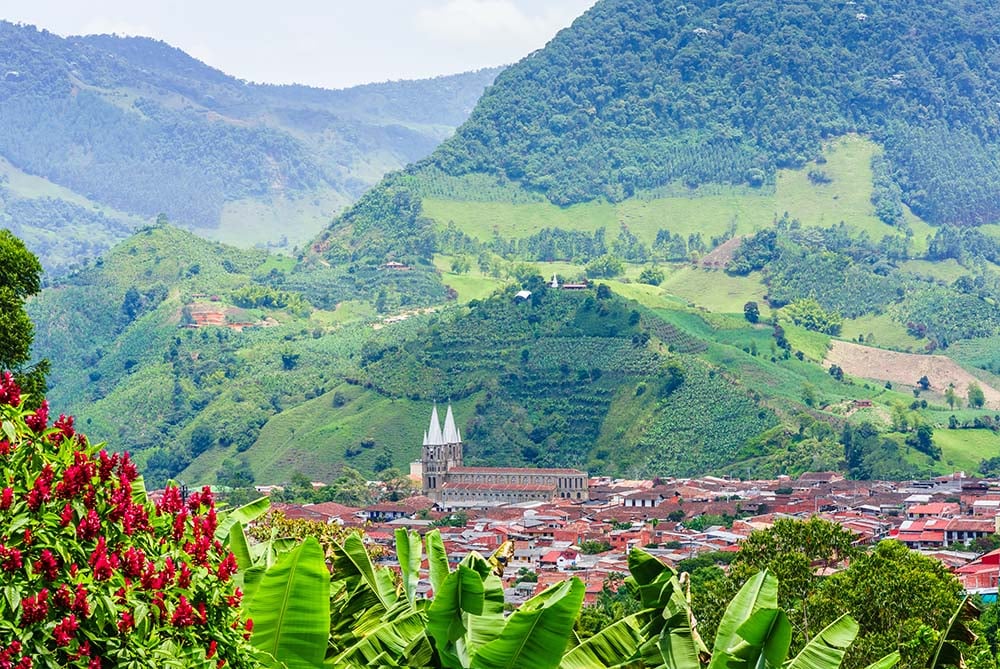 12. Jerico
A true hidden gem in Colombia, Jerico sits between Medellin and Jardin but escapes the notice of most foreign tourists. It does take a bit of time and effort to get to (the road conditions around here aren't the best!), but if you make the trip you'll be rewarded with a charming town full of colourful buildings, an impressive mirador reached via the botanical gardens, as well as some beautiful hiking routes. The route to Parque Las Nubes is one of the best. A loop hike starting in the centre of town will give you stunning views of the centre plus the surrounding mountains, all from above the clouds.
Just because Jerico lacks foreign tourists doesn't mean it's quiet. On the weekends especially, the main square is packed with locals sitting outside the surrounding cafes and restaurants and exploring the street food stalls in the middle. It's a great place to experience true Colombian culture.
13. Salento
Like Jardin and Jerico, Salento sits in the middle of the coffee region and there are loads of fincas (coffee farms) around the town that you can pay a visit to or even stay in.
The main reason people visit Salento is to pay a trip to Cocora Valley. Home to the famous tall palm trees which are one of the iconic images of Colombia, a visit here is a must-do. Take a 20-minute jeep from the main square in Salento to arrive at the entrance to the valley. From here you can immediately admire the views, but making the effort to complete the loop hike around the valley is definitely worth it. Taking around two hours, you'll hike high up along the valley ridge for half the loop then down along the river for the other half. Midway through is the Acaime Hummingbird Sanctuary where you can stop for a locally grown coffee amongst the birds if you wish.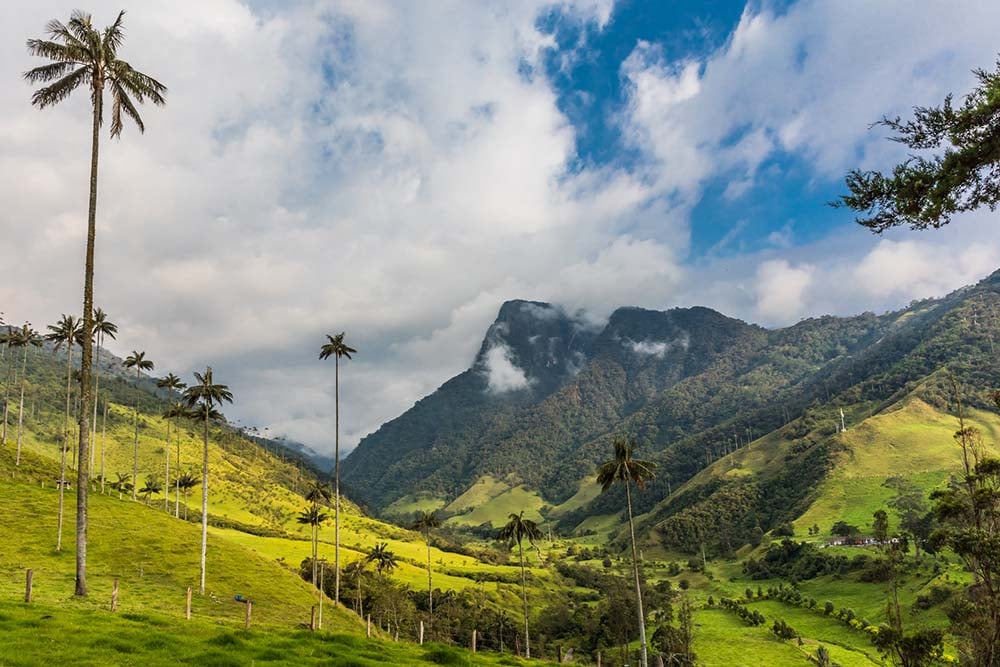 ADVERTISEMENT
CONTINUE READING BELOW
14. Tatacoa Desert
The Tatacoa Desert is another unique setting that shouldn't be missed when visiting Colombia.
Although it's called a desert, this arid landscape is actually a dry tropical forest which is why you won't find any sand dunes here but rather rocky canyons. Walk around the Red Desert, so-called because of the deep red coloured rocks. There are lots of trails that take you along the top of the canyon and also down through the dry labyrinths for a different perspective.
As well as the Red Desert there is also the lesser-visited Grey Desert (Los Hoyos). With the same interesting rock formations but in grey rather than red, it's worth a visit here for the contrast to the red desert. And after your hike, you can treat yourself to a swim in Piscina Mineral, a swimming pool right in the middle of the Grey Desert which is perfect to refresh in the hot weather.
On a cloud-free evening make sure to visit the Tatacoa Observatory for some of the best stargazing in the world.
Summary
There are so many great places to visit in Colombia it's hard to narrow them down. From small towns to large busy cities, from white sand beaches to cool mountain retreats, there really is something for everyone in this amazing country. If you're looking to travel somewhere which has lots of different things to see and do, Colombia is the place for you.
Ready to book? Search for:
---
---
---
Tours and Activities
Related Articles