Thinking of visiting Colombia but not sure if it's for you? Well, this country in South America is definitely worth visiting and has a lot to offer visitors. Colombia is famous for its coffee, pretty colonial buildings and lots more.
The country has had somewhat of a bad reputation in the past with many only associating it with Pablo Escobar and the drug trade. This has left it a little behind in terms of international visitors, which means this relatively undiscovered country is a great place to visit if you want to get away from the tourist masses found in other Latin American countries like Peru. And in actual fact, Colombia has put its criminal past well behind it and is a lot safer than you think.
It's also one of the most biodiverse countries on the planet as well as one of the happiest, it has great weather year-round, and is extremely beautiful.
Still need convincing? Read on for more reasons why you should visit Colombia.
---
1. The party vibe
If there's one thing Colombians know how to do well, it's to have a good time.
The streets and main squares will often be packed, especially on the weekends, with locals, from groups of friends to families, out enjoying themselves with good food and some drinks. A great example of this is Plaza de la Trinidad in the Getsemani District of Cartagena. In the evening you'll find locals and tourists alike sitting around the square eating street food, drinking cocktails and watching the multiple street performers. The atmosphere is relaxed and fun with everyone having a good time. It's a great spot to join in the fun and experience Colombian party culture.
Local Colombian bars are also a must-visit. Essentially just a shop with some tables, you'll see them everywhere. They're perfect to drink on a budget, as the beers are sold at shop price, but you can enjoy them in a bar-like atmosphere and are likely get chatting to some locals whilst you're there.
You May Like
2. The pretty pueblos
Colombia is home to a ton of gorgeous small towns which are not only stunning to explore but also provide a more authentic insight into Colombian life. There are too many to name but our favourites are Barichara (pic below) and Villa de Leyva whilst Guatape is definitely the most colourful.
Think cobblestone streets, beautiful colonial buildings, green-shaded central squares, and cafes and bars with alfresco seating, and you'll understand why these small towns are a photographer's heaven. These alone are one of the top reasons why Colombia is nice to visit.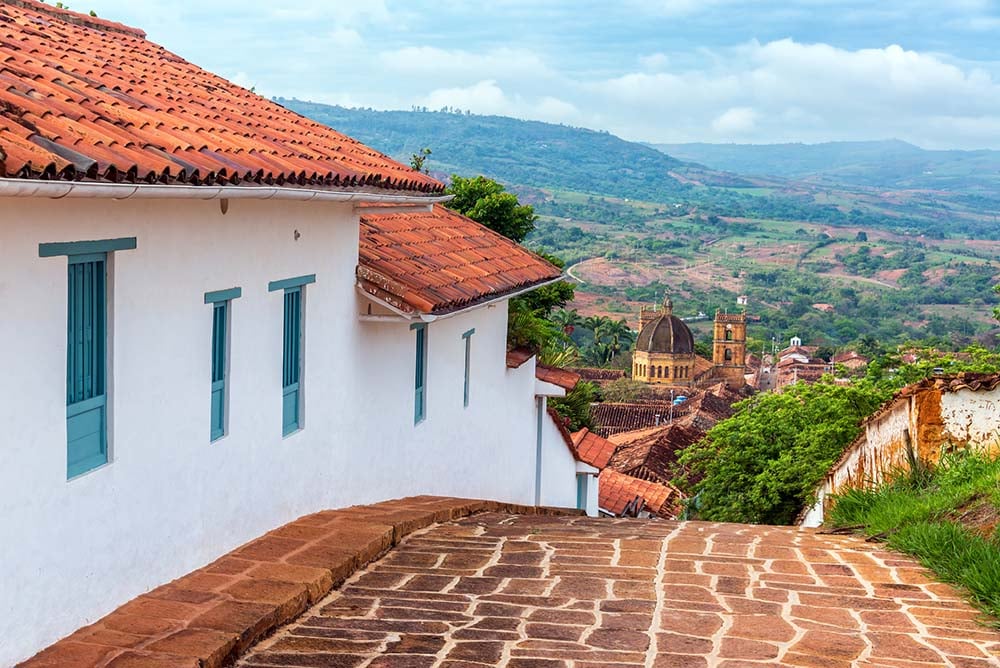 3. The nature
The cities and beaches may be first to come to mind when thinking of Colombia but in fact Colombia is an extremely green country with beautiful hills and countryside that is perfect for hiking.
A must-visit is the Cocora Valley. Home to the famous tall palm trees which are one of the iconic images of Colombia. A visit here is a must-do. There are also the hillsides surrounding the pretty small towns of Jardin and Jerico which provide plenty of hiking opportunities and stunning viewpoints.
If you want to enjoy the Colombian countryside whilst getting an adrenaline rush, pay a visit to San Gil. From here you can complete many adventure activities, including paragliding over Chicamocha Canyon and rafting on the Fonce or Suarez Rivers.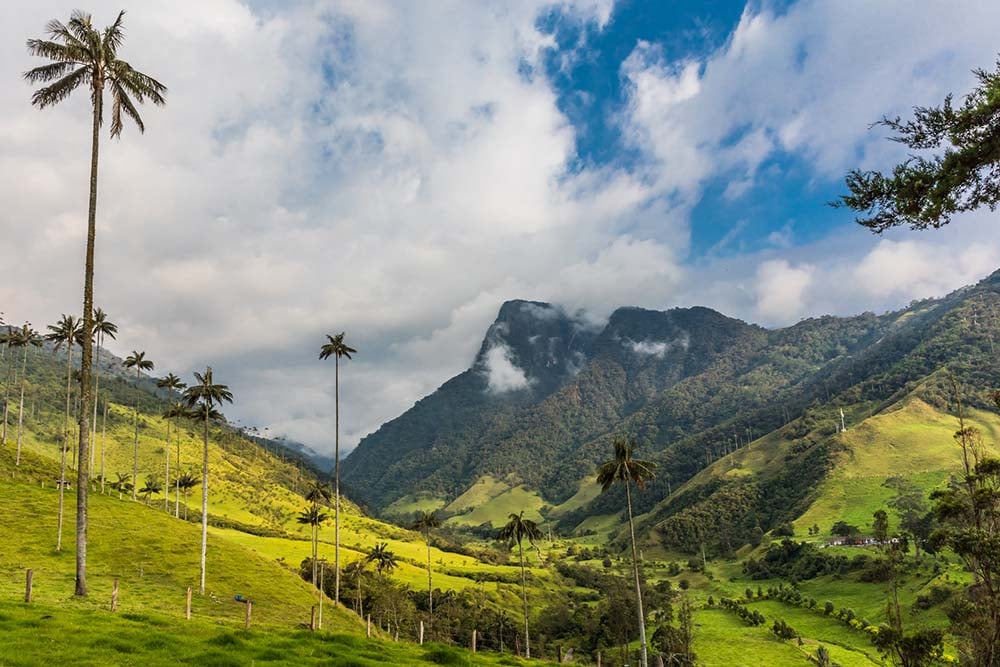 ADVERTISEMENT
CONTINUE READING BELOW
4. Tayrona National Park
A must-visit whilst in Colombia, Tayrona National Park lies on the Caribbean coast just north of Santa Marta.
The park is full of pristine white sand beaches which are only accessible by boat or by hiking through the lush jungle. Cabo San Juan del Guia in the park is a must-visit. Known for its twin beaches that mirror each other, it's one of Colombia's most famous beaches. You can even stay the night here and enjoy the quiet of the beach at sunset once all the day-trippers have left.
5. The Coffee
We've all heard of Colombian coffee and Colombia is indeed one of the biggest coffee bean producers in the world. Even if you're not that big of a coffee drinker before coming here, then you're sure to be one by the time you leave.
If you like coffee and nature then Jardin is the place for you. Sitting in Colombia's coffee region, Jardin is a lot less touristy than Salento but arguably home to even better cafes and coffee shops. Try De Los Andes, a two-level cafe right on the main square which brews its own coffee right on site, or Cafe Macanas which sells great coffee and food in an Instagram worthy setting.
A must-do in Colombia is to visit a coffee farm and see exactly where and how your coffee is made from bean to cup. After discovering that all coffee beans are actually picked by hand you'll have a newfound appreciation for your morning coffee.
You May Like
6. The variety of landscapes
The different types of landscapes in Colombia are crazy. You have white sand beaches, lush tropical forests, green countryside, mountains and even deserts. You can be on the beach one day and up in the mountains the next.
For example, just half an hour from the coastal city of Santa Marta brings you to the green mountains of Minca. Here you'll find waterfalls and coffee farms amidst the trees, and a much cooler temperature than when you were sunbathing on the beach.
One totally unique landscape which shouldn't be missed is the Tatacoa Desert. Although it's called a desert, this arid landscape is actually a dry tropical forest which is why you won't find any sand dunes here but rather rocky canyons. Visit the Red Desert, so-called because of the deep red coloured rocks, and the Grey Desert (Los Hoyos) for contrast. The canyons and interesting rock formations in both are great to hike around and explore.
7. The bustling cities
Unlike a lot of Latin American cities which have debatable safety records and a somewhat grimy feel, Colombia has some great cities which are well worth spending a few days in.
First up is the capital, Bogota. Located high up in the Andes, Bogota is a large and bustling city with old cathedrals, new skyscrapers, street art and museums, all surrounded by mountains which make it easy to escape the city bustle and go for a hike.
Medellin is the second-largest city in Colombia but with a temperate climate, excellent public transportation system, and gorgeous mountainous surroundings, it's not difficult to see why most people prefer it to the capital.
Cartagena is one of the most popular cities in Colombia, especially with Colombians themselves, and it's not hard to see why. The old walled city is incredibly photogenic, with the charming cobblestone streets and old colonial buildings here being named a UNESCO World Heritage Site. The best thing to do is simply wander the streets and admire the city.
Whichever city you're in, make sure to check out the food scene. In all three cities, you'll find high-quality restaurants where you can sample innovative food at a fraction of the price you'd pay back home.
You May Like
8. To complete the Lost City Trek
If you're into hiking and the great outdoors then completing the Lost City Trek near Santa Marta should be on your list when visiting Colombia.
The route to the Lost City, i.e. Cuidad Perdida, will take you through lush rainforest and gorgeous rivers, waterfalls and indigenous groups. Eventually, you will arrive at the Lost City, a sacred site developed by the native Tayrona people which is thought to be some 650 years older than Machu Picchu. It's estimated that only 10 percent of the ruins are unearthed, lending to the mysterious appeal of this forgotten city.
The jungle terrain is challenging, and the high humidity and generally tough hiking and camping conditions mean this hike isn't for the faint-hearted, but it's certainly worth it.
9. To learn Salsa
The city of Cali is the self-proclaimed salsa capital of the world and is undoubtedly the best place to learn salsa whilst in Colombia. There are tons of salsa schools here offering all types of lessons from group classes to private lessons as a one-off or long term package.
If you don't want to commit to actual classes or just want to practise what you've learnt, head to any of the salsa clubs dotted all over the city. Here you can watch the locals show you how it's done as every Colombian seems to turn into a salsa professional as soon as the music starts!
ADVERTISEMENT
CONTINUE READING BELOW
Summary
Whatever your reason for visiting Colombia, it surely won't disappoint. Gorgeous landscapes, friendly people, nightlife, nature, it really does have everything.
Ready to book? Search for:
---
---
Tours and activities
Related Articles