Taking up half of the western coastline of South America, Chile is a long country with lots to see and do. Deserts, cities, national parks, Chile has it all. If you're planning a trip to South America, and especially to Patagonia, you'll probably be expecting to visit at least one place in Chile, but this beautiful country has way more to offer than just its most famous attraction of Torres del Paine National Park.
So here is a list of the top 10 places you should visit in Chile, including some places you may not have heard of…
---
Iquique
Sitting in the far north, Iquique will probably be your first stop in Chile if you're arriving overland from Peru. Iquique is a coastal town set around Playa Cavancha, a wide sandy beach perfect for sunbathing or watersports. Take a surf lesson, try sandboarding on the surrounding dunes, or simply relax and enjoy the chilled outdoor atmosphere.
If you're looking for an adrenaline kick, Iquique is also a great place to paraglide. Experience the feeling of flying through the air, taking in the gorgeous views of the Chilean coastline, before landing right on the beach.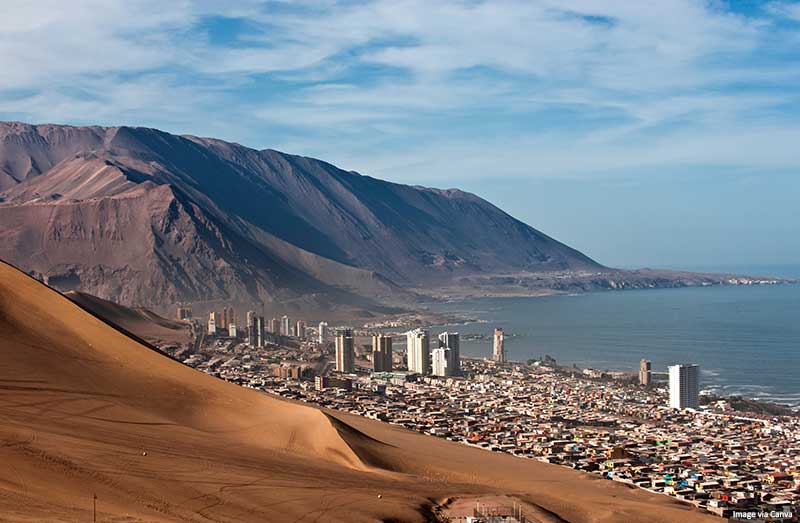 San Pedro de Atacama
San Pedro de Atacama is a small tourist town situated in the middle of the Atacama Desert. It's a popular destination and for good reason. The landscape here is unworldly and includes everything from desert and volcanoes to lagoons and salt flats.
Given its location, it's one of the best places in the world to stargaze. All you have to do is step outside and look up, but if you want to learn more then take a stargazing tour to discover the different constellations, planets and galaxies you might see. If you can, time your visit with the new moon and you will be rewarded with unparalleled views of the milky way.
Another popular thing to do in San Pedro is to visit Valle de la Luna (Moon Valley) to see the incredible rock formations. Whilst you can take a tour here, as it's only 13 km outside of the town it's pretty easy (and a lot cheaper) to reach by renting your own bicycle. Once there you'll receive a map and advice on the different trails within the valley, each leading you to a different, but equally mars-like, view.
Finally, for something a bit different, take a trip to Laguna Escondidas where you'll find a series of dazzling blue lagoons. The bright blue water contrasted with the surrounding salt crystals is a sight to behold. Plus, it's possible to swim in a couple of the lagoons, so bring your swimwear and float away in the refreshingly cold water which is sometimes even saltier than the Dead Sea.
Tour Idea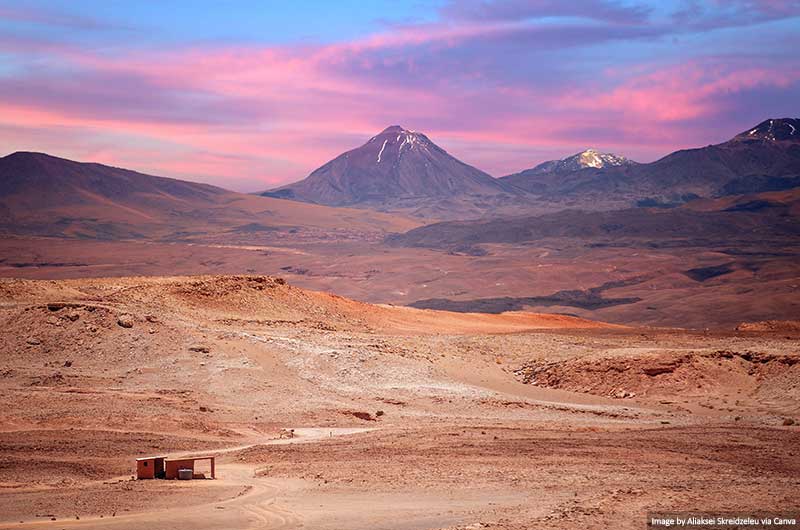 ADVERTISEMENT
CONTINUE READING BELOW
Santiago
Chile's capital city has had some bad press of late due to the political protests going on in Chile, however, with the protests centred in one small area and therefore easily avoidable, there really is no reason not to visit Santiago.
Chile is famous for its ceviche and one of the best places to try it is the Central Market. Avoid the many vendors speaking to you in English and offering free Pisco Sours. Instead, pick a stall with a Spanish menu where the locals are eating for some of the best and freshest ceviche around.
If you need some exercise after all the food, then climb to the top of San Cristobal Hill for panoramic views of the city. Finally, check out the street art in Barrio Bellavista before stopping for a craft beer or cocktail in one of the many cool bars lining the streets here.
You May Like
Pucon
Pucon is a pretty little lakeside town, busy in the summer with locals sunbathing on the beach or eating al fresco at the many cafes and restaurants in town. What makes the town stand out is the mighty Villarrica Volcano, one of the most active volcanoes in Chile, looming in the background. Take a tour here and after a few hours climb, you'll be able to look into an active volcano.
If you want to get out into nature, pay a visit to the turquoise waterfalls at Ojos del Caburgua. Easily accessible by bus from town, walk through the trees to discover three different waterfalls and clear blue water. Afterwards, continue onto Playa Blanca and relax alongside the shore of Lake Caburgua.
If it's hiking you're after, Huerquehue National Park is a great option. Multi-day hikes are available, but you can also do a one day hike looping around the main attractions. As well as spotting tons of different fauna as you climb up through the forest, you'll be able to stop off at a couple of large waterfalls before reaching three different lakes, each with crystal clear water reflecting the surrounding trees.
Finally, Pucon is surrounded by hot springs so there are lots of different options depending on what you're looking for and your budget. Termas Los Pozones is budget-friendly and recommended.
ADVERTISEMENT
CONTINUE READING BELOW
Valparaiso
Just a 2-hour bus journey from Santiago brings you to the colourful coastal town of Valparaiso. The main thing to do here is to explore the narrow streets and alleyways which are home to some of the best street art in South America. Climb up the winding staircases of Cerro Concepcion and you'll discover colourful artwork of all styles lining the walls.
If you feel like some beach time, grab any local bus from town and make the 20-minute journey to Vina del Mar. There are a few different beaches lining the coast, but Renaca Beach is widely considered to be the best. If you're after something to eat, make sure to try some seafood empanadas whilst you're on the coast.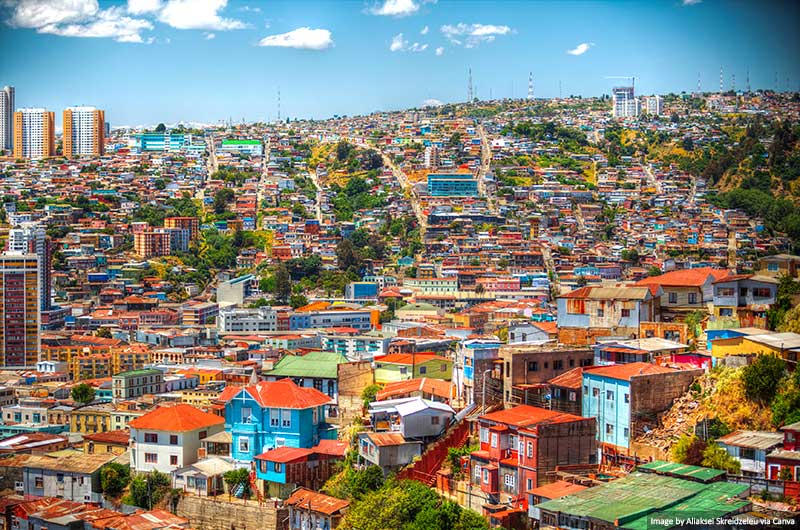 Chiloe Island
Chiloe (Chiloé) Island is the largest island in Chile and can be reached by boat or by bus from Puerto Varas or Puerto Montt.
Castro (seen below) is the main town on the island and the best place to base yourself. There are buses to some of the main spots, like Muelle de las Almas with its beautiful cliffside views, but the best way to get around the island is by hiring a car.
Start your day by driving to Ancud to visit Fuerte Ahui, built-in 1779 and is one of the last Hispanic bastions in South America. Next to the fort there is also a golden sandy beach which is perfect for a driving break.
Make a stop at Dalcahue for lunch, which has a large craft market and is renowned for having the best seafood on the island. Word of warning though, when travelling between Ancud and Dalcahue use the main road heading back to Castro, not the more coastal road that goes past Quemchi, as there is major construction on this road (at time of writing (Apr '20) and this will lengthen your journey time considerably.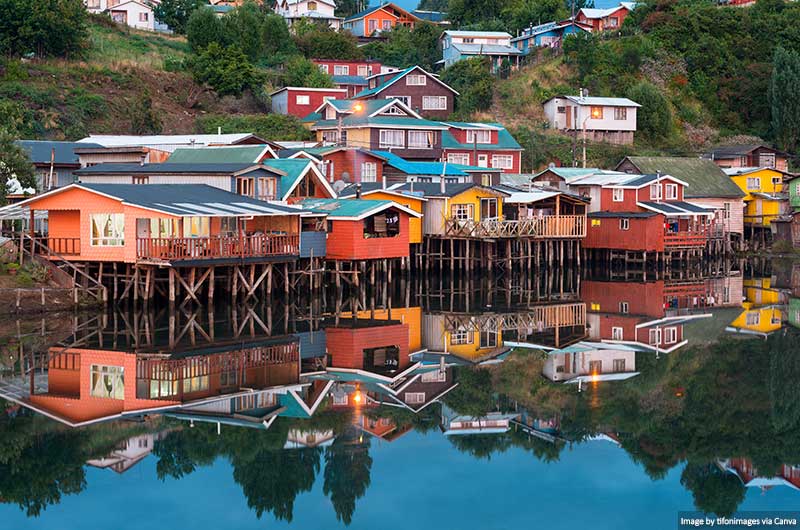 Puyuhuapi
Most people won't have heard of Puyuhuapi, but it's a cute little town with one big attraction which definitely makes it worth a stop on any Chilean itinerary.
Puyuhuapi is home to Queulat National Park and its Hanging Glacier. Take one of the many minibuses from town to the National Park, and once inside walk around the well-marked and maintained trails leading you to different viewpoints of the Glacier. The viewpoint that is closest to the Glacier is Sendero Ventisquero Colgante, a 2.5 – 3 hours walk according to the map, though if you're reasonably fit you'll probably reach it much quicker. Boat trips are also available to see the Glacier from yet another perspective.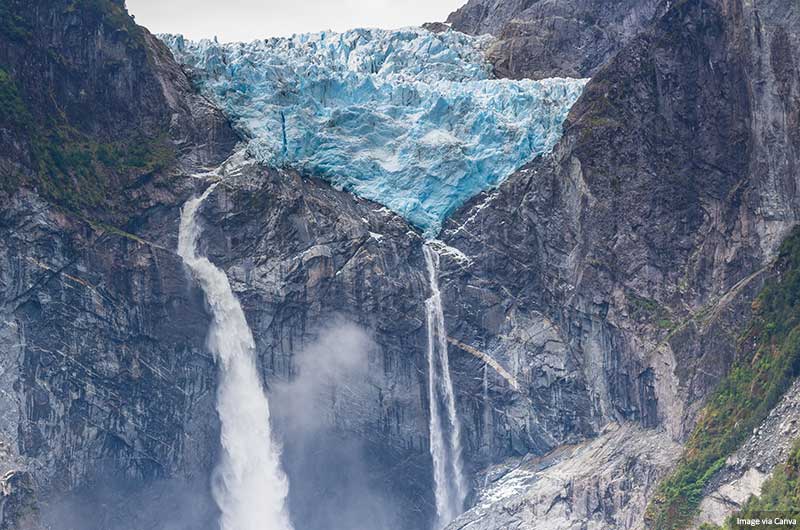 ADVERTISEMENT
CONTINUE READING BELOW
Villa Cerro Castillo
Like Puyuhuapi, most people probably haven't heard of Villa Cerro Castillo, but with some calling Cerro Castillo National Park the new Torres del Paine it won't remain unknown for much longer.
Take a multi-day hike along the Las Horquetas Circuit, which takes you through the best parts of the National Park including glaciers and mountain spires. There are no lodges here, only campsites, and you'll probably have most of the trail to yourself.
If you're short on time, make the day hike to the most beautiful spot of the multi-day trek, the glacial lagoon sitting at the base of Cerro Castillo. It's a challenging hike, but the turquoise blue lagoon surrounded by the snow-covered mountains is awe-inspiring and totally worth the steep trek.
Rio Tranquilo
Rio Tranquillo sits alongside the shore of Lake General Carrera, and is home to the incredible Marble Caves. Although relatively unknown by overseas visitors, the Marble Caves are one of Chile's best and most unique attractions. And with some pretty amazing photos being shared on social media they are sure not to remain unknown for long.
Book a 1.5-hour boat tour from any of the agencies in town, and have your camera ready for some of the most beautiful colours you have ever seen. Simply put, the marble caves are beautiful. The colours of the caves contrasted with the bright blue water are just amazing. This is without a doubt one of the best (and great value) tours you can do in Chile.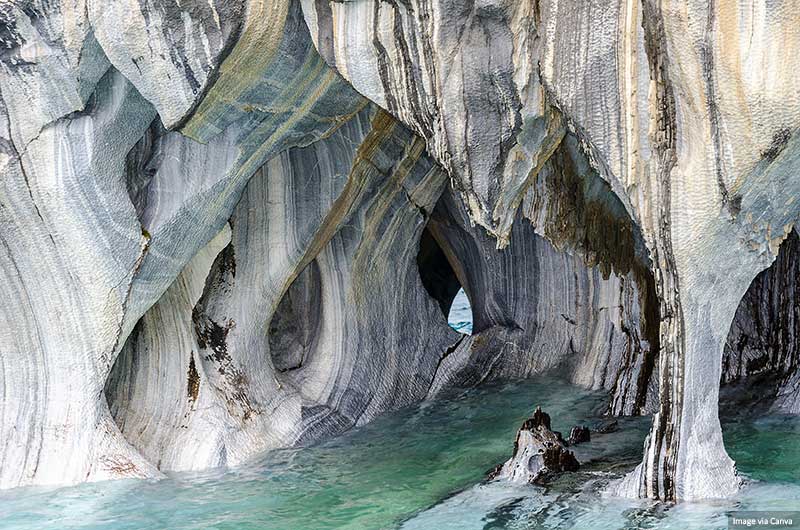 ADVERTISEMENT
CONTINUE READING BELOW
Torres del Paine
Of course, no list of places to visit in Chile would be complete without mentioning Torres del Paine National Park. This is probably the most famous places in Chile, and the hiking circuits here are without a doubt the most famous in Patagonia.
If you're one of the few people that haven't heard of Torres del Paine, it is home to the W and O treks, which are multi-day hikes taking you through some unreal scenery, including lakes, glaciers and mountains. It's one of the most stunning hiking trips available and a trip to Patagonia would not be complete without a visit here. Check out our Ultimate Guide to Hiking the W Trek in Torres del Paine National Park to start planning your visit.
Some of the most iconic parts of the treks are Glacier Grey, which can be viewed from multiple viewpoints including some pretty epic hanging bridges, the 770m high Mirador Britanico, and the famous Las Torres Towers. The latter are three granite peaks of the Paine Massif that loom over a lagoon and are the postcard image of the National Park (see below).
As the most popular attraction in Chile, it is also possible to visit these on a day trip from Puerto Natales but note that the hike will be extremely busy. If you are lucky enough to be visiting as part of a multi-day trek it's, therefore, best to go early, before the crowds arrive and ideally for sunrise where you'll be rewarded with the towers turning orange as the sun rises.
Tour Idea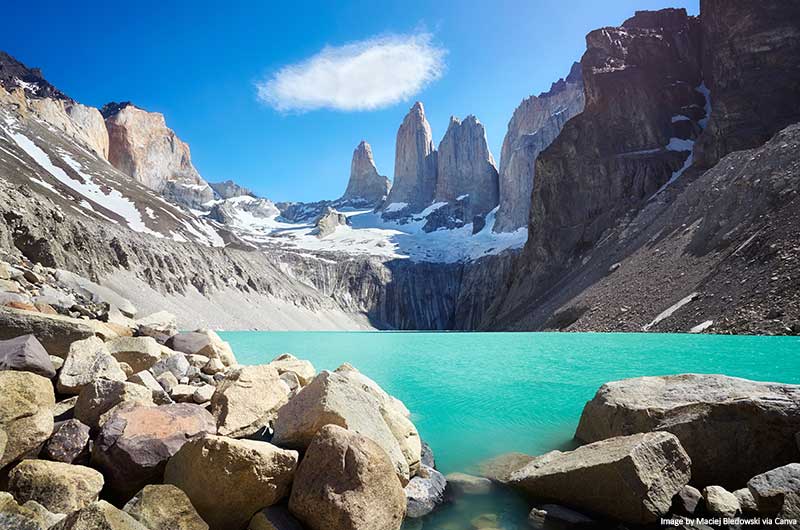 Summary
With its huge coastline, numerous national parks and incredible hiking trails, Chile is a long country with so much to see. Although home to some of the most popular hiking trails in the world, it's easy to get off the beaten path here and discover hiking trails and attractions which remain relatively unknown to overseas visitors. Nothing remains unknown for long though, so visit soon and take the time to explore all that Chile has to offer.
Ready to book? Search for:
---
---
Find Places to Stay in Chile
Use the map below to find great places to stay for your trip. Use the top box to change your destination.
---
Tours and Activities for Chile