Hiking in Torres del Paine National Park is a bucket list activity that draws in thousands of avid hikers every year. Home to lakes, glaciers, mountains and stunning scenery, it's one of the most spectacular hiking trips in the world. Are you visiting Chile and want to know how to go visit this incredible part of the world? Here is an ultimate guide to hiking the W Trek in Torres del Paine National Park.
---
About Torres del Paine and the W Trek
Torres del Paine National Park lies in the south of Chile and is often regarded as the highlight of any trip to Patagonia. There are two multi-day treks you can do, the W Trek and the O Trek. The O Trek, as the name suggests, takes you on a circular trek of the National Park and takes about 7-10 days. The shorter, and therefore more popular, W Trek takes you through the main highlights on a W shape trek which takes 4-5 days. It is also possible to visit certain parts of the National Park on day trips from the closest town of Puerto Natales.
TIP
Every day at 3pm Erratic Rock in Puerto Natales holds a free daily briefing on trekking in Torres del Paine. It's worth going to this if you can as they will explain the route, the estimated hiking time between each place, etc. They will also answer any questions you may have.
---
Book a tour or do it independently
Given its popularity, accommodation within the Torres del Paine National Park can get booked up quickly and you may find yourself stressed about booking a trip here.
There is the option to book a tour, but it's also possible to do it independently. You can also book a self-guided tour without a tour guide, but where everything is pre-booked for you. Of course, these options come with a much-increased price tag, and unless you really want to avoid any type of organisation this really isn't necessary.
Read on for a guide on how you can plan, book and complete the W Trek independently.
You find guided tours through G Adventures as well as Viator and GetYourGuide.
---
Getting to the National Park
Before you can begin looking at campsites you need to consider how you will get to the Torres del Paine National Park as this will influence where you start the W Trek.
There are two well-established options for getting to and from the National Park as follows:
Take a bus to Pudeto then a boat across Lake Pehoe to Paine Grande.
Take a bus to Laguna Amarga and then a shuttle bus to Hotel Torres.
When taking option 1 on the way to the National Park you will return using option 2, and vice versa.
Both routes will inevitably require you to backtrack slightly as they start at the left and right bottom corners of the W rather than at the top, and ultimately you will see the same regardless of where you start. However, if you can it is recommended to get to the National Park using option 1 and start at Paine Grande. This is because the Torres viewpoint is the highlight of the W Trek so it's preferable to do this on your last day rather than the first.
Buses
Booking transport in Puerto Natales is extremely easy. Every bus company sells bus tickets for the same price and leaves at the same times, so it doesn't matter which bus company you pick*. You can buy a return ticket, which will include travel one way via option 1 and one way via option 2, for 15,000 Chilean Pesos**.
*There is one bus company, Bus Sur, with a bus leaving Puerto Natales for Pudeto at 6.45am rather than 7am like all the other bus companies. This gives you the chance to get the 9am boat across rather than the 11am ferry (although this will still depend on how quickly your bus gets through the entrance to the national park with people buying and showing their tickets).
**Price subject to change.
Boat
The boat from Pudeto to Paine Grande leaves at the following times: 9am, 11am, 2pm, 4.15pm and 6pm and returns 35 minutes after these times. These can change though so check the link for the most up-to-date times.
TIP
If you find yourself having to arrive in the National Park via option 2 and therefore doing the trek east to west (because of campsite availability, etc.), then stay the first night in Chileno and then hike to the Torres Towers early the next morning, rather than hiking there as soon as you arrive on your first day.
In the afternoon the Torres Viewpoint is extremely busy with people arriving on day trips and it doesn't make for an enjoyable hike. If you have the time therefore go early on your first morning (ideally for sunrise) for a much more enjoyable experience.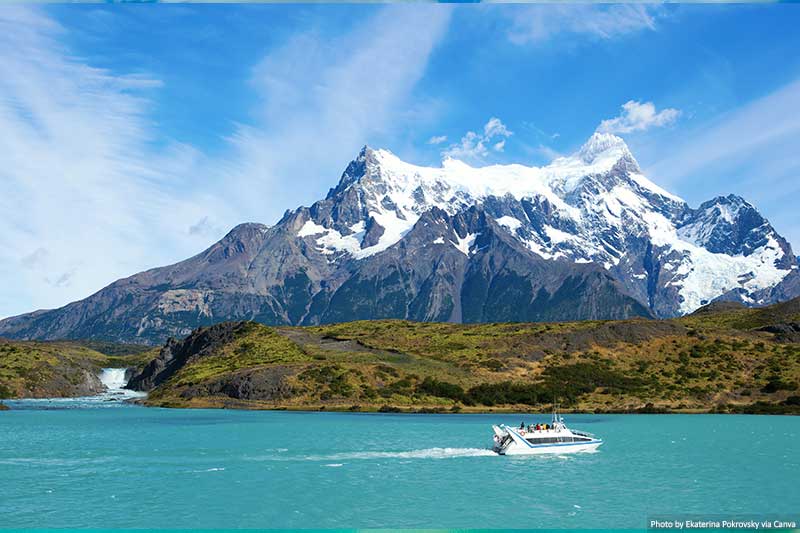 ADVERTISEMENT
CONTINUE READING BELOW
---
Where to stay
There is lots of accommodation dotted along the W Trek so you have more than one option on where to stay. A summary of the different accommodation options, from top left to top right of the W is set out below:
Grey: Large refugio and campsite. Restaurant, bar and shop on site. Book with Vertice Patagonia.
Paine Grande: Large refugio and campsite. Restaurant, bar and shop on site. Book with Vertice Patagonia.
Campsite Italiano: Campsite only. No facilities but free to camp here. Book with CONAF.
Cuernos: Small refugio and campsite. Restaurant, bar and shop on site. Book with Fantastico Sur.
Frances: Small refugio and campsite. Restaurant, bar and shop on site. Book with Fantastico Sur.
Hotel Torres: Large refugio/hotel only. Restaurant, bar and shop on site. Book with Fantastico Sur.
Central: Campsite only. Shop on-site. Book with Fantastico Sur.
Chileno: Small refugio and campsite. Restaurant, bar and shop on site. Book with Fantastico Sur.
See the next section with links to the booking sites.
Refugios contain dorm rooms so if you don't want to camp then this is the option for you. The campsites are located outside the refugios and in all cases except for Italiano, have a shower block (with hot water!), toilet block and inside area where you can cook (with your own cooking equipment). You can also choose to visit the restaurant or bar within the refugio, and the shops will sell extra food like pasta or snacks if you need it.
If doing the trek from left to right, one suggestion would be to book the following refugios/campsites:
Night 1: Grey
Night 2: Paine Grande
Night 3: Frances or Cuernos
Night 4: Central or Chileno
But this will depend on the availability, how many days you have for the trek, and how far you want to hike each day.
TIP
If you can, stay in Chileno on your last night. It is the closest accommodation to Mirador Las Torres (below) and so is the best place to stay if you want to head to the viewpoint for sunrise.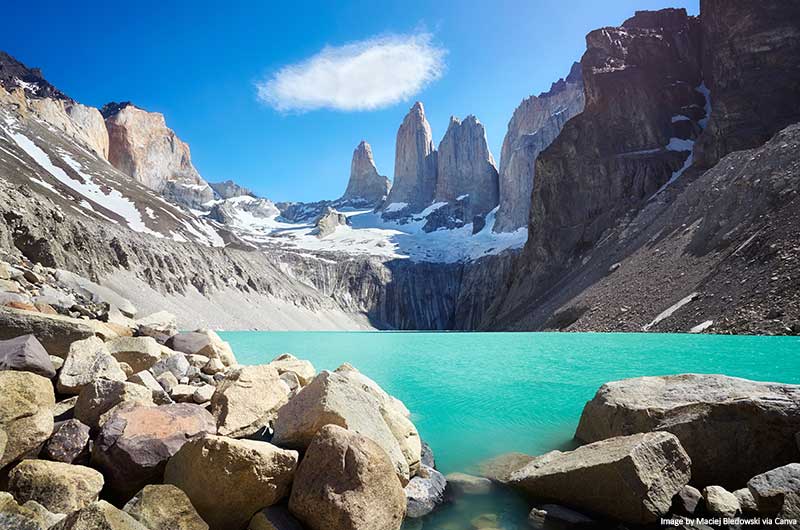 ---
How to book accommodation
Regardless of when you are travelling, you will need to book all your refugios/campsites in advance, and your bookings will be checked when you buy your entrance ticket for the Park.
Campsite Italiano is the only free campsite on the trek and therefore needs to be booked very far in advance. It is owned by CONAF and can be booked using the following link: wubook.net/wbkd/wbk/.
The rest of the campsites and refugios are owned by two companies: Fantastico Sur and Vertice Patagonia. The prices can be found using the following links: www.fantasticosur.com and
vertice.travel/en/alojamientos and the booking pages are as follows:
Fantastico Sur: int.fantasticosur.com/en/online
Vertice Patagonia: reservas.verticepatagonia.cl/index.xhtml
Check both websites to see if they have availability for the campsites you want and on the days you want before you go ahead and book.
Once you know your travel dates, check the websites for availability. If nothing is showing up then your best option is to email the companies directly and let them know when you plan on arriving in Puerto Natales and which dates you would like to do the trek. Try and be flexible and ask them to let you know if they have any last-minute cancellations. Often tour companies will bulk buy accommodation along the route and then not everyone will turn up so, contrary to popular belief, it is possible to book accommodation a few days before you plan to start your trek.
TIP
Given the popularity of the W Trek it's advisable to book your accommodation as far in advance as possible as campsites can get booked months in advance. However, it is sometimes possible to book the W Trek more last minute.
ADVERTISEMENT
CONTINUE READING BELOW
---
Optional extras
At the most basic you can choose to sleep in a tent in a campsite. However, depending on your budget, and how much you want to carry, there are other options which can make your hike more enjoyable without going so far as to splash out on staying in a refugio.
If you are camping then you will need to carry a sleeping bag, ground mat, and tent. However, if you don't want to carry this much but still want the experience (and cheaper costs) of camping, then you can choose to rent all (or some) of this equipment from the campsites. When booking your accommodation choose the campsite option, then add a tent, sleeping bag and mat (if you are two people remember to only add one tent). Obviously, this costs more than bringing your own gear, but it does save you carrying so much extra weight. It also has the benefit of everything being set up when you arrive (which is very nice if it's windy and raining!), and of the equipment being high quality.
If you're camping you will also need to carry cooking equipment such as propane gas, pots, etc. If you don't want to carry this or to cook, then you also have the option of having meals in the refugios. You can book breakfast, lunch and/or dinner. Breakfast is usually a buffet, lunch will generally be a takeaway sandwich, biscuits, fruit and drink (as you'll be hiking during the day), and dinner is a set three-course meal (or buffet at Paine Grande). The food is really high quality and the portions are large, plus you'll get bread, water, tea and coffee.
If you don't book food in advance but find yourself craving a good meal, most of the restaurants at the refugios will have things like sandwiches, burgers and pizzas available to buy. You may also be able to buy the full dinner option, depending on availability.
TIP
Take your own food for breakfast and lunch which doesn't require cooking and then have dinner at the campsites. This way your costs won't be as high as buying all your meals, you won't need to carry cooking equipment and can enjoy a good hot meal at the end of the day.
---
The W Trek
Going from west to east, an example route would be as follows:
Day 1. After taking transport option 1 (above), arrive at Paine Grande. Hike Paine Grande to Grey (approximately 3.5 hours). Leave your bags at Grey and then carry on to see the hanging bridges (approximately 1.5hr one way) (alternatively, do this the next morning before leaving Grey). Return to Grey and spend the night here.
Day 2. Hike from Grey to Paine Grande (approximately 3.5 hours). Spend the night in Paine Grande.
Day 3. Hike Paine Grande to Italiano (approximately 2.5 hours). Leave your bags at Italiano and hike to Mirador Frances. If the weather is good continue hiking Mirador Britanico (approximately 3 hours one way). If the weather isn't clear at Mirador Frances you won't be able to see anything from Mirador Britanico so it isn't worth the tough hike here. Return to Italiano, collect your bags and hike to Cuernos (approximately 2.5 hours). Night in Cuernos.
Day 4: Hike from Cuernos to Chileno (approximately 5 hours). Spend the night in Chileno.
Day 5: Leave your bags at Chileno and hike to Mirador Las Torres (approximately 3 hours one way). Return to Chileno, collect your bags, and hike to Hotel Torres (approximately 1 hour) to get the bus back to Puerto Natales.
This is just an example of a day-by-day plan for the hike and this can, of course, be varied depending on which campsites you have managed to book, how many days you have for the whole trek, and how much you want to walk each day.
---
What to pack
If you're camping you will obviously need camping equipment, including the following:
Tent
Sleeping bag
Sleeping mat
Cooking equipment
Otherwise, you don't actually need much. Remember that the more you pack the heavier your bag will be, and the heavier your bag is then the harder, and less enjoyable, the trek will be. If you're travelling for a long period and won't be camping all the time then it might be best to hire equipment rather than take everything with you (see tip below).
We would recommend the following:
Clothes
One pair hiking boots/trail runners
Leggings/hiking pants
2-3 hiking tops
Underwear
Warm socks
Comfy pants and top for post-trek and sleeping
Hat
Gloves
Down Jacket
Light Jacket/Fleece
Rain Jacket
Other
Small toiletry bag
Suncream
Cards/book for post-trek
Head torch
Battery pack
Food
Trekking Poles
The most important thing is to wear layers as when people say Patagonia has four seasons in one day they really aren't lying, and you will inevitably find yourself putting your jacket on then taking it off again multiple times a day.
TIP
All camping equipment and even hiking clothes and backpacks can be rented in Puerto Natales. Rental Natales and Erratic Rock have good quality gear but there are loads of options so shop around.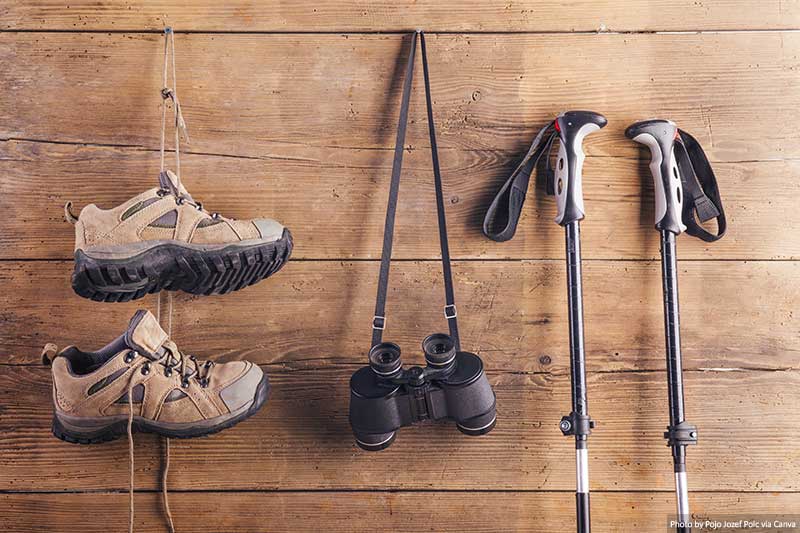 ---
Costs
The W Trek is not a cheap thing to do and there are certain costs such as the entrance fee to the National Park and the transport there and back which are unavoidable. At time of writing these costs are as follows (all subject to change):
Entrance to National Park (for >3 days) – 35,000 Chilean Pesos
Return bus between Puerto Natales and the National Park – 15,000 Chilean Pesos
Boat from Pudeto to Paine Grande – 23,000 Chilean Pesos
Shuttle bus between National Park Entrance and Hotel Torres – 3,000 Chilean Pesos
Beyond these, the trek can be as cheap or expensive as you make it. At the most expensive end you will be staying in refugios and having all your meals provided, on the cheaper end you will stay in campsites and can bring all your own camping equipment and food.
ADVERTISEMENT
CONTINUE READING BELOW
---
Final tips
Hostel Last Hope is a great option for accommodation in Puerto Natales. The owner can give you loads of tips for the trek and they will also store your big backpack whilst you are away.
Buy your National Park entrance ticket at the bus station in Puerto Natales the day before you start your trek. You will also need to watch a short video about safety in the national park, so doing this beforehand will save a lot of time on the day you start your trek (especially if everyone on your bus needs to do this!).
Don't pack too much food. Think about what you would usually eat on a day hike then multiply it. Just because you're hiking doesn't mean you need a box of porridge and a bag of pasta per day!
You can refill your water bottle at all the streams in the park so don't worry about carrying loads of water.
The refugios will have up-to-date weather reports so check these each night. For example, if you're only doing a 5-hour trek the next day and it's forecasted to rain in the afternoon, then start your trek early.
---
Summary
Whilst the W Trek can be hard in places, planning it really doesn't need to be. Follow this guide and enjoy your time trekking through some of the most amazing scenery, not just in Patagonia but in the world. Enjoy the trek, admire the views, and take as many photos as your camera can hold of this once-in-a-lifetime experience!
For more ideas on places to go read: 10 Incredible Places to Visit in Chile.
---
Tours and activities