The Galápagos Islands in Ecuador offer wildlife and landscapes like no other place on earth. An archipelago comprised of 18 principal islands, it's a double World Heritage site, as both land and sea are protected. Truly a biodiversity haven, the lack of natural predators mean you get the chance to meet the unique fauna up close and personal. With each island featuring its own unique landscape, from volcanic rocks to white-sand beaches, Galápagos is truly a must-visit South American destination.
Here is your guide to planning a trip to the Galápagos Islands.
---
About the Galápagos
Located in the Pacific Ocean about 1000 km off the coast of Ecuador, The Galápagos consists of 18 principal islands, three smaller ones, and dozens of tiny islets. A series of volcanic eruptions formed the islands between 3 and 5 million years ago. The area is still volcanically active.
Probably the most famous visitor the islands have ever seen is Charles Darwin, who as a young naturalist, spent 19 days studying the wildlife of the archipelago in 1835. His famous theory of evolution was born here – and he was also the one responsible for introducing the Galápagos Islands to the rest of the world. Nowadays, most visitors are tourists, eager to see its famous biodiversity firsthand, and experience up-close animal encounters.
---
What to do in the Galápagos
Wildlife watching: The marine iguana, the giant tortoise, blue-footed boobies, albatross and penguins are just some of the many unique species living on the Galápagos because of its isolation and lack of predators. The island of Floreana is a wildlife heaven in itself, filled with flamingos, penguins, sea lions and even black-sand beaches.
Diving: The seas are also filled with wildlife. See hammerhead sharks, whale sharks, eagle rays, large schools of jackfish and more.
Snorkelling: Keen to swim alongside sea lions and Pacific sea turtles? Isla Lobos and Kicker Rock are perfect for a good snorkelling session.
Kayaking: Tortuga Bay, in Santa Cruz, offers great kayaking opportunities.
Hiking: See what dried lava looks like and come close to active volcanoes with a hike. Good options are Sierra Negra, which features the world's second-largest crater, and Isabela, the biggest island which is home to a whopping 6 volcanoes.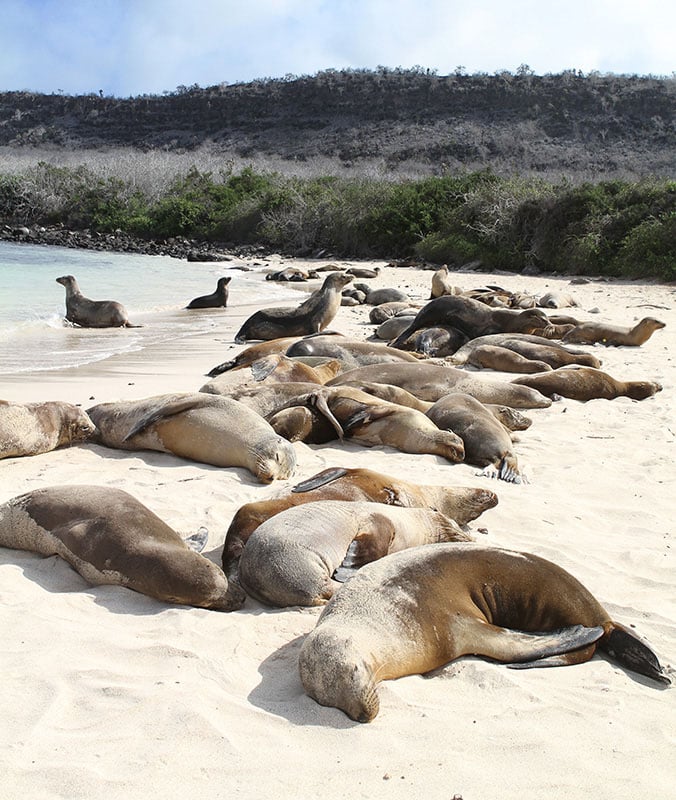 ---
When to go
While there's no bad time of the year to visit the Galápagos, this will ultimately depend on what it is that you want to experience. The warm season runs from December to May, with an average temperature of 30°C. The seas are also calmer and warmer during these months, which makes it the perfect time of the year if you're after some quality snorkel sessions. Summer also means the mating season for birds, sea lions and sea turtles.
If you're after lush vegetation, then plan your visit from February to April, when the island is in full bloom. These months are also good for spotting sea lion pups.
The cooler season is June through to November when the Humboldt Current is responsible for colder water temperatures. Experienced divers think it's the best time to visit because colder water means incredible marine life, such as hammerhead sharks and whale sharks.
ADVERTISEMENT
CONTINUE READING BELOW
---
How to get there
To get to the Galápagos Islands, you'll have to fly into Quito, Ecuador's capital. From there, catch a short flight to the islands for the easiest and quickest way of getting there. As you have to fly into Quito, however, a quick stop there will not disappoint. Enjoy a culturally-packed layover, with its impressive colonial architecture, beautiful markets, tantalising food and a beautiful Old Town.
Another way to get to Quito is to take a guided tour. You'll find options available on sites such as G Adventures.
---
What to pack for the Galápagos
Enclosed shoes for trekking and walking on volcanic rock soil.
Easy sandals or thongs for the beach.
High-quality and water-resistant sunscreen, as the sun in the Galápagos can be quite damaging – after all, it is located on the Equator line. Try and take ocean-friendly suncream as well if possible.
A hat for sun protection.
If you're going in winter and planning to snorkel or scuba dive, consider taking a thick wetsuit. Sea temperatures may get low due to the Humboldt Current, so it's better to be safe than sorry.
Insect repellent to protect yourself from mosquito-related diseases.
Rain capes and rain protectors for your cameras. This is especially essential if you're visiting the Galápagos during the wet season.
Snorkelling gear.
Smaller notes in case you're not able to find an ATM. While most places will accept credit cards, it's handy to have cash as tipping is customary. Note that Ecuador's official currency is the USD.
Your camera and possibly a long telephoto lens so that you can get pictures of the wildlife without disturbing them.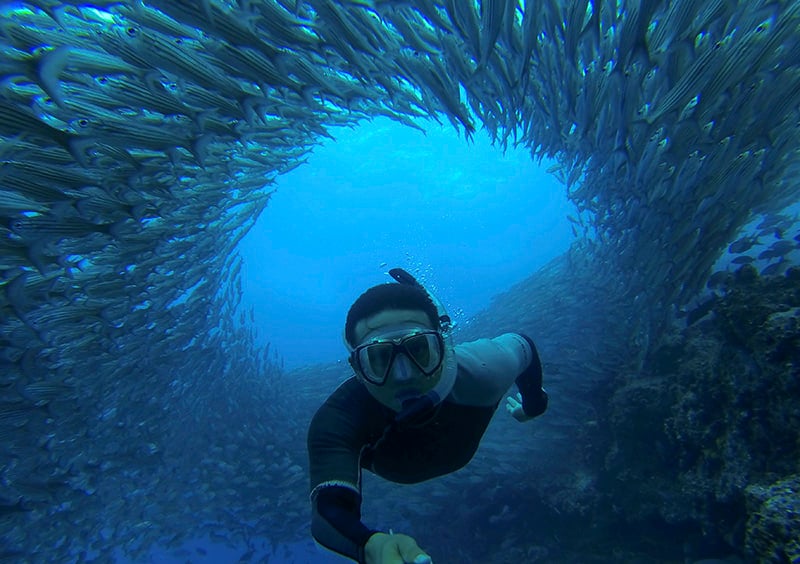 ---
Take your once-in-a-lifetime trip
Nature and adventure lovers will have the time of their lives with a visit to the Galápagos Islands. It's a once-in-a-lifetime destination, one that resembles a natural wildlife conservation. Between its majestic, volcanic landscapes and mesmerising flora and fauna, the archipelago is one of the most stunning places to visit in the world.
Find tours such as below via G Adventures:
Author Bio
Matthew Todd has a strong love of travel and regularly contributes to online travel and lifestyle titles to share first-hand knowledge on small group adventure travel. True to his passion for travel and his experience as a digital marketing specialist, he currently works as an Online Marketing Guru at G Adventures.
Note: Feature image via G Adventures