Ecuador is by far the smallest country in its region, but the diversity of this nation in South American is on par with neighbours like Peru and Brazil – if not better. With a land area of approx 283,560 square kilometres, you'll find quaint colonial towns, beaches, a wide variety of landscapes, and one-of-a-kind flora and fauna species that only thrive in the ecosystems of Ecuador.
It might be hard to create a travel itinerary and see all the highlights, but we can help you on your way with this article. Here are 10 of the best and most stunning places to visit in Ecuador.
---
1. Galapagos Islands
The Galapagos Islands are approximately 1000 kilometres away from mainland South America. It provides a unique natural habitat with a wide range of flora and fauna having been established. This large archipelago primarily draws nature lovers looking for animals like the Galapagos penguin, giant turtle, blue-footed booby, and the marine iguana, a lizard adapted to stay under the sea surface for up to an hour.
The Galapagos Islands are also a dream destination for divers, as the ocean here is teeming with sea lions, hammerhead sharks, dolphins, manta rays, and many more large species. Other than unusual animals, the Galapagos Islands are home to stunning mountains, crater lakes, dense jungles, and breathtaking beaches.
You can reach this group of islands through a plane ride or cruise from the mainland, the latter generally lasting anywhere between one and two weeks.
Note: The image above is Bartolomé Island in the Galapagos.
2. Quito
Ecuador's colourful capital is located in the north of the country and at an altitude of 2800 metres. After catching your breath and adjusting to the height, you can explore gems like El Centro Historico with its striking palaces and churches, or the massive Metropolitano Park.
Plaza Grande is the heart of Quito, with its 17th-century pastel-coloured facades, picturesque catholic churches, and the Palacio Arzobispal.
Climbing to the top of the Basílica del Voto Nacional is a spectacular way to see the city, but taking the TelefériQo cable car to Pichincha volcano from the city centre is truly captivating. Twenty minutes and a stunning ride later, you're at the height of 3945 metres surrounded by the barren landscapes around the Pichincha volcano.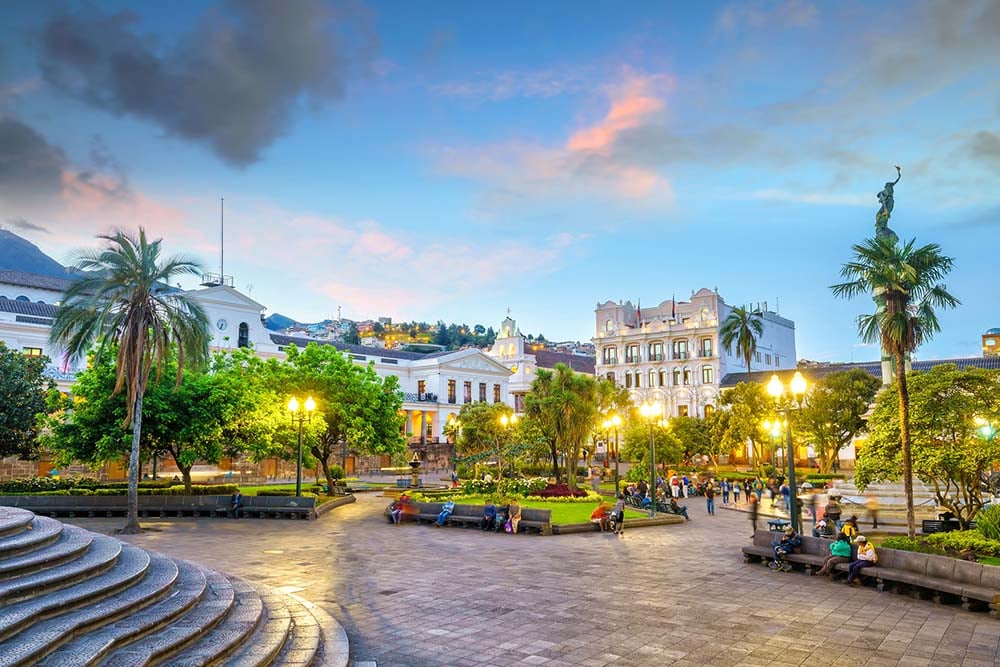 Tour Idea
3. Chimborazo
The Chimborazo volcano is part of the legendary Andes mountain ridge and rises up 6268 metres above sea level. Chimborazo is not the highest mountain in the Andes, but its peak has the honourable status of being the farthest point from the centre of the earth.
The snowy peak of this inactive stratovolcano is a famous destination amongst climbers, but keep in mind that both ascending in harsh alpine environments and wearing special mountaineering gear are part of the experience to conquer this giant.
This summit in central Ecuador is topped with eternal snow and glaciers, making for a challenging scramble for adventurous climbers as well as fantastic photo opportunities for those who keep their distance from the summit. If you don't want to go all the way up, there are several scenic walking routes around the mountain's base.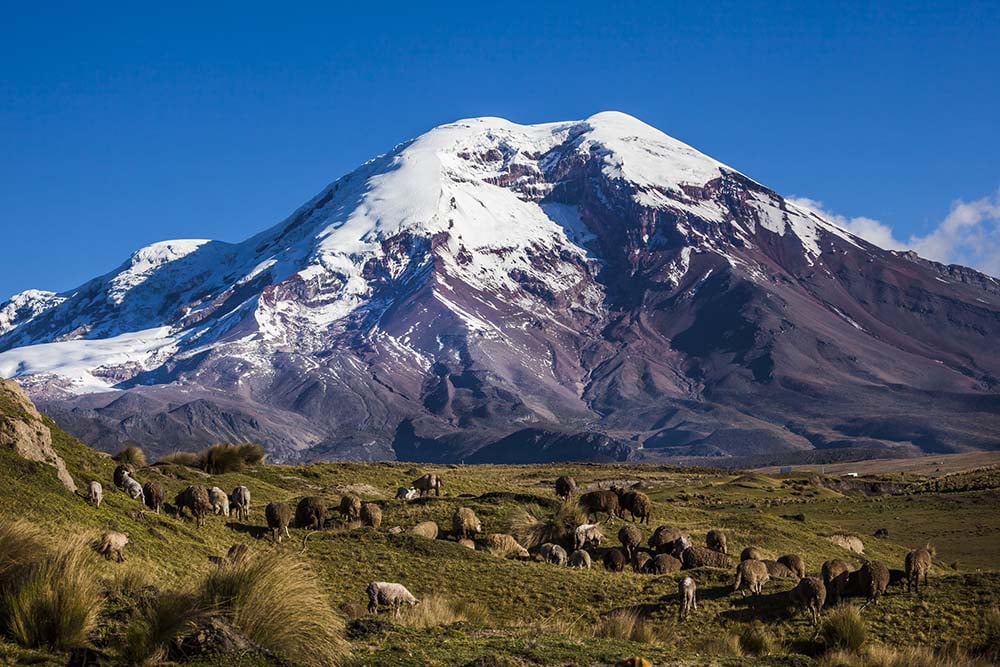 ADVERTISEMENT
CONTINUE READING BELOW
4. Yasuní Biosphere Reserve
From the Andes' towering peaks to the lush Amazon rainforest and remote volcanic islands, Ecuador's ecosystems are genuinely astounding. In the jungle, in Ecuador's eastern part, the Yasuní Biosphere Reserve stands out for its incredible biodiversity.
Within an area of nearly 10,000 square kilometres, the number of plant, tree, and animal species is hard to fathom in words or stats. Around 140 species of amphibians, 120 species of reptiles, and over 600 bird species have been recorded in Yasuní, which is considered one of the most diverse nature reserves on the planet. Some of the spectacular birds to look out for include the majestic and rare harpy eagle, trumpeter, and the odd-looking hoatzin.
The jump-off point for this area is Coca, a town where you can arrange your rainforest tours. In this virgin forest reserve, you'll find several camping grounds and simple lodging to use as a base for exploration.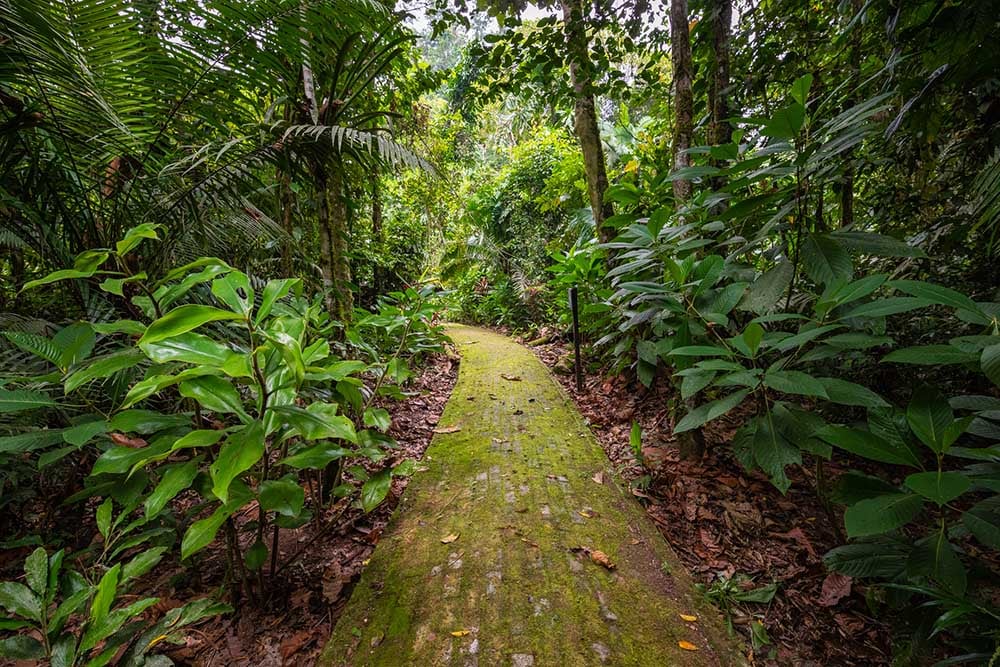 5. Baños
Baños is a modestly-sized city, settled in a green valley 200 kilometres south of the capital Quito. Most travellers venturing for Baños are thrillseekers attracted by the outdoor activities and the brilliant environment. The streets of Baños are dotted with vivid houses and souvenir stalls, but the real adventure lies within the town's waterfalls, lookout points, and dense woodlands.
Some of the cool endeavours here are ziplining, white water rafting, and canyoneering with some serious cliff jumping. Do you like your activities more laidback? Opt for a dip in the thermal baths Baños derived its name from. Alternatively, walk the Ruta de las Cascadas, a sensational walking trail which takes you to multiple magnificent waterfalls.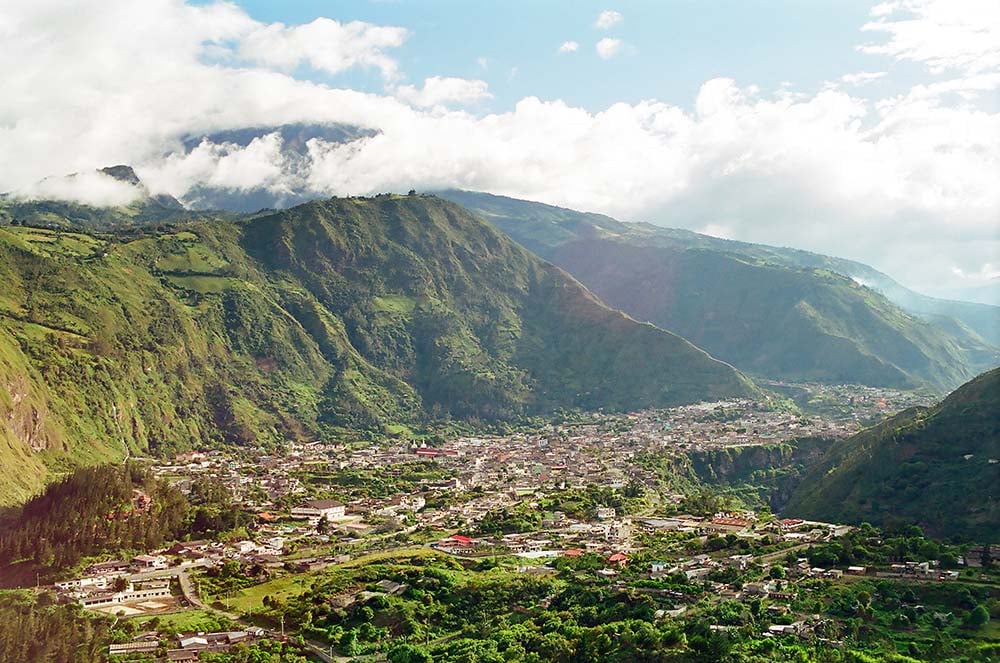 6. Sangay National Park
Unsurprising, Sangay National Park is famed for its diversity in landscapes: volcanic cones, wetlands with lakes, tropical rainforests, and grassy plains together make up for one large, unique reserve.
The park got its name from the dominating Sangay volcano (5140m), but the altitude in this reserve drops to 900 metres in the lowlands. With over 3000 species of plants, rare mammals such as the spectacled bear, and 430 kinds of birds, Sangay National Park can even rival the flora and fauna range of Yasuní Biosphere Reserve.
The tourist industry around Sangay National Park is not highly developed – fortunately for conservation – but there are some hiking routes and camping spots in the Volcán El Altar range and around Lagunas de Ozogoche. Altar's turquoise glacier lake is one of the most stunning locations within Sangay National Park.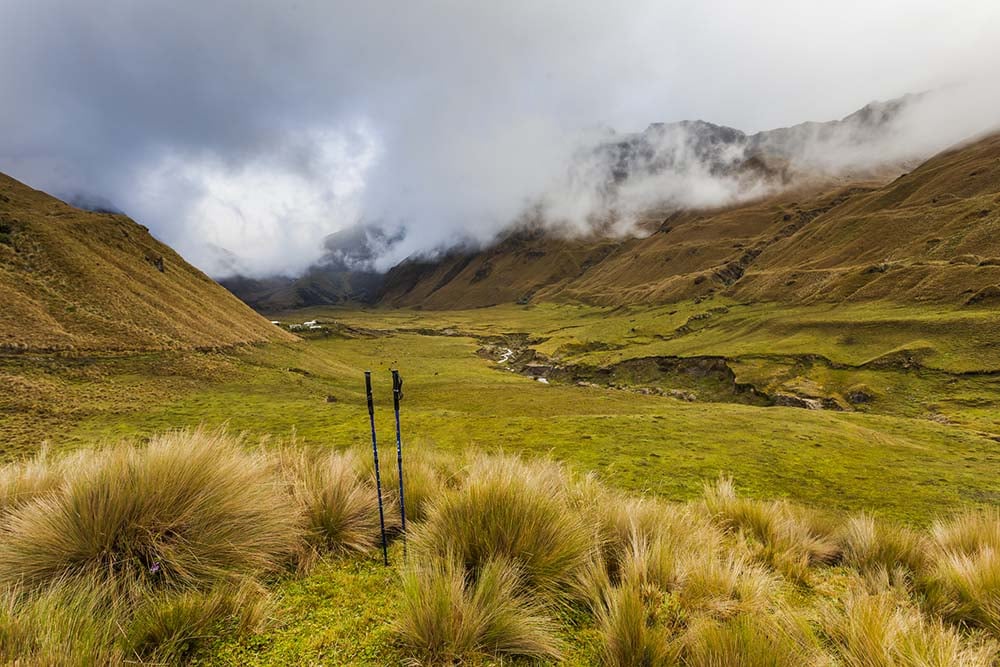 ADVERTISEMENT
CONTINUE READING BELOW
7. Cotopaxi
From a distance, the Cotopaxi volcano has a nearly perfect conical shape. This peak is one of the highest active volcanoes in the world at 5897 metres above sea level, but generally, it's safe to hike and bike around its summit.
The city of Machachi is the most convenient place to start exploring Cotopaxi and the trails around it. If you want to challenge yourself, take on the guided hike from a refuge at 4800 metres, traversing over glacial fields until you have reached the iconic top. You'll have to arrange your trekking beforehand, as you need a guide and proper ice-climbing gear. Apart from spectacular views, you'll have a chance of spotting the elusive fox and Andes condor.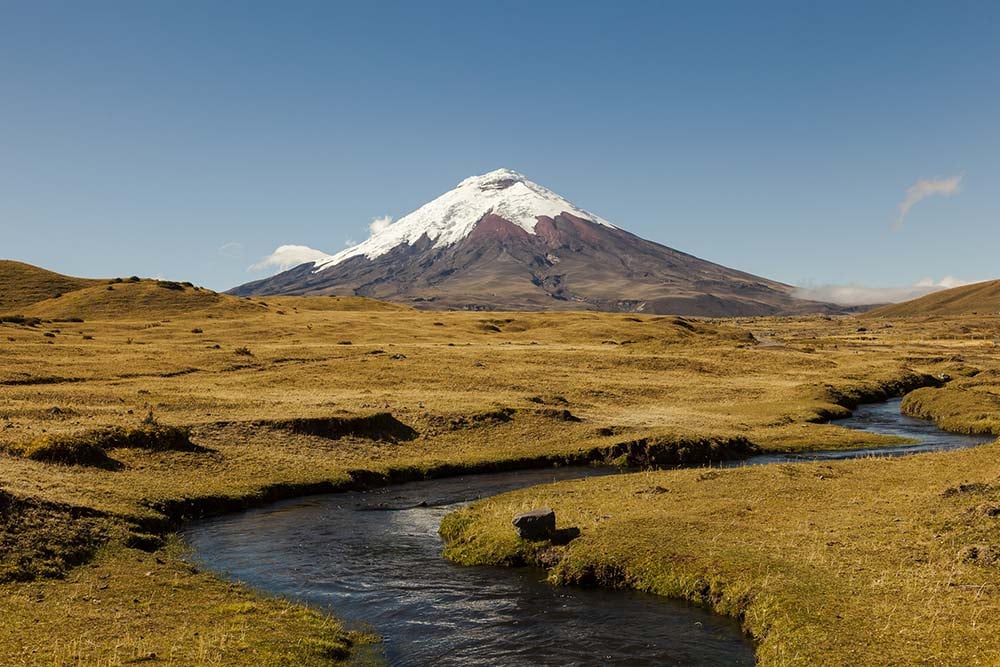 8. Puerto Lopez
Far away from city life and thrilling activities, Puerto Lopez is an unassuming fishing community on Ecuador's Pacific coast. There's not much to do here, other than watching life passing by at a slow pace, but that's precisely the charm.
Puerto Lopez does attract some tourists, who mainly come here for the striking beaches and nearby forests. Drive a bit north of the town, and you'll bump into Playa Los Frailes, an incredible white-sand beach with rock formations popping up from the bottom of the ocean.
Nearby Isla de la Plata is worth a trip for the unique wildlife, ranging from seasonal orcas and whales to the adorable blue-footed booby on land. Staying overnight here is not allowed for protection purposes, but you can do a day-trip by boat from Puerto Lopez.
ADVERTISEMENT
CONTINUE READING BELOW
9. Mindo Valley
The Mindo Valley is home to a cloud forest, where birds chirp in masses and waterfalls tumble over mountain cliffs. Mindo is one of the best places in Ecuador to do individual jungle walks without travelling to a hard-to-reach lodge in the Amazon. Hiking trails start in each direction from Mindo town, and especially at dusk and dawn, you'll be able to spot an astonishing array of birds. Get ready for encounters with vibrantly coloured birds like cock-of-the-rock, toucans, and hummingbirds. See the valley from a birds-eye perspective in the Tarabita cable car that crosses the Nambillo river, or rent a bike to drive around this lush valley.
10. Reserva Ecológica Los Illinizas
To see some proper Andean landscapes, don't forget to add Reserva Ecológica Los Illinizas to your Ecuador itinerary. On the rolling grasslands, you can see llamas grazing with the snowy peaks of the Ecuadorian Andes in the background. An extensive network of walking trails allows visitors to discover this reserve properly.
A must-see is Quilotoa, where a volcano is filled with a green-blue crater lake. This lake can be explored by foot over one of the trails, or on a horse's back. The vastness of Reserva Ecológica Los Illinizas is impressive, and it's recommended to bring a decent camera to capture its charm.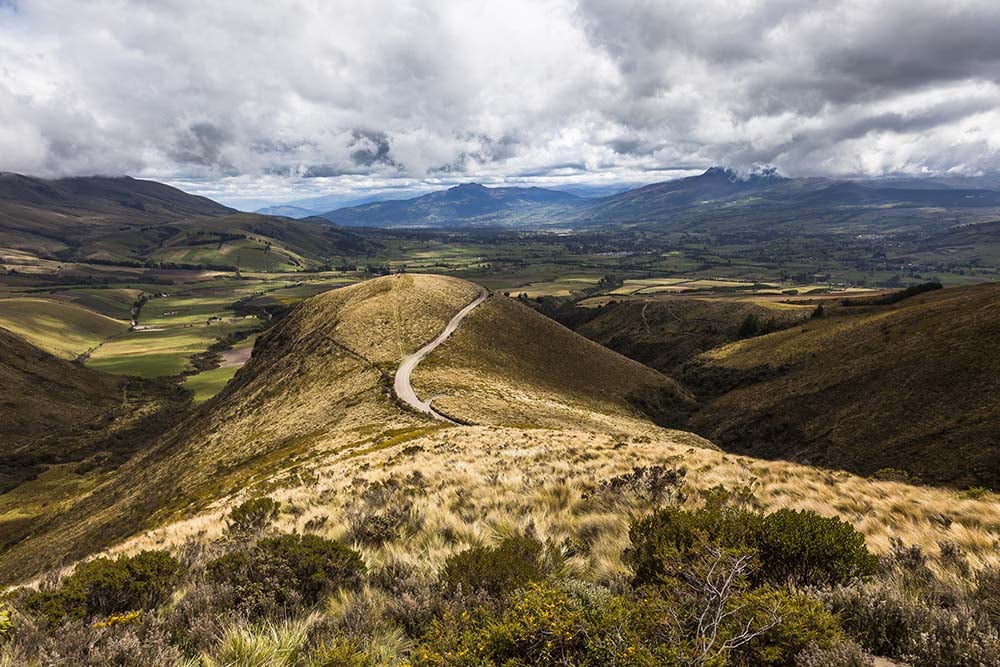 Summary
Ecuador may be one of the smallest nations of South America, but its diversity in landscapes, flora, and wildlife can't be rivalled by most other countries. Besides the overwhelming nature, Ecuador is home to charming cities and outdoor activities, catering to most types of travellers.
---
Find hotels and accommodation in Ecuador
You can start your search for places to stay in Ecuador below. If you prefer you can also use this map to find hotels for your travels. Use the filters to adjust the place that you're visiting, the dates, your budget and more.
See more suggestions of top places to find travel accommodation.
---
Top tours and activities for Ecuador
Discover top activities, tours and experiences below: