In terms of diversity, Indonesia is hard to beat in Southeast Asia. This vast country stretches from the Malay Peninsula to the north of Australia and has a population of more than 250 million. In Indonesia "The emerald of the equator", you'll find magnificent forests, active volcanoes, and a significant cultural heritage to explore.
With over 17,000 islands, Indonesia is a treasure trove for travellers. But these endless opportunities can make it challenging to pick places for a short holiday. Therefore, we have created this Indonesia itinerary that mixes cultural highlights with some of the natural wonders you'll find on this island nation.
Places Included: East Java, Bali, Lombok
---
Where to start?
For this itinerary, Surabaya in East Java is the best city to kick off your journey. This city has an airport that receives flights from international hubs such as Jakarta, Singapore and Kuala Lumpur.
Arriving in Surabaya also allows you to travel to memorable locations over land in eastern Java. You could also complete the itinerary below in reverse by starting in Lombok. Flights from international hubs such as Kuala Lumpur and Jakarta will offer Lombok as a destination. Search for flights and connections.
---
When to go?
When deciding when to travel, it's worth looking at the different weather conditions and tourist seasons. With the high season being July and August, and the wet season October to March, April to June is an ideal period to explore these parts of Indonesia. Also note that if you decide to visit Indonesia during the wet season this doesn't mean you'll be soaked all day.
---
Indonesia Itinerary Ideas
Here is a selection of some of the best islands worth visiting and adding to your Indonesia itinerary.
East Java
In East Java, the landscapes are dominated by agricultural land and volcanic cones. The latter forms the region's main attractions, although East Java is also blessed with stunning beaches and national parks, as well as heaps of wildlife.
Highlights of East Java
Bromo Tengger Semeru National Park – Here, watch the sunrise over the volcanic peaks of Mount Bromo, Mount Batok, and Mount Semeru.
Kawah Ijen – Hike up to the summit of this volcano, and descend to the acid crater lake for spectacular backdrops.
Baluran National Park – A diverse reserve with beaches, mangrove forests, and extensive grasslands, with deer, leopards, and over 150 bird species as the most significant inhabitants.
Alas Purwo National Park – Discover forest lands, delve into Java's most picturesque beaches, or enjoy surfing at the acclaimed G-Land.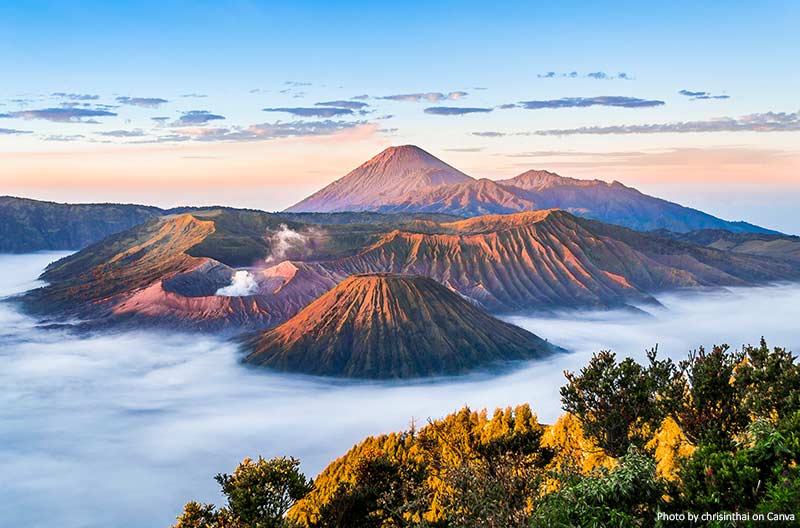 Tour ideas
Here are some tours you may like on your trip. Click the blue-button to see more.
Length of stay
It's possible to explore East Java for weeks, but on a tight time schedule, two to three full days will allow you to see many of the highlights.
Accommodation
Here are a few accommodation ideas:
How to get to East Java?
Surabaya is the gateway to this region, for it has an international airport with connections to cities such as Singapore and Kuala Lumpur.
ADVERTISEMENT
CONTINUE READING BELOW
---
Bali
Bali is a lush island and has been a favourite amongst travellers for years. Visitors are drawn by the unique culture, the buzzing nightlife, scenery, and extravagant accommodations. Bali is also a road trip heaven, with scenic roads, countless temples, and rice terraces to see.
Highlights of Bali
Ubud – Stop by the majestic Ubud Palace, encounter naughty macaques in the Monkey Forest, and dine at the Pasar Gianyar evening market.
Amed – With beautiful rice terraces, excellent diving spots, and the fascinating Tirta Gangga temple complex, this coastal town in the east is a compelling destination.
Lovina – This village is famous for its dolphin sightings, which has propelled tour operators to organize boat cruises. Nearby the beautiful Gitgit Waterfall is worth visiting as well.
Nusa Penida – Sail to Nusa Penida for landscapes and natural wonders. This small island has epic cliffs, picture-perfect viewpoints, and if you venture underwater you may spot manta rays and the elusive mola mola or sunfish.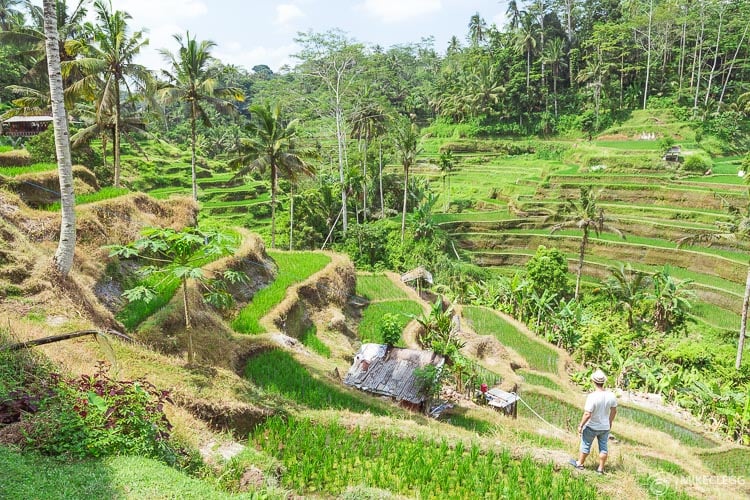 Tour ideas
Here are some tours you may like on your trip:
Length of stay
To see and experience Bali properly, you'll need at least three days. However, add a couple more if you want to include the neighbouring islands Nusa Lembongan and Nusa Penida.
Accommodation
These are some suggestions of places to stay: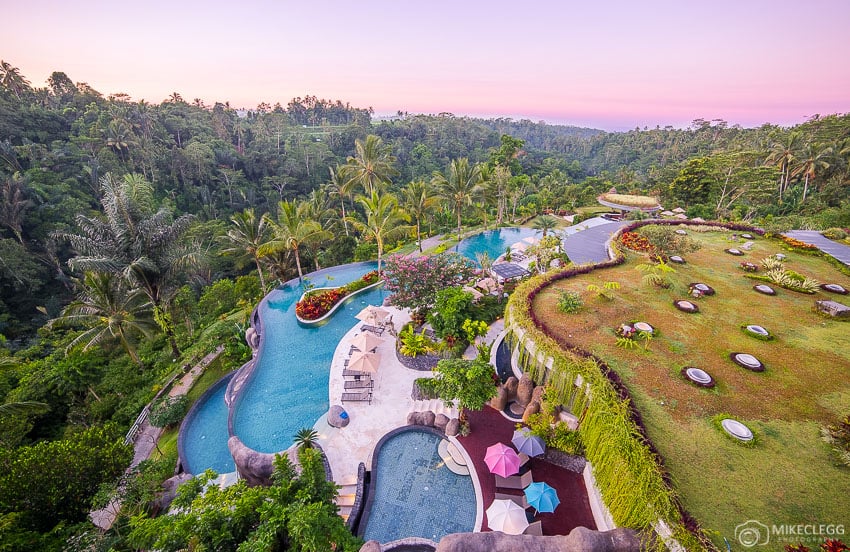 How to get to Bali?
If you start your Indonesia adventure in East Java, you can cross by ferry to Bali. A public boat departs from Banyuwangi regularly and arrives in Gilimanuk on Bali. From here you can travel onwards. It's also possible to arrange a pick-up by van in Banyuwangi, which will drop you off in the Denpasar / Kuta area. In case you start your trip in Bali, you can fly to the airport of Denpasar directly from numerous destinations in Asia, the Middle East, and Oceania. Search for flight options.
ADVERTISEMENT
CONTINUE READING BELOW
---
Lombok
Lombok can be referred to as the less popular Bali, but has features that can -at least – compete with its trendy neighbour. It lacks the tourist masses but has equally dazzling dive spots, better beaches, the picture-perfect Gili Islands, and a fantastic mountain to tackle during a hike. Lombok is also a fine place to master your surfing skills, or to visit a tribal village.
Highlights of Lombok
Gili Islands – With their bars, white strips of sand, and turquoise waters teeming with turtles, the three Gilis draw party people, divers, and sunseekers alike.
Mount Rinjani – Hikers will be pleased by the presence of this 3726-metre volcano in the north of the island. From the top, which can be reached in two days, the views over Rinjani's crater lake and the sunrise are beyond jaw-dropping.
Kuta – Kuta is a mellow surfing town with stunning beaches, scenic roads, and hip cafes in the town centre.
Benang Stokel Waterfall – If you're an Instagrammer or photographer, you should be sure to bring your camera. Benang Stokel consists of three separate waterfalls that plunge into the same pool, surrounded by dense jungle and is stunning to see.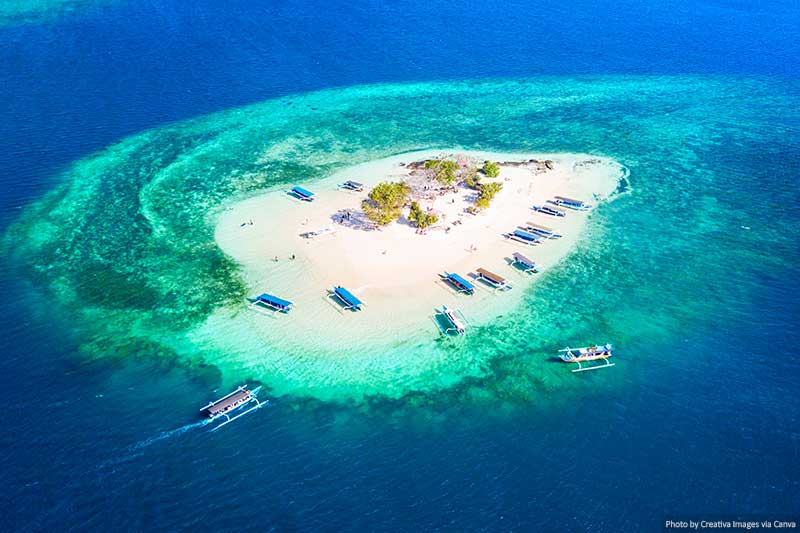 Tour ideas
Here are some tours you may like on your trip:
Length of stay
Depending on what travel time you have left, you can discover Lombok in two to four days. If you're on a 2-week journey, it's recommended to look into climbing Mount Rinjani, as this is perhaps one of the most memorable experiences on the island.
Accommodation
Below is a selection of accommodation for various budgets:
How to get to Lombok?
When voyaging from Bali, the most convenient and cheapest way to get to Lombok is by public ferry, which departs from Padang Bai Harbour. The boat ride lasts for about four hours. Another option is to take a private boat, which is faster but you can sometimes be ripped-off due to the lack of fixed fares. As an alternative, there are regular 30-minute flights from Denpasar in Bali to Lombok's Praya Airport at attractive rates.
---
Summary
Thousands of islands, each with their own food, culture, history, and marvels of nature; Indonesia can't be fully explored in a lifetime. But for first-timers, the islands of Java, Bali, and Lombok will provide a wonderful picture of this extensive nation. Whether you want to hang out on white-sand beaches, test yourself with a strenuous mountain hike, or explore the nature reserves, these three islands certainly won't disappoint.
Want more ideas to add to your Indonesia itinerary? Check out these 10 Most Beautiful Places to Visit in Indonesia or see some of the tour options below.
Start Booking
Here are some top options to book your hotels, activities, flights and other transport:
---
---
Please note that we get a small commission if you purchase via our referral links. We use this to invest in new content and improving this website. Thanks so much for your support.
Related Articles