Rome, in the summer, is definitely the place to be with amazing warm weather and fantastic vibes. But fortunately, Rome is beautiful in all seasons and is blessed with good weather and blue skies almost all year long. It rarely experiences temperatures below zero, which makes it a good choice for a winter destination. Like many Europe destinations it can snow, but this is quite rare.
Another reason to visit Rome in the winter is that you will get the chance to see the city's beauty with fewer crowds and calmer streets. Wondering what to do during your visit this time of year? Here are 9 of the best things to do in Rome during the winter season!
---
1. Museums, museums, museums!
What else is cosier than visiting a museum whilst it's cold outside? Rome has an endless number of museums which you can visit from the Vatican museums, the Colosseum, Castel Sant'Angelo, Galleria Borghese to the MAXXI museum and the gorgeous Palazzo Doria Pamphili where online booking for tours is available. You could easily spend much of your time hopping between museums during your visit and walking and enjoying the outdoor sites as you do.
Tour Idea
2. Explore the Christmas Markets
Christmas in Rome is magical with cozy weather and lots of Christmas markets, lights and decorations hanging around the city. You can find those markets starting from December in Piazza Navona, Monti, Piazza Mazzini, EUR district and others. In these markets, you can find lots of Christmas toys, gifts and other products, as well as street musicians and artists, amusement rides and even ice-skating rinks. You can also gaze at the huge Christmas trees hung in Piazza Venezia and the Vatican.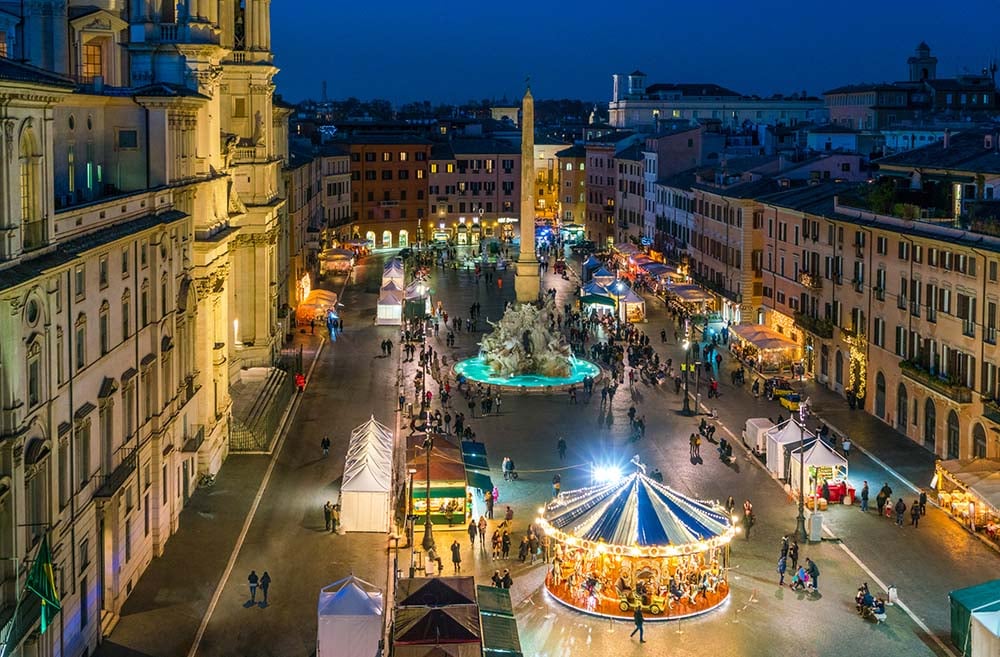 ADVERTISEMENT
CONTINUE READING BELOW
3. Enjoy a Christmas Tour
Uncover the enchantment of Rome in Christmas with a guided tour around the city. On these tours, you can find out about Rome's history, legends, and traditions during Christmas while checking out the beautiful Christmas trees, angel sculptures, and festive decorations around the city!
Tour Idea
4. Read a Book at a Café or an Enoteca
There is nothing more romantic and warming in winter than having a glass of wine at an enoteca (Italian wine bar) or a cup of coffee at a café. In Rome, there is endless choices of enotecas and cafés, usually dimly lit with cozy décor and an inviting atmosphere. These are perfect as a place to enjoy reading a book, doing some work, or hanging out with a friend.
5. Enjoy Rome's Wonders in the Cold
When the sun is out and the rain is gone, head to the centre of the city and start your walking journey around Rome. Most of the attractions can be discovered in one stroll, from Piazza Navona, the Pantheon, the Colosseum to Fontana di Trevi and the many churches on the way. Although rate if you're very lucky you may even get some snow which adds some extra magic to the city.
You could also consider going on a guided walking tour around Rome to help you get to know more about the different sights around the city as well as the history.
ADVERTISEMENT
CONTINUE READING BELOW
6. Take a Trip to a Thermal Bath
Rome is surrounded by various thermal baths (terme), whose hot springs and mineral waters offer relaxing and soothing treatments for both the body and the soul. So, take a day trip to the natural thermal baths and hot springs like Terme Dei Papi, Terme di Stigliano Thermal Park, and Acque Albule or Terme di Roma, where the waters can be as warm as 40 degrees Celsius.
7. Explore Trastevere
Trastevere is a beautiful area in Rome located along the River Tiber, just down from the Vatican and this gets more charming during the winter. While there, stroll around Trastevere and enjoy walking around the Tiber river, the gorgeous bridges, Piazza Trilussa and the medieval church located in Piazza di Santa Maria. You can also have a gastronomic tour and try the roman cuisine from the white pizza, olive oil bread stuffed with ham and parmesan, local wine, and beer!
ADVERTISEMENT
CONTINUE READING BELOW
8. Have a tour around the city on a bus
What is better than discovering the city on a bus especially when it is cold or raining. You can take the hop-on hop-off sightseeing bus and discover Rome's amazing imperial monuments, and the Baroque and Renaissance buildings of the historic city centre. Tour can pass through several amazing must-see places from Santa Maria Maggiore, the Colosseum, Bocca della Verita, to Piazza Venezia, Campidoglio, Piazza Navona, the Pantheon, Castel Sant'Angelo, and the Vatican Museums…
Tour Idea
9. Relax in a restaurant and try tasty Italian dishes
Naturally, when you are in Rome, you must try all the pasta and pizza without any guilt. Head to the many cozy Trattoria's located in Rome and order seasonal (winter) local dishes like panettone (dessert cake), artichoke dishes, stews of oxtail, pasta with chickpeas, minestra soup or the pan-Italian tortellini in warm meat broth. You could also go on a food tasting tour to try many of the traditional dishes available.
Summary:
All in all, Rome is the place to be in any season. Its monuments, cuisine, architecture, and nightlife never fail to leave you in awe! So, once you arrive, make sure to check out the suggestions in this article and grab some warm winter clothes, walking shoes, an umbrella, your camera and your appetite!
Ready to book? Search for:
---
---
Tours and activities