If you're a travel site (such as ours), or even a different kind of website then you may be wondering where can get the best images, videos and other content for your project. Whether it's for a marketing campaign, to help illustrate pages, for social media, or another use then there are lots of places you can get images, videos, vectors and other content. Some of these can be free and some may be paid, which means whatever your budget there are options available. Here are the best paid and free stock photo websites where can easily and quickly download images and other content for your projects.
Disclaimer: plans, stats and other details are all believed to be correct at the time of writing but may change. Check the mentioned website/service for the most up to date details. Screenshots below have been captured from the websites mentioned at time of publishing.
---
Best Paid Stock Photo Websites
Here are some of the best-paid stock photo agencies.
Dreamstime
Dreamstime is one of the largest stock photo websites with over 150 million photographs in their collection. To find the image you want you can use the search box, image tags, as well as by using the different categories you'll find on their homepage. Licencing options include both commercial use, editorial use, as well as extended licenses.
Dreamstime is our current favourite agency and we have been using them for the last 6 months (prior to publishing this article). We find their prices and promotions are fair and affordable, and their collections of images offer everything we need.
Plan options:
Subscriptions offering a set number of downloads, from 5 images to 750 images. They offer both monthly and annual plans, and the monthly plans can also be cancelled anytime
Credit packages ranging from 11-2000 credits which can be used for buying the pictures. The amount of credits you need for a download will depend on the size and rating of the image
Video subscriptions offering 1-25 downloads per month
Adobe Stock
Adobe is well known for its photography, graphic design and other creative tools, but has now created its own stock photo collection. Their library also includes the assets from Fotolia which has since been purchased by Adobe. In their collection, you'll find over 90 million photos, vectors, illustrations and other assets, perfect for design projects, websites and other uses.
Note that with Adobe Stock you can also (at the time of writing) get a 30-day trial which gives you 10 free downloads.
Plan options:
Subscriptions with either a monthly or annual commitment and offering between 10-750 downloads
Credit packs of between 5-150 credits which can then be used to purchase images
Alamy
Alamy is a huge agency with over 230 million images, vectors and videos. They offer editorial news type content as well as normal stock and cover everything including conceptual designs, sport and fitness, landscapes, cultures and more. Alamy isn't necessarily the cheapest agency but do offer very clear pricing, such as licensing for website use, magazines and books, personal use, social media and more. They also license images in a range of formats from XSmall to XXLarge.
Plan options:
Various licenses from personal use to marketing packages – as well as Royalty-free image licenses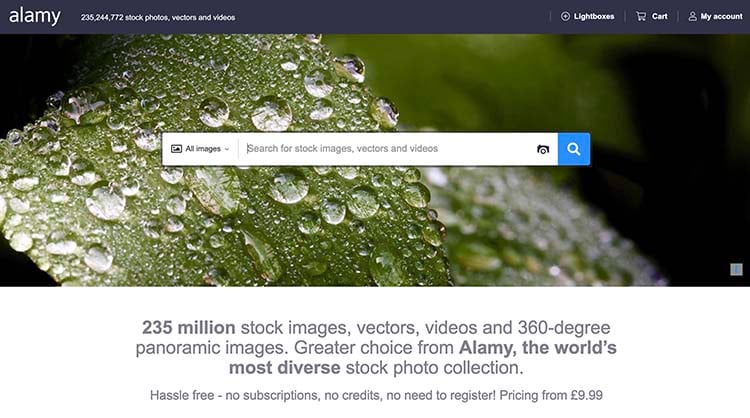 Shutterstock
Shutterstock have one of the largest selections of stock images on the market with over 350 images, as well as other types of media such as vectors, video and audio. Shutterstock also offers a great interface and some of the best filter options which in turn helps you find the perfect photograph or video that you're looking for. For those looking for travel images then take your pick from over 50 million options, and for nature photographs there are an incredible 112 million+ images – all of which you can filter down with more specific keywords or by using various filters that are available.
Plan options:
Subscription packs including monthly and yearly options and with download limits ranging from 10-750 images
On-demand packs offering between 5-25 images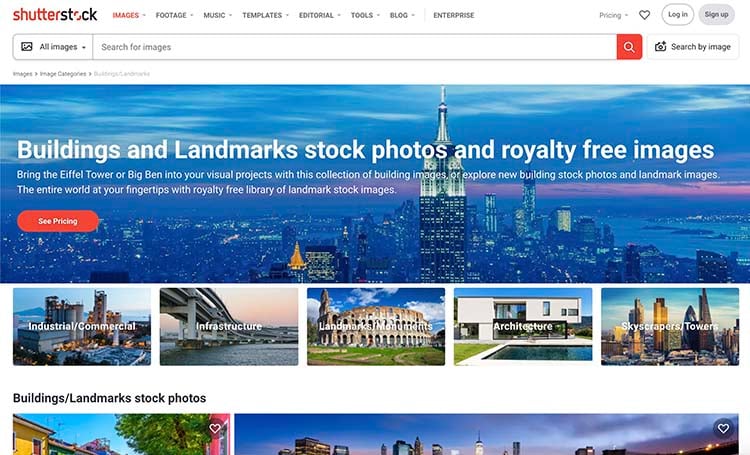 iStock by Getty Images
iStock is another one of the biggest stock agencies around with millions of images and videos. They were previously independent but are now part of Getty Images. Within their collection you'll find everything from travel, food, lifestyle, seasonal, business, you name it.
They have various subscription plans including annual and monthly with options to download between 10-750 images per month. They also have images in two collections which include "Essentials" and "Signature". As well as this you could instead choose to buy a credit pack which range from 1 credit to 300 credits. Using these credits you can exchange them for image or video downloads.
Plan options:
Subscription packages both annual and month-to-month offering between 10-750 downloads per month
Credit packs with 1-300 credits to use to download images and/or videos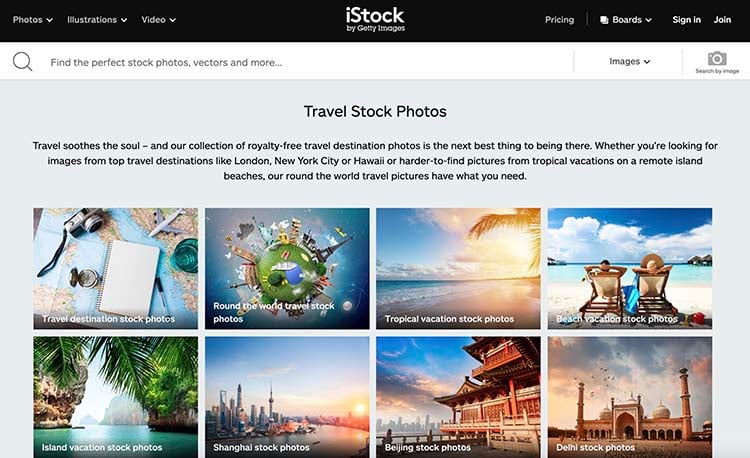 Pond5
Pond5 is a library which is popular for video content with over 22 million clips. As well as this they license images, vectors, 3D models, Photoshop PSD files and more. You can almost think of Pond5 as a specialist agency which are great for designers and filmmakers in particular. Their content has even been used by the likes of Disney, BBC, Discovery Channel and many more.
Plan options:
Pond5 offer a range of plans such as pay as you go, monthly or annual subscriptions as well as custom-tailor made options
Depositsphotos
Depositphotos have a library of over 190 million files including photographs, vectors and videos. The site has a nice layout and useful filters to help you find the content you need. Including filters such as number of people, editorial or non-editorial, orientation, colours and more. For those after travel photographs, you'll find over 19 million options, lifestyle over 14 million options, and sport over 6 million.
Plan options:
Subscription packs from 30 images to 750 images – both monthly and yearly options
On-demand packs from 10 images up to 100 images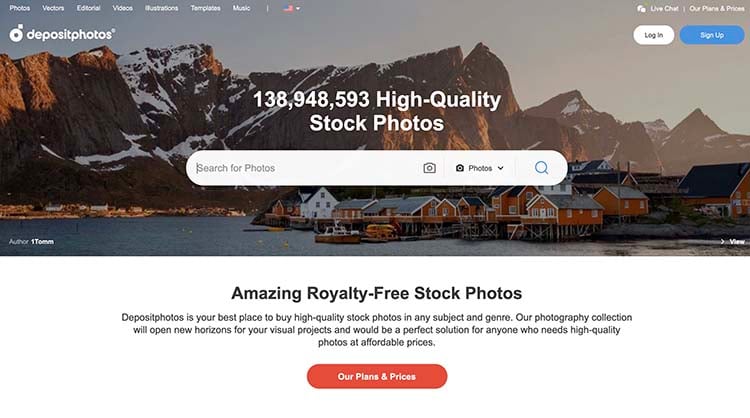 123rf
123rf was created in 2005 and now have a library of over 160 million images. To fuel this collection they have 300,000 contributors who regularly help to add new content to their website. As well as stock photographs you'll find other content types such as video, vectors and audio. When searching for content you'll find a few key filters. such as orientation, number of people and various others. You can also filter by 'Relevance' or 'New' too.
Plan options:
Subscription plans from 10 images a month up to 750 images a month
On Demand Credit packs which offer a range of credits which you can then use to purchase photographs. These range from 20 credits up to a user-defined amount
---
Best Free Stock Photo Websites
Here are some of the best free photo websites to consider. One thing we've found with many of these sites is that they sometimes mix in alternative options in the results. For this reason if you are searching for a destination photograph then always check the tags and captions to determine if the photograph is of the place you're looking for.
Pixabay
Pixabay is a fantastic free stock photo website and we have used them many times to help illustrate our content. They offer over 1.9 million stock images, videos and music which you can use for free and without credit or attribution. As well as photographs you will find illustrations, vectors, videos and music, although we have only used images and illustrations ourselves so far. When downloading an image or other content you'll also be given the option to make a donation to the artist/contributor although this isn't compulsory.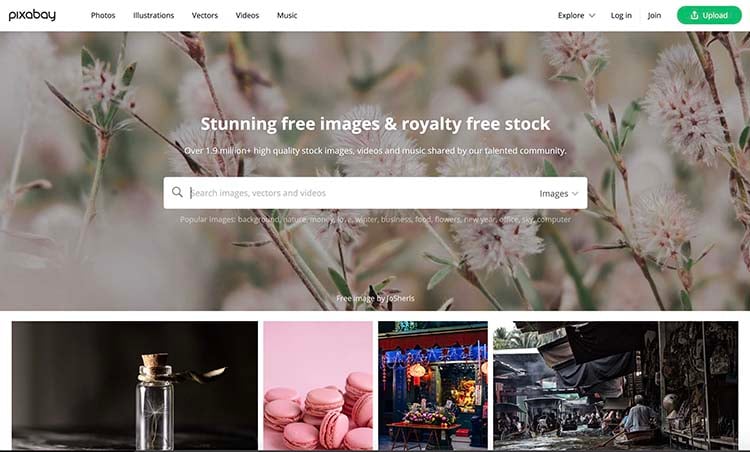 Unsplash
Unplash is another top website for downloading free images. They list over 2 million high-resolution pictures including travel, nature, architecture, lifestyle and many more themes. They also use an infinity scroll setup rather than typical pagination. When downloading you'll have the option of "Small", "Medium", "Large" or the original size. You'll also get prompted to offer a credit if you wish but this isn't compulsory.
Pexels
Finally, another website where you could get free stock photographs is through Pexels. Similar to Unsplash they use an infinity scroll once you search and also in their explore section. On their site you'll find over 100k+ images tagged as travel, 85k+ images tagged as nature, 37k+ for lifestyle and heaps more across many other categories. Also available are options to filter by orientation, size and colour or use suggested tags to narrow down your search.
---
Common Questions
What's best – free or paid stock photos?
Both free and paid stock photographs are good in their own way, but you'll normally find a lot more options on the premium websites as more photographers and artists will likely want to contribute to them. We find there are also more higher quality images on the paid sites. Mike (who runs this site) is a contributor to many libraries and contributes his best images to the sites that offer a commission on downloads, but then some of his other shots to the free sites. Another very important benefit of using premium/paid stock photo websites is that they normally offer legal protection with the images you purchase.
How do I get the cheapest deals when buying stock photographs?
We would recommend keeping an eye out for promotions before committing to a long term plan. Often websites such as Dreamstime have promotions allowing you to download a huge number of photographs for a great price. One such deal we've previously had was 100 images for £39 which works out at 39p an image. When signing up to a subscription package then check the terms and also if you can turn off auto-renew or cancel whenever you like, such as if your budget or demand for content changes.
What are royalty-free images?
Royalty-free images are pictures that you license for a set price for almost all usages. This type of licensing makes it easy to buy images to use for your projects without complicated terms of use, including expiry dates and other criteria. With these types of licenses, you often don't have to pay extra commission every time you use the content. There are often standard RF licenses and Extended/Enhanced RF licenses with the later allowing advanced usage/terms for the content.
How do you find the perfect photograph if it's buried in huge stock libraries?
Stock photo libraries can be quite overwhelming at first, as you'll have the choice of millions of photographs. To narrow down your search and make it easier to find the image you're looking for then simply be more specific with your search.
Every image (or video) would have been keyworded and should also have been assigned a category. This means that when you search, the website will try and find the best match. We have found that some of the free agencies don't have the best algorithms and sometimes suggest content that isn't relevant, so always check the description and keywords if you can to check the image matches up. Or for a specific place then see if you can find an official photograph online or on their website to check against.
Are there other ways to buy photographs for your projects?
Another way of buying photographs for your images is to contact photographers directly and then asking if you can purchase their images. The price you pay may have to be negotiated with this method but you might still get a great deal. A good way to find top travel photographers is to look on Instagram, Flickr, 500px and other major photography sites.
You can also often use images from sites such as Flickr with attribution and links – although this is our least preferred source of content.
Should you credit free stock photo websites?
Whether or not you credit when using photographs from free websites will depend on the terms of use. Many websites such as Pixabay state that you don't need to credit, but when downloading they will popup a prompt saying crediting is appreciated. However, they also embed some code they'd like you to use on your website with a follow link which can help them get higher rankings on Google. What we do is credit using the suggested text but remove the link. Of course, it is up to you what you decide to do though.
Can you submit to stock photo agencies?
Yes, if you're a somewhat decent photographer then you definitely can. Nowadays you don't even need an expensive camera either and your phone camera (depending on your phone) might also do the trick. You'll find that the agencies can be picky and the process to submit can often involve submitting your images to then be reviewed and then would be added if they pass the approval process. For other ways to make money from photography read our article: 5 Steps to Make Money from Your Travel Photos. Also see our tips on photography techniques.
---
ADVERTISEMENT
CONTINUE READING BELOW
Summary
Stock image libraries are a fantastic and often affordable way to find, download and license images, videos and other content for your projects. Nowadays there is a huge number of websites available and with gigantic libraries of content for you to download at just the click of a button. As well as this not all libraries (such as some of those above) require you to pay to license or use the images which makes them a great option for those with a low or even no budget.
Related Articles