If you love travel destinations with a rich history and culture, as well as a diverse range of attractions then China would be a great choice. As the largest country in Asia and one that is enjoying rapid economic growth, China has been building up world-class infrastructure to meet its soaring tourism demands. With an estimated 30 million visitors in 2018, China is set to be the top travel destination on the continent. Planning a visit? Here are some of the best and most incredible places to visit in China.
---
1. Great Wall of China, Beijing
The Great Wall of China is considered one of the greatest sights in the world. One of the seven 'New' Wonders of the World, the Great Wall is 21,196 kilometres in length, making it the longest wall in the world. It was built around 2000 years ago and lasted until 1878 in the Qing Dynasty. In fact, what we see today is merely 70 percent of the original structure. The Great Wall was built as a military fortress to prevent invasion and later it was extended to protect the Silk Road trade, an important route for international trade during that time.
The Great Wall is easily accessible from Beijing and is a top attraction to see when visiting China. To truly appreciate this incredible wall then book a tour, where the guide will help you learn more about its history. This will definitely provide you with a totally new experience.
Tour idea: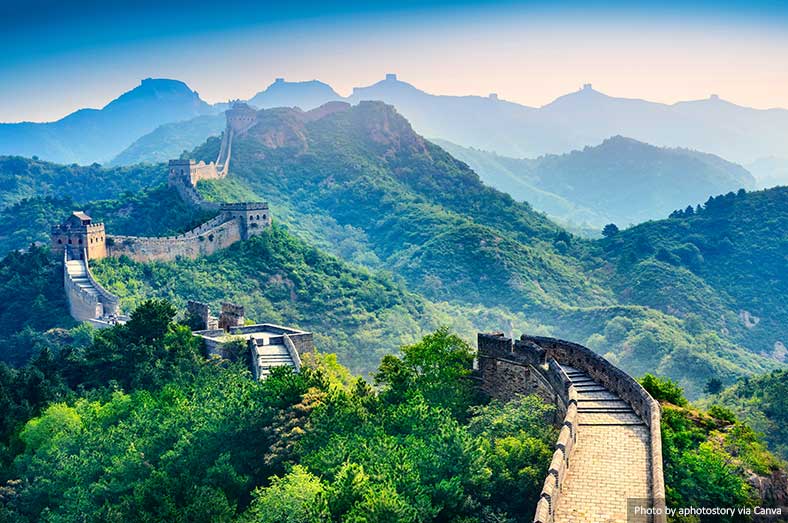 2. Beijing
The capital of China, Beijing, is located in the northern part of the country. It is the country's political, financial, and cultural centre and has many popular attractions that have retained the rich history of this nation. Visit grand sites such as the Summer Palace, the Forbidden Palace, the Temple of Heaven and Tiananmen Square to recollect the magnificence of the imperial past. Also, stroll through Hutong's narrow alleys and a Siheyuan (the name for historical local residences) to catch a glimpse of the authentic local scenes. Importantly, don't forget to try out the famous Peking duck when you are in the city. This is a signature dish of China and has been served to a long list of political leaders, such as German chancellor Helmut Kohl, Fidel Castro and Richard Nixon. You can explore some of the major attractions in Beijing on a tour and this will help you to easily see some of the best spots.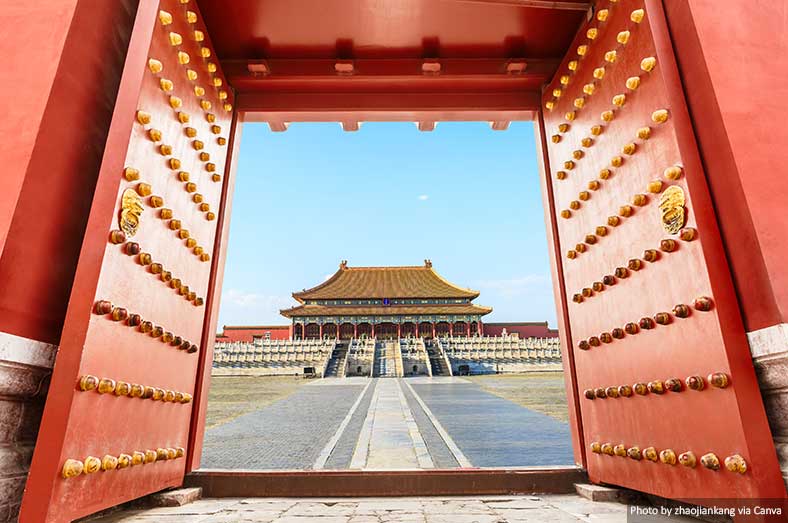 ADVERTISEMENT
CONTINUE READING BELOW
3. Leshan, Sichuan
Leshan is in Southern Sichuan and is home to several renowned top attractions in China. The city is easily accessible from Chengdu via high-speed train, and the journey takes about an hour.
First, visit the Leshan Giant Buddha. This is the world's largest cliff carving of the Maitreya Buddha statue and stands at 71 meters in height. A second favourite destination is Mount Emei which is over 3,000 meters above sea level. In 1996, Mount Emei was preserved as a UNESCO World Heritage site.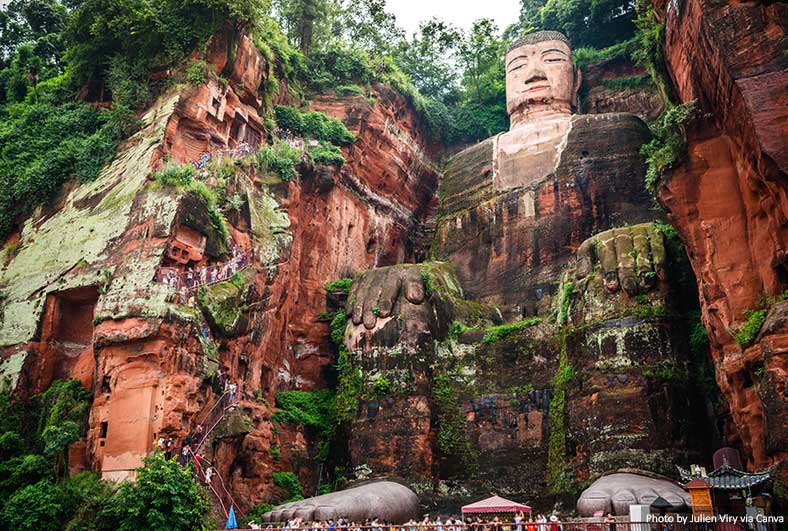 4. Shanghai
Shanghai is known as the Paris of the East and is the largest city in China. The city is beautiful with a cosmopolitan feel, such as modern skyscrapers, bustling financial and shopping districts, as well as trendy hospitality spots that have tourists coming back for more.
Stroll along the Bund promenade which is lined with colonial-style architecture and enjoy views of the city across the Huangpu River. It is from here that you will see the Pudong district's futuristic skyline comprising the Shanghai Tower and the Oriental Pearl TV Tower. Also visit Yuyuan (Happiness Garden) where you will find traditional pavilions, towers, and many local delights. If you prefer shopping in the city, try out Nanjing East Road and Huaihai Road. For a more chilled-out experience, then visit Xintiandi and the French Concession. Here there are many modern shops, cafes, and restaurants.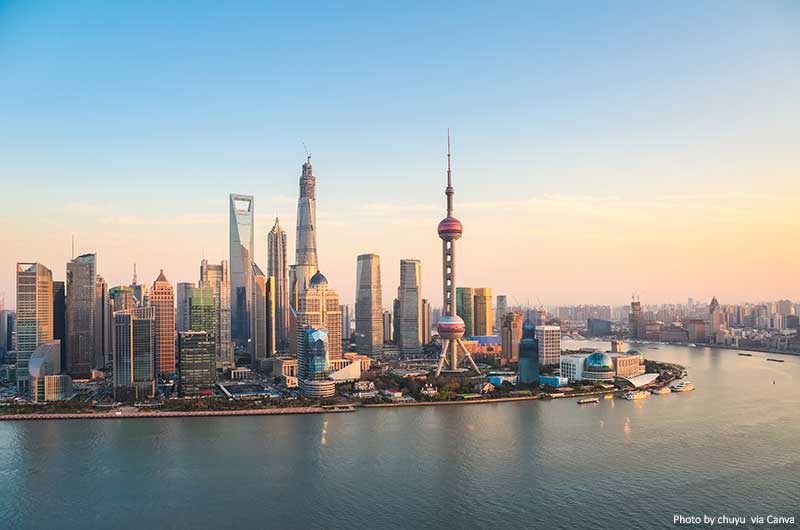 5. Zhouzhuang Water Village, Suzhou
Zhouzhuang is known as the Venice of the East and is the most famous water village in China. This village was once an important hub for trading products such as silk, ceramics, arts, crafts, and food. Today, it is a busy attraction that entices throngs of international tourists from near and far.
The village still maintains its authentic architecture that was built during the Ming and Qing Dynasties. It is surrounded by lakes, rivers, and 14 ancient stone bridges. If you are in Zhouzhuang, look out for the Fuan Bridge (Yuan Dynasty, 1271-1368), Double Bridge (Wanli era, 1573-1619), Shen's Hall of Residence, Zhang House (Ming Dynasty, 1436-1449), and Chengxu Taoist Temple (Song Dynasty, 1086 – 1093).
Consider taking a tour and boat ride down the picturesque river, which provides a different view of the area and how the locals travel in ancient times.
6. Terracotta Warriors and Horses Army, Xi'an
Xi'an is regarded as one of the top places to visit in China because it is where the Terracotta Army was found. The Terracotta Army is a significant archaeological discovery and is a collection of funerary terracotta sculptures. They were created for the purpose of protecting Emperor Qin Shi Huang in his afterlife.
There are around 8,000 soldiers, as well as chariots and cavalry horses, and the excavation seems to be ongoing. This indicates that many more have yet to be discovered. With every sculpture bearing different facial expressions, clothing, hairstyle, gestures and even weapons, it is hard to imagine just how much time, labour and cost must have been incurred to produce them. Anyone visiting the site will definitely be in awe of the power and authority of Emperor Qin.
Tour idea: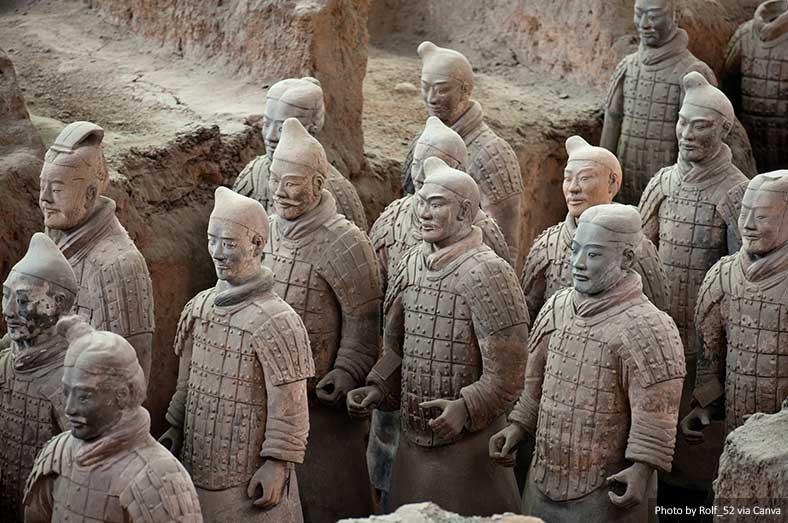 7. Lijiang, Yunan
Lijiang is a lovely city in the Northwest part of Yunnan province. From here, visitors can catch a clear view of the famous Jade Dragon Snow Mountain, a snow-capped mountain rising up to 5,500 meters.
When visiting Lijiang, plan a trip to the Old Town, a well-preserved town renowned for its ancient architecture and orderly system of waterways. Also, visit UNESCO World Heritage sites like Baisha Village. This place is well known for the ancient Buddhist murals that lined the walls of Dabaoji Palace which was built during the Ming dynasty, and Shuhe Town, an ancient town that is even more rustic than Lijiang Old Town.
ADVERTISEMENT
CONTINUE READING BELOW
8. Lugu Lake, Yunnan
Also located in Yunnan, Lugu Lake is 200 kilometres from Lijiang City and is shaped like a horse's hoof. In the morning, the lake is a spectacular sight with mist mixed with rays from the rising sun, against the rich green waters. The lake is a representation of nature's mysterious charm. Take some time to explore the islands located on the lake such as Liwubi Island and Lige Island, as well as the famous Mosuo Villages which are still homes to the tribal Mosuo people.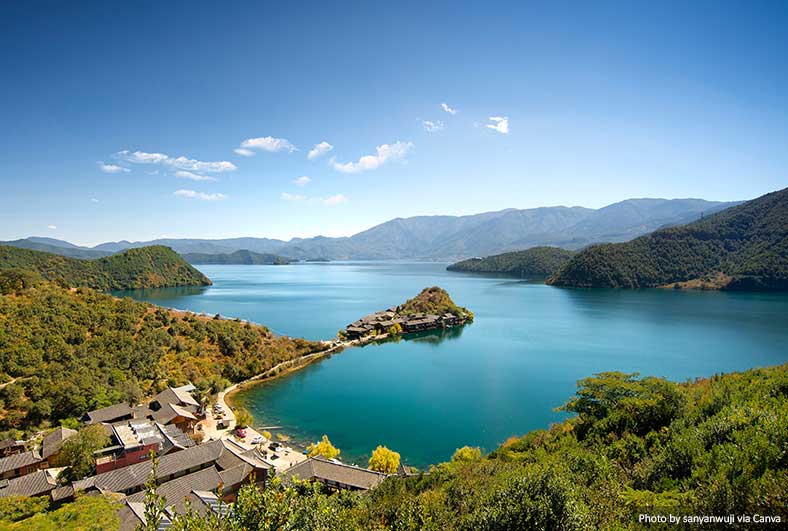 9. Harbin, Heilongjiang
Harbin is the capital of Heilongjiang. This is the northernmost province in China. It is famed for its extreme weather that has four to five-month-long winters at sub-zero temperatures which can reach as low as -40 °C.
Harbin is home to the whimsical Harbin Ice & Snow Festival which is held on the bank of Songhua River. The festival is held in a huge theme park and features international snow sculptures, ice lantern art, an ice and snow amusement park, as well as an ice bar and restaurant, winter swimming, skiing, dog sledding, and snowmobiling.
Whilst here also visit the Saint Sophia's Cathedral which was once a Russian Orthodox church. Try dining at an ice palace on frozen furniture, and visit the Harbin Grand Theatre Opera House, an unusual futuristic building that is also Instagram-worthy.
10. Zhangjiajie National Forest Park, Hunan
This unique national park is located in Zhangjiajie City in Hunan Province. It is one of the most impressive UNESCO preserved forests and features a verdant valley that is covered with untouched greenery. Take a slow climb to the top to witness incredible panoramic views and also capture fantastic photos to impress your friends back home.
Zhangjiajie covers a huge area, and to make your visit easier you'll find a mini monorail, shuttle buses, cable cars and a glass elevator to help you get around. In 2016, the Zhangjiajie Glass Bridge opened to the public. This is the longest (430 meters) and highest (300 meters) pedestrian glass bridge in the world.
There are five main scenic areas in this park – Tianzi Shan, Yangjiajie, Yuanjiajie, Golden Whip Stream and Huangshi Village. It is impossible to visit all these areas in a day, so make sure to set aside enough time if you want to make the most of this trip.
TIP
Book a
full-day private tour
to experience some of the highlights of the park, along with a cable car ride, English-speaking guide and transportation.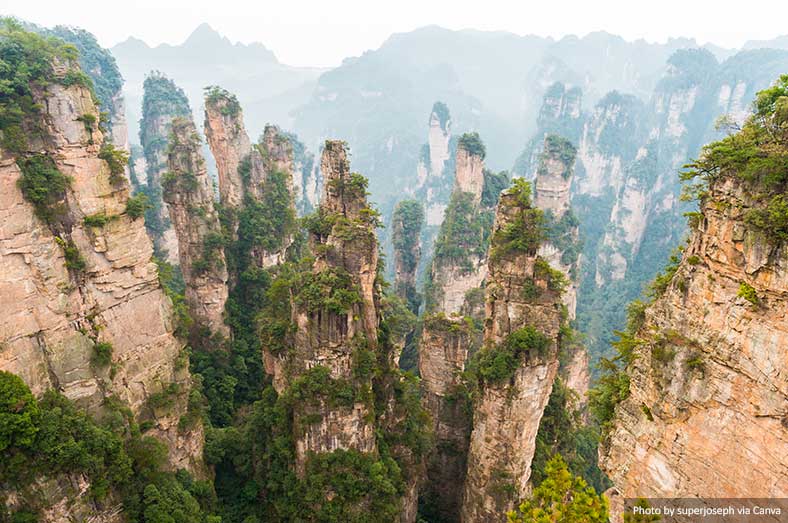 Summary
Discover some of the best places in China by adding some of these top recommendations to your list. From some of the best cities across the country to breathtaking nature spots.
---
Find flights
---
Top experiences for China
Related Articles