Asia provides incredible experiences, but for those visiting for the first time it's worth knowing a thing or two. If you're planning your trip then keep reading. Here are over 40 tips for travelling in Asia.
1. Research transfer options
Prior to travel always check transfer options from the airport/bus/train station. If you are travelling as a group or family, then a hotel transfer may be best and cost-effective. But if you are an individual you may find there are shuttle buses that are much cheaper.
For example, my hotel in Vietnam charged me $18 for a hotel transfer on arrival, but on my return to the airport I decided to use a shuttle service which was only 40,000 vnd (1.70 usd) so was vastly cheaper and would have been a better option.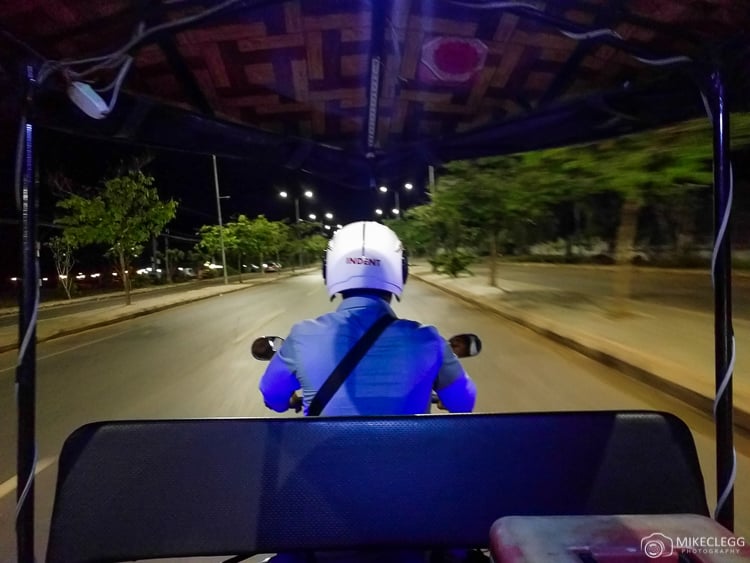 2. Prepare for unexpected delays
On a trip to Asia, you may potentially have various delays or even cancellations. For that reason make sure you always plan for this with lots of spare time between transfers and connections.
During my longish trip to Asia, I was visiting 6 countries in 40 days. I planned everything so there was a buffer in case anything went wrong. There was actually a lot of delays and even cancellations during my small trip such as below:
Vietnam Airlines cancelled my flight and put me on a flight 24 hours later. That was also delayed by 2 hours.
During my transfer from Sapa to the train station we got stuck in the middle of nowhere for 2 hours due to an accident up ahead.
My Hong Kong flight was cancelled and I was put on another flight 7 hours later, resulting in us arriving at our destination after midnight instead of early evening.
My flight to Kuala Lumpur was also delayed by an hour.
So based on how many delays and cancellations I had during this short time I felt that delays and potential cancellations are very frequent in Asia, so it's best to be aware of this! There also isn't the same kind of regulation you get in Europe where Airlines are liable for delays and cancellations. So for me Vietnam Airlines told me 2 days before that they were cancelling and changing my flight and due to the lack of regulation, I wouldn't get any compensation to cover my extra costs.
3. Wear a money belt
During my entire trip to Asia I had a Travel Money Belt
under my trousers. I then kept spare cards, the majority of my money and my passport in there. I also had a wallet which I somehow managed to lose during my trip, but because I had most things in this money belt it wasn't too much of a big deal.
4. Take a world plug adaptor
I used the Skross PRO World Travel Adapter
 which got me around Thailand, Vietnam, Cambodia, Malaysia, Hong Kong and Indonesia without any problems. This plug can be used all over the world so is a great buy!
I did find that often markets and little shops sold travel adapters, so you probably wouldn't have much trouble. It's also worth noting that some countries have different voltages and frequencies which can potentially break some electronics if there is an incompatibility issue. A good site to refer to is power-plugs-sockets.com which I used a lot prior to my Asia trip.
5. Go with an open mind
A good tip if you are coming from a western country is to go with an open mind. You will see things that would be highly illegal in many western countries such as multiple and sometimes up to 6 people on a motorbike. This may include very young children and they would probably not be wearing helmets.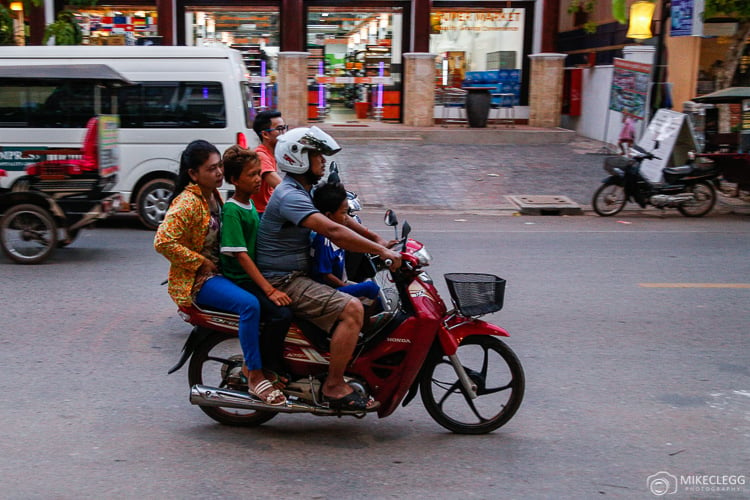 You may also see people lying on the street sleeping in the middle of the path, or animals just standing in the middle of the road.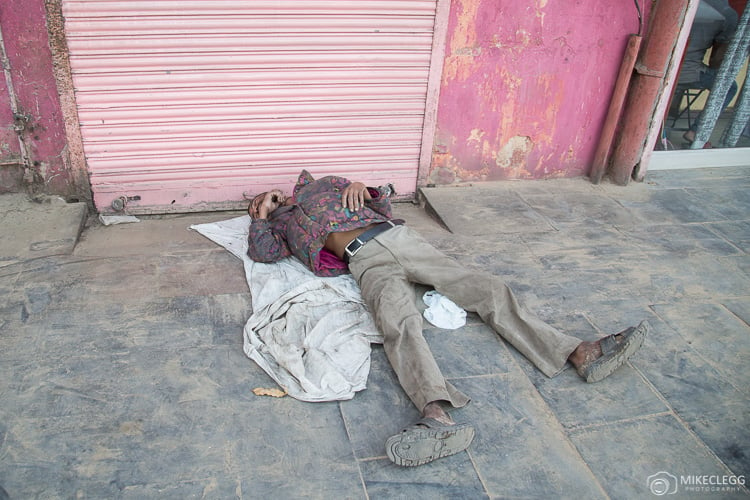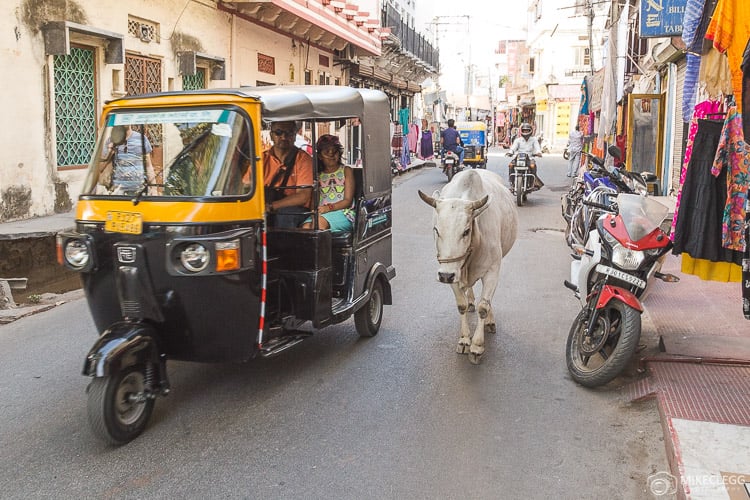 6. Careful of scams
During my trip to Siem Reap I had a driver offer to show me the floating village and various other things just outside of the city. He offered to charge me $12 for quite a large amount of his time, but what he didn't tell me is that you had to get a boat to see the floating village which the boat company said was $30 dollar when I arrived. Out of interest once back in Siem Reap I asked a Tourism Agency how much it would cost to see the floating villages and they said only $18 including the transport to get there. So I can only assume that the driver would have got a commission if I had got the boat tour and that he hadn't been truthful to me when he started talking to me.
For more tips on travel scams head to theplanetd.com/common-travel-scams.
7. Respect local laws
Rules such as not taking pictures in/of certain landmarks/attractions should be respected. The last thing you want is to be arrested or deported for not following rules. Some destinations may even have a sign at the airport with rules. Common places where you are not allowed to take pictures are religious buildings such as in the Grand Palace Bangkok you're not allowed to take pictures of the Emerald Buddha and I found various other temples had similar rules.
ADVERTISEMENT
CONTINUE READING BELOW
8. Taking pictures of monks
I didn't realise but some countries say you shouldn't take pictures of monks without permission. This should also be respected but if you get talking to a monk you could always politely ask.
9. Temples may have a dress code
Some attractions in temples etc may require you to dress appropriately. This may include below-knee shorts, trousers or dresses, no shoulders showing, no hats etc. Always check dress code prior to visiting certain attractions, especially if it's a religious attraction. You will find a lot of places that have restrictions like this do have sarongs and other clothing that you can borrow or hire though.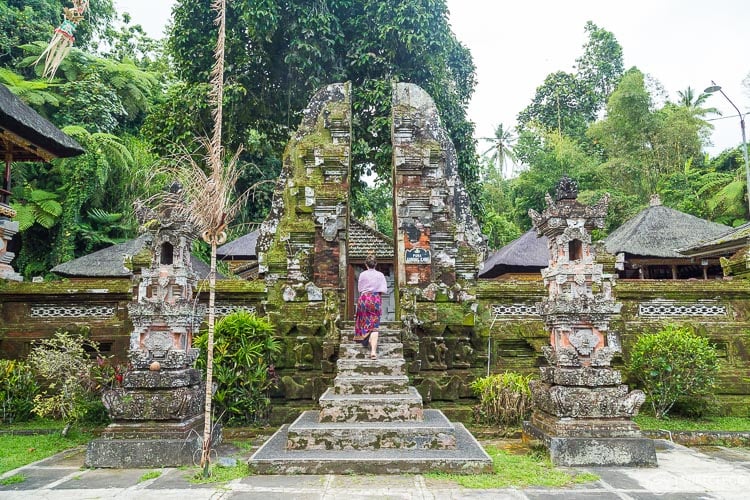 10. Keep an eye on your stuff
Although I had no problems I have heard about people having their bags snatched. This can happen anywhere of course, but to prevent this if you put your bag under your chair at a restaurant, wrap the straps around your legs, and when travelling around make sure it's secure. Head to my post 20 Tips for Keeping you and your Possessions Safe Whilst Travelling for more info on protecting your stuff when you travel.
11. Check if you need a visa
Lots of countries in Asia allow short-term visits up to 15 or 30 days visa-free, and some countries provide visa on arrival (such as Vietnam). Depending on which country you are from and how long you are staying your circumstances will most like be individual to you. Some countries such as India, Vietnam and Cambodia also have e-visas where you can apply online.
TIP
You can use a service such as
iVisa.com
to check what you need. You could then apply through this service (fees apply), or offical embassy sites to do it yourself.
12. Arrival and departure cards
You'll most likely be filling out lots of arrival and departure cards. Most people forget about this and don't have a pen. As a result, they end up filling them out once inside the terminal and then get behind all the people that did bring a pen. This happened to me in India and it then took ages to get through immigration.
13. Check official travel advice
Before I travel anywhere in the world I always check official advice. As a British citizen, I always use gov.uk/foreign-travel-advice (the UK government website), which provides me with all the information I need from entry requirements, warnings on safety, terrorism, natural disasters and any health considerations I should be aware of. If you are not a British Citizen you could still use some of the information on this website or use your own countries official website if they have one.
14. Laundry is easy
Laundry is actually really easy in Asia. At many hostels and cheaper hotels, you may find it priced around $1-$1.50 per kg. I would often provide my laundry at check-in and then get it back dry the next day.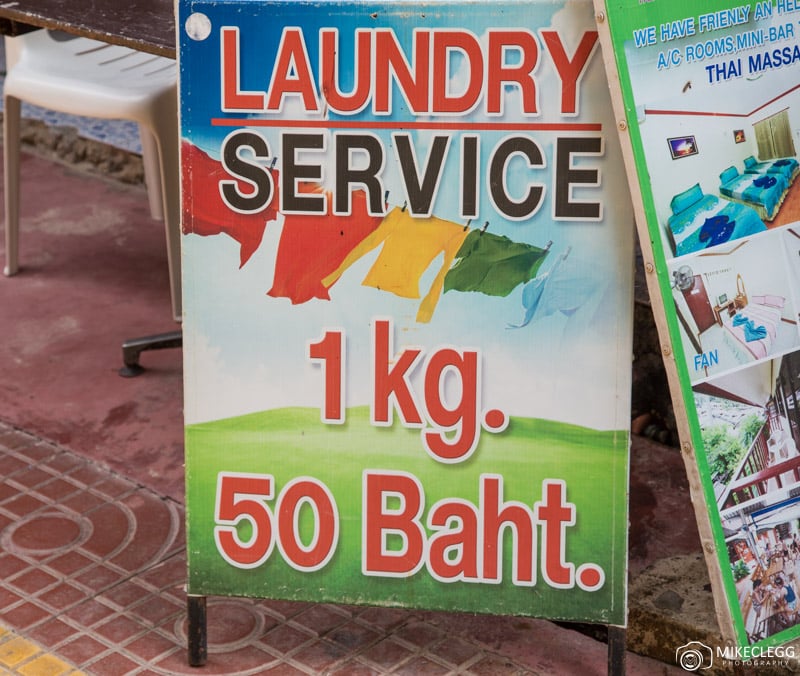 15. WiFi
WiFi was pretty easy to find throughout all the destinations I visited in Asia. Every airport, hotel and sometimes restaurants and bars had WiFi. It wasn't always fast or reliable but was free and better than nothing.
16. Bring flip flops
If you are staying in a hostel or accommodation that provides shared facilities you should bring a pair of flip-flops or Crocs for the shower. I personally really dislike wet rooms and would probably not stay in a place with them but I do often get caught out.
ADVERTISEMENT
CONTINUE READING BELOW
17. Take a battery pack
A battery pack is a must when travelling! Especially if you will be in transportation for long periods. It's also a good thing to have in case of an emergency.
For example, during my trip to Vietnam there was an accident up ahead during a transfer and I ended up being stranded in the middle of nowhere for a couple of hours. Because I had a power pack with me I could ensure I always had enough battery to use my phone if necessary. The brand I use is EasyAcc Power Bank which I have found good quality and reliable
.
18. Bring a flashlight
Especially in the more rural areas, you may find limited electricity or power cuts. I had frequent power cuts when I was in Sa Pa, Vietnam, and it happened every night during my stay. It was never for too long but it's good to have a Portable Flashlight
in case you need to go to the toilet or want to read your book etc.
19. Check injections and immunisation
The injections you need for each country can vary a lot. It is also best to speak to a health professional such as a doctor or travel clinic about what you may need.
Some good websites are below although these don't substitute professional advice from a travel clinic or doctor:
If you have a travel passport it's a good idea to bring that with you in case you do fall ill, as it may help the medical staff know when you last had certain jabs (assuming it's up to date).
20. Bring insect repellent
Especially in tropical and rural places, you may find endless bugs trying to get at you. Get some strong insect repellent from your local pharmacy and also get advice from your doctor in case you need malaria tablets or any special jabs. Most good accommodation that is in a location with mosquitos should provide nets around your bed or have adequate ways to prevent them from getting in in the first place.
21. Download Google offline maps
If you use Android download Google offline maps for your destination. Not all destinations have offline maps due to country regulations but if they do it's definitely worth doing.
To make your life easy you can also star all the places you want to go such as restaurants and attractions. I did find that if my storage on my phone was almost full the stars would not always be there in the app as I think they are stored in temporary storage (in case you have that issue).
22. Check if your hotel takes cards
If you plan to pay for hotels on bank cards you should check in advance if they even take cards. I found many places only took cash. If you are arranging your accommodation through a site like Booking.com sometimes it says on the hotel's page whether they take cards.
I also found some hotels, homestays, hostels etc would charge an extra 3% if you used a card. As you will probably get charged also by your card provider it's worth knowing this in advance otherwise you'll be paying two lots of fees.
I would recommend emailing your accommodation before you arrive asking if they take cards and if there is a fee, and if there is then you should pay cash.hand
23. Booking local trains and buses
I found booking trains and buses was easy to do through hotels and hostels. I imagine the hotels charge a tiny bit extra as a commission for this service, but for me it seemed like a stress-free way of arranging transport. Another way to book trains and buses is to use a service such as 12go.asia or by visiting a travel agent which you'll find throughout many destinations in Asia. You may even have luck and get some nice transport such as below. Night buses and trains in Asia are also a great way to travel overnight and then wake up at your next destination.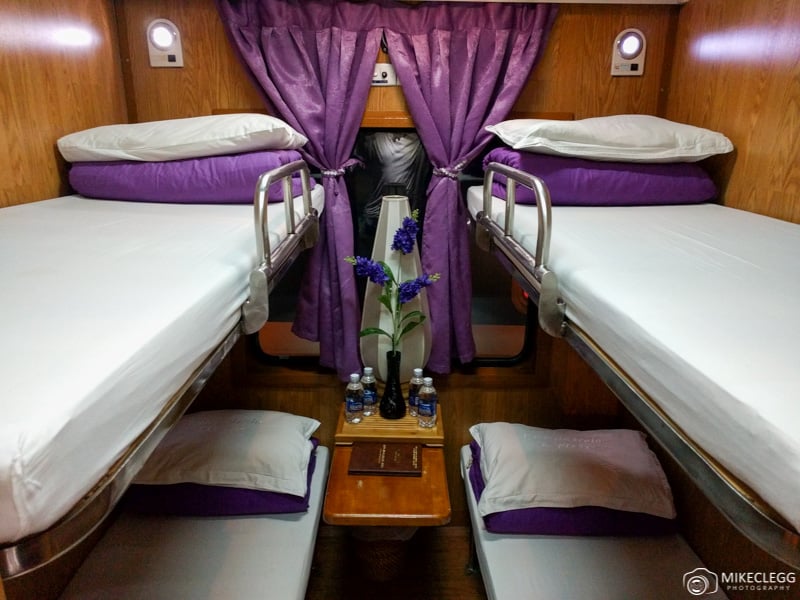 24. Take spare cards
Especially if you are travelling for a long time you should always ensure you have backup ways to get cash, in the event that you lose your wallet and bank cards. During a recent 40 day trip to Asia I somehow dropped my wallet towards the start of my trip. Luckily I had taken 5 cards which I keep in different locations so I had plenty of spares. You would need multiple bank/credit accounts for this.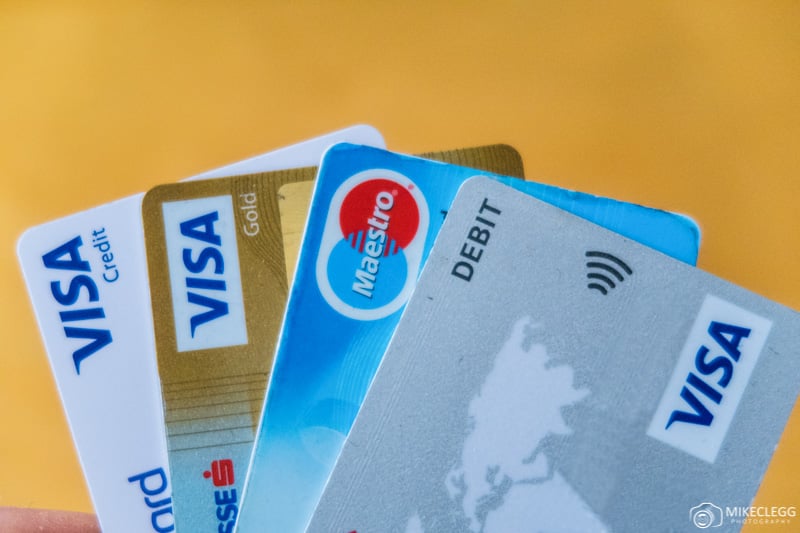 25. Drink bottled water
In most places in Asia you shouldn't drink from the tap. Sometimes locals do, but this is often because they have built up a tolerance. For all the destinations I visited in Asia I would always use bottled water for drinking and brushing my teeth.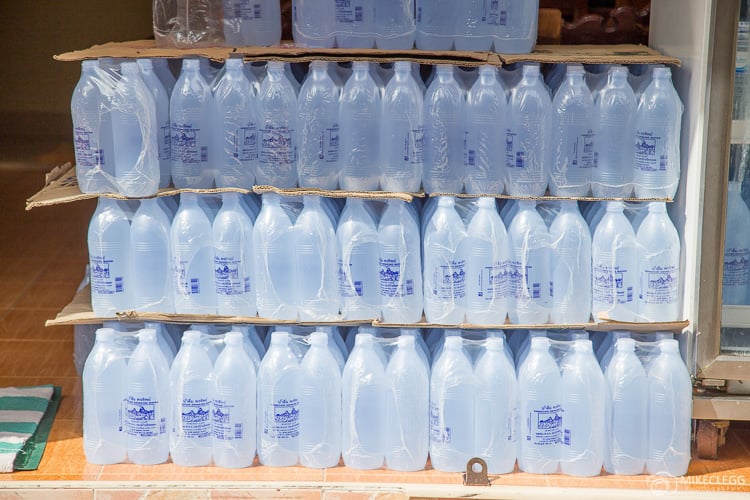 26. Check for bedbugs
Previously I've stayed in one hotel that definitely had bedbugs (in Europe) and another that potentially had bedbugs (in Asia). I would recommend always checking the bed and if you're quite sure there may be bedbug's then ask for a different room or checkout and also take photographs as evidence. Trust me bed bug experiences are not nice. More on bed bugs in this post: Travel Tips: What to do if your hotel has Bed Bugs.
27. Pack a medical kit
When I travel I take a small travel First Aid Kit
. But on top of that, I take paracetamol and various other medication. It's worth taking tablets for if you get an upset stomach, headaches from the heat and other potential problems.
28. Get adequate travel insurance
Of course make sure you have good travel insurance that covers you in Asia in case of emergencies, or if you lose your items. Check reviews online and read the policy terms in detail before purchasing. As insurance policies are generally different in each country I am not going to recommend any in particular.
29. Take a respirator mask
If you are travelling a lot through busy cities with lots of crazy traffic, and in open vehicles such as Tuk Tuks, then you'll be very grateful for a Washable Reusable Respirator Mask
. A few times when I was on Tuk Tuks in India I felt quite sick from the exhaust fumes. 
30. Airports get expensive in the departures area
I found it quite strange that in places like Vietnam where food and drink is generally very cheap, once you went through the security to the gates, the prices were inflated like crazy and were pretty much western prices.
For example at Danang Airport once through the gate, everything became USD and the prices were insane. For this reason, if you are on a budget or conscious of your spending, then make sure you have all the food and drink you want prior to going through to the gates to ensure you don't get caught out.
31. Make backups of your photos
The last thing you want is to lose all your photos. I often back up my favourite photos online and also duplicate my photos across several hard drives. Read more in my post: Backing up your Images.
ADVERTISEMENT
CONTINUE READING BELOW
32. Pack toilet roll or tissues
Remember to pack some toilet roll or tissues in case you are travelling on a long-distance train, bus etc. The last thing you want is to be without when nature calls!
33. Pack hand sanitizer
You should always have Antibacterial Hand Sanitizer when you travel. It's handy for cleaning your hands before eating or if you feel you've touched something that looks particularly dirty. I sometimes even rub it on my phone display as well. Remember to check the ingredients before buying in case of allergies.
34. Don't flash your money
It goes without saying but when travelling don't flash your cash and keep it hidden. You may not necessarily attract anyone who would try and steal from you, but locals may potentially try really hard to sell you items which can get irritating after a while if they are persistent and hassle you.
35. Learn the value of the bills and coins
I found it quite annoying in Vietnam that they had some banknotes that were the equivalent of about 2 cents.
When I first arrived in Vietnam a lady offered to pose for an image and then I offered to buy some bananas off her in exchange for posing! I tried to give her a 500 VND bill without realising that it was worth so little. I actually didn't have any more cash on me at the time and felt a little guilty and rude but also frustrated that there were notes that locals wouldn't even accept.
In the same sense make sure you know the notes so that you don't overpay! It can be easy to get muddled up with some Asian notes when they are in denominations such as 500,000, 100,000 etc.
I will mention a good App you should download in the next section.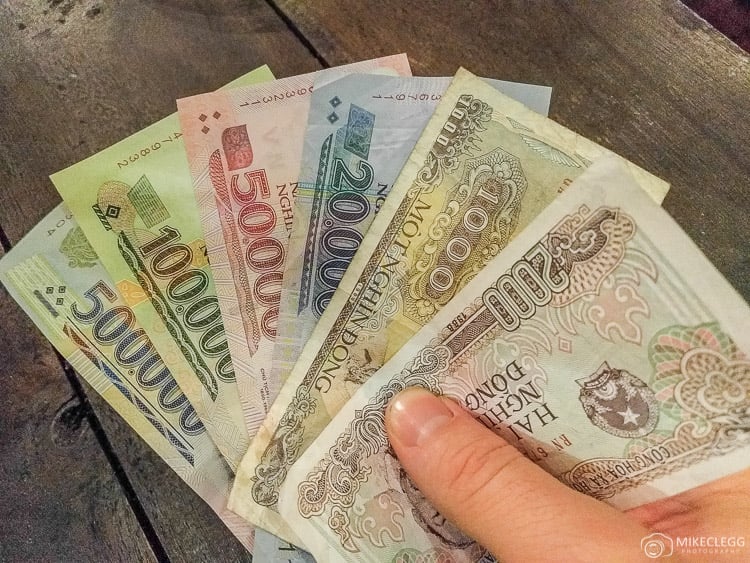 36. Download the XE Currency app
A good app I used throughout my entire Asian trip was XE Currency which allows you to pick relevant currencies and it gets the latest exchange rates when it has an internet connection. Then when you are out and about you can put in say the price of your meal in the local currency and it will convert it based on the last synced conversion rate (the app works offline). You can also use it to gauge how much something is costing you in a shop etc.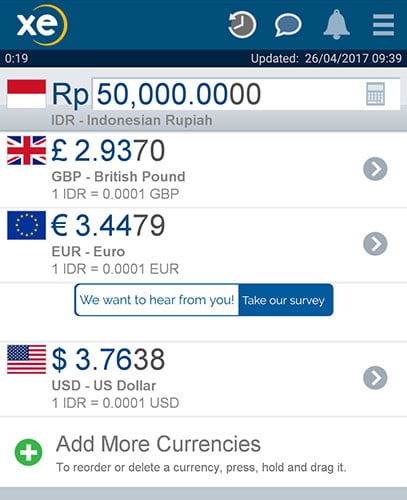 37. Learn a few words
Try and learn a few local words and the locals will appreciate it, or you may make them laugh as you pronounce the words completely wrong.
38. Be friendly and courteous to locals
I particularly liked to give big smiles, wave and say hello to locals in Asia. I feel it's good to give positive impressions of tourists.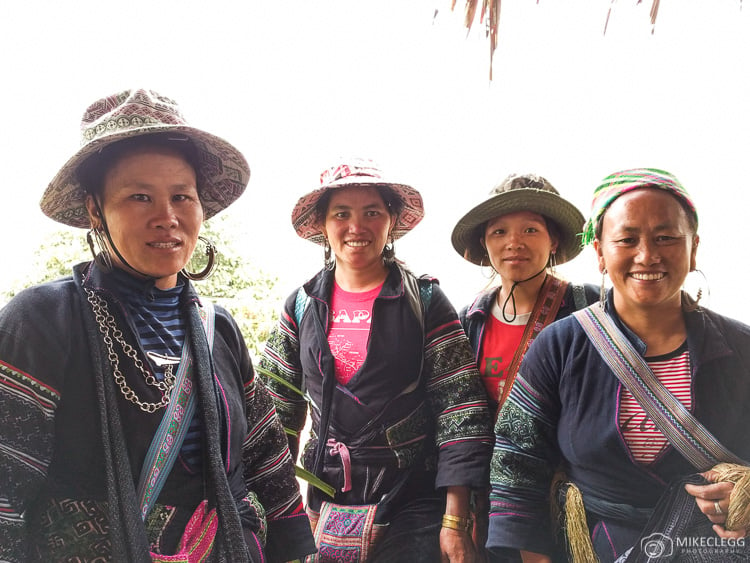 39. Get photographs of you and the locals
Especially in India I often found locals would want to take photographs of them and me. I used this as an opportunity to also get a photograph for myself. I now even ask locals if I can be in a photograph with them. Most people are more than happy.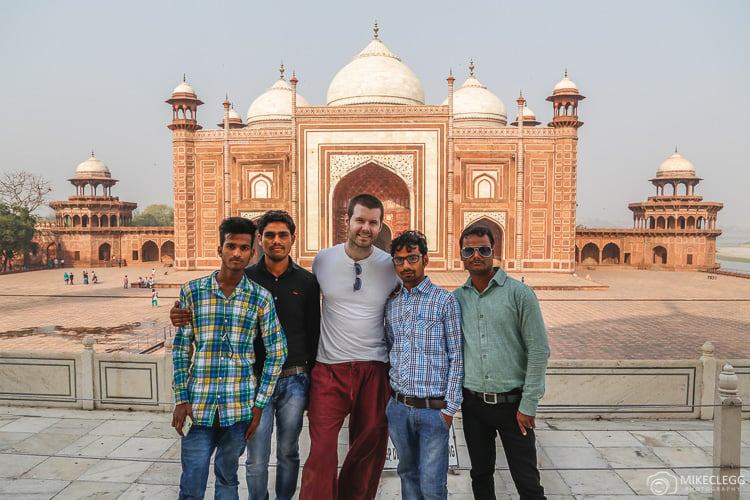 40. Make copies of your passport, visa and other important documents
Whenever you travel anywhere you should make copies of your all your important documents such as your passport, visas, insurance etc. You should then upload these documents to a secure location online that you can easily get access too.
41. Alert your bank
Before you travel let your bank know so they don't block your card unnecessary. I normally message them through secure online banking with a list of the countries I am going to. Some banks also allow you to unlock your card online for use outside of Europe.
42. Share your itinerary with friends and family
Let your family know your itinerary and where you will be at all times. This is easier if your trip is pre-planned, but if you are planning as you go then send email updates.
What I do prior to going on a complex trip is to create a day by day itinerary which has accommodation and flight information on it. I do this using Google Docs. You could share this file with relevant people so they can access it, and if you were planning your trip as you go, then you could update this file which would then be instantly updated with whoever you've shared with.
Alternatively, forward any flight and hotel booking confirmations as you receive them.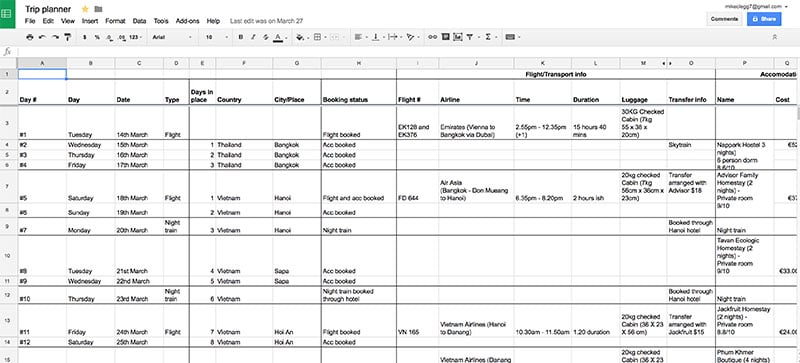 43. Check when the hot season is
You may find the hot season is very difficult to travel in. With sometimes extremely high temperatures that you're not used to, you may find yourself struggling in the heat, suffering headaches, getting burnt and just generally not having a good time! As well as suffering from the heat you may also find yourself needing to do a ton of laundry all the time as your clothes may quickly become unwearable (if you know what I mean).
A good website to check the average temperature for each month is www.holiday-weather.com/new_delhi/averages. (I've searched Delhi in India as an example).
44. Check when the monsoon season is
During monsoon season some Asian destinations may have crazy amounts of rain. The best way to find out the monsoon season is to either ask people from the country you want to visit or check online by searching on Google.
45. Booking excursions
To book excursions in many Asian cities you will find travel/tour agencies on every corner. You can often also book tours through your hotel or through sites such as GetYourGuide and Viator. I find booking this way is generally a safe bet. You can also haggle with vendors on the street but I often found that a pain and would sometimes get ripped off. The travel/tour agencies can also be used to book local transportation and even flights if you like.
46. Check baggage allowance
Many Asian airlines only allow 7kg of hand/cabin luggage. This can make packing a pain especially if you have such things as laptops, cameras etc that you don't want to check-in. If you are travelling between lots of destinations then check each airline for weight and size restrictions. Although they did have around a 7kg restriction on every airline I flew within Asian, I never once had my hand luggage weighed, but Airlines are within their rights to enforce this anytime.
47. Check custom rules
Sometimes custom rules are extremely strict on what you can bring into a country. For that reason always ensure you've checked as you wouldn't want anything taken off you on arrival.
48. Take spare passport photos
If you plan on getting any visa on arrival it's a good idea to have some spare passport photos as many applications will require this.
Summary
These are some of the best tips to help when planning a trip to Asia. Including tips on safety, getting around, adapting and being respectful of cultures and lots more. Use these to make the most of your trip when you travel to Asia.
Ready to book? Search for:
---