I've recently had the pleasure of interviewing Dan from Danflyingsolo.com who tells us about his experiences as a traveller, blogger and photographer.
Please could you introduce yourself and tell us about what you do?
"I'm a full-time traveller who also works as a photographer and web designer. Three years ago you would have found me running a restaurant in London, but I took the leap on 'chasing the dream' and taught myself the skills I needed to turn my passions into a business. Half the time you'll find my camera in hand on assignment and digging deep into a new culture, the remainder hunting down the elusive wifi connection to run my web design business."
Which is your favourite destination and why?
"My favourite county has to be Indonesia, there are a lot of close contenders but across these 17,000+ islands, you can experience so much. Whether it's incredible scuba diving in Raja Ampat, trekking with the Komodo dragons or meeting Orangutang's in the Borneo jungle, you can never get bored here. I spent six months exploring the archipelago and I don't feel I have even scratched the surface yet."
Can you tell us about one of your favourite travel experiences?
"New Years Eve 2016 in Iceland was really special for me. People are so friendly and funny over there and the actual celebrations and fireworks go on for days. Seeing the country covered in snow, yet so alive was a massive bucket list tick. It was also a really happy time as work and relationships were steady, which as a travelling freelancer isn't always the case."
Which places are on your bucket list for the future?
"My big bucket list tick this year is going to be Iran, the history and culture of this country fascinates me and from a photography point of view, the architecture is breathtaking. I'm also hoping to be able to visit Socotra one day (an island of Yemen) and when I win the lottery, Antarctica."
What do you think are the positive things to be gained from travelling?
"For me travel is all about education. Being lucky enough to visit so many incredible places around the world and interact with cultures, religions and places that many can only try to understand from the news is something I will never take for granted. It certainly can make your priorities shift, but that is all part of the excitement."
What do you think are the downsides of being a full-time traveller?
"There is a lot more stress when you travel full-time solo, such as money, logistics and loneliness. Personally, I'm excited to create a base for myself this year and although I will still travel for much of the year, having a place to call home and a great group of friends to come back to is something I think any full-time traveller will admit to missing."
What advice do you have for someone who wants to be a full-time traveller like you?
"Honestly, think long and hard about it. Whilst I will never bash the lifestyle, a lot of people put out a very fake perspective of it online. The freedom and ability to pack up and explore constantly are incredible, but it can be lonely and it has its own challenges. I come from a hospitality background so survived my first year on savings whilst learning how to be a photographer and web designer so I could have a long-term income, but if you can't earn whilst on the road it will become a struggle. Forward planning is essential and finding a remote income will make the transition a lot easier."
Can you provide a few of your best travel tips?
"1. Get cheap flights, it amazes me how many people still pay over the odds. Use a search engine like Skyscanner that will let you search 'anywhere' and travel when and where it is cheaper, you'll find some new gems you never planned this way.
2. Make sure you have insurance, I learnt the hard way when I thought I did but my bank had cancelled it – then I got mugged…
3. Enjoy it! The amount of times I see people spending their whole time taking photos or posting on social media and I find it crazy. Even though it's my job, I still make sure 60% of my travels are just spent enjoying the moment. Don't let the modern digital world take away the explorer in you."
Do you have a blog that you share your experiences on?
"I write about my travels over at www.DanFlyingSolo.com – I never really set out to be a travel blogger, but nowadays it is a part of the photography parcel and it's nice to be able to share the stories of the people and places I explore and have another portal to make connections and a community."
Can you share a few of your favourite pictures?
"My favourite photo of all time was a complete accident. One evening whilst visiting Agra a few of us decided to head down to the sunset gardens by the Taj Mahal. I had been getting frustrated as most of my images were cluttered with people, the building was under repair and the water fountains were shut, meaning no reflections. I'd really struggled to find a unique perspective to catch. The dog in the foreground though just captured India for me, weary and dusty yet surrounded by magnificent historic buildings."
"The Dambulla Caves in Sri Lanka were tough to photograph as they were so dark and I didn't have a tripod. I think I love this photo so much because the long exposure balance worked out and it wasn't until I saw the artwork on my laptop that I could appreciate just how intricate these temple caves are."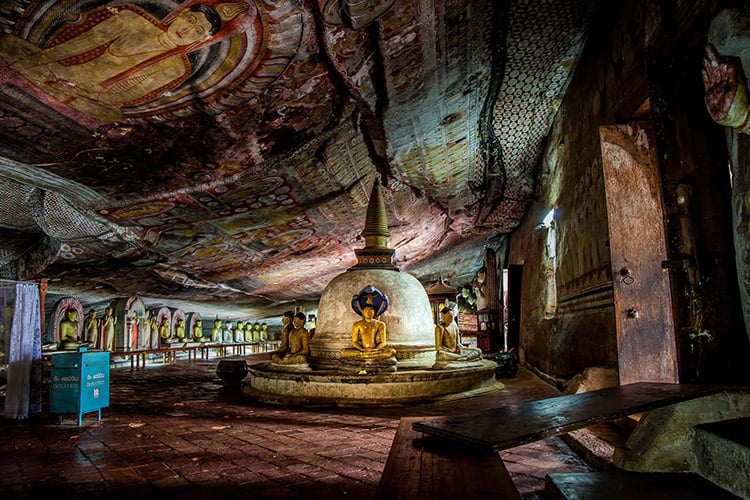 "Sunrise over Bagan was one of the most breathtaking experiences of my life. Sadly, I was mugged a few months later and had all my camera gear, laptop and photo backups stolen so lost the original shots of my trip. This is one of the few I still have in low quality and it brings back heaps of happy memories."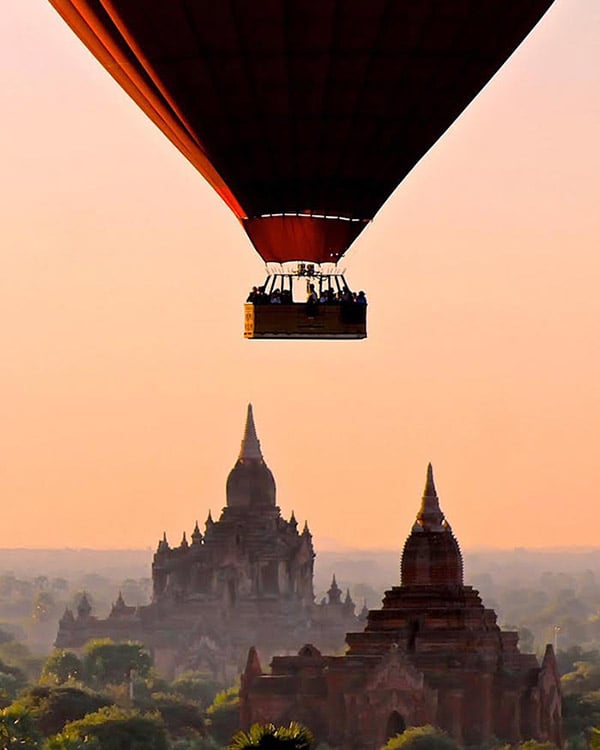 Comment from: Travel and Destinations/ Mike
It's been wonderful to interview you Dan and learn a bit more about you and your experiences. Thanks so much for your answers and telling us more about you.
Related Articles