Malta is a stunning archipelago in the Mediterranean Sea and is one of the world's smallest with an area of 316 km2 and a population of around 500,000 people. Malta is blessed with beautiful islands, landscapes, beaches, delicious cuisine, rich culture, and great weather with 300 days of sunshine. Malta is so interesting that civilizations have been residing there since the early Neolithic period (5000 BC) and hence there is so much history to see.
In this article, you will discover 10 of the best things to see and do while you are visiting Malta!
---
1. Visit the Blue Lagoon
The Blue Lagoon is a top attraction in Malta. It is a gorgeous place located on the small island of Comino and is known for its exceptionally crystal-clear waters. The lagoon is great for a relaxing beach day and also to enjoy activities such as kayaking, snorkelling, or enjoying a scenic boat ride around the gorgeous lagoon. The lagoon is perfect for a day trip and for taking the family.
Activity Idea
2. Check the Upper Barrakka Gardens
If you are looking for the ultimate panoramic Malta view, then visiting the public gardens of Upper Barrakka is a must. The Upper Barrakka Gardens are located in the capital of Valletta. See location here. The gardens offer the best view of the Grand Harbour, the cities of Vittoriosa, Senglea, and Kalkara.
ADVERTISEMENT
CONTINUE READING BELOW
3. Explore the City of Mdina
Mdina is known as the 'Silent City' and is a small city located on top of a hill overlooking the other towns in proximity. Mdina has a mix of some medieval and as well as Baroque architecture. A few top things to see includes the Baroque style Main Gate (Vilhena Gate), the Metropolitan Cathedral of Saint Paul, Palazzo Falson Historic House Museum, and the Mdina Metropolitan Cathedral Museum.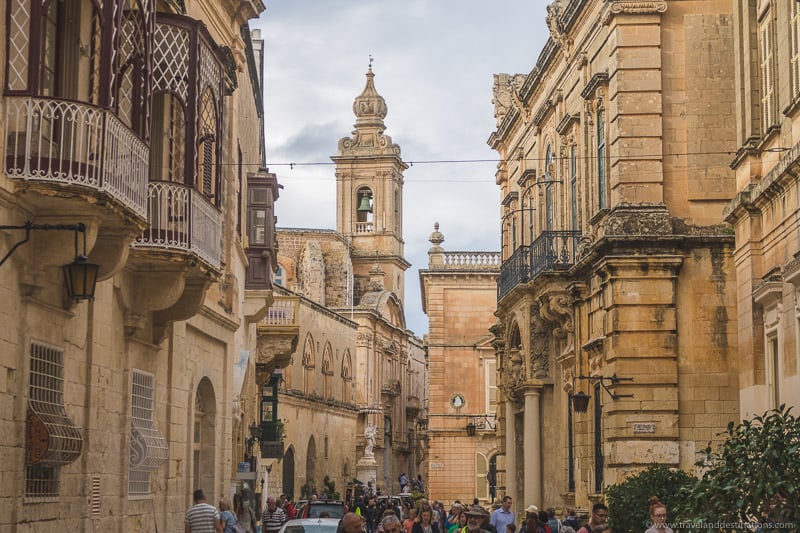 Activity Idea
4. Explore Valletta
Valletta is the beautiful capital of Malta known for its history, unique atmosphere, and various attractions. Valletta serves as a great place to stay if you're visiting for a city break, a long weekend, or to base yourself whilst exploring the rest of the country.
As one of Malta's top things to do, be sure to stroll around in the old town and cute streets and see some of the fantastic architecture such as the Grandmaster's Palace, the New Parliament House of Malta and Pjazza Teatru Rjal, as well as historic sites including The Saluting Battery and Fort St. Elmo.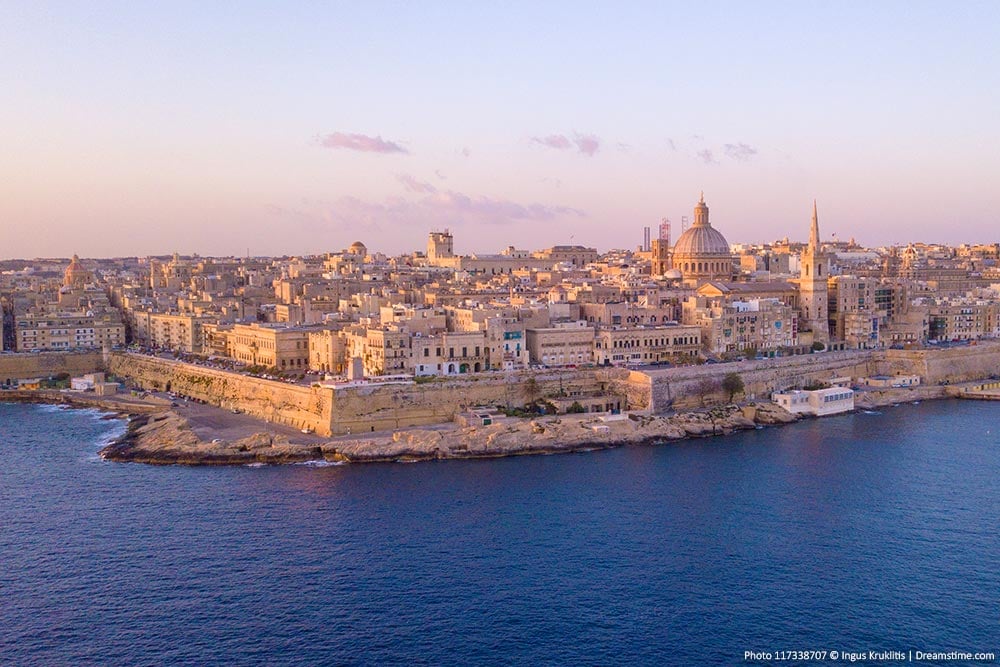 5. Enjoy a Trip to Gozo Island
Gozo is the second-largest island in Malta and is usually more rural. It's famous for its crafts, arts, fishing, and agriculture. You can discover this stunning island by a Jeep tour, or even a boat tour to enjoy the island from the waters. You can also fill your day with water activities like snorkelling, kayaking and of course chilling at the beach with a cold drink!
6. Eat at a Traditional Maltese Restaurant
Maltese food is unique since it has many different influences from French, Spanish, Italian, British and Mediterranean cuisines.
Some of the dishes that are recommended to try while in Malta include the local Gbejniet (Maltese Cheese), Ftira Ghawdxija (Gozitan Pizza), the traditional Rabbit stew (Stuffat Tal-Fenek), Zalzett Tal-Malti (Maltese sausage), Aljotta (Fish Soup), the traditional pastizzi (savoury pastry), and Timpana (baked macaroni) and Hobz biz zejt (sandwich).
As for desserts try the Imqaret (Fried Date Pastry) and Pudina tal-ħobż (bread pudding).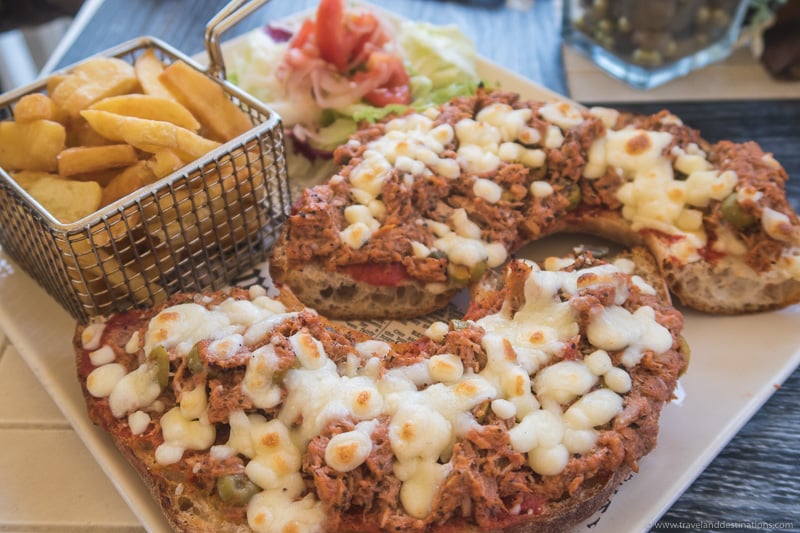 7. Go Cave Diving in Comino
Comino is the smallest and the least inhabited of the islands with only one hotel available (situated at San Niklaw Bay). Comino is also the location of the famous Blue Lagoon as mentioned above. While there, enjoy a swim in the crystal-clear waters and go diving, snorkelling, and exploring Comino's amazing caves.
Tour Idea
8. Visit St John's Co-Cathedral
St John's Co-Cathedral is a Roman Catholic co-cathedral located in Valletta and built between 1572 and 1577. The beautiful church was designed by the Maltese architect Girolamo Cassar (exterior) and redecorated in the Baroque style by Mattia Preti (interior). The church houses several artistic pieces and paintings by artists including Caravaggio.
9. Check the Great Neolithic Temples
Malta's civilizations have been residing on the islands since the early Neolithic period (5000 BC) and hence there is so much history and temples left behind that are really worth seeing during your trip.
Seven megalithic temples can be found in Malta (UNESCO World Heritage Sites). You can find the two temples of Ggantija on the island of Gozo and the temples of Hagar Qim, Mnajdra and Ta'Hagrat, Tarxien, and Skorba on Malta.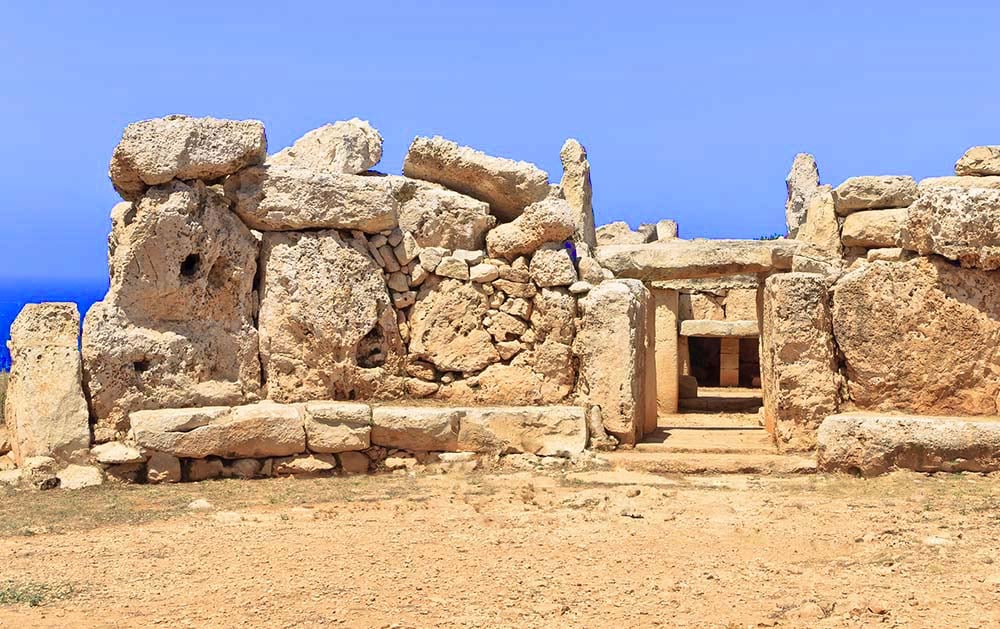 ADVERTISEMENT
CONTINUE READING BELOW
10. Enjoy a Relaxing Beach Day
Malta is blessed with gorgeous cyan waters and its beaches are known to be extremely clean and of excellent water quality. Some of the top beaches to visit include Mellieha Bay (the island's biggest beach), Dwejra Bay (located in Gozo and with natural pools), Ġnejna Bay, Golden Bay, and Ghajn Tuffieha Bay.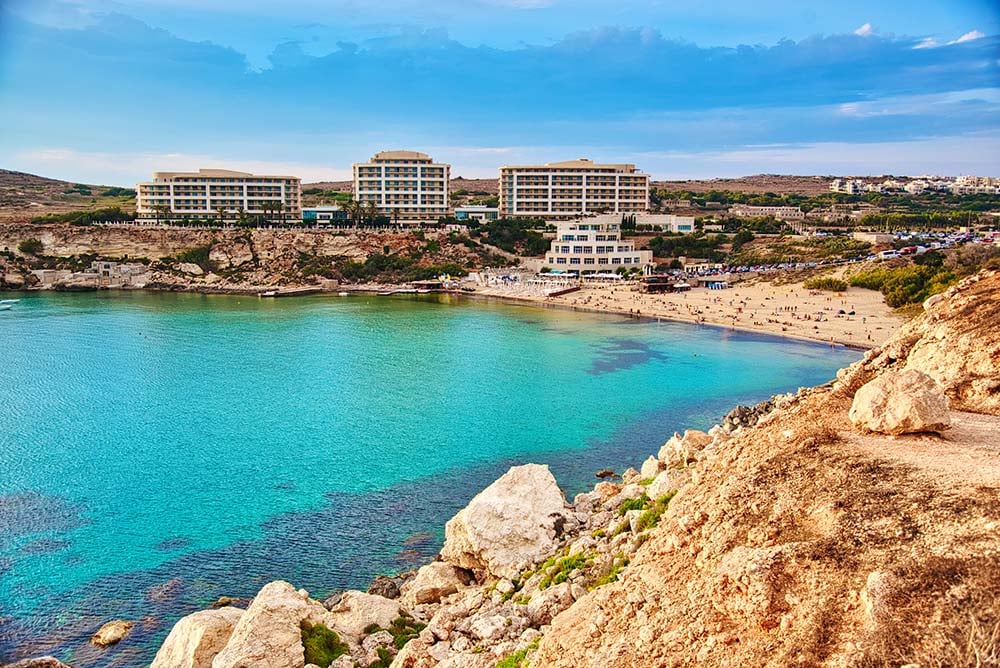 ---
Tours and activities in Malta
---
Summary:
Malta is the place to be when you are looking for an all-in-one vacation. Not only is it affordable, but it is also a top Europe beach destination with great weather, priceless monuments, rich history, and a delicious cuisine, all of which are not to be missed. Despite its small size, there are lots of fantastic things to see and do in Malta. So, make sure to check out some of the suggestions above during your trip!
Related Articles