Seduced by the exotic tropics, it's easy to forget that some of the best beach destinations in the world may only be a short flight away from home. Europe boasts miles of pristine coastlines, Caribbean-like beaches, secret coves, quaint fishermen villages, and charming islands.
With so many amazing holiday spots picking one can be overwhelming. If you're not sure where to go, check out these 10 best beach destinations in Europe.
---
1. Ayia Napa, Cyprus
Ayia Napa is one of Cyprus' most popular destinations, and undoubtedly one of the best beach destinations in Europe. Expect a mesmerising white sand coastline, crystalline waters sparkling in turquoise hues and plenty of tourist facilities.
Ayia Napa's most iconic place is Nissi; popular among water sports lovers, Nissi Beach is a 500-meter stretch of brilliant white sand that boasts a myriad of sunbathing places as well as a lively clubbing scene. Quite busy in summer, this place shows off its quainter side in spring and early autumn, when there aren't too many people around.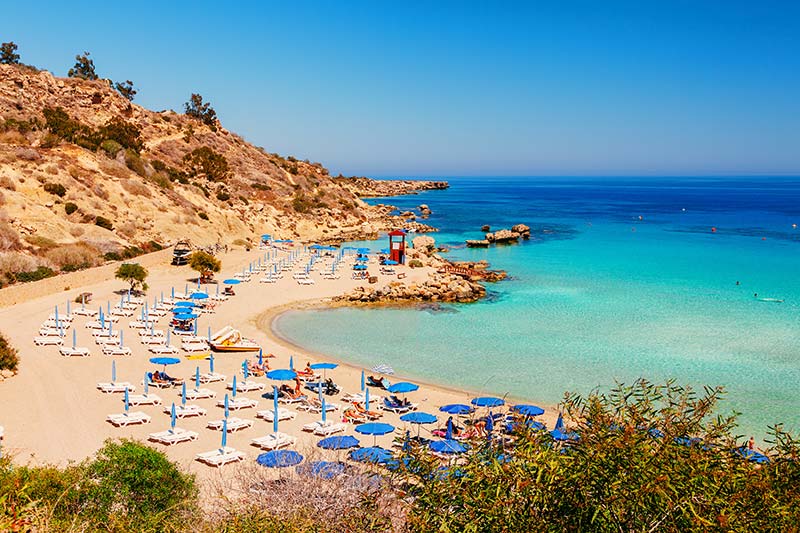 2. Sardinia, Italy
The second-largest island in the Mediterranean, the Italian Sardinia is another tropical-like destination much closer to home than you would expect. Alluring Costa Smeralda is Sardinia's summer hot spot since the '60s. But the island's coastal beauty doesn't end here.
Hidden coves and beaches, including the enchanting Pink Beach in Budelli, will give you plenty of spots for your Instagram-worthy holiday picture.
Beaches aside, Sardinia also awaits with hiking spots of wild beauty, quaint villages, and exquisite culinary delights. Read about some of the best places to visit in Sardinia.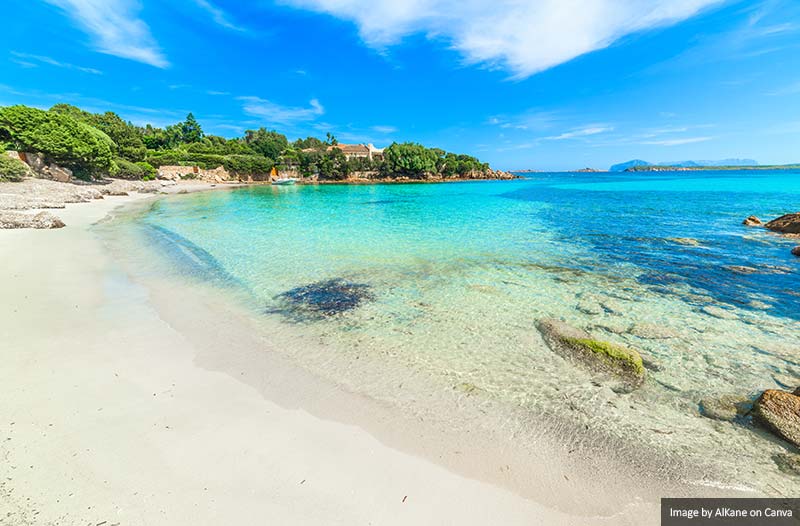 3. Corsica, France
The fourth-largest island in the Mediterranean, Corsica has merged its Italian nonchalance with its French sophistication. Amazing but often neglected, it awaits you with pristine golden sand beaches, dazzling views, and enchanting coastal towns and villages.
Corsica might be the perfect place if your idea of summer holiday is relaxing on quiet beaches. From the Caribbean-like Palombaggia to stunning Roccapina, this island is the ideal destination for families or newlyweds looking to stay away from the crowds.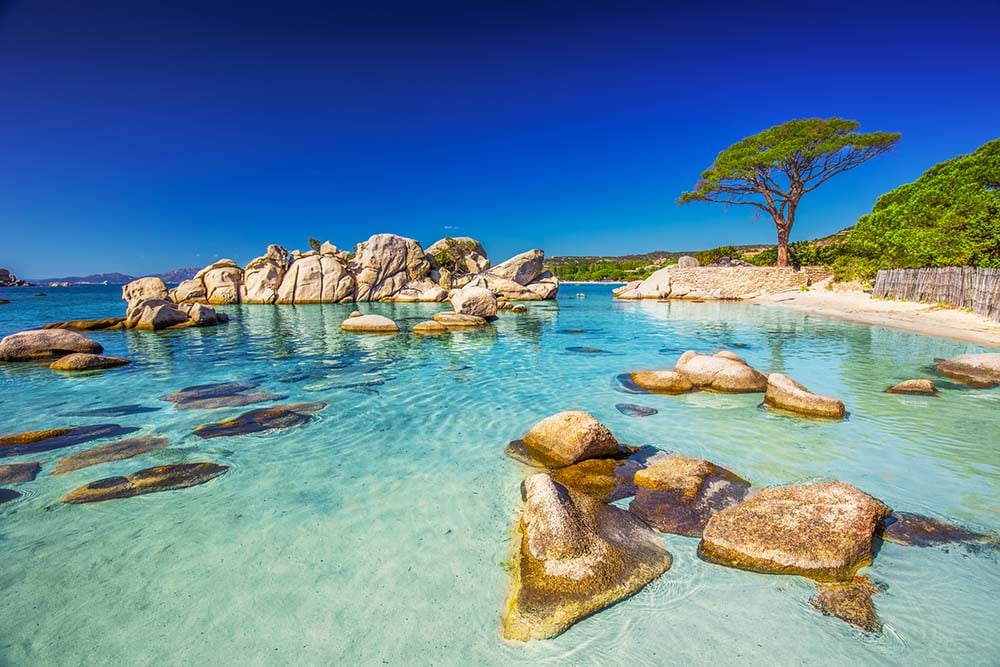 4. Sicily, Italy
Another scenic, slow-paced destination, Sicily is much more than one of the best beach destinations in Europe. Its history spans over several millennia, impressing with well-preserved Greek and Roman ruins.
The mainland is home to stunning beaches, beautiful towns, and Europe's most active volcano, Mount Etna. Cefalù, Syracuse, Trapani, and Taormina are just some of the most charming seaside towns on the main island. If you don't want to get bored, island-hopping in Sicily's Aeolian Islands could be an exciting alternative.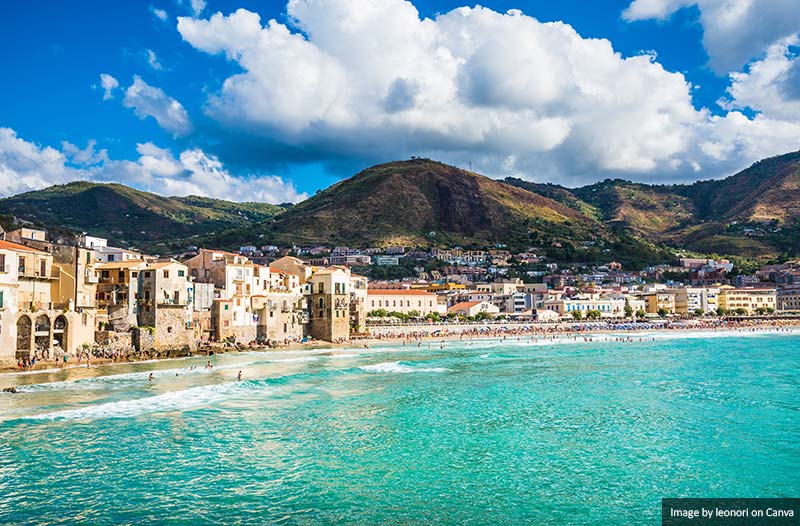 5. Comino, Malta
Malta is one of the most underrated beach destinations in Europe. Yet, this small nation has a lot to offer.
One of the most attractive places here is Comino, a small island that surprises its visitors with a splendid turquoise lagoon. Smartly called the Blue Lagoon, this is one of the most stunning beaches in Europe. It impresses with warm waters and peaceful vibes, especially in the off-season.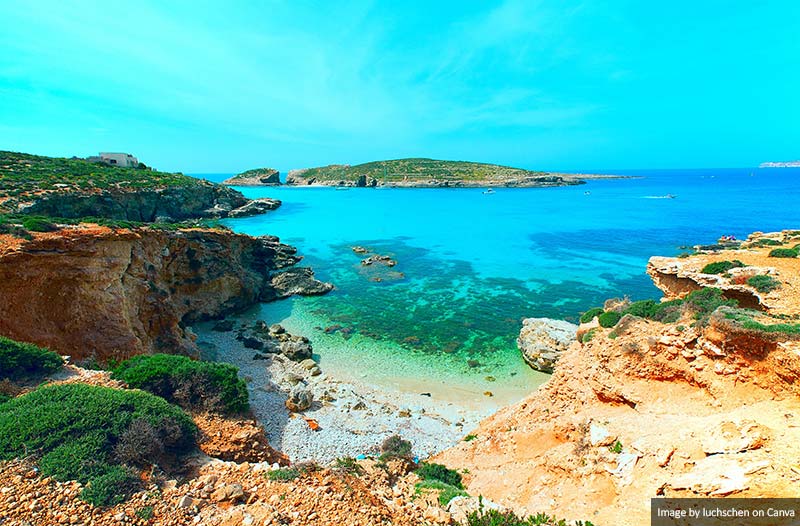 6. Lanzarote, Canary Islands
Neighbouring Morocco, the Spanish Canary Islands stand among the few year-round beach destinations of the Old Continent. Each island in the archipelago has its own personality, but from all, Lanzarote is by far the most impressive.
Characterised by its volcanic hills, Lanzarote surprises with a variety of secluded beaches, white sand coastlines, and the shell-shaped Papagayo Beach.
Sun-soaking apart, if you love diving, expect to be impressed by Museo Atlantico, Europe's first underwater museum.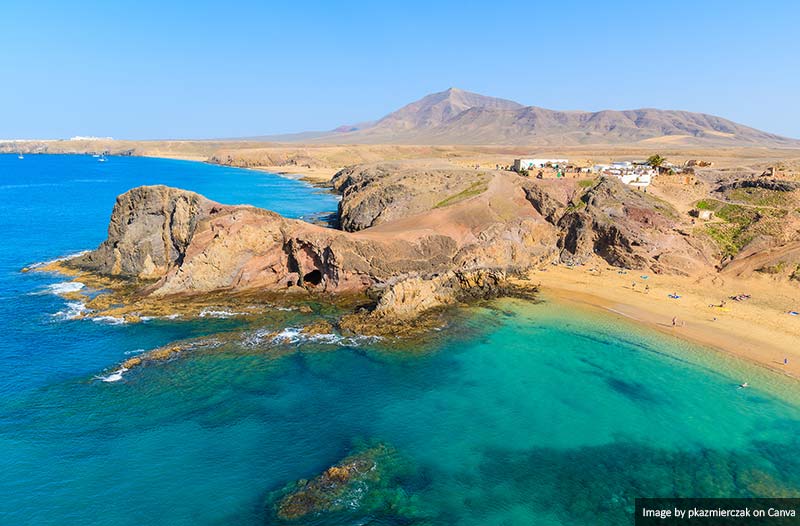 7. Ibiza, Spain
Showcasing a blasting clubbing scene, Ibiza is by far the wildest isle in the Mediterranean. But there is much more to it than just the nightlife. Long stretches of beaches and hidden coves, such as Cala Blanca, give you just the right spot where to soak in the sun or practice scuba diving.
The crescent-shaped beach of Cala d'Hort offers picture-perfect views over the distinctive Es Verde cliff and invites you to take a break on its golden sand beach.
For a more peaceful night out, Café del Mar could be a great choice for sipping a good drink while admiring the sunset in a chilled-out atmosphere.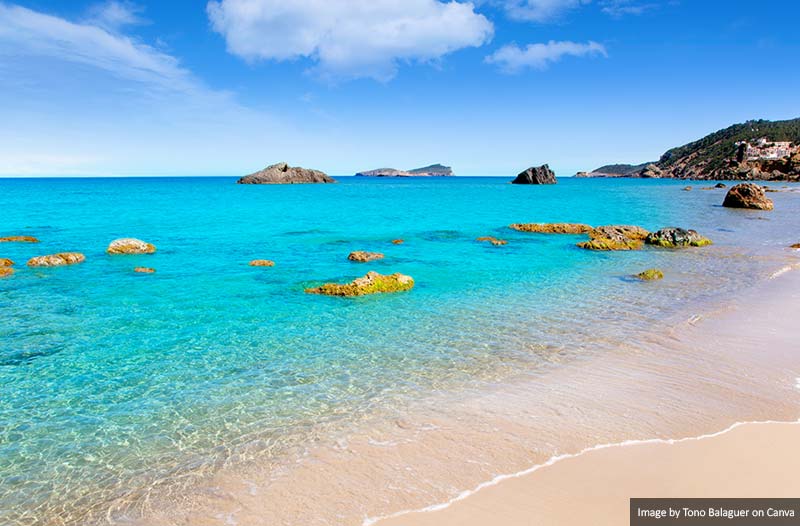 8. Porto Santo, Madeira, Portugal
Portugal is renowned for its beach destinations, including Porto Santo located near Madeira. Situated in the Atlantic Ocean about 620 miles away from the mainland, the island is another of those perfect year-round beach destinations in Europe.
Dazzling beaches, remarkable scenery, stretches of fine sand, and plenty of snorkelling sites are just some of the reasons to come. Refreshing Madeira wine is another.
Besides beaches, Madeira and Porto Santo also offer numerous hiking opportunities, exquisite tropical gardens, and a lively cultural scene.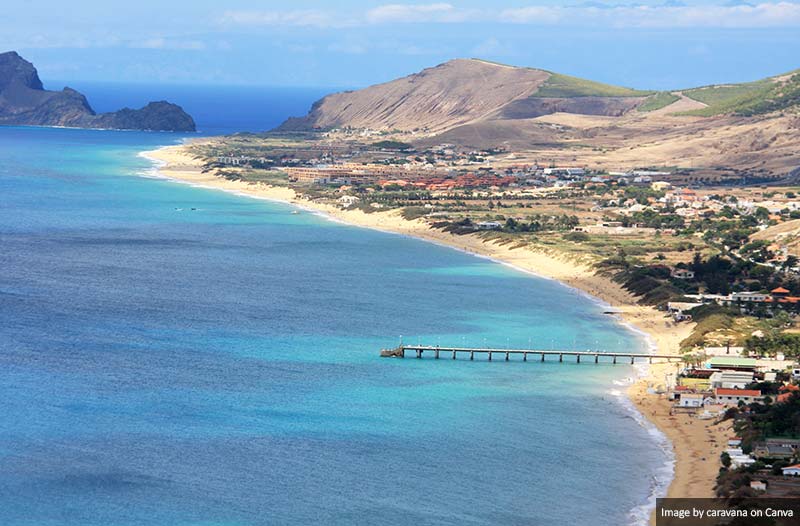 9. Mykonos, Greece
Mykonos knows exactly how to blend centuries of fascinating history with holiday-time decadence. This sunny Greek island inspires with a variety of beaches and pristine sceneries, postcard-perfect sixteenth-century windmills to admire at sunset, splendid Cycladic architecture and legendary nightlife.
From sunbathing to windsurfing or beach partying from dusk to dawn, you can find everything here. Some of the most noteworthy beaches include chic Psarou, Paradise Beach, and Ornos Bay.
Of course, Greece is an incredible place to visit in the summer with plenty of places to visit. Have a read of other top beach destinations in Greece.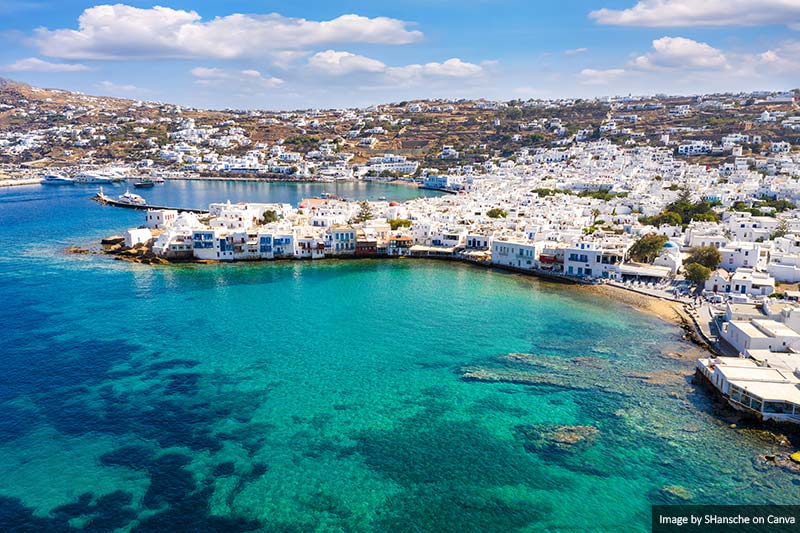 10. Croatia
Another place that knows how to blend swimming and sun-soaking activities with history, culture and good wine is Croatia. Hvar is one of the most popular destinations, a small resort island situated in the Adriatic Sea.
Its beaches boast an intense scenic beauty; secluded bays surrounded by pine forests and cliffs, offer the perfect relaxing place.
Admiring rich history, trying out the local cuisine and wine in the many restaurants and cafes, and strolling along winding streets are just some of the things that can fill your time when you're not at the beach.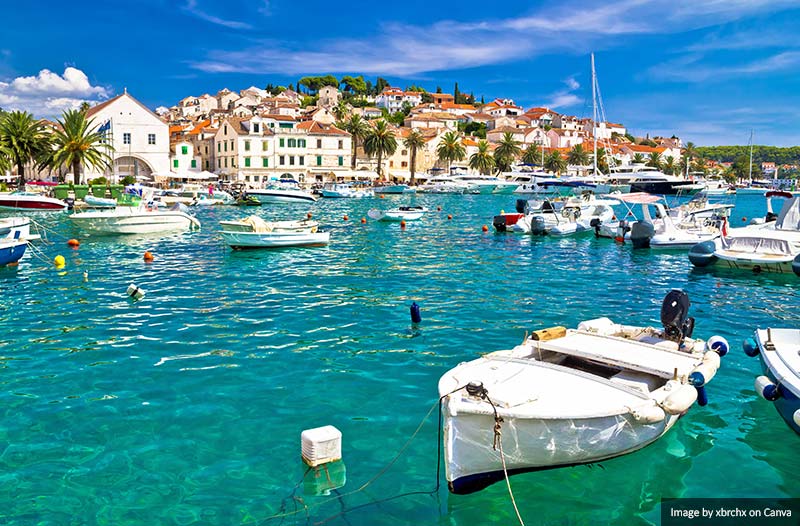 Summary
Be it a stylish Caribbean-like beach holiday or a few days of non-stop partying and water sports adventure, the best beach destinations in Europe can spoil you with choices. Just pick your favourite places and start planning the summer getaway of your dreams. You may also be interested in seeing our suggestions of the best beach destinations to visit in Asia.
---
Find flights and hotels
Start your search using our form below: