The Dolomites in Italy is home to some of the most beautiful landscapes on the planet. Due to this, it is a photographer's paradise offering endless photo opportunities. To see all the picture spots in the Dolomites you'd probably need at least a week but should you not have that much time then we've shortlisted some of our favourites. Here are 5 unmissable photography spots in the Dolomites.
1. Tre Cime di Lavaredo
Tre Cime di Lavaredo is a huge rock formation at an elevation of 2,999m. These peaks are highly impressive and fantastic to photograph. To get to this location you'll need to drive up and pay an entry fee. It's also possible to stay overnight in one of the lodges, although book these in advance so as to guarantee a room. Around this area, you'll find countless photography spots including various lakes/ponds and viewpoints.
Best time for pics: Sunrise/Sunset
Location: See on Google Maps
TIP
When hiking in the Dolomites, especially around this area we suggest taking
trekking poles
. These make the uphills and downhills so much easier, and also improve safety as you may sometimes be walking alongside steep drops.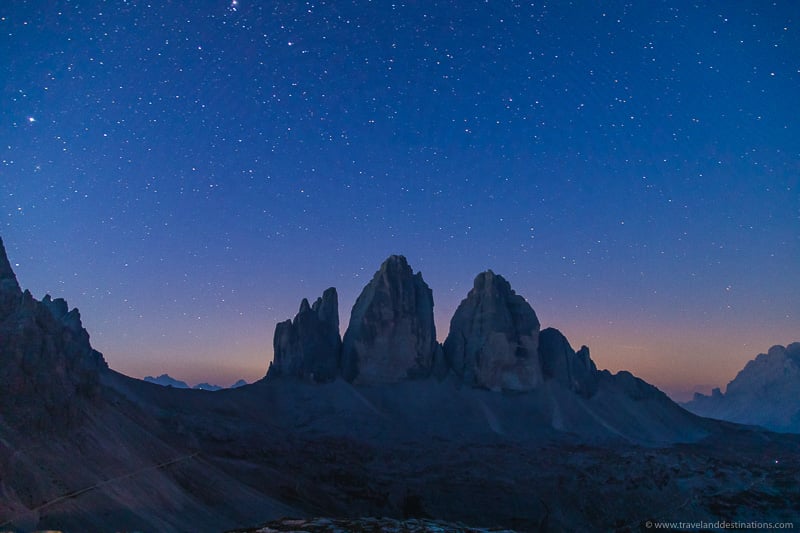 2. Seceda
Seceda is a majestic and powerful mountain in the Dolomites. It is a location that really shows what nature can do. What makes this spot even more impressive is if you visit and there are clouds just below the crest which makes for a more unique photo. Although this is completely natural there's no saying when this could happen. However, we would suggest visiting and enjoying whatever the conditions give you.
To get to this Dolomites photo spot you'll need to take the Seceda gondola. This isn't cheap and you'll be looking at upwards of €30 per person for a return trip. Also, remember to keep your ticket as you'll need it on the way down and to exit.
Best time for pics: Day – Sunset
Location: See on Google Maps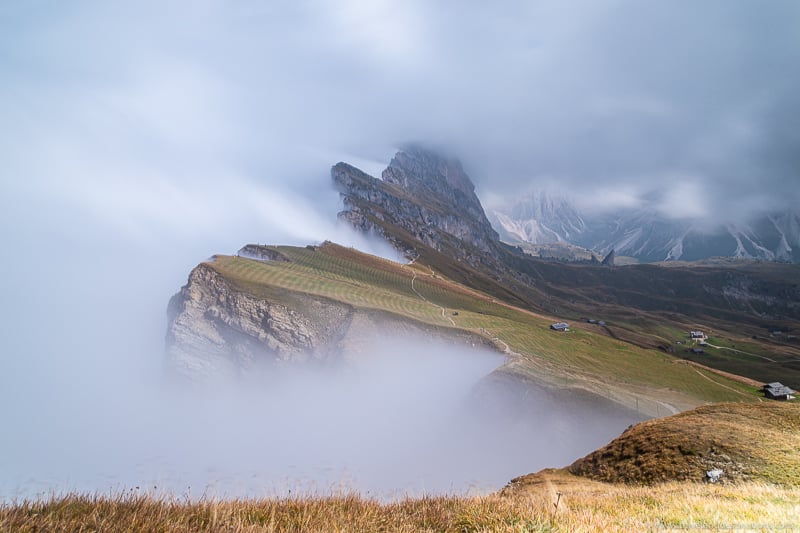 ADVERTISEMENT
CONTINUE READING BELOW
3. Seiser Alm
The Seiser Alm valley (Alpe di Siusi) is one of the most beautiful places to visit in the Dolomites. It's a dream location for all landscape photographers due to the rolling hills, wooden huts and distant mountain peaks. When taking pictures at Seiser Alm you should aim to be there for sunrise or sunset when you can often enjoy incredible light flowing over the hills.
Best time for pics: Sunrise/Sunset
Location: See on Google Maps
TIP
A great place to stay is
Hotel Bellavista
which has great rooms, food and staff. Another option is
Adler Lodge
which is located a short 5-minute walk from the photo spot seen below. Due to traffic restrictions in this area you are best to get a hotel nearby else you'll have trouble getting up here for sunrise.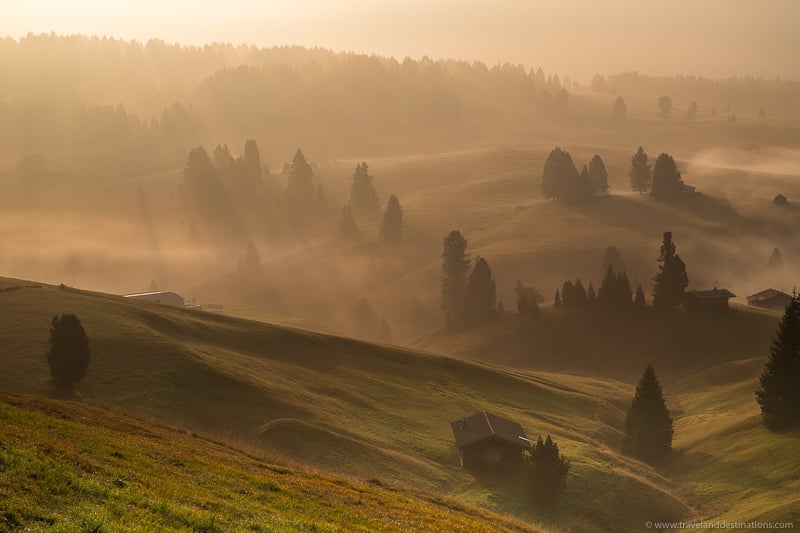 4. St. Magdalena
St. Magdalena is a beautiful village in the west of the Dolomites. Here you'll be able to capture some classic postcard images of the landscape and mountain peaks. The image you see below is taken from a publicly accessible viewpoint in the village. You can't actually drive up to this so park down in the village or at a hotel and then walk up.
Best time for pics: Anytime
Location: See on Google Maps
TIP
If possible stay overnight so you can get some sunrise shots. We recommend
Proihof
which is a wonderful place to stay in the centre of the village.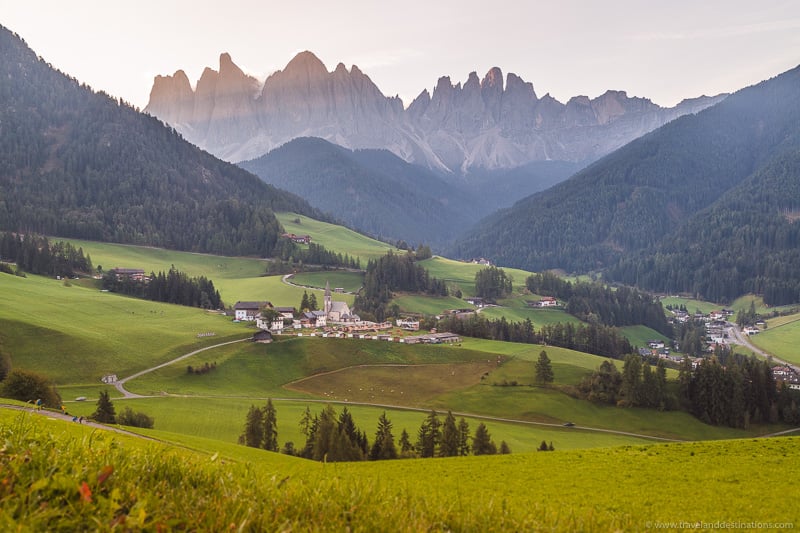 5. St. John of Nepomuk in Ranui
Probably the most iconic photo spot in the Dolomites is St. John of Nepomuk in Ranui. This tiny and very pretty church is also located in St Magdalena. It's nestled in the valley with the tips of mountains peaking out overhead. As you can imagine it's a must-visit photo spot for anyone visiting the Dolomites.
To take pictures you'll find a special (and free) platform that gives you the angle you need. It's also possible to park for free near this spot.
Best time for pics: Anytime
Location: See on Google Maps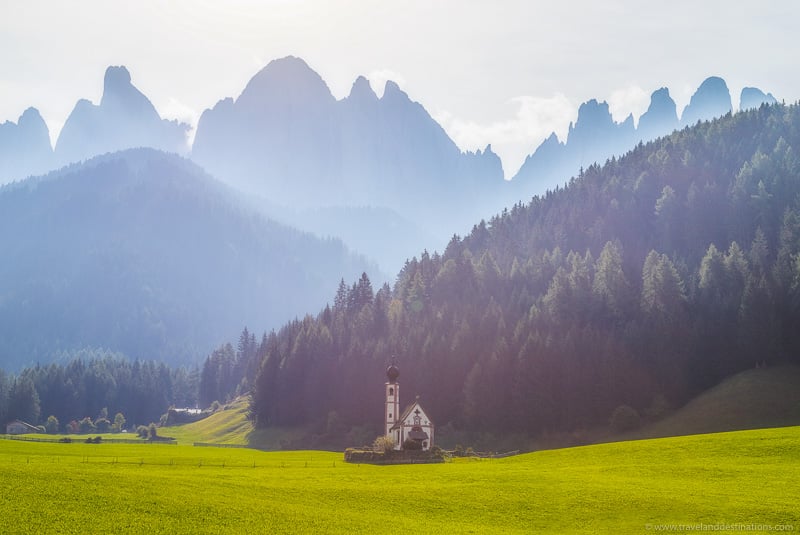 ADVERTISEMENT
CONTINUE READING BELOW
Summary
The Dolomites will be sure to provide you with countless photographs as well as special memories. Be sure to take plenty of memory cards for your camera and also remember to enjoy the location whatever the weather and whatever shots you get. It does take quite some time driving between locations so be sure to plan this into your itinerary when planning your photo trip.
Related Articles