Sardinia is often considered a paradise in the heart of the Mediterranean. Across this Italian island, there are many beautiful places to visit, and even a month would not be sufficient to take in all that it has to offer.
Sardinia is an excellent place to explore in almost any season. Visit in the summer, and you will find the most stunning beaches and the clearest waters you may ever see. Visit in the spring, and it will be all about the hikes and the archaeological sites. Go during the fall and wintertime, and you will have so many festivals to pick from and delicious traditional food to gulp down.
Undoubtedly, its sunny coasts, crystal clear waters, and its white and sandy beaches are the main tourist attractions, but there is an endless list of incredible places and facets to discover in Sardinia. It's all about the most popular towns and cities, the most characteristic islands and, certainly, important sites of historical and cultural interest.
In this article, you will find some suggestions on the best places to visit in Sardinia during your next holiday: 11 stunning places that might tempt you and perhaps guide you in choosing your next destination.
Curious to discover all these best places to see and great things to do in Sardinia? Then continue reading!
Here's a map to help you to find accommodation in Sardinia.
Here are some top tours that you may like for Sardinia.
---
1. Cagliari – Your perfect city break
Are you looking for one of the best places to visit in Sardinia, Italy? Cagliari, the capital city of the beautiful island is one of those! Cagliari is consisting of four historic districts – La Marina, Castello, Stampace, and Villanova – and in each, you will find plenty of archaeological sites, museums, charming churches, stunning beaches, and much, much more. It also is a paradise for gourmets, as there are lots of excellent restaurants to satisfy your taste buds.
One of the symbols of the city, The Bastion of Saint Remy is situated in the area of Castello. From its terrace, you can enjoy a panoramic view of the city and the underlying charming marina. Among the other attractions – the National Archaeological Museum which exhibits artefacts from the Nuragic Age to the Byzantine era, Roman ceramics, the Cathedral of Cagliari of the XIII century, and The Basilica of Our Lady of Bonaria are some notable places you can't miss.
Finally, spend some time on Poetto Beach. It has eight kilometres of fine, soft sand, and an amazing running and biking trail. It's also a well-known surfing spot! If you are looking for a little hike, Sella del Diavolo Mountain only takes a couple of hours. If you're seeking a more remote spot, Sant'Elia beach, near to Sant'Elia stadium is the destination for you.
Also, there is good news for all bird lovers out there! Cagliari is an excellent destination for birdwatching, as it's a nesting place for pink flamingoes and many other bird species. Electric Bike Naturalistic Tour (booking link provided below) takes you to Molentargius Nature Reserve which is the best place in town to admire them.
Cagliari is a perfect city break for you if you want to do a little bit of everything.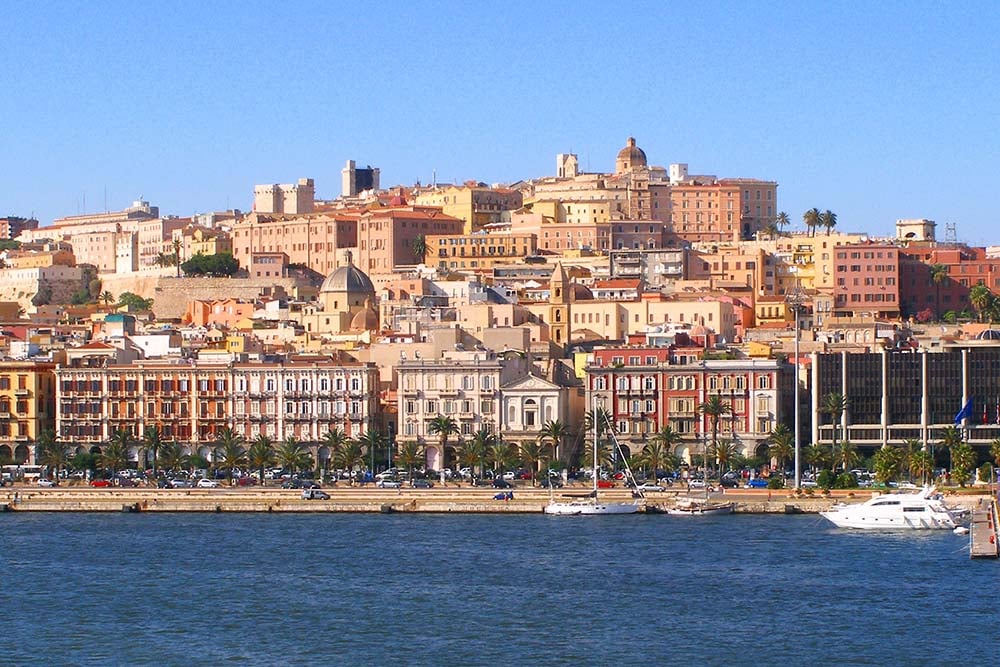 You May Like
2. Villasimius – A perfect beach getaway
One of the favourite towns in the South of Sardinia, Villasimius is popular for its renowned resorts, hotels and long white sand beaches with crystal clear waters, diving sites, coves, and a landscape covered in the Mediterranean scrub.
Villasimius doubles its population during the summertime. There are a cluster of beaches and every sort of beach resort you could dream of! Simius (Spiaggia di Simius) is the main beach that provides its name to Villasimius. It is a part of the Marine Protected Area of Capo Carbonara, which also has a fantastic hiking trail.
Almost a kilometre long, the bay is featured by soft and white sand, surrounded at both ends by a small cliff. You can admire pink flamingos on the pond of Notteri on the right side there. It is a nice place for a stroll.
On the beach, you can find out plenty of refreshment points and kiosks to rent deckchairs, umbrellas, sunbeds, boats, canoes, and even jet skis. Also, you can go for some private wind and kite surfing lessons. A nine-hole golf course and diving centres for diving lovers are also present here.
Moreover, the Villasimius archaeological museum is an actual treat to visit. It features a wide exhibit of treasures found at the bottom of the sea!
Villasimius has everything you ask for a perfect vacation – beaches, diving, hiking, shopping, food, drinks, and much more.
You May Like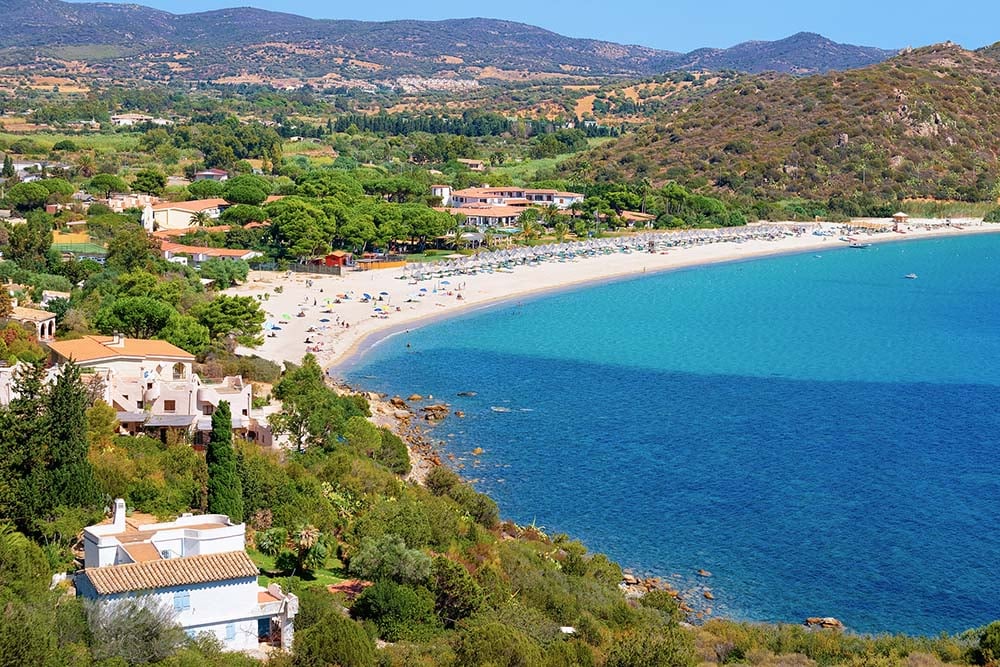 ADVERTISEMENT
CONTINUE READING BELOW
3. Costa Rei – A fabulous spot for families
Located on the southeast coast of Sardinia, Costa Rei is a small village. This place is much appreciated by travellers as a destination for holidays in Sardinia. Across miles of stunning white sand beach, you may find a small but well-furnished building complex of Italian and local restaurants, bars, pubs, and several high-quality tourism services.
Costa Rei is a part of paradise that comes back to life during the summertime due to some of the best family hotels, luxury villas, resorts, and small boutique hotels for those looking for a romantic hideaway in Sardinia.
Within one hour of driving from Cagliari, Costa Rei is the place to stay in Sardinia for families with children, and for anyone seeking a gorgeous beach relaxation. The main beach is ideal if you don't feel like driving, but if you feel like exploring the place, check out Cala Sinzias, Monte Turno, and Cala Pira beaches. One thing to keep in mind is never ever pick up sands or shells from Sardinian beaches. This is a strictly forbidden and fineable offence.
Costa Rei is a wonderful place to have a try at mostly any water sport and activity you can think of. On a windy day, you can also try windsurfing, catamaran Hobie Cat, and kitesurfing.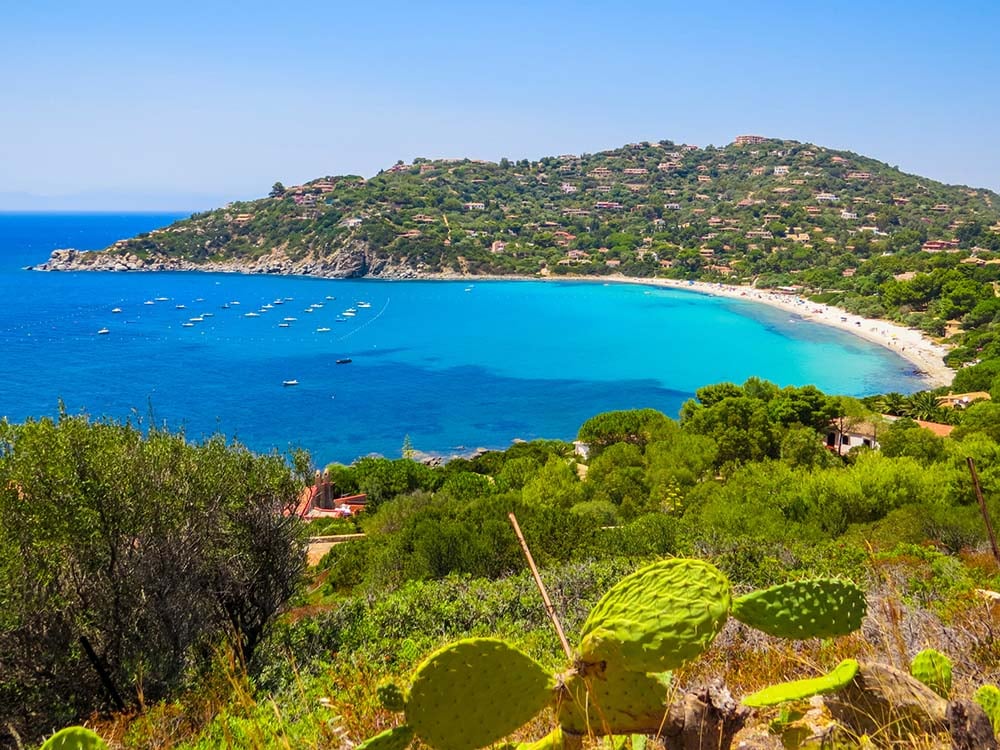 4. Pula – Witness fantastic beaches and archaeological sites
Located about twenty-five kilometres southwest of Cagliari, Pula is a favourite place to stay in Sardinia because it offers easy access to the most remarkable archaeological site on the island – the ancient town of Nora.
Travelling to the Archaeological Park of Nora will take you almost half a day. Dating back to the eighth century BC, this is the first Phoenician town in Sardinia.
Regarding beaches, Su Giudeu in Chia is famous for windsurfing, and kitesurfing. At about fifteen minutes drive from Pula, this is a wonderful clear water and white sand beach. Santa Margherita di Pula beach is even closer and just as gorgeous as Su Giudeu.
Also, there is a fabulous forest filled with holm oaks and pine trees to explore. There are clear hiking trails around the area, too.
You May Like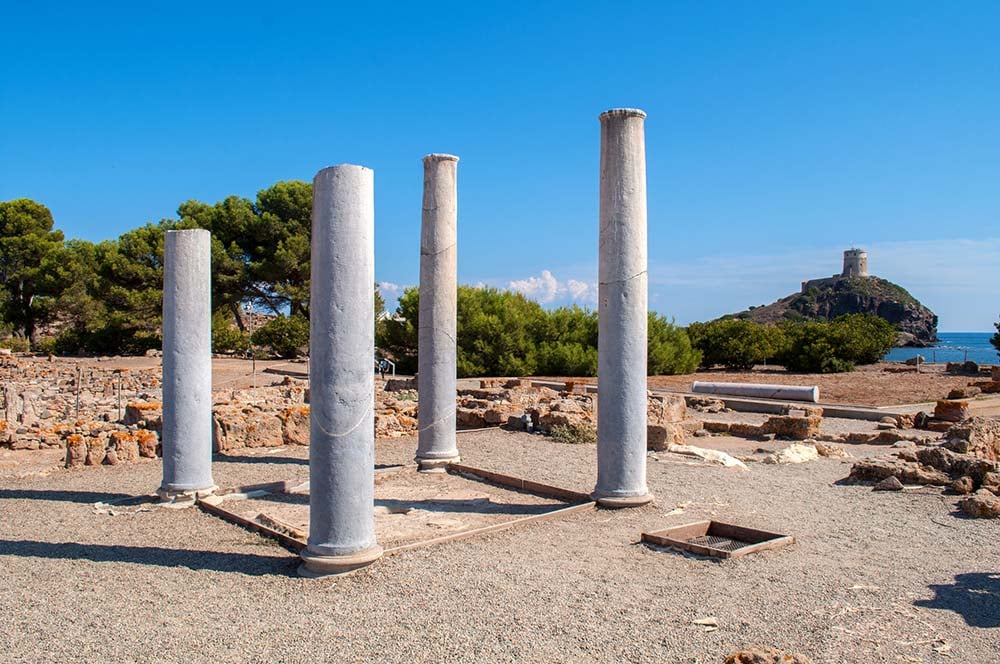 5. Oristano – For wine, architecture and more
Situated in central-western Sardinia, Oristano is an exquisite place to stay and witness some handsome architecture, churches, museums, and art.
The province of Oristano is also home to some wonderful wineries and vineyards that are worth visiting, such as Contini – acclaimed for its Vernaccia di Oristano white wine – among Italy's masterful wines. Stop by the Cantina della Vernaccia, located four kilometres north of the town of Oristano, to taste a wide collection of local wines!
The historic centre is filled with charm. Start by going to the Piazza del Duomo and snapping a photo of Queen Eleonora's Statue. Next, admire the Santa Maria Assunta Cathedral and then continue your visit with the Chiesa di San Francesco.
ADVERTISEMENT
CONTINUE READING BELOW
6. Alghero – A medieval city with great history and nature
Located on the northwest Sardinian coast, Alghero still has the remnants of its Catalan past, whose use has been retained in the form of the 'algherese', and spoken at present by a small percentage. the city is well-known for its historical centre, monuments, and paved alleys.
Undoubtedly, Alghero is a very beautiful town, but to be honest it's also very busy and crowded with tourists. You will find restaurants, bars, coffee shops, and gift shops all over the place. There are also many shops selling coral jewellery, the specialty of the region.
The town exhibits a striking Gothic-style historic centre with the Cathedral of Santa Maria. Go up the Campanile Bell Tower and enjoy the view. Visit the Guillot Palace and the fourteenth-century Church of San Francesco, the Coral Museum, and a long natural bay overlooking the emerald sea.
Have a drink on Piazza Civica, the main square in Alghero, and if you have some time and want to have a short trip, you should book a tour of Neptune's Caves (Grotte di Nettuno). This cave system is among the best things to visit in Sardinia.
You May Like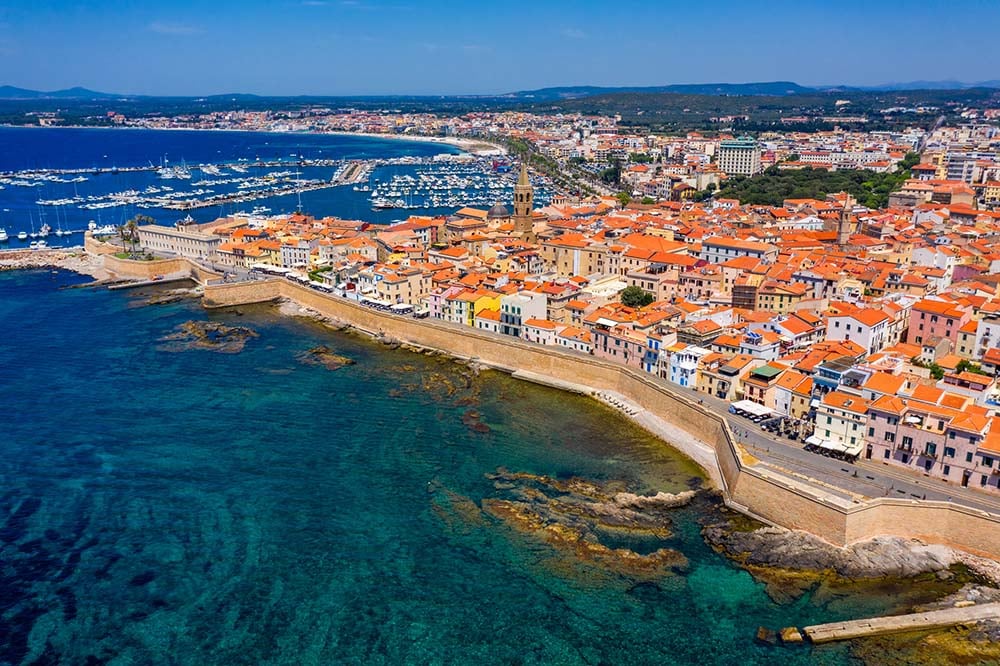 7. Sassari – One of the island's oldest settlements
Sassari, the second-largest city in Sardinia has one of the island's oldest settlements, with archaeological traces dating back to the Neolithic age. The city is located in the northwest of the island. If you're an architecture enthusiast or a history lover, this is the place to stay in Sardinia.
The heart of the historic Old Town, Piazza d'Italia is filled with beauteous structures, including the Palazzo della Provincia and the Palazzo Giordano. Museo Nazionale Sanna, one of Sardinia's most significant museums, displays archaeological collections that include Roman artefacts as well as Nuragic bronze figures and jewellery.
On the western borders of the Old Town, you'll discover the nice little Church of Santa Maria di Betlem, with a spectacularly ornate basilica dome. The interior is a big surprise with paintings and baroque sculptures. Just southeast of Sassari, the Basilica di Saccargia is a black-and-white striped church made entirely out of local stone and the finest example of Pisan architecture in Sardinia. Inside, if you're lucky enough to find it open, are thirteenth-century frescoes – absolutely delightful to visit.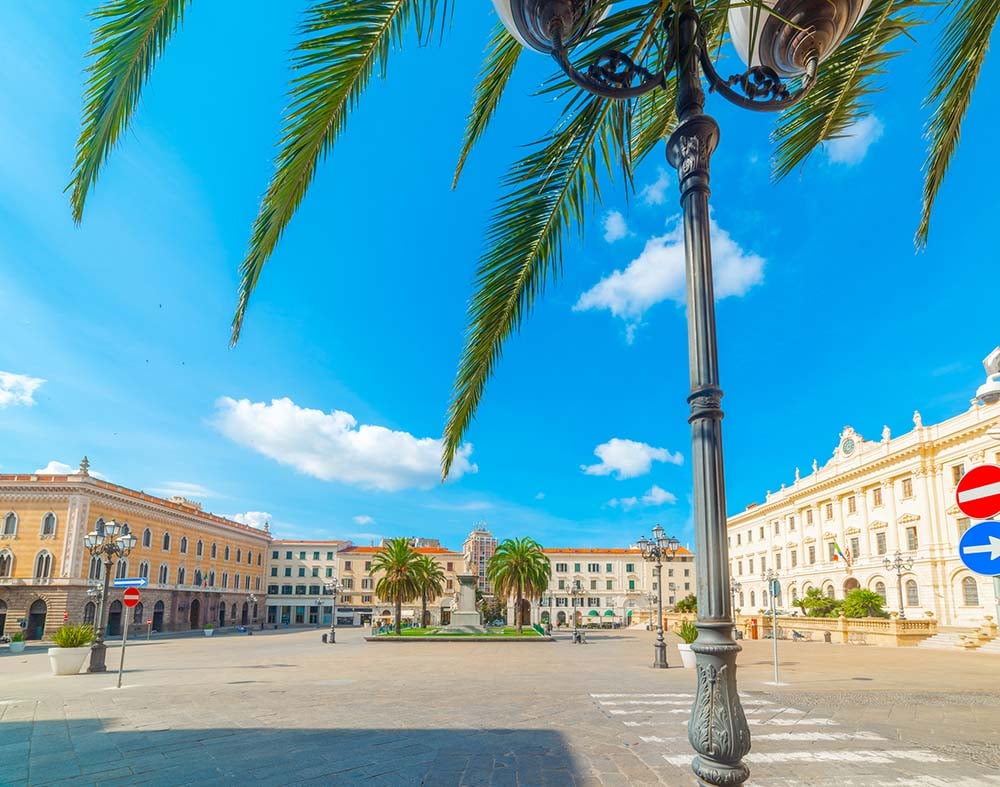 8. Castelsardo – A charming medieval village
Located in the northwest of Sardinia, in the province of Sassari, Castelsardo is a charming medieval village included among 'The most beautiful villages in Italy'.
If I say medieval villages, the most obvious things that come to your mind are castles and ramparts. Well! Castelsardo will not disappoint you on that. From the top of Doria Castle, which dominates the town, is one of the best-preserved medieval castles in Sardinia. You will enjoy stunning views over the Gulf of Asinara, extending in both directions along the coast and as far as Corsica.
You can go for a nice stroll in the village to explore the place. Discover the cathedral, the bell tower, and the Church of Santa Maria. You'll also find a museum called Museo dell'Intreccio Mediterraneo dedicated to the famous local craft – basketry.
Whenever you're in Castelsardo, don't forget to stop by the Elephant Rock (known as Roccia dell'Elefante) located nearby. As the name suggests, this rock has the shape of an elephant and is about four meters in height. There are also two ancient neolithic tombs inside, which are an example of 'Domus de Janas' (House of the Fairies). You must stop there to take some pictures.
This colourful and full-of-life village is ideal for a weekend gateway with your family, loved ones, or for a solo trip.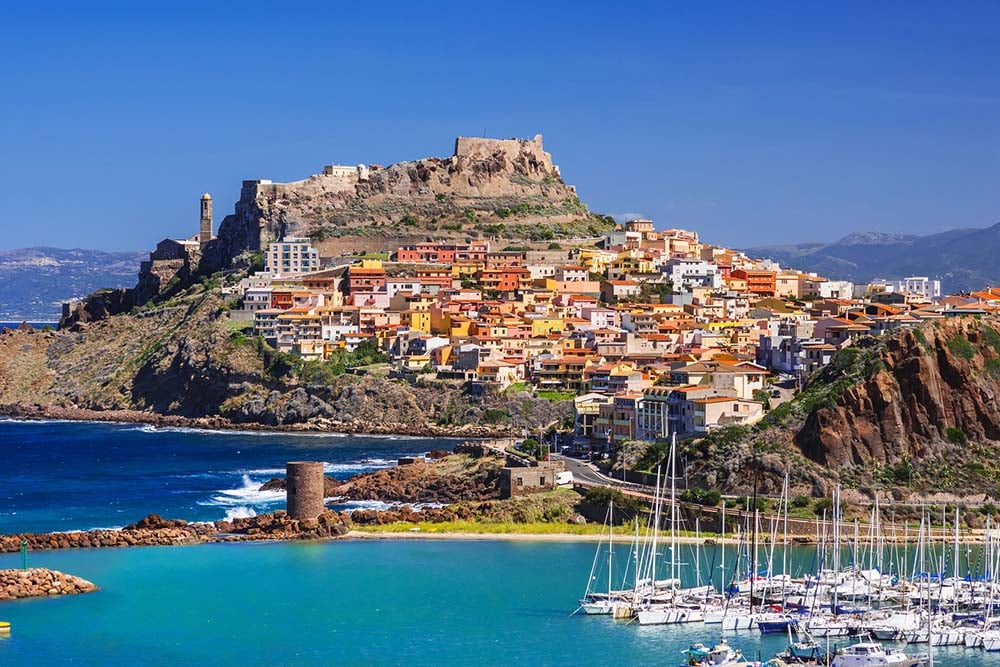 You May Like
9. Orosei – Stunning Beaches and hikes
Situated in the province of Nuoro, in the central-northeast region of Sardinia, Orosei is a picturesque small town with a stunning bay and bountiful hiking trails. Orosei is well-known for its golden sandy beaches, with its crystal-clear seawater and backed by a pinewood starting from Sa Curcurica.
It doesn't matter if you are an outdoor enthusiast or the type of traveller who wants to live a little bit off the beaten path, Orosei will be the perfect fit for almost any person.
There are twenty miles of beaches, coves, and grottos to explore along the Gulf of Orosei. Nested in the Gulf of Orosei, Cala Goloritzè is another enticing beach and coastline to visit when you're in Baunei.
The cruises are the main tourist attraction in the Gulf of Orosei, which are taking you to coves and grottos. These are only accessible by boat. Every day sea excursions will take you to the exploration of the Gulf, from Cala Luna to Cala Goloritzè, with their postcard views from the town's small port. A couple of the most mind-blowingly spectacular beaches can only be passaged by hiking along the trails like Cala Mariolu and Cala dei Gabbiani.
Moreover, inside the town, there are thirteen churches to see and a medieval castle to visit. Expect to be surrounded by charming old houses and wander through cobblestoned streets.
You May Like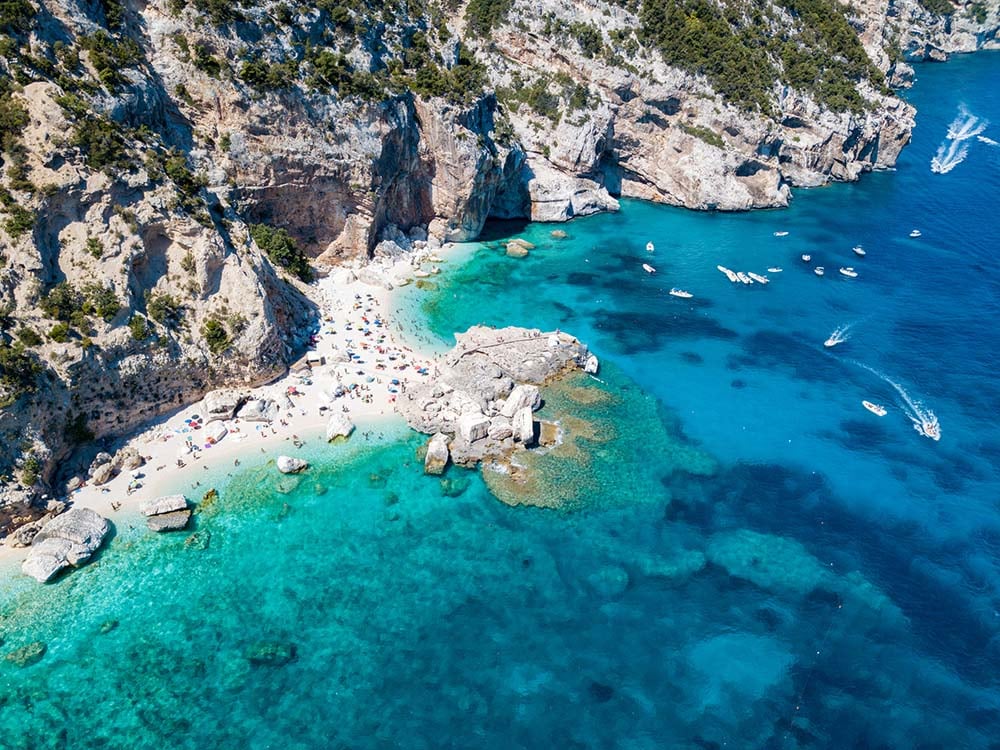 ADVERTISEMENT
CONTINUE READING BELOW
10. Costa Smeralda – A luxury paradise
Costa Smeralda is a paradise of ten kilometres stretch between the bay of Arzachena and the Gulf of Cugnana. It's likely the most popular area in Sardinia, world-famous for its fancy and glamorous resorts and phenomenal beaches. In reality, Costa Smeralda is the most expensive location in all of Europe!
If you're looking to experience the high life and live like the rich, spot celebrities, and the famous on your Sardinia vacation, Costa Smeralda is the place to stay in Sardinia!
The most iconic towns in Costa Smeralda are Porto Rotondo and Porto Cervo. They are wonderful to visit for a stroll through the boutiques and to see all the billionaires with their luxury yachts. A few celebrities like Harrison Ford own big properties there.
Pevero beach, located three kilometres away from Porto Cervo, is very famous and often crowded. The beaches are mostly private with sunbeds around. Despite that, they are still truly beautiful.
Try to explore Arzachena, which is near Costa Smeralda. Even though it is hidden just a few kilometres inland from the coast, usually a densely populated area celebrated for its high-quality and highly delectable Vermentino di Gallura wine.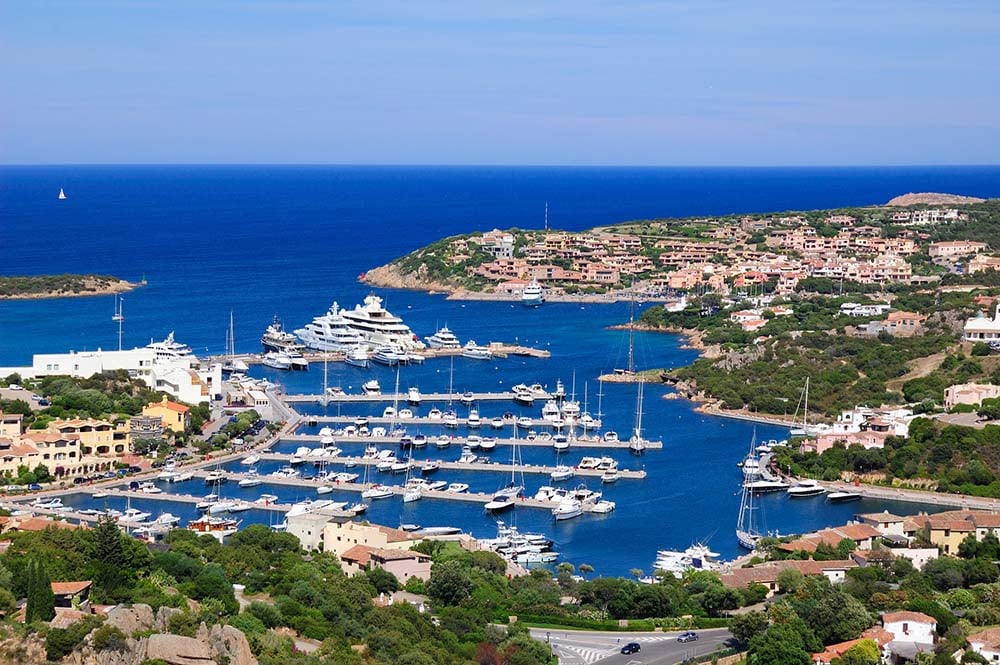 You May Like
11. La Maddalena – Go for an incredible boat tour experience
The Maddalena (La Maddalena) Island is another of the best places to visit in Sardinia. The island is part of the Arcipelago di La Maddalena National Park (which consists of seven islands), just off the north coast of Sardinia. The two biggest, La Maddalena and La Caprera are the only ones you can visit by car. The other smaller islands (such as Budelli or Spargi) can only be explored by boat, which is one of the most famous activities of the Arcipelago. If you love national parks, it's among the best things to do in Sardinia.
To go to Maddalena Island, there are boats/ferries leaving from Palau. Several companies offer this trip every day. During a bout tour, you might be able to see dolphins, sea turtles, and other beautiful sea creatures. This is the reason why La Maddalena is also one of the best places to visit in Sardinia for families. Kids love this kind of activity! So, you should book your day trip in advance to enjoy this incredible experience.
Undoubtedly, the beaches are the main attraction in La Maddalena. Some of the best beaches to explore are: Bassa Trinita, Spiaggia di Monte di Rena, Spiaggia del Cardellino, Spalmatore beach, (one of the most touristy on the Island) and Testa del Polpo beach (You must stop there to see the Turquoise shallow water, big rocks – looks just like Seychelles!).
Of course, you can take beach breaks whenever you feel like it. Try renting a car and drive along the panoramic road surrounding the island to enjoy the views.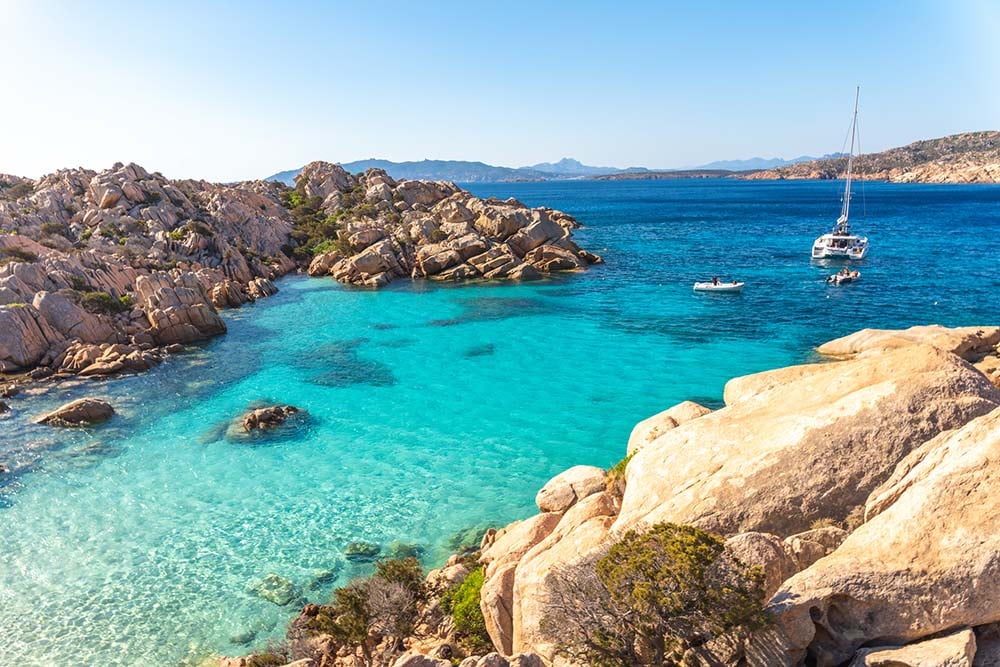 You May Like
Summary
Talking about the best places to visit in Sardinia is not an easy task. The island has a wide variety of places, cities, parks, traditions, and so on. The list above is 11 of the best places to visit in Sardinia. We hope this article provides useful ideas for your Sardinia trip.
But keep in mind that Sardinia is a paradise of a thousand colours and a million possibilities. So, keep on exploring the best of places offered by this incredible island on your next trip! Read 9 Amazing Things to do in Sardinia for ideas of what to do during your visit.
Ready to book? Search for:
---
---
---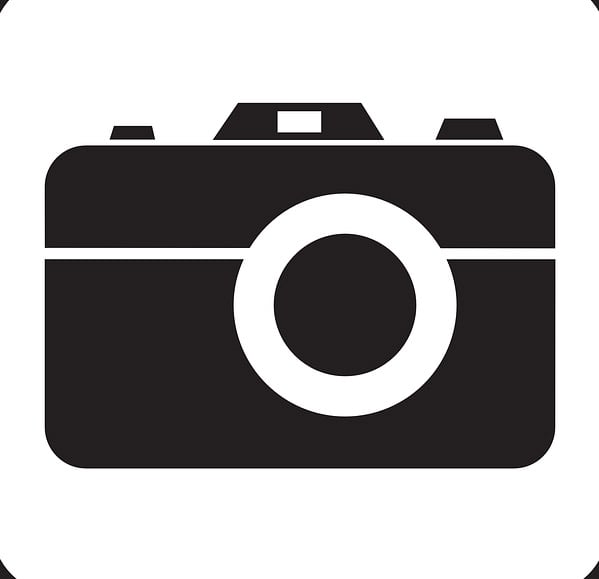 Related Articles