Spain is a gorgeous country located on Europe's Iberian Peninsula and blessed with diverse landscapes and cultures, beautiful nature, and charming beaches. Not shockingly, the third most UNESCO World Heritage Sites of any country goes to Spain. The reason behind this goes to the fact that many civilizations throughout history left a mark in Spain, from Greeks, Celts, Romans, Iberians, Phoenicians, Moors and Visigoths.
When it comes to finding a holiday beach destination, Spain should be an obvious choice with the most "blue flag" beaches awards in the world (590 Spanish beaches) and 3,000 miles of coastline. With so many great spots to choose from we've narrowed down some of the best. Below are 10 of the best beach and summer holiday destinations to visit in Spain.
---
Menorca
Menorca (Minorca) is one of the Balearic Islands in the Mediterranean Sea and is known for its endless beaches. A few top beaches to check out in Menorca include Playa de Cavalleria, Mesquida cove and Cala Trebalúger.
The best things to do here besides having a beach day is to visit the town of Binibeca, explore the Menorcan vineyards, explore the tomb of Naveta d'es Tudons, or hike up Monte Toro.
You must explore the old capital Ciutadella, as well as the gorgeous city of Mahón (which is now the capital). Also, make sure to take a sailing trip along the Menorcan shoreline and/or enjoy a kayaking day around Es Grau beach.
Majorca (Mallorca)
Mallorca (Majorca) is the largest of the Balearic Islands. It is famous for its beautiful coast, beach resorts, bays, coves, as well as Roman and Moorish remains and several limestone mountains.
Some of the best things to do on this island include visiting the capital Palma de Mallorca, shopping in Puerto Portals, as well as exploring some of the towns and villages such as Alcudia, Pollença and Cala Figuera.
A few of the best beaches to enjoy include Platja es Carbó, Platja des Carregador and Playa de Canyamel. Also, make sure to go on a cruise around the huge Calvia coastline and discover the beautiful cliffs and bays.
See booking options for Majorca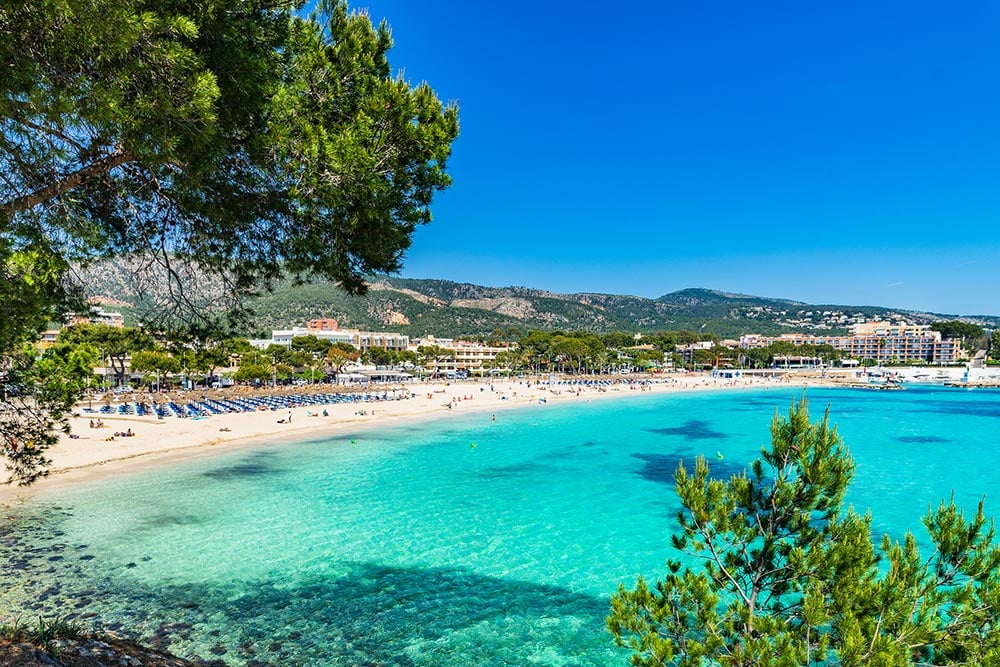 ADVERTISEMENT
CONTINUE READING BELOW
Ibiza
Ibiza is an archipelago of Spain located in the Mediterranean Sea and is one of the best Balearic Islands to visit. It is famous for its clubs and nightlife and is a destination where some of the biggest clubs in the world are located.
Other than partying, other top things to do in Ibiza includes exploring Dalt Vila (Ibiza old town and a UNESCO World Heritage Site), seeing the Ibiza Cathedral, and watching the sun go down at Cafe Del Mar.
A few of the best places on the island for relaxing on a beach or by a pool include Playa d'en Bossa, San Antonio, Talamanca, and Cala Comte. Also, you can have a relaxation day at the many spas and yoga retreats located around the island.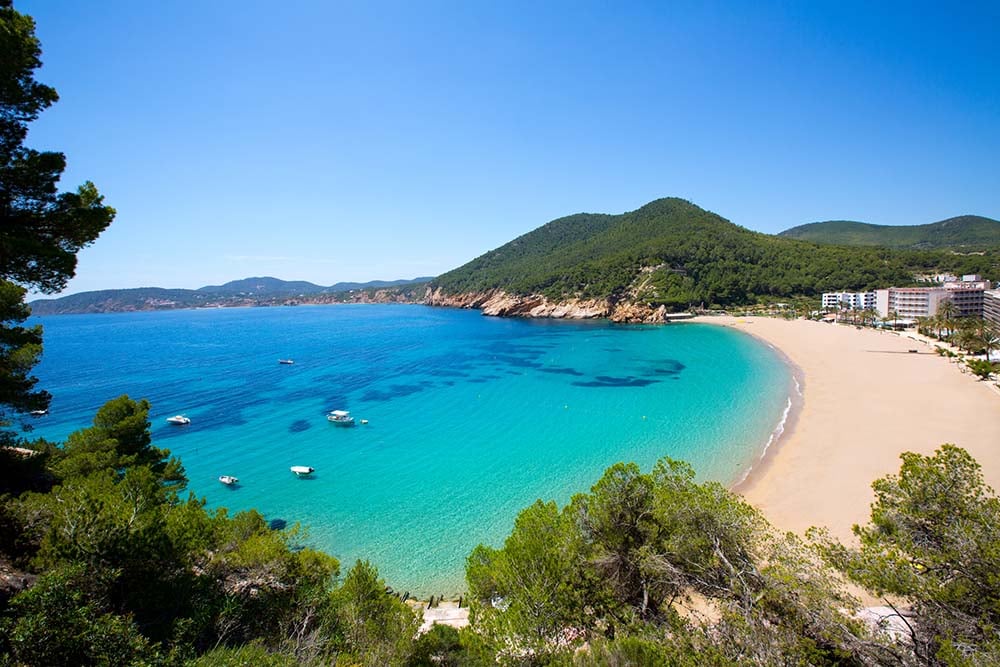 Tenerife
Tenerife is one of Spain's Canary Islands. It is home to a dormant volcano and Spain's tallest peak, Mt. Teide (at 7,315m). The island of Tenerife has many beautiful sandy beaches and resort areas where you can enjoy great days on the beach. Top beaches include Playa de Las Teresitas, La Tejita, El Duque and Playa Jardín.
A few of the other best places to visit in Tenerife include cities and towns such as Puerto de la Cruz, Santa Cruz, La Laguna, Garachico, as well as nature spots including Mount Teide and Anaga Rural Park, an impressive 35,800-acre Biosphere Reserve.
Other cool places to relax (and swim) is Lago Martiánez which is a huge open-air swimming pool, and also Siam Park, a fantastic water park that will be sure to give families a great day out.
See booking options for Tenerife
ADVERTISEMENT
CONTINUE READING BELOW
Fuerteventura
Fuerteventura is another of the Canary Islands and the second-largest. It is popular for its sandy beaches and great all year warm weather, as well as scenic cliffs, and coves. Some of the top beaches include Morro Jable, Matorral, Cofete, Costa Calma and Cotillo. Also be sure to visit the pretty Lobos Island located just north of the main island and is a protected natural area.
A few of the other top things to do include exploring the sand dunes at Corralejo Natural Park, seeing the Calderón Hondo volcano, and visiting the old town of Betancuria.
While in Fuerteventura enjoy water sports such as surfing, waterskiing, and windsurfing. You can also enjoy a whale and dolphin-watching tour in Fuerteventura (preferably in June).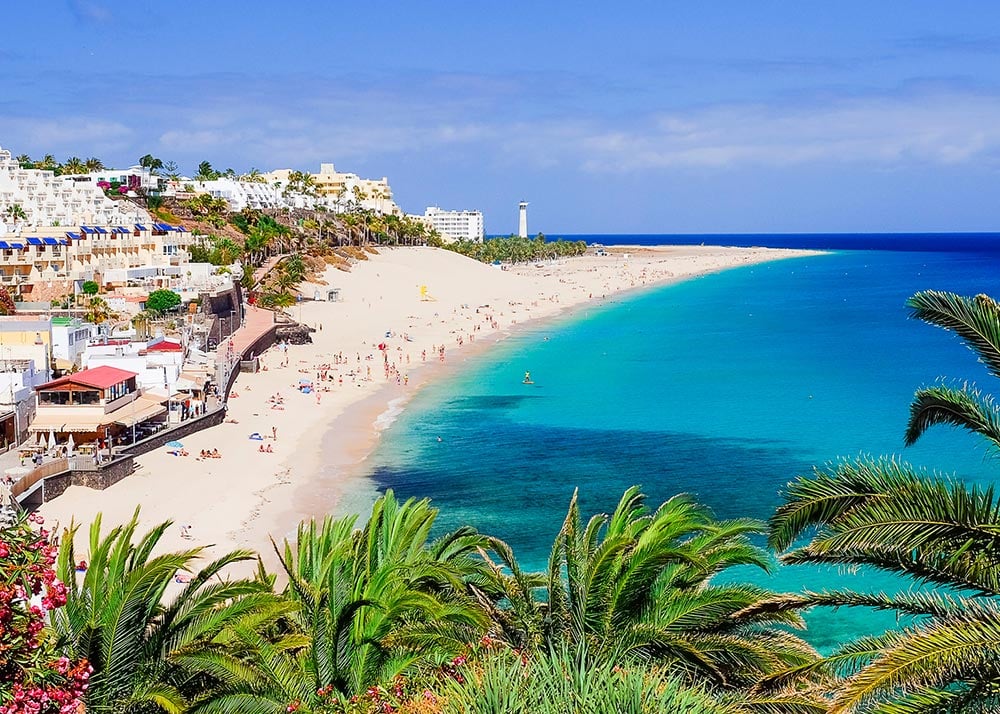 Lanzarote
Also part of the Canary Islands, Lanzarote is known for its gorgeous weather, volcanic landscapes, resorts, villas, and beaches.
While there, make sure to visit the Timanfaya National Park for its scenic landscapes, explore the Jameos del Agua caves, and see the unique cactus garden, Jardín de Cactus. Some top beaches to enjoy include Playa del Papagayo, Playa Flamingo, Playa Francesa and Playa de Mujeres
Also, make sure to check out the natural outdoor swimming pools (formed by the sea) which are found around Lanzarote's eastern and southern coasts. The pools can be found in Punta Mujeres, Cueva del Agua (Los Cocoteros), and Los Charcones.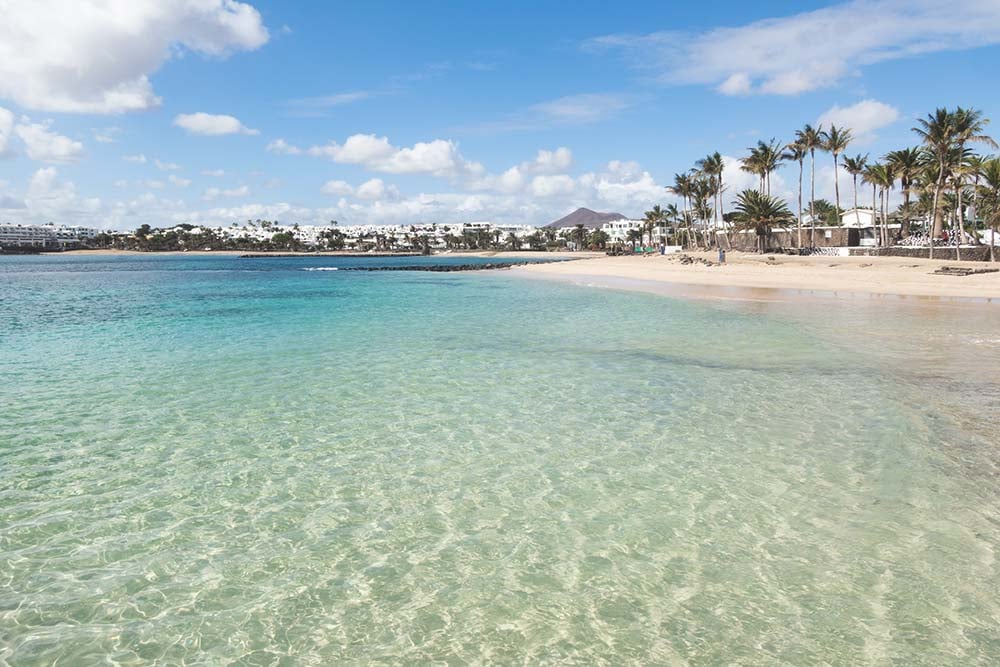 Gran Canaria
Gran Canaria is located off northwestern Africa (and part of the Canary Islands). The island is characterized by its rural and mountainous landscapes. The true sand colour in Gran Canaria is black due to the volcanic origin of this island.
On the island can find large sandy beaches such as below as well as other highlights such as Roque Nublo rock and Pico de las Nieves (1,949 m). You should also explore the Maspalomas dunes (a protected natural research), wander around the botanical garden "Jardín Botánico Viera y Clavijo", and visit the fishing village Puerto de Mogán.
Gran Canaria island is popular for its water sports such as yachting, windsurfing, sailing, scuba diving, and water skiing.
ADVERTISEMENT
CONTINUE READING BELOW
La Palma
La Palma is yet another of the Canary Islands, known for its craggy, forested terrain and volcanic landscape with volcanoes like Teneguía and Cumbre Vieja located there.
Some of the coolest things to check out are the Caldera de Taburiente National Park, Roque de Los Muchachos (for stargazing), and the capital city of Santa Cruiz de La Palma. Also visit places such as  Los Llanos de Aridane, Fuencaliente and Villa de Mazo.
Some beaches in La Palma worth seeing include Bajamar Beach, Los Cancajos beach and Puerto Naos beach.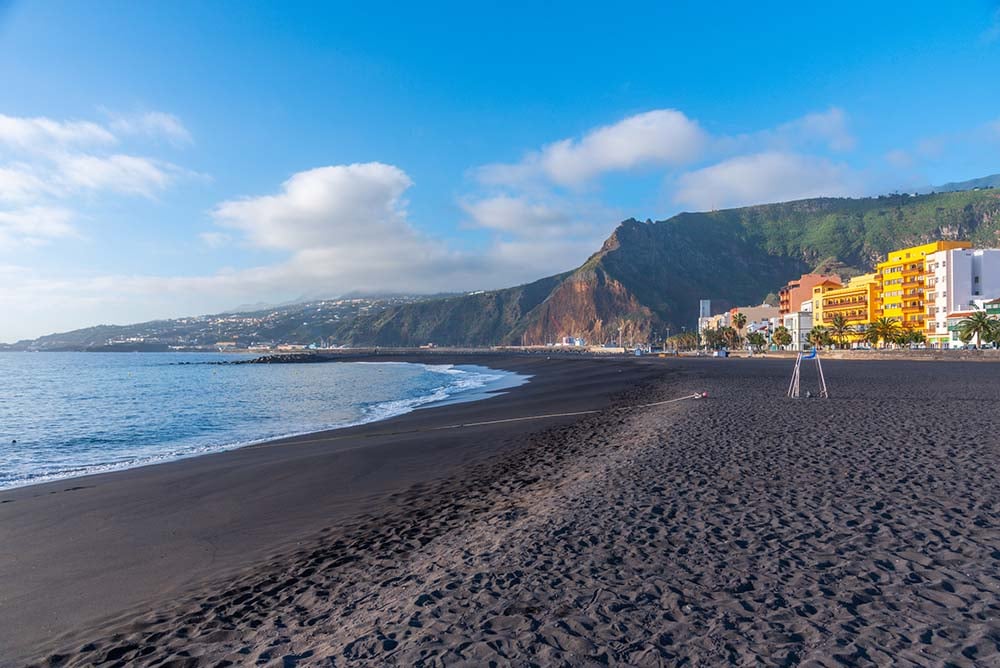 Sitges
Sitges is a beautiful town on the coast of Spain's Catalonia region close to Barcelona. It is famous for its gorgeous sandy beaches, bars, nightclubs, and promenades surrounded by beautiful houses and big mansions.
A few of the best things to experience in Sitges besides having a relaxing beach day, include wandering along the Passeig Maritim (a scenic walk), visiting the Museu Cau Ferrat, and exploring the beautiful Garraf Natural Park.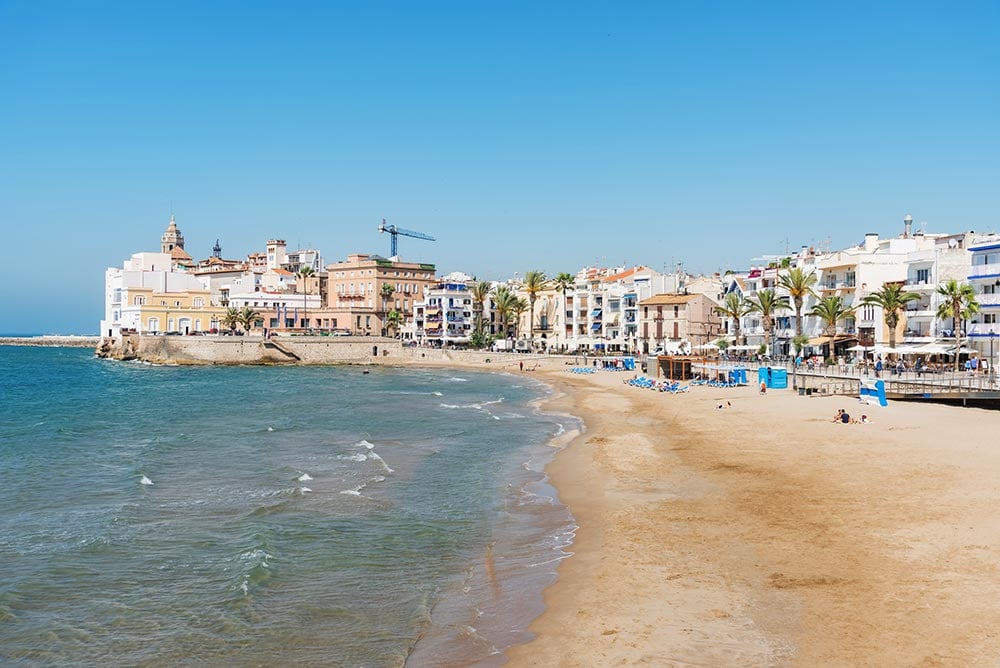 ADVERTISEMENT
CONTINUE READING BELOW
Málaga
Málaga is a city located on Spain's Costa del Sol. It is known for its luxurious resorts, hotels, its beautiful yellow sandy beaches and its many museums. It is famous for being the birthplace of the great Pablo Picasso.
While in Malaga, a few historic highlights to see include the La Alcazaba fortifications, the Roman Theatre, Málaga Cathedral and Castillo de Gibralfaro. Also visit the Museo del Vidrio, Ataranzas Market, Parque de Málaga and of course Picasso's museum.
A few beaches for relaxing in the sun includes Playa de la Malagueta, Playa Peñón del Cuervo and Playa de la Carvajal.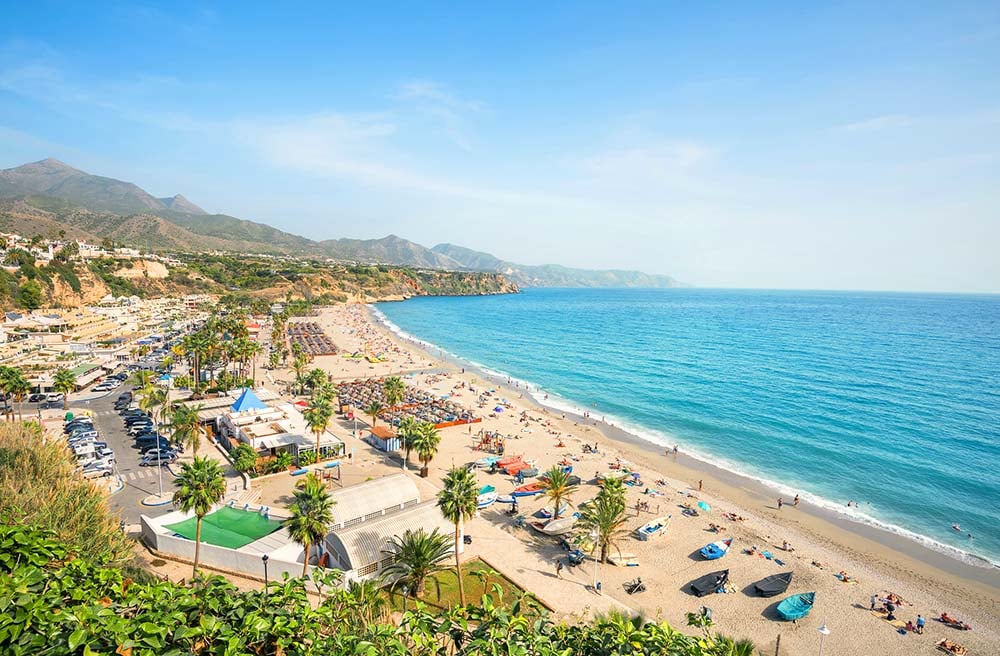 Barcelona
Although not a typical beach destination, Barcelona has on its shores a wonderful stretch of beach which is perfect to relax upon after exploring the highlights and gems around the city. Also along the beachfront, you'll find bars and restaurants where you could spend your day on the beach before moving into the clubs at the end of the day for a fun night out.
Barcelona of course isn't just about its beach and serves as a great destination for a city break, where you'll find incredible historic landmarks to explore as well.
See booking options for Barcelona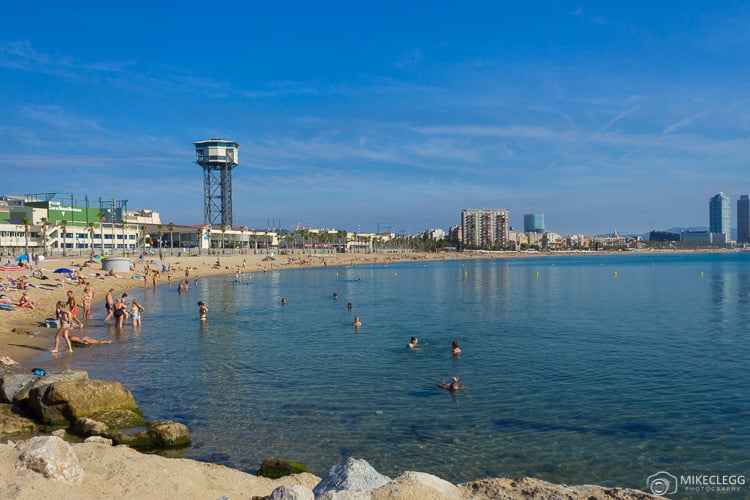 UK Package Holiday Options:
If you're travelling from the UK then here are some popular companies where you can book package holidays which include your flights, accommodation and transfers:
Note that we get a small commission should you book via our links. This helps us to run this website and create content.
Summary
Spain is definitely a dream destination for a beach and summer holiday. It is blessed with fantastic sandy beaches, perfect weather, delicious food, vibrant nightlife, friendly people, and gorgeous wide coasts. Consider some of the places above which will guarantee you the time of your life and a wonderful time in Spain.
You may also want to read our article on Best Beach and Summer Holiday Destinations in Greece.
Ready to book? Search for:
---
---