Everyone needs a summer holiday so as to switch off, relax and recharge. For many, it can be the highlight of their year and something to look forward to. If you're travelling from the UK then here are some of the best companies to choose from if you're looking for a package beach holiday. You'll find plenty of options including destinations across Europe, the Caribbean, South East Asia and lots more. Most package holidays will include as the bare minimum accommodation, flights and transfers. As well as this package holidays can include bed and breakfast, half-board, all-inclusive and many more options. Sometimes tour companies will offer free kids places too which is a great way to travel with the family and save a bit of money whilst doing so.
If you're travelling from the UK, then read below for some of the best travel companies to book your next beach and summer holiday.
Disclaimer: We try to be as accurate as possible and believe facts and details are correct at the time of publishing. Please check the full details and terms and conditions before booking with any of the mentioned providers.
---
Top destinations for package holidays from the UK
The UK has a wide variety of destinations to choose from when booking a package holiday. One of the most popular destinations is Spain, with its sunny beaches, vibrant nightlife, and delicious cuisine. The Canary Islands, the Balearic Islands, and Costa del Sol are some of the most popular regions in Spain for package holidays.
Another popular destination is Greece, with its ancient history, stunning islands, and delicious food. The Greek islands of Crete, Rhodes, and Santorini are some of the most popular for package holidays. Other destinations to consider are Turkey, Portugal, Egypt, and the Caribbean.
Through the providers mentioned further below you'll find many more places to go. Read more articles on our website to discover more exciting places to go.
ADVERTISEMENT
CONTINUE READING BELOW
---
What are some of the main things to consider when booking a package holiday?
When booking a package holiday, you should consider various factors to ensure that you pick the best option for you.
The most crucial factor to consider is your budget. Determine how much you can afford to spend on your holiday and look for packages that fit within your budget. You should also consider the time of year you plan to travel, as prices can vary depending on the season. The duration of your stay and the type of accommodation you prefer are other factors to consider.
As well as this you should consider what meals are included in the package. You can normally find a variety of options from just the room to all-inclusive. These offer different benefits and all-inclusive (or some included meals) might be the best option if you are in a more isolated location. Having some meals included also makes thinking about what and where to eat a lot easier, allowing you to relax more during your trip.
If you're travelling as a family, especially with children then you might want to check what child facilities are available and also keep the flight and transfer times in mind.
Another important factor to consider is the reputation of the tour operator. Do your research and read reviews from other customers to ensure that the company is reliable and offers good customer service. You should also check if the tour operator is ATOL and ABTA protected.
Lastly, consider the destination and activities available. Ensure that the package you choose offers the experiences you desire, whether it be sightseeing, relaxing on a beach, or exploring a new city.
You can read more about common questions and things to know further below.
---
Top UK summer package holiday companies
TUI
TUI is one of the biggest tour operators in the UK and is perfect for booking your next beach holiday away. With TUI you'll find a huge range of package holidays to over 80 destinations across Europe and beyond, including family, adult only and all-inclusive and lots more options. What's more, their website is optimized to help you find exactly what you're looking for, with well-organised listings, useful filters, guest ratings and all the right information about the holiday to help you decide if it's right for you.
Why book with TUI?
ABTA and ATOL protected
Huge selection of holiday options to suit all budgets
Easy-to-use website
Customer reviews on the properties
Established and trustworthy brand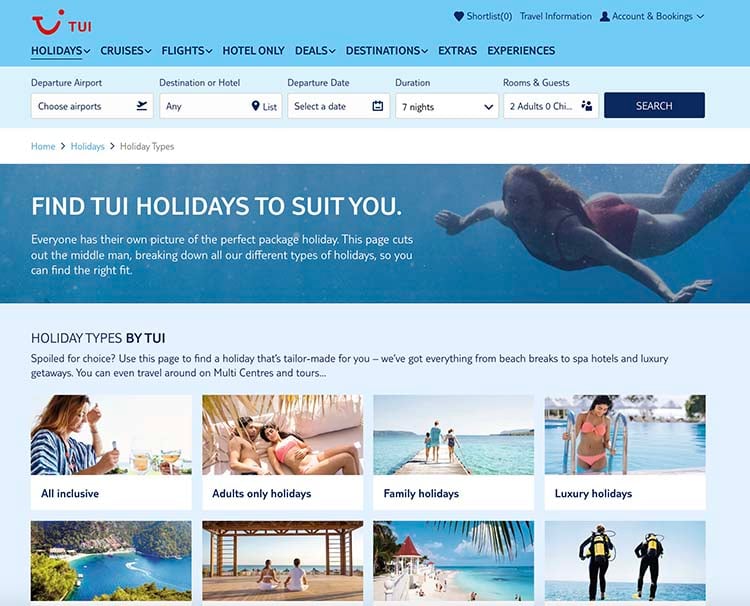 Jet2holidays
Jet2holidays is a highly rated company offering you a great range of beach and other package holidays. You'll find all-inclusive options, family holidays, golf-themed holidays and lots more, and to over 70 destinations across Europe. With this package holiday provider depending on what option you pick you could get flights, transfers, accommodation and 22kg of baggage included.
Jet2holidays also offers city breaks (called Jet2CityBreaks) as well as Jet2Villas (villa type holidays) which may also take your fancy.
Why book with Jet2holidays?
ABTA and ATOL protected
Flights from/to 9 UK airports.
10kg hand luggage, 22kg hold baggage
Low £60pp deposits (subject to change)
Free child places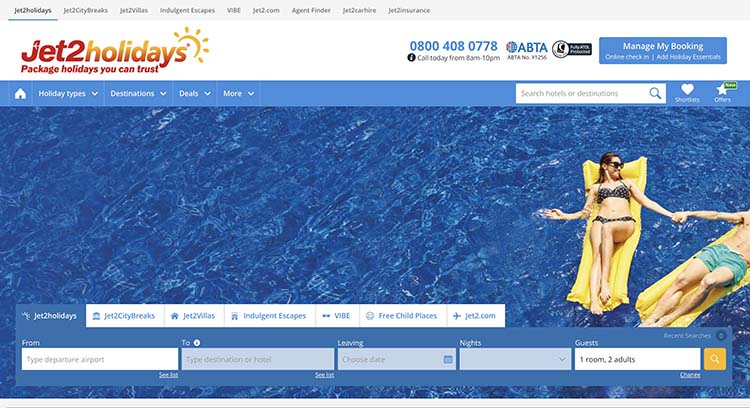 On the Beach
Find your perfect summer holiday with On the Beach, a UK tour provider that will take you to some of the best destinations in Europe, as well as the Middle East, the Caribbean, as well as South Africa and Thailand. Soak up the sun on the beaches of Tenerife, Corfu or Majorca, to name just a few of the countries that you'll find available. With On the Beach you can pay in instalments which helps paying for your well-deserved trip that much easier.
On the beach offer holiday deals starting from just a few hundred pounds through to more luxurious options at 5-star hotels making them a great provider for all travellers.
Why book with On the Beach?
British Travel Awards 2020 winner
Large choice of hotels
Low deposits to book your next trip
Customer reviews
Flights are available from all across the UK, including Scotland and Northern Ireland
ATOL protected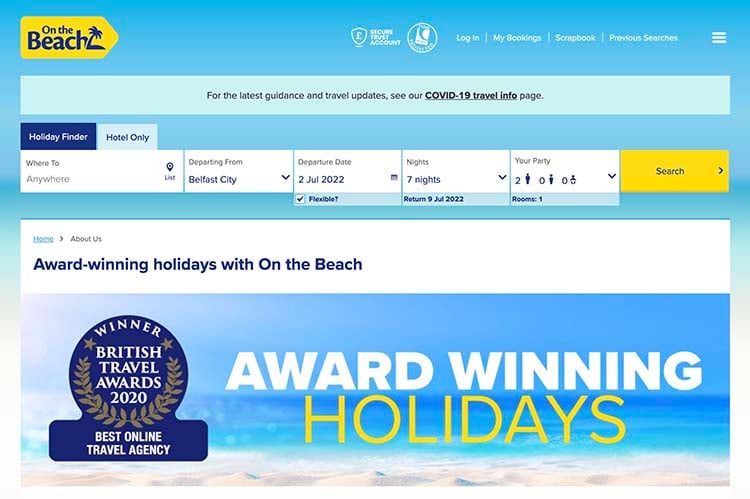 Love Holidays
Fly away next summer with Love Holidays, a popular tour company offering a great selection of summer destinations. Visit the likes of the Algarve in Portugal, Ayia Napa in Cyprus or Bodrum in Turkey to name just a few of the destinations you'll find. When searching for a place to go you'll get to enjoy a lightning-fast site and plenty of details and pictures to help you choose. As well as customer reviews so you can be sure you're making a good choice.
Why book with Love Holidays?
Low deposits from only £29pp
Flexible payment options
Great range of destinations
Reviews and ratings to help you choose
Very fast website
ATOL protected
First Choice
First Choice has some great prices for package holidays starting from around £200pp. You'll find options at popular destinations across Europe, as well as further afield such as the Caribbean, Asia and Central America. What's more, you'll find holidays with meals included from bed and breakfast up to all-inclusive options. This can be a great way to really switch off and relax whilst you're away, especially if you're travelling with kids as you can avoid having to worry about where to go for dinner.
Why book with First Choice?
Over 80 destinations in 30 countries around the world
Great selection of holidays from budget to luxury
Flight options from over 20 airports in the UK
Luggage included on many package holidays
ABTA and ATOL protected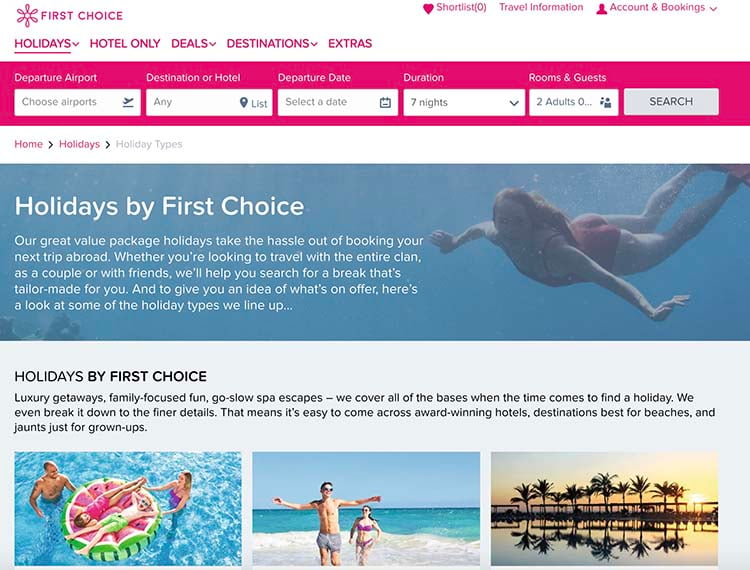 easyJet
easyJet is one of our favourite airlines in Europe that we have used countless times before. In recent years they have launched easyJet holidays, an extension of their brand. With easyJet holidays You'll find a great selection of places to suit all travellers including beach destinations in Croatia, Cyprus, the Spanish Islands, as well as places such as Sharm el Sheikh in Egypt.
easyJet holidays include luggage, as well as options such as bed and breakfast, half board, adult only and lots more. You'll also find customer reviews integrated into their search results to help you pick the perfect place to stay.
easyJet is also a member of ATOL and ABTA which offers financial protection on your holiday.
Why book with easyJet?
ABTA and ATOL protected
Low deposits from £60pp
Refund guarantee up to 28 days before you travel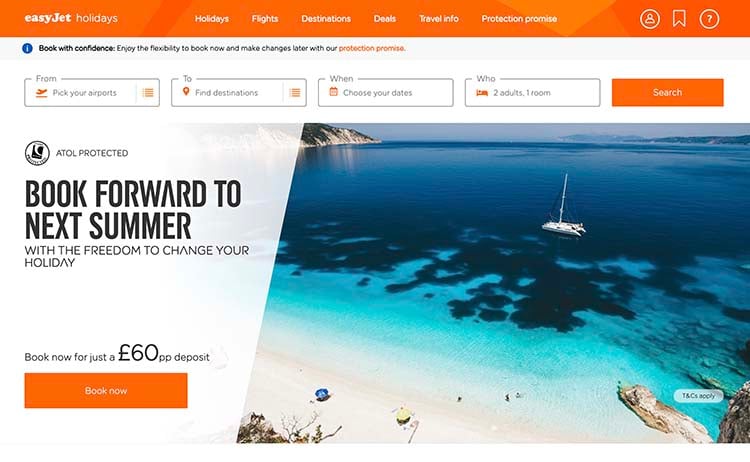 Scott Dunn
For a luxury beach holiday then consider having a look on Scott Dunn who provide extremely high-end and tailor-made trips. With Scott Dunn you'll find beach holiday options across destinations in Greece, Cyprus, The Caribbean, The Maldives and lots more. If you're travelling with kids then Scott Dunn will also be able to help you to find the best place to go. Including places that offer facilities for kids such as clubs and nannies. Give them a call to find that perfect beach holiday for you.
Why book with Scott Dunn?
ATOL protected
Tailored holiday options
Knowledgable travel specialists to help you decide what's right for you
Beautiful website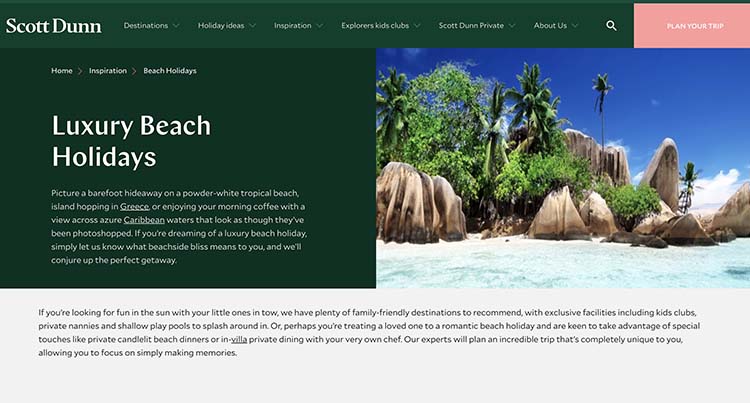 Hays Travel
Hays Travel is an independent travel company and has holiday options to top beach destinations around the world. They offer trips to places such as Cancun in Mexico, Seychelles and Barbados in the Caribbean, as well as destinations throughout Europe. All of which would be perfect for your next beach getaway. To book with Hays you may have to visit one of their high street shops or give them a call.
Why book with Hays Travel?
One of the largest independent travel companies in the UK
Top beach destinations around the world
ABTA and ATOL protected
4.9/5 overall on review site Feefo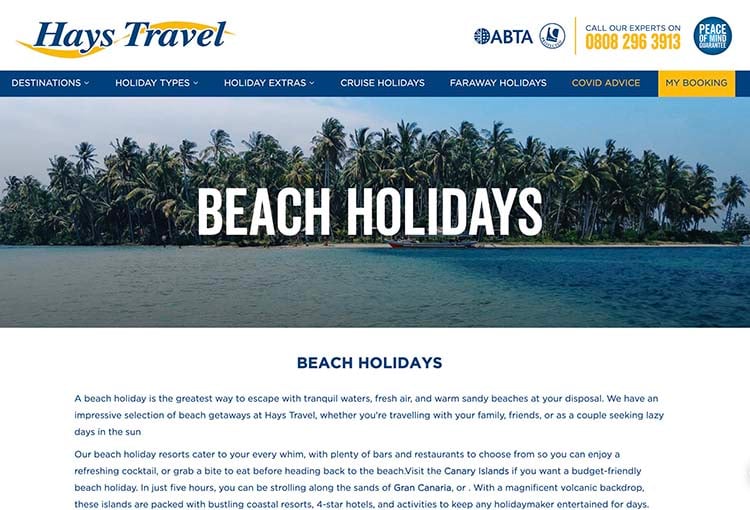 Kuoni
Kuoni is an award-winning holiday company and a "Which?" recommended provider. They have holidays to over 90 destinations including beach destinations in Italy, Croatia, Maldives and the Caribbean. You will be able to find options that include various meals as well as all-inclusive. To book you will need to get in contact with them, but their website is a good place to start to see what they offer and learn about the brand.
Why book with Kuoni?
Holidays to over 90 destinations
Award-winning
Integrated with Tripadvisor to show reviews for the properties
ABTA and ATOL protected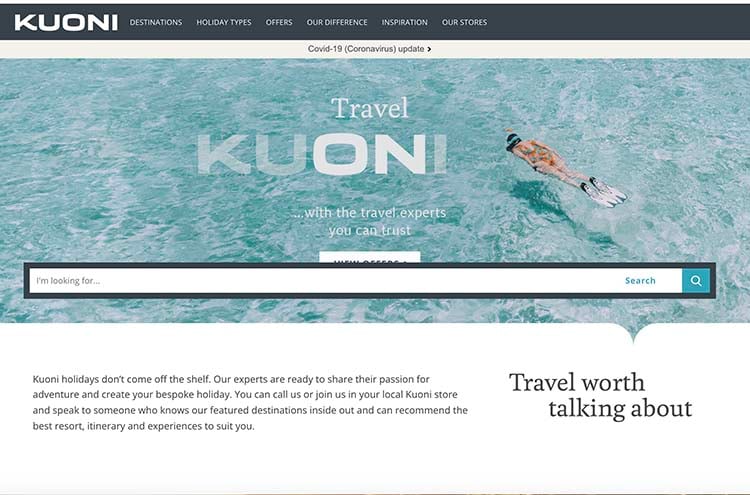 Virgin Holidays
The Virgin brand probably needs no introduction, but in case you weren't aware there is also a holiday division in their portfolio and this has been around since 1985. With Virgin Holidays you can jet off to warm beach destinations in the Middle East, Mexico, Florida, Thailand, the Caribbean and many more. Virgin Holidays doesn't tend to do European destinations, but rather places that are more long-haul.
Why book with Virgin Holidays?
Great range of exotic holiday destinations
Various board basis available including room only up to all-inclusive
Great filters to help you find that perfect trip
ABTA and ATOL protected
---
Common questions
Why should you book a package holiday?
A package holiday from the UK often comes with the benefits of including your flights, accommodation, transfers and luggage. Companies offering package holidays from the UK would also normally be registered with ABTA and/or ATOL. This provides financial protection and other benefits should you have issues or if your holiday company goes bust. As well as this when booking a package holiday you might find options that include breakfast, half-board, full-board or all-inclusive. This can be a great option for families especially, or those that just want to jump on the plane, switch off and relax.
Could you also book everything separately?
Of course, you can definitely choose to book your hotels, accommodation and transfers separately but this will involve a lot more organising on your part and you may also need to either hire a car or book other transfer options from the airport to the accommodation. Sometimes booking everything separately and hiring a car will give you a little bit more flexibility as well.
Tips for finding the best deals on package holidays
There are various ways to find the best deals on package holidays. One way is to sign up for newsletters from UK package holiday providers. These newsletters can often include exclusive deals and discounts. You can also follow providers on social media to stay up-to-date on the latest offers. Another tip is to use comparison websites, which allow you to compare prices from various providers.
Finally, if you're not keen on signing up to newsletters or social media, then try and regularly check across some of the websites mentioned above to see what deals and options are available. You might find booking early will help, as there will often be more choice and availability.
Can you book excursions and tours when booking package packages?
Most destinations now have a huge range of tours and excursions available. These could include day trips, unique activities such as exploring volcanoes, visiting nearby temples or other historic sites, water activities – you name it! A few places you can find activities include GetYourGuide, Civitatis and Viator. On these websites, you'll also find reviews and lots of information to help decide if the tour or activity is right for you.
Sometimes you can also book these directly through your holiday providers or also through your accommodation once you arrive.
Where are some of the best places to go on a beach holiday from the UK?
Especially in the summer some of the best places to go on a holiday from the UK include:
The Greek Islands
The Italian coast
The Spanish Islands, including the Balearic Islands or the Canary Islands
Many more places throughout the Mediterranean
How to find cheap holidays from the UK
Finding cheap holidays from the UK is not as difficult as you may think. One of the best ways to find the best deals is to book your holiday early. You can also save money by travelling off-season, as prices are generally lower during this time. Another way to save money is to book a package deal that includes flights, accommodation, and meals. You can also save money by booking a package that includes activities, such as excursions or day trips.
Above are some of the UK best package holiday companies that you can use to book your next trip.
ADVERTISEMENT
CONTINUE READING BELOW
Best time to book package holidays from the UK
The best time to book a package holiday from the UK is during the off-season. The off-season would be outside of the main summer months and other school breaks. Prices are generally lower during this time, and you can save money on flights and accommodation. However, if you plan to travel during the peak season, it's best to book your holiday early to secure the best deals.
Booking through travel agents vs. booking online
When booking a package holiday, you have the option of booking through a travel agent or booking online. Booking through a travel agent can provide a more personalized experience and can be beneficial if you need assistance with planning or have any questions. However, booking online can be more convenient, and you may find better deals. It's essential to weigh the pros and cons of each option and choose the one that best suits your needs.
Customer reviews of package holiday providers
Reading customer reviews is an excellent way to gauge the quality of a package holiday provider. Reviews can give you insight into their customer service, the quality of the accommodation, and the overall experience. You can find reviews on the provider's website, social media pages, or review websites such as Trustpilot and TripAdvisor.
It's worth noting that during the Covid pandemic, a lot of holiday companies were going through a crisis and were grilled or heavily criticized by their guests, but this was an unprecedented situation so it's worth keeping that in mind
---
ADVERTISEMENT
CONTINUE READING BELOW
Summary
These are some of the best places to find your next beach and summer holiday when travelling from the UK. With these holiday companies, you'll find options to take you all over Europe and beyond and which offer holiday packages to suit all kinds of budgets.