Imagine walking through centuries-old ruins and arriving on a gorgeous sandy beach. Imagine lush green mountains overlooking crystal clear blue seas. Sound idealistic? Well, all of this can be found on Turkey's southern coast.
Whilst Greece is a popular beach destination, neighbouring Turkey seems to be somewhat overlooked, with perhaps only Marmaris and Bodrum being well-known party destinations for young European tourists. However, head slightly east and you'll find Turkey's aptly nicknamed turquoise coast. Stretching from Fethiye to Antalya, this stretch of coastline contains not only gorgeous beaches but ancient ruins and plenty of opportunities for activities from hiking to diving. So regardless of the type of beach holiday you're after, you should be able to find it along this southern coast.
Keep reading our guide to learn more about Turkey's Turquoise Coast, as well as some of the most beautiful places to visit.
---
How to get there
Both Fethiye and Antalya have nearby international airports which connect to most European cities. Once there you can easily reach any of the destinations listed below, either by bus or by renting a car.
Turkey has a reliable and inexpensive bus system operating throughout the country. If you're already in Istanbul and don't want to take an internal flight, you can reach Fethiye or Antalya by taking a direct overnight bus. Check times and prices on obilet.com.
---
When to visit
One advantage of Turkey is its long summer, with temperatures staying warm enough for the beach from April all the way through to mid-November.
ADVERTISEMENT
CONTINUE READING BELOW
---
Best places to visit along Turkey's turquoise coast
Whilst Fethiye and Antalya are both nice cities in their own right and definitely worth visiting, it's the places in between where you'll really find the turquoise blue water and beautiful beaches. If you can, therefore, start in either Fethiye or Antalya and cross the coast to finish in the other, stopping at the following destinations along the way.
(From west to east)
Fethiye
Fethiye is a charming little city with a long harbour lined with cafes and restaurants, perfect to take a leisurely stroll along day or night. It also has a lively and colourful Old Town with shops, restaurants and bars. Wander through and stop for an ice-cold Efes, the local Turkish beer.
One thing you must visit whilst in Fethiye is the Lycian Rock Tombs. Only a short walk from the centre of town, these impressive tombs were built by the ancient Lycians in 4th Century BC. The rock tombs are carved into the cliff face, and the largest and most important tomb, the Tomb of Amyntas, looms large over Fethiye. Climb the steps up to it for a great photo opportunity as well as amazing views over the whole of Fethiye.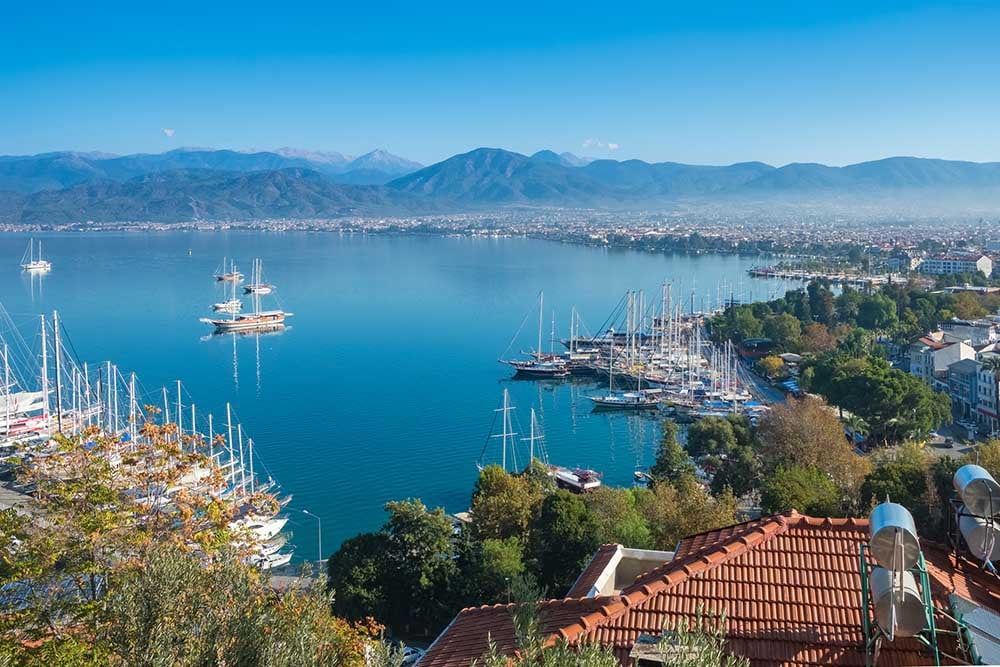 Oludeniz
Approximately 10km from Fethiye sits Oludeniz and its gorgeous long beach and famous Blue Lagoon. If this is your first taste of Turkish beaches then you are in for a treat. Oludeniz Beach stretches out to create a natural lagoon, with beautiful crystal clear water. Spend your days here sunbathing on the beach or paddleboarding on the calm sea.
To really see the Blue Lagoon at its finest, try paragliding over it. This is one of the most popular activities to do in Oludeniz, and seeing the Blue Lagoon and surroundings from above is simply breathtaking.
If you're after some history, you can also visit the nearby ghost town of Kayakoy. Once a thriving community, the town was abandoned in 1923 and now the homes and churches stand empty.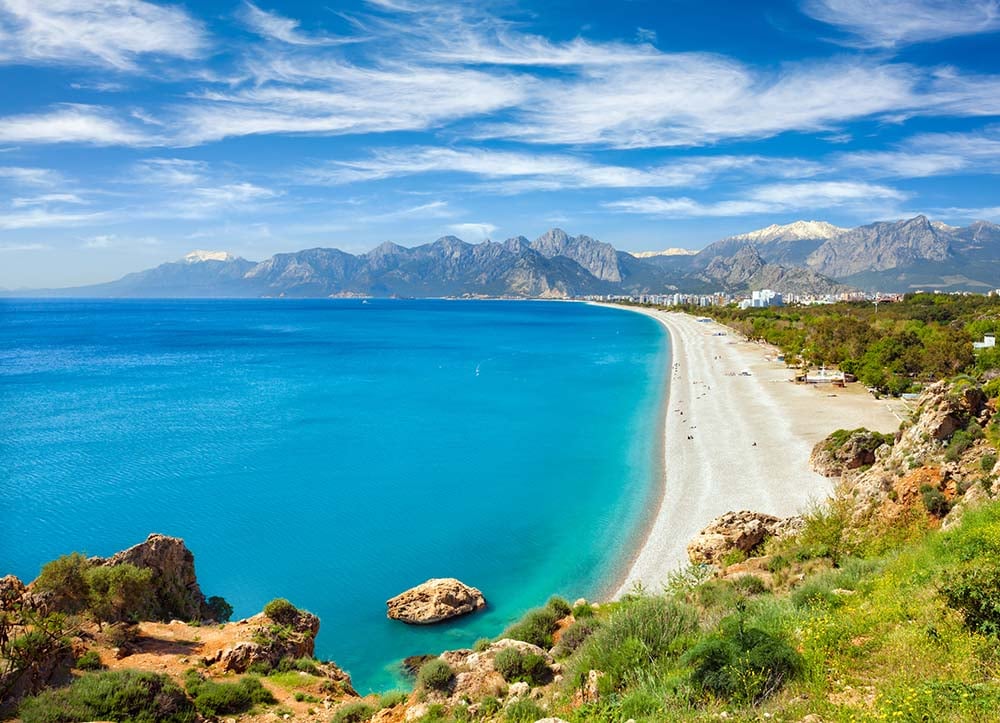 You May Like
Butterfly Valley and Kabak Valley
If you're looking for secluded paradise beaches then look no further than Butterfly and Kabak Valley. Whilst these are still undoubtedly a popular tourist destination, the difficulty to get to them means they avoid the crowds that frequent the Blue Lagoon and retain the idea that you're on a paradise beach.
Both Butterfly Valley and Kabak Valley can be reached by boat from Oludeniz, either by a shuttle boat or as part of a day trip around several different beaches. In fact, this is the only way to get to the beach at Butterfly Valley, as the walk down the cliff from the nearby town of Faralya has now been cordoned off for being too dangerous. Kabak Valley on the other hand can also be reached by bus, however, note that the bus will drop you at the main road and you'll then need to walk down (and then back up!) the steep route to the beach.
Lycian Way
However, if you like hiking then the best way to see both the valleys is by hiking along part of the famous Lycian Way.
The Lycian Way is a 540km trek around the coast of Lycia from Fethiye to Antalya. It's one of the great long-distance hiking trails in the world, but at an estimated 29 days to complete the trek, you may not have the time nor the energy for the whole thing. But if you'd like to complete part of it, then the hike from Oludeniz to Kabak Valley is perfect.
From Oludeniz, follow the Lycian Way to Faralya, the village sitting above Butterfly Valley, and either book into a hotel or camp overlooking the valley. From Faralya, hike to Kabak Valley, and this time walk all the way down to the beach and spend the rest of the day here swimming in the turquoise blue water. Kabak is a nesting ground for turtles so you can't camp on the beach, but there are plenty of campsites just behind it, as well as hotels and guesthouses. From Kabak Valley you can either return to Oludeniz by boat or bus, or continue hiking along the Lycian Way.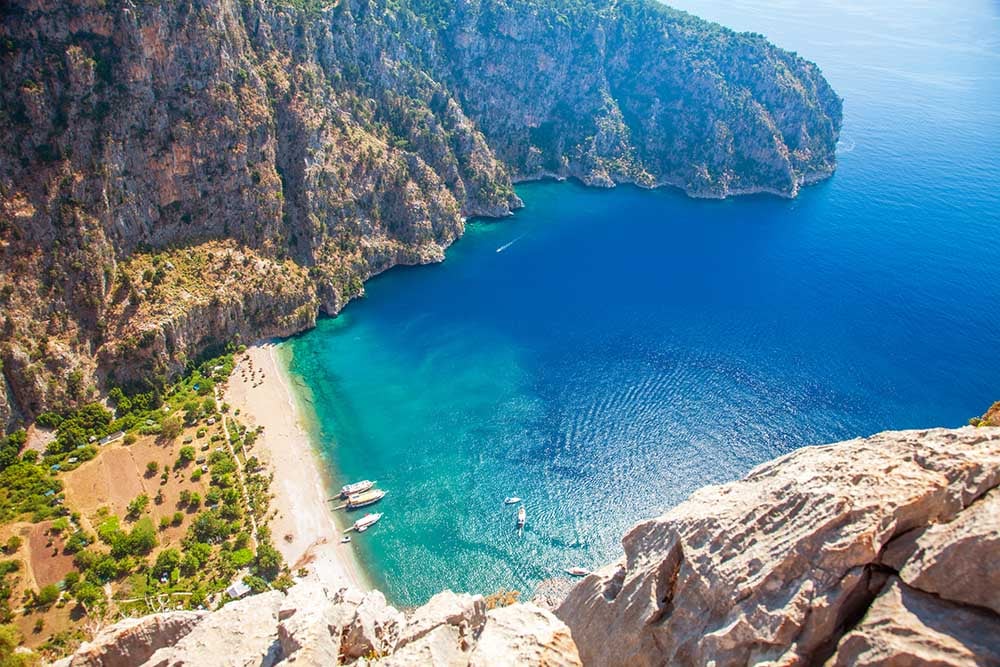 ADVERTISEMENT
CONTINUE READING BELOW
Patara
Whilst all of the beaches along the Turquoise Coast are beautiful, most are made up of small pebbles or a mixture of pebbles and sand. Patara, on the other hand, is home to 12km of pure sandy beach making it one of the best beaches to visit in Turkey.
Being part of a national park and a breeding ground for turtles means that the beach remains undeveloped and therefore very peaceful. There is one cafe that rents out sunbeds, but move away from there and you'll easily find a whole stretch of beach all to yourself.
The beach is backed by the ruins of the ancient city of Patara with its impressive amphitheatre. It really is an experience to walk through the centuries-old ruins and find yourself on a beautiful sandy beach.
At sunset, climb to the top of the sand dunes for beautiful views over the coastline as the sun sets in the distance.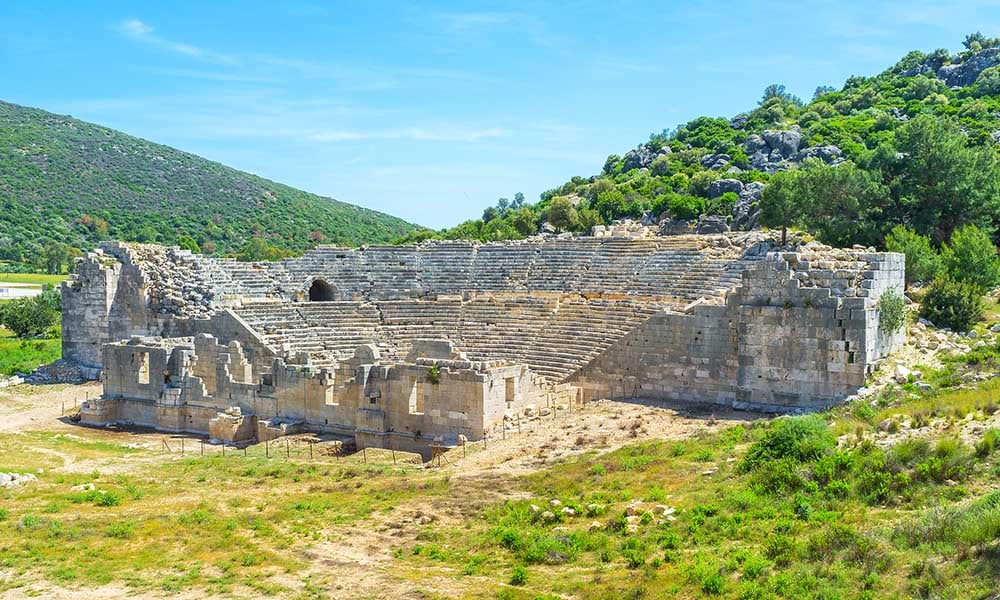 Kas
Kas (pronounced "Kash") is a small seaside town sitting about halfway along the Turquoise Coast. With less international tourists than places like Oludeniz and Antalya, it has more of a chill vibe with cobblestoned streets lined with bustling cafes, great seafront restaurants, and some cool bars.
Kas is known for having some of the best diving in the Mediterranean and has a number of wrecks you can dive, including a small plane and a tank. With prices in Turkey being so low, it's a great place to do an intro dive or complete your PADI.
Whilst in Kas, make sure to do a boat trip to see the underground city of Kekova. Not only will you see the Sunken City area, but you'll also stop at some beautiful bays for swimming and get to wander around the historical village of Simena, known for its byzantine castle and homemade ice cream. One recommended agency is Bermuda Boat Tours, who offer a relaxed full-day boat tour with a fabulous lunch included.
Kas is home to a number of beautiful beaches, but one of the best is Kaputas Beach. Nestled between two cliffs and with vibrant turquoise water, this is one of the most picturesque beaches in the whole of Turkey.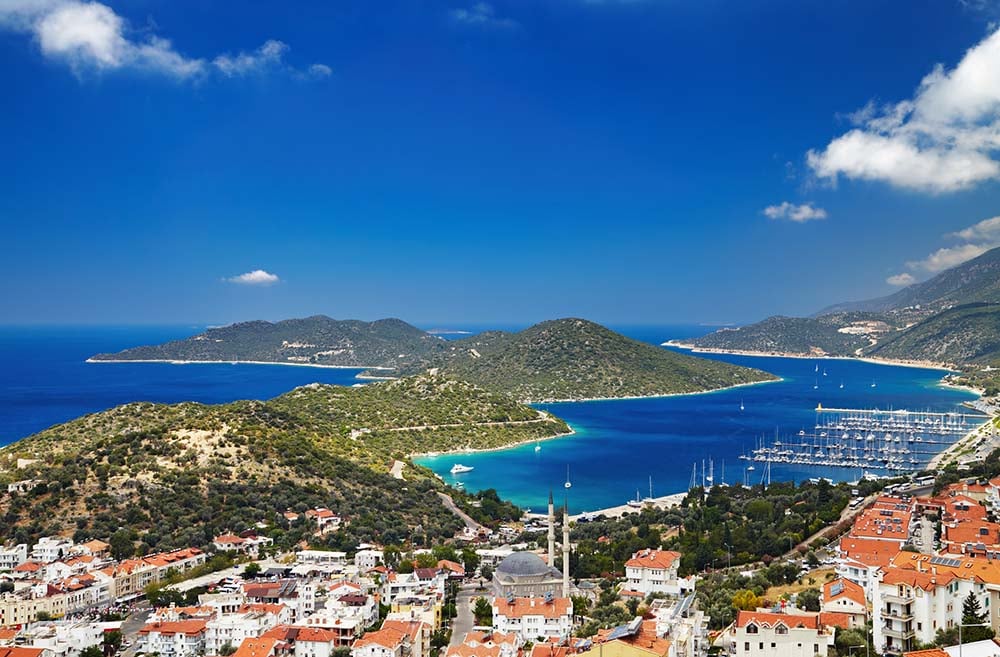 Olympos
Olympos has a very different feel to the other places on this list. Although it is home to another beautiful beach, it doesn't feel like a seaside town. Situated at the bottom of a valley, you'll find yourself nestled among green hills surrounded by nature.
The area is a site of natural protection meaning there is no great development here. Instead, you'll find cute little streetside shack cafes and a number of treehouses. In fact, Olympos has become famous for this unique accommodation option, so don't miss the chance to stay in one whilst you're here. Kadir's Tree Houses were the first to be established and this hostel is still going today. It's also home to Hangar Bar, the best bar in town.
Like most of the destinations along the Turquoise Coast, Olympos is home to an ancient city. The ruins here are somewhat overgrown which only makes them more interesting, as you walk among the trees to discover different parts of the old city. The ruins are split by a river valley which leads directly to the sea and Olympos Beach, which is a gorgeous long stretch of sand and pebbles backed by lush green mountains.
If you're after adventure, there are a number of activities on offer from rock climbing to quad biking. You can also take a tour to see the eternal flames of Chimera. These flames come out of the ground, burn on their own and never die. Visit at night to see this unique attraction in its full glory.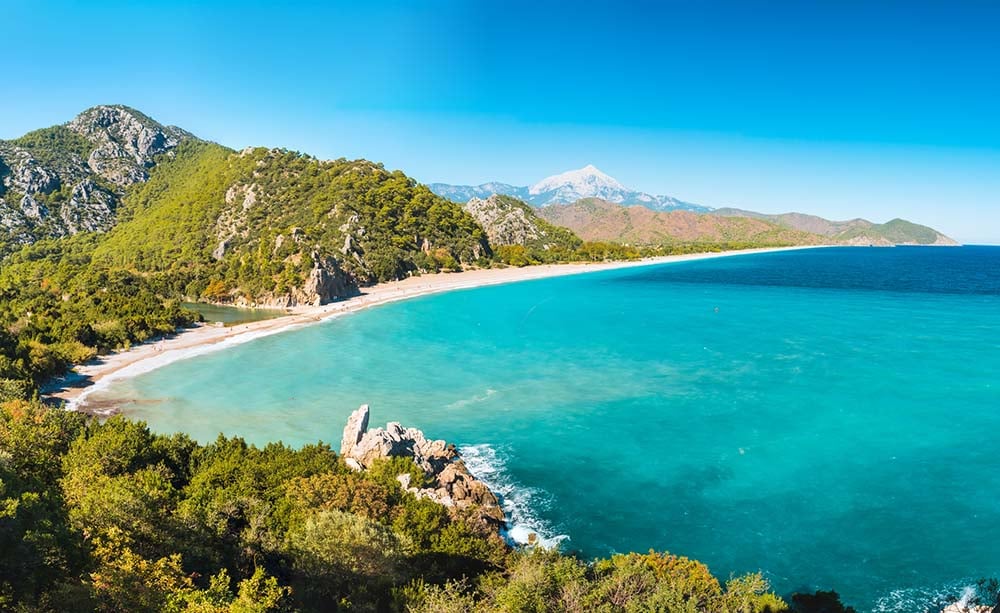 ADVERTISEMENT
CONTINUE READING BELOW
Antalya
Antalya is known as being one of the busiest tourist destinations in Turkey, but whilst the coast here is lined with large 5* hotels, the city itself still feels pretty local and is full of nice cafes, good restaurants and plenty of cool bars with drink deals and live music. Wander the streets of the Old Town and you'll also find historical sites such as Hadrian's Gate and the Fluted Minaret.
If you haven't had your fill of beaches yet, take the old tram from the city centre to Konyaalti Beach. There are also a number of day trips that can be taken from Antalya, particularly to the beautiful natural sights of Duden Waterfall and Kursunlu Waterfall. The latter sits amongst an almost 600-hectare natural park so is the perfect place to escape the hustle and bustle of the city.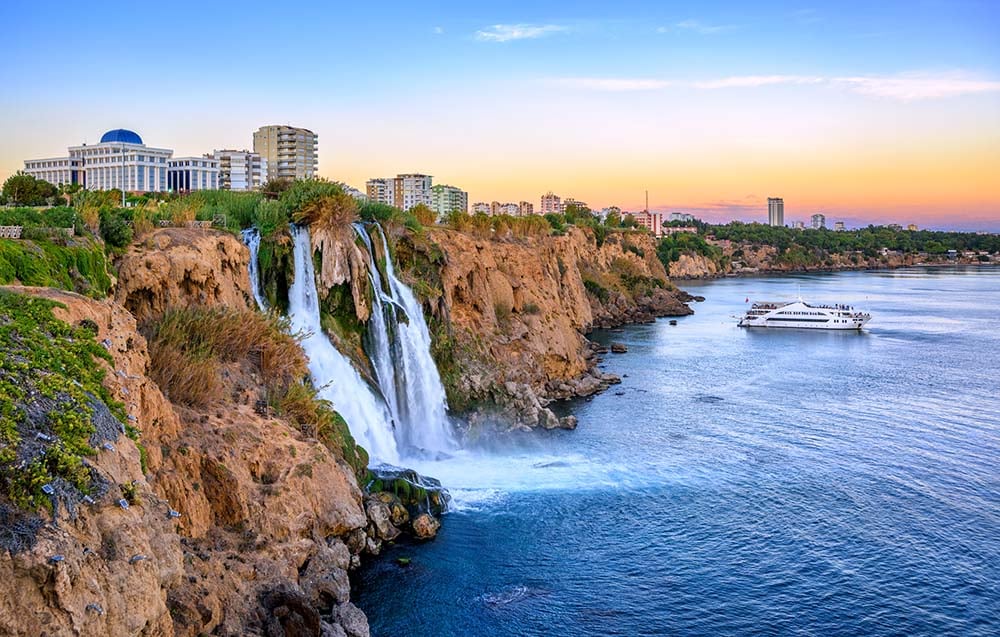 ADVERTISEMENT
CONTINUE READING BELOW
Summary
Turkey's Turquoise Coast has something for everyone, and you could easily spend a few weeks here exploring the different towns. With many beaches backed by an ancient city, you'll find yourself spoilt by the amount of history on offer just on your walk down to the beach! Plus, with prices in Turkey being significantly lower than other countries along the Mediterranean, it really is the perfect place to get your sunshine fix.
---
Find flights and hotels
Start your search using our form below:
---
Tours and activities
Discover top activities, tours and experiences below: