Are you curious what the world under the sea looks like, but you don't know how or where to start diving? In this article you can read about how to start, the different diving courses, costs, skills, and some of the finest dive sites in the world. Here are tips for planning your first scuba diving holiday.
---
How to start?
You can start scuba diving in almost every country; you don't need a flight to the tropics or the vibrant reefs of the world. Diving can be done in lakes and canals, even in countries with colder climates. Long travel time doesn't have to be a barrier when entering the world of diving. This means it can be a great adventure sport to take up and once qualified will open up a whole new world when you travel.
---
Different courses
Are you considering diving, but you're unsure if you'll enjoy it? Many dive schools offer an introductory dive, which is a great way to discover scuba diving without any commitment to a course. You'll learn about necessary equipment, safety rules, and the most common hand signals used underwater. A personal instructor will guide you through putting on the gear, breathing through the regulator and eventually go underwater.
If you're getting the hang of it, you start the entree course: the PADI Open Water Diver. To become certified it usually takes 3 or 4 days. During the course, you'll learn about setting up your scuba gear and essential skills, such as navigation, and getting water out of your mask. The course involves studying and a theory exam as well. During your Open Water, you will make 3 dives and 1 final dive during which you have to show your instructor the skills you have learned before. After passing your theoretic exam and the 4 dives, you are a certified Open Water diver. With this certification, you can do dives to a depth of 18 meters.
Many diving enthusiasts then proceed to the Advanced Open Water Diver. This course can be taken straight after you finish the Open Water Diver, so 'advanced' stands for the skills you'll learn rather than the diving experience that's required. During this course, you can choose to develop more specific skills, such as wreck diving, night diving, and buoyancy control. As a certified diver, you may descend to depths of 30 meters.
Serious diving devotees can opt for specialized courses, like Rescue Diving, Divemaster, and Dive Instructor. The Divemaster course is quite popular and helps to become a more skilful diver. You'll be trained to guide expeditions, provide aid in an emergency situation, assist dive instructors during the training of new students, and a range of other professional skills. You will go on an 'internship' in the dive school for a minimum of one month to complete the Dive Master course.
All the different programs make diving fun and enjoyable, and you can expand your skillset endlessly.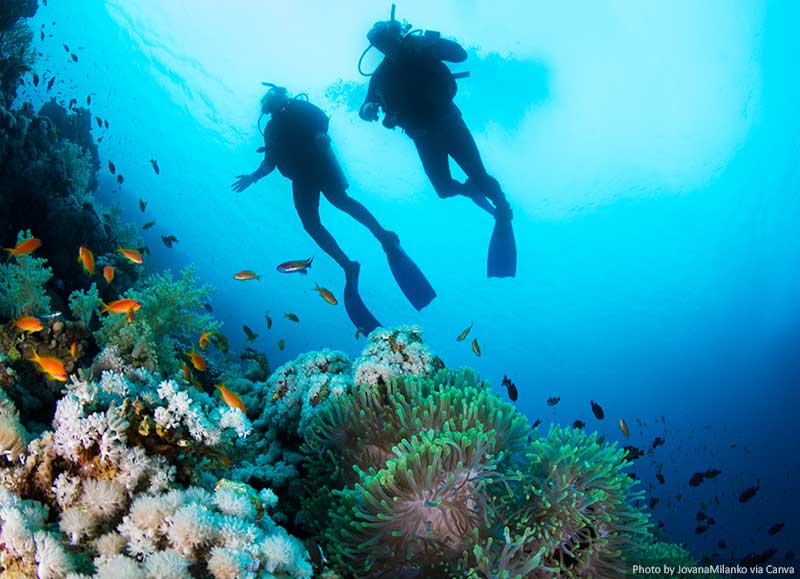 ---
How much does diving cost?
Although every PADI dive school teaches the same competences, the costs of the courses vary per country. In Thailand, the Philippines and Indonesia you can take a PADI Open Water Diver for around 250 GBP, while in Australia and Western Europe you can expect to pay at least 400 GBP for the same class.
Getting your Advanced Open Water Diver certificate is cheaper, at 300 GPB in the USA, Europe and Australia, and roughly 200 GBP in Southeast Asia.
After you've become a diver, you can join diving sessions. The prices for these so-called fun dives don't vary that much as the course fares. Usually, a single dive sets you back 25 to 35 GBP.
A Divemaster course sets you back 600 GBP in budget dive destinations such as Egypt and the Philippines, but elsewhere you should expect to pay 1000 GBP or more. Often, accommodation and food are provided by the dive school.
If you don't want to spend a fortune, consider both the costs of diving courses per location and travel costs. The benefits of a more affordable course far from home can be undone by a hefty airfare.
Note: If you're not from the UK then please convert these GBP amounts to your local currency to get an idea of the prices. 
---
How long does a dive last?
The amount of time you can spend under the surface depends on several factors, but the most important ones are your rhythm of breathing and body movements. Longer sessions generally come with experience. By diving more often, you will learn how to breathe calmly and move smoothly. Dives can last from 45 to even 90 minutes.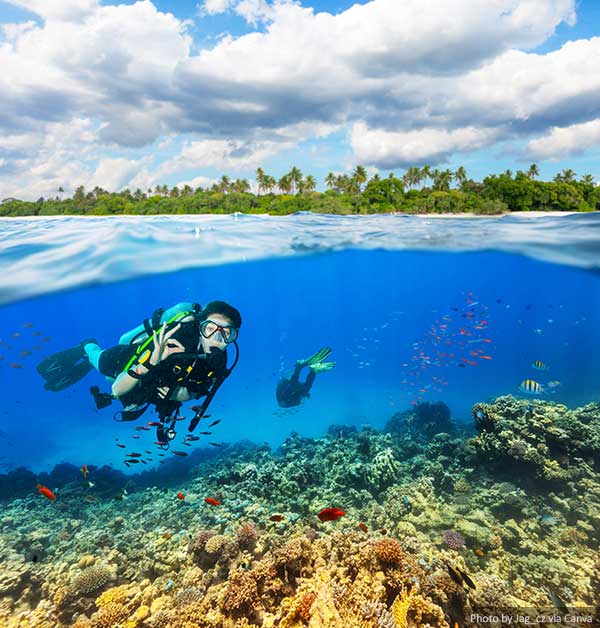 ---
Budget-friendly dive destinations
Traditionally low-budget destinations include Egypt, Honduras, Thailand, the Philippines, and Indonesia. Here, you can even take the Open Water Diver course for less than 250 GBP. Also in these places, you get double bang for your buck, because they belong to some of the most beautiful underwater destinations in the world.
---
The best destinations for scuba diving
Although this is quite subjective and depending on what you wish to see underwater, certain spots are considered to be world-class among dive enthusiasts and professionals. These are some of the most praised locations:
Galapagos Islands, Ecuador
Due to its remote location, this archipelago has a unique array of wildlife, on land as well as under the surface of the ocean. Chances are high to encounter schools of hammerhead sharks, gently floating eagle rays and sea lions. Even whale sharks make their appearance around this Ecuadorian island group. The Galapagos Islands are unique for the marine iguanas, or swimming lizards.
Raja Ampat, Indonesia
This divers paradise in Papua is home to 75 per cent of all known coral species in the world and over 1400 species of fish. If you include marine mammals such as dugongs and dolphins, you can conclude that Raja Ampat is one of the most complete dive destinations on earth.
Sipadan, Malaysia
Often Sipadan pops up whenever listicles of dive spots are made, and for a good reason. You'll see circling schools of barracudas, reef sharks, and horse-eye jacks. The gigantic schools are a signature feature of Sipadan, and the impressive masses of large fish species draw many divers to northeast Borneo.
Great Barrier Reef, Australia
This reef system stretches over 2000 kilometres on Australia's northeast coast and is legendary for its biodiversity. The number of species is similar to Raja Ampat, making it yet another pilgrimage site for divers. The Great Barrier Reef has a couple of majestic inhabitants, like humpback whales and six of the seven species of sea turtles found worldwide.
Red Sea, Egypt
The Red Sea is mainly known for its colourful corals and excellent wreck diving. Ras Mohamed Nature Reserve near Sharm Al-Sheikh is one of the most diverse places to dive, with several shark species, beautiful, intact coral, jacks, and stingrays.
---
Summary
Start diving and you'll discover a magical world that remains typically hidden from our eyes. The courses cost a chunk of money, although it's quite affordable compared to many other sports. Once you're certified, the underwater world lies at your feet. The dive opportunities are endless, and fun dives are reasonably priced.
For more ideas read: 10 Best Diving Destinations in Southeast Asia
Related Articles