With a deep-rooted culture, religious monuments, wildlife, beaches, jungles, and a distinctive cuisine; travelling to Indonesia means you're in for a wonderful treat. To help you enjoy this boundless island state, here's a list of handy things to know before you visit Southeast Asia's largest country – Including safety, highlights, useful apps, transportation and more to help you plan your trip to Indonesia.
---
The layout of Indonesia
With over 17,500 islands, Indonesia is the largest island state in the world. This nation is located between the Indian Ocean on the west and the Pacific Ocean on the east, and the total land area is 1,904.569 square kilometres. Indonesia has more than 268 million citizens, making it the 4th most populated country in the world after China, India and the United States of America. Indonesia also shares land borders with Malaysia, Timor-Leste, and Papua New Guinea.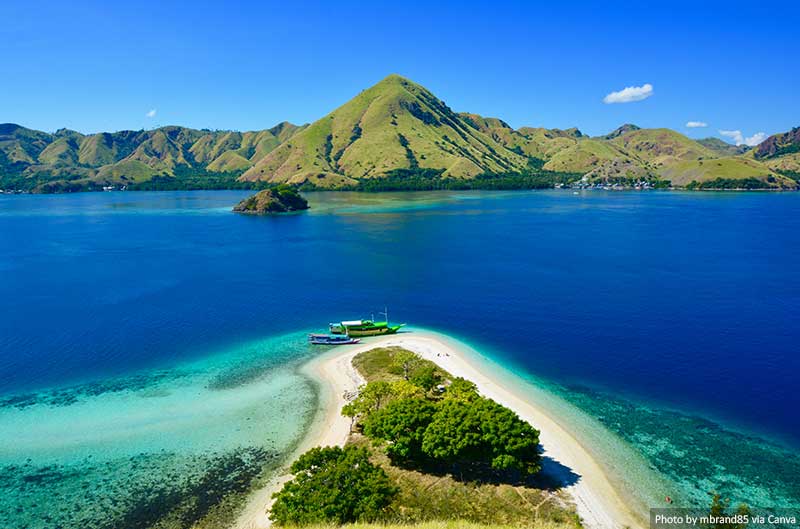 Transportation in Indonesia
Despite being a geographical maze, it's very manageable to travel the main islands of Indonesia. Budget airlines and public ferries make it easy to get around and move between islands like Sumatra, Java, Bali and Lombok.
In cities and for intercity travel, buses are a popular type of transportation. It's cheap, but keep in mind that traffic congestion in cities is written in capital letters in Indonesia. Taxis are an excellent alternative, especially motor taxis. These motorbikes can be found everywhere. They're also fast during rush hours, a ride is incredibly cheap, and the backseats are quite comfortable when travelling short distances.
Java also has an extensive train network that covers the island from the far west to the most eastern tip. Train tickets are affordable, and the seats are comfy, even in economy class. Sumatra has trains as well, although coverage of the island and frequency are far more limited.
For travelling between islands that are far apart, flights are recommended to avoid back-breaking boat journeys. For hopping to a neighbouring island, usually, ferries are the most common and budget-friendly form of transportation.
Language
Indonesia has hundreds of languages, but Bahasa Indonesia ('language Indonesia') has been implemented by the government as a shared language among Indonesians. Successfully, because over 90 per cent of all Indonesians speak Bahasa Indonesia nowadays; there is also a small minority of native speakers and a vast majority that uses Indonesian as a second language. This dialect is used in schools and for business purposes as well. Many students and people in tourist areas speak English. In rural areas, however, English is by no means a commonly spoken language.
For travellers, it's recommended to learn some essential words and phrases of Indonesian. You'll get more fun interactions, smiles, and for touristy areas, it comes in handy when you have to negotiate for prices. Use an app such as mondly.com or Google Translate to get started.
Weather and seasons
Indonesia is split in half by the equator, and therefore the country has a tropical climate everywhere. This means that the average highs top 30 degrees and the nights are sweltering. Exceptions are the higher mountains, where the temperatures drop drastically.
The country deals with monsoons, and the wet season stretches from December to March. Although rain is more common during these months, it will probably not ruin your trip. The dry season lasts from June to September.
Don't let the seasons distract you and your travel plans, for the weather can still vary regionally. For example, the forests of Kalimantan and Sulawesi receive lots of rain year-round, while Komodo National Park has an arid climate.
ADVERTISEMENT
CONTINUE READING BELOW
Highlights of Indonesia
Culturally, Indonesia is a rich country with a melting pot of traditions, languages and religions. Experience the majestic Borobudur and Prambanan temples in Yogyakarta, explore the Ubud Palace on Bali or visit the longhouses and crematory ceremonies of the Toraja people on Sulawesi.
What really makes Indonesia appealing for most travellers is the stunning nature it has to offer. The country is blessed with fantastic flora and fauna, volcanic cones, vivid crater lakes, cloud forests, and seas teeming with the most fascinating marine life imaginable. Those searching for wildlife might want to head for Sumatra to see the orangutans, wander around Komodo and Rinca Island to get face to face with Komodo dragons or dive at Nusa Penida to see ocean sunfish and manta rays. For active explorers, hiking Mount Rinjani on Lombok or Kawah Ijen on Java is rewarding. So is surfing at Plengkung Beach in Java's most eastern end, and trekking through the jungles of Papua and Kalimantan. Actually, one could write a book about Indonesia's highlights and still miss out on many places.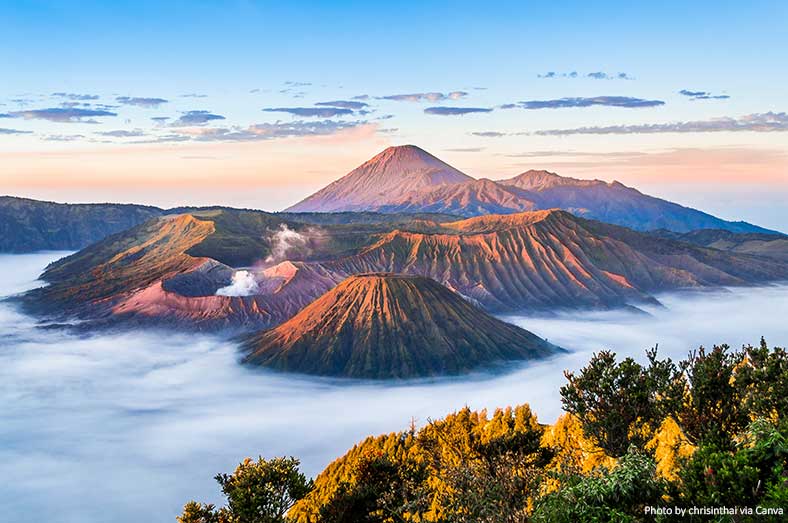 Safety
Overall, Indonesia is a very safe travel destination. Locals are very generous, welcoming, and curious about strangers rather than suspicious.
However, some issues occur, and it's good to keep the following in mind. In cities, a common crime is petty theft, mainly on stations and in buses. Bring small amounts of money, wear a money belt, and leave your bank card and essential documents in your accommodation when you go out and explore.
Unfortunately, tourism often comes with people trying to empty travellers' wallets. Specifically, Bali is notorious for touts attempting to overcharge foreigners and people who harass you while trying to sell their goods. Don't buy anything, or haggle hard to get a fair price at least.
Apart from general petty crimes and tourist traps, it's good to realize that Indonesia sometimes is hit by natural disasters. Being part of the so-called 'Ring of Fire', earthquakes and tsunamis can take place unexpected.
For up-to-date news on safety when travelling to Indonesia then have a read on gov.uk/foreign-travel-advice/indonesia/safety-and-security.
ADVERTISEMENT
CONTINUE READING BELOW
Currency
In Indonesia, the currency is the Indonesian rupiah (IDR). At time of writing 1 British pound is worth 18,427 rupiah, a Euro gives you 15,539 rupiah, and 1 USD translates to 13,982 rupiah.
Most ATMs accept cards from all over the world. In most hotels and shopping malls you can pay with a credit card, but on other occasions, it's wise to bring cash. Currency exchanges are widely spread in major cities and larger towns.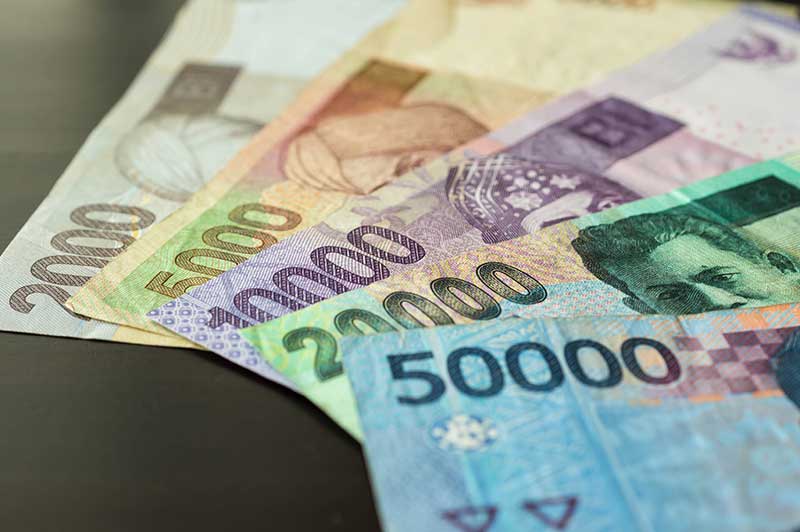 Visas – how long can you stay?
The most common condition foreign passport holders can enter Indonesia is 30 days visa-free. You'll be stamped in upon arrival, and might be asked for an outbound ticket. In case you're considering staying longer than 30 days, you can buy a visa on arrival for around US$35. Only this way can you can extend your visa later, without having to leave the country.
If you wish to stay longer, you have several options. The easiest way is a visa run to either Malaysia or Singapore, and return to Indonesia the next day. Another option is applying for a 60-day visa beforehand, at an embassy or via a visa bureau. The third choice is extending the permit for another 30 days while being in Indonesia. In popular places such as Yogyakarta and Bali, you'll find immigration offices that take care of extensions. Prepare for a slow process; you might have to wait for 5 days.
Useful apps
Whether it's for information, communication or finding directions; here's our list of recommended applications to download when exploring Indonesia.
Grab / Gojek
Grab, the Southeast Asian counterpart of Uber is very convenient in all-day life. Especially in Indonesia, this company offers awesome services. Not only can you book a motor-taxi or ordinary cab, but you can also order food, massages, beauty treatments, and even have your packages transported for you. Gojek basically provides the same services like Grab.
Discover Indonesia
In case you haven't done a lot of research before your trip, this application provides you with vital trivia about the natural and cultural highlights of Indonesia. See the IOS download.
Waze
From finding local eateries to the best way through the town during rush hour; the Waze app lets you navigate and commute in Indonesia as if you're an Indonesian citizen.
Mondly
In Indonesia, you'll get plenty of smiles when you do speak some words of Bahasa Indonesia. Mondly is a fun and straightforward app to learn basic words and expressions.
Prices in Indonesia – how much do things cost?
Although many places in Southeast Asia are incredibly cheap for travel – Indonesia stands out with next-level affordability. Avoid spots where tourists cluster together, and your budget will be stretched like a rubber band.
Food – Go local, and you'll find out that food is extremely affordable. Typical eateries called warungs serve simple dishes composed of rice, chicken and vegetables for around 15.000 IDR. In curry houses, you can fill your plate with rice, curries and countless sides for 20.000 IDR. Iced tea and frothy teh tarik go for less than 5.000 IDR. Even in the hip, upscale restaurants, the price for the main dish will rarely exceed 100.000 IDR.
Accommodation – For accommodation, you'll find extremes in this country; Such as you can sleep in a dorm room from 30.000 IDR per night, or splurge on a Balinese villa for millions of rupiah. Between those, you'll definitely find a hotel that matches your travel budget.
Transport – Generally, transportation will take a big bite from your travel costs. But fortunately, getting around happens to be exceptionally cheap in Indonesia. A flight from Denpasar on Bali to Labuan Bajo on Flores costs around 600.000 IDR, while a trip with the public ferry from Bali to Lombok sets you back only 35.000 IDR. Fancy riding a train on Java? The 7-hour ride from Surabaya to Banyuwangi costs as low as 56.000 IDR. Public transportation within cities can be complicated, but with a taxi fare as cheap as 45.000 IDR for a 10 kilometres ride you don't even have to think about being crammed in a minivan or metro.
Activities – Of all expenses, you'll have, activities might empty your wallet the fastest. But again, it's challenging to spend lavishly. For example, an amazing 4-day boat trip from Flores to Lombok costs around 1.500.000 IDR (including all meals, drinks, and snorkelling gear). A half-day jungle trek in Bukit Lawang on Sumatra comes to 400.000 IDR, while a 2-hour massage rarely costs more than 150.000 IDR. If arranged by your guesthouse in Banyuwangi, an overnight trek to the Kawah Ijen volcano sets you back only 175.000 IDR. This fare includes a guide, gas mask, and round-trip transportation.
Note: prices are examples and subject to change.
Summary
In Indonesia, you'll find a magical medley of warm-hearted locals, different cultures, and exciting adventures in nature. Add budget-friendly as well as convenient transportation, and you can conclude that Indonesia is a phenomenally all-round destination. Read about some of the most beautiful places to visit in Indonesia.
---
Tours and activities for Indonesia
Related Articles