Fabled empires, striking architectural wonders, and the Olympic Games are all connected to Greece. But equally praised as Greek's ancient cities, the country's islands draw a crowd of their own. Greece is known to have at least 6000 of them, and the great climate allows travellers to enjoy a sun-drenched summer break. Moulded underneath caves, spread at the bottom of towering cliffs, as well as the beaches give the Greeks top bragging rights.
Are you eyeing this southern European country for a future trip? We have found 10 islands with superb seashores, beaches plus other fun activities and sights to enjoy. Here are the best beach and summer holiday destinations in Greece.
---
Crete
Greece's largest island is often referred to as the ultimate party island, where young holiday goers paint the town in places like Chersonissos and Malia. This, however, doesn't completely do justice to this island paradise, which is blessed with incredible landscapes and lovely fishing establishments.
Balos Beach (seen below) is one of its spectacular beaches, as it combines sandbars, shallow turquoise water, and rocky outcrops that ascend from the sea like barren mushrooms. Other shorelines worth visiting are those at Elafonisi and Seitan Limani.
Apart from beaches, Crete has an array of both cultural and natural treasures. Find some shade in the enchanting Samaria Gorge, learn more about ancient civilisations at the Knossos archaeological site, or set foot into the cooling chambers of the Diktaion Andron cave complex, often referred to as the birthplace of Zeus.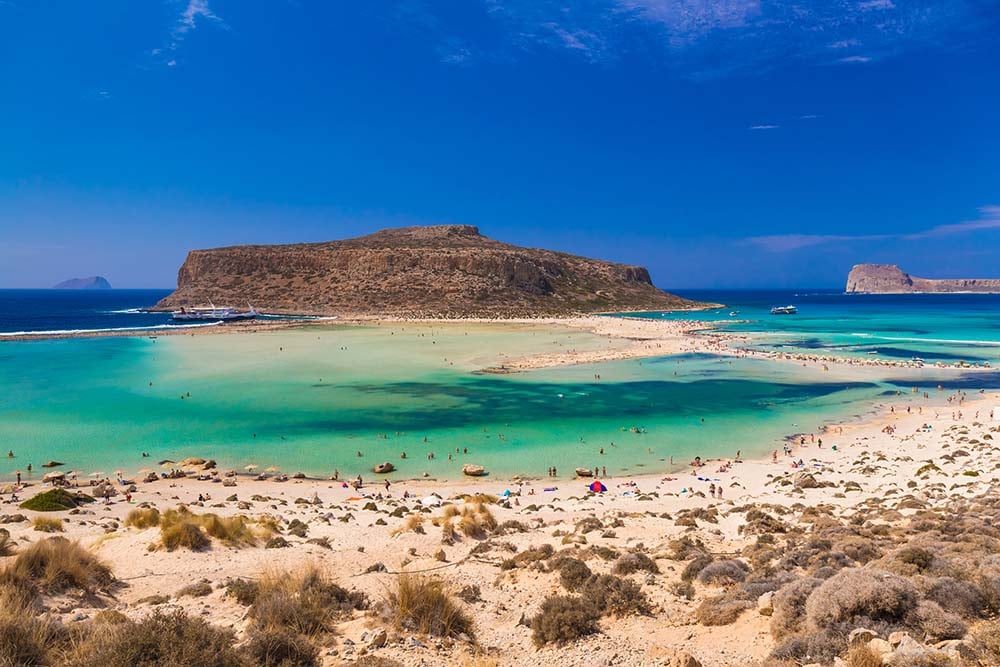 Corfu
With a land area of almost 600 square kilometres and a coastline stretching over 200 kilometres, it's no surprise that Corfu has some fantastic beaches. This island high up in the Ionian Sea, near Albania, almost seems to have more interesting sights than its land area can contain. Ruined monasteries draped over seaside cliffs, mountains, and an utterly charming capital are just some of Corfu's desirable traits. Corfu Town has a wonderful mixture of architectural styles and, beyond, climbing Mount Pantokrator and seeing the remnants of the Angelokastro Monastery are simply mesmerising.
Beach lovers will admire the expansive views of distant mountains and the presence of eateries and umbrellas at pretty. Sidari is a renowned waterfront resort, where rock formations in the sea form a narrow channel in front of the beach.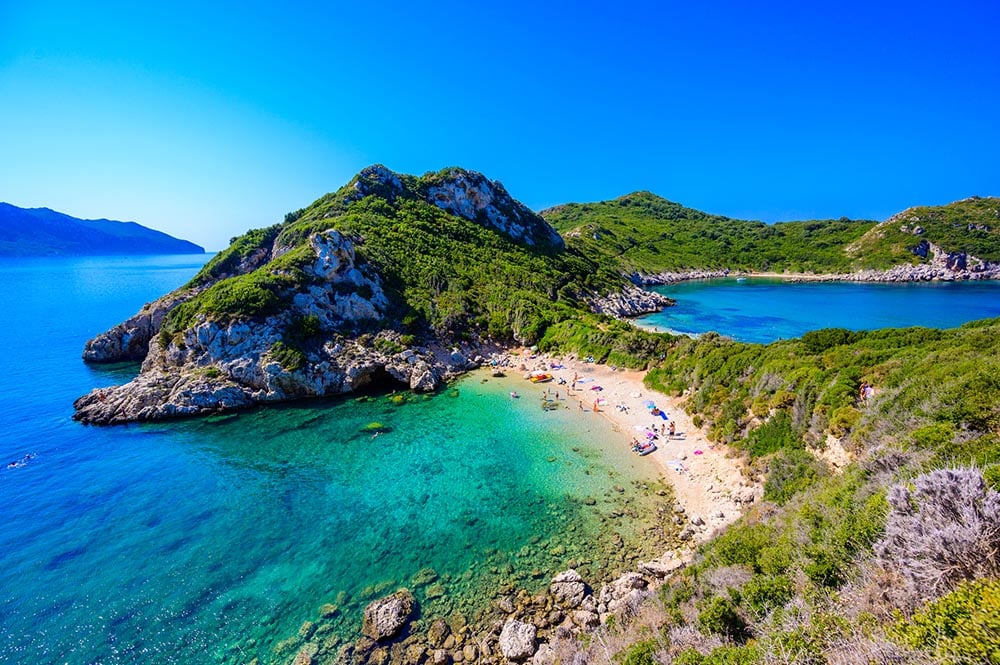 ADVERTISEMENT
CONTINUE READING BELOW
Rhodes
While the old part of the city of Rhodes is a UNESCO World Heritage Site, other areas of this archipelago in the Aegean Sea are characterised by rolling hills, medieval ruins, and inviting beaches. Rhodes stands out for its history, as old civilisations have left their traces scattered over the island. Visitors can soak up the historic atmosphere at the city walls in the capital, wander amidst the prehistoric settlement Kameiros, or witness the majesty of the acropolis in Lindos.
Beach-wise, Rhodes plays its part amongst the Greek islands, with Prasonisi being one of the jewels in its crown. This strip of sand connects a peninsula in the south with mainland Rhodes and leads to a lighthouse which marks the end of the island. Nearby Agios Georgios Beach is just as pretty but quieter.
You May Like
Zakynthos
Zakynthos, an Ionian island, was mentioned in old tales and its people picked up their weapons during numerous wars. Nowadays, Zakynthos is peaceful, with colour-popping towns, caves, and beaches bathing under abundant sunshine. Loads of (family-friendly) beaches occupy the coastline, such as Laganas Beach and the rocky Porto Limnionas. Most travellers head straight for Navagio Beach – or Shipwreck Beach (seen below), surrounded by enormous cliffs and breathtaking viewpoints.
Other captivating places include Laganas Bay, a protected marine park and home to a colony of loggerhead turtles, and the striking Blue Caves.
If you're more into nightlife and good food, both Zakynthos town and Laganas can give you the most satisfying experience.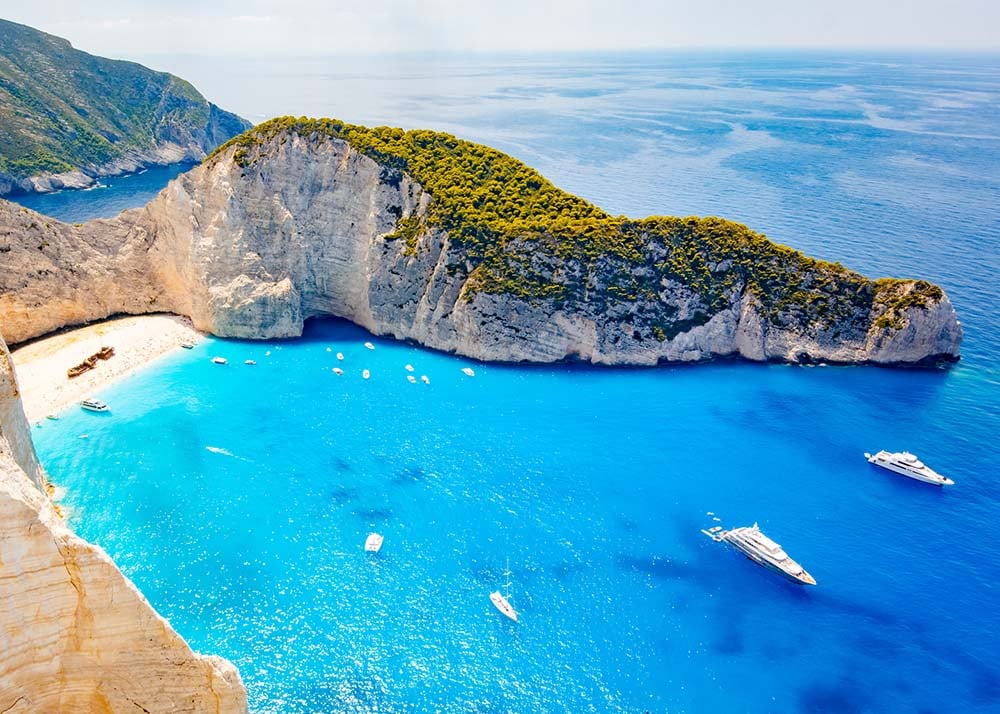 You May Like
Kefalonia
Kefalonia is Zakynthos' northern neighbour and is primarily known for its pristine coast and mountainous interior. It's pleasing to simply rent a car or motorbike and cross the southern part of Kefalonia, where the island's highest mountain and beaches await. Near Sami on the east coast, Antisamos Beach is one of the best-looking waterfronts imaginable; the bright blue water, surrounding forests, and glistening pebbles make for a scene that's beyond picturesque. From here, it's only a short drive to Melissani Cave, a mysterious cavern where natural light drops through a hole in the roof, and rowing boats seem to float above the clear seawater.
Asos is perhaps the coolest settlement on Kefalonia, thanks to its bright plastered houses, tavernas, beaches, and the Venetian Fortress.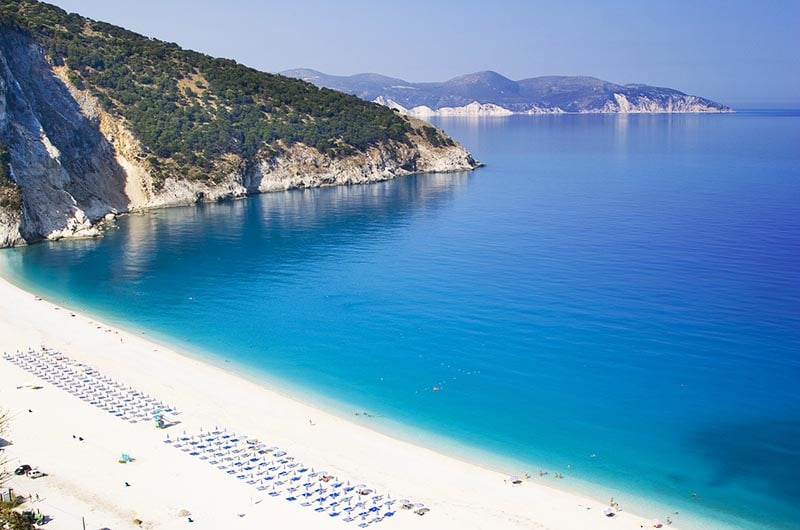 ADVERTISEMENT
CONTINUE READING BELOW
Milos
Milos or Melos is a tiny island in the Cyclades archipelago, found halfway between Crete and Athens. The volcanic origin of Milos has caused the island to look battered and bruised by the earth's mighty powers. Dormant summits, tuft rock formations, and little flat terrain give the nature of the island away. The remarkable stone features of Milos are best displayed at Kleftiko Beach, an area that's great for taking photos and sailing rather than dipping in a toe. Sarakiniko Beach (seen below) offers a more swim-friendly environment, with intriguing volcanic boulders and alfresco restaurants in case an appetite appears.
For a quick getaway from one of Milos' 75+ beaches, head over to the village Klima, where fishermen's houses directly border the sea, and several scenic chapels make for great photo opportunities.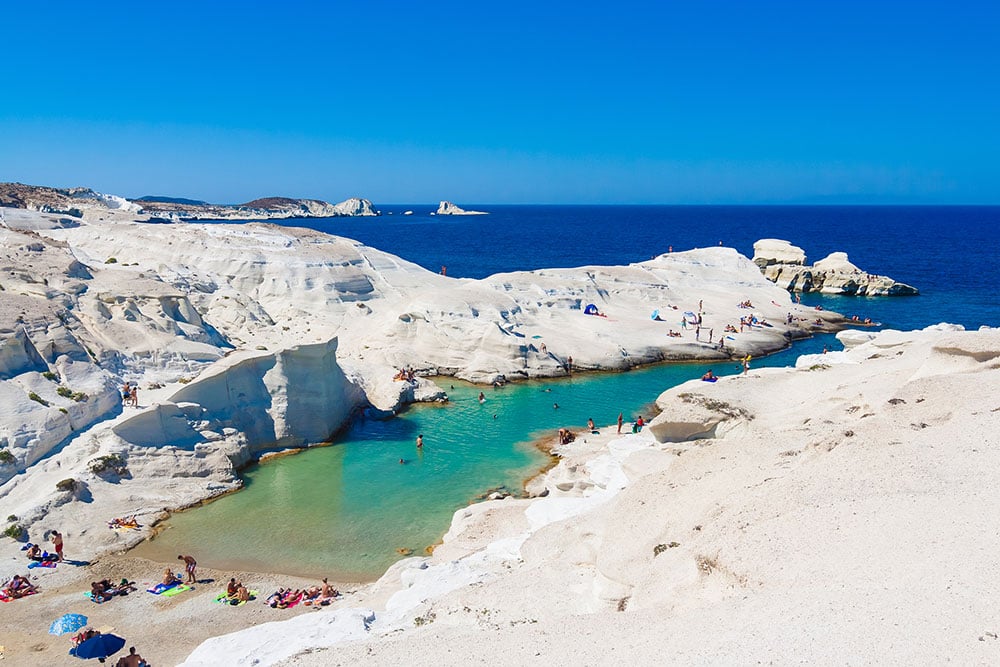 You May Like
Kos
Kos is a Dodecanese island full of footprints left by former rulers, including the Persians, Romans and Ottomans. Within only 290 square kilometres, you can find leftovers of Roman villas and market squares, as well as a Byzantine fortress and an ancient Greek sanctuary of worship. While the culture-minded traveller can have their share of sights, beach bums won't be disappointed either. Tigaki Beach is an endless stretch of pebbles, providing an excellent view of nearby isles and the Turkish mainland. You're backed by outdoor eateries and bars, providing a refuge after a day of lounging around. Golden Beach is a more tranquil, half-moon shaped part of the coastline that's perfect when you're after a bit more privacy.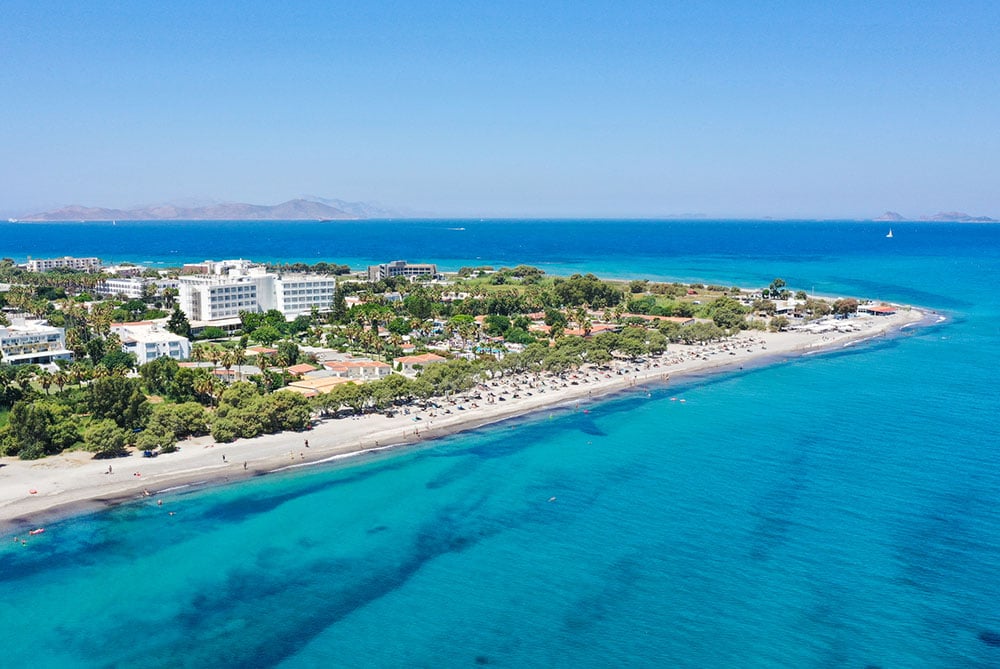 Mykonos
The island of Mykonos is, like Milos, part of the Cyclades, although it's much more touristy than Milos. The nightlife scene, iconic architecture, and charming towns are enticing for all kinds of travellers, with Mykonos town being the heart of it all. Here, over a dozen historical windmills seem to emerge from the sea's surface, making for a worthy stop. Exploring from here is a straightforward experience, as the complete island measures only around 84 square kilometres. After you've left the white facades of the town behind, you can start discovering the countless chapels and the barren hinterland.
The beaches at Mykonos are a blend of pristine and well-discovered pebble and sand. Agios Stefanos Beach and Agia Anna Beach are sandy shores suitable for swimming, lounging under the umbrellas, or dining at the seafront tavernas.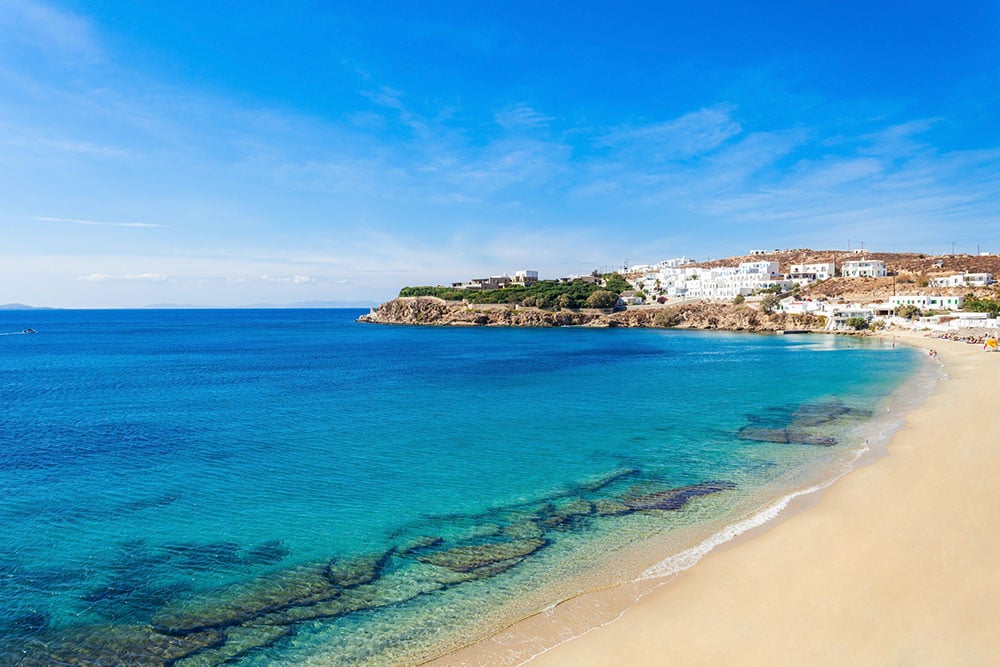 Lefkada
Lefkada has an established tourism infrastructure, translated into seaside eateries, resorts, and watersports possibilities. Still, away from Lefkada town, quiet beaches, and sleepy villages suggest that time has lost its grip here. Other than chances of beach-hopping, Lefkada has plenty of tour operators organising windsurfing, kitesurfing, and sea-kayaking trips to appreciate the island's beauty and seek coolness at the same time.
Lefkada's main town has a couple of engaging museums, but under the Greek sun, a plunge into the sea at nearby Agios Ioannis Beach is much more inviting. The most famous and Instagrammable of waterfronts is Porto Katsiki, a pebbled beach at the foot of a majestic cliff rising from the Ionian Sea.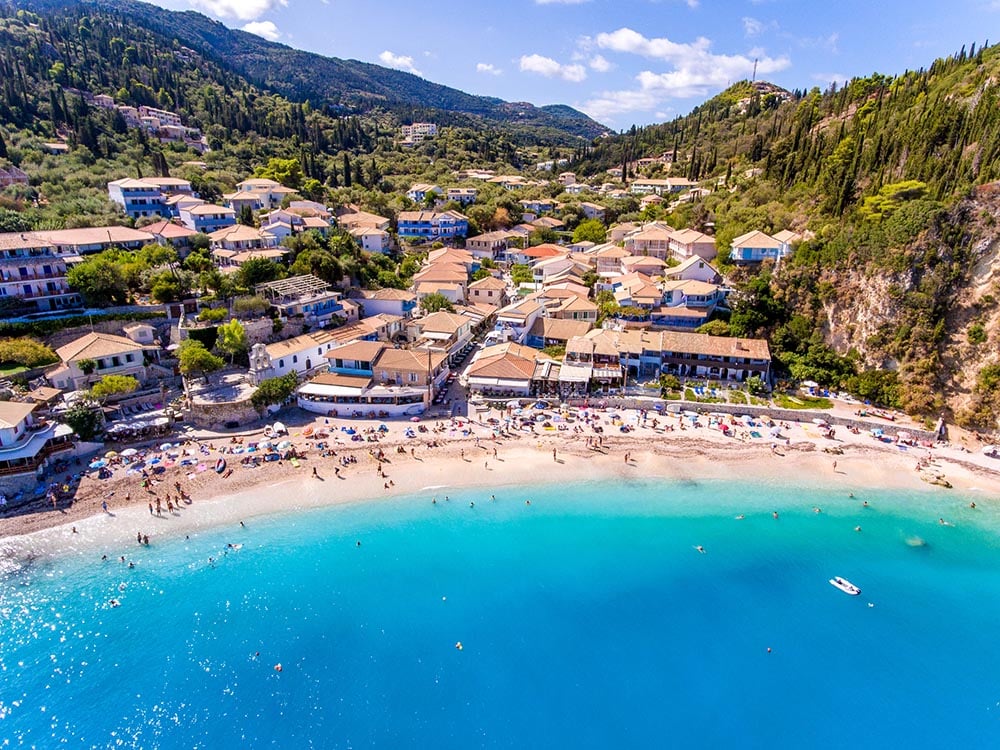 Santorini
Known for its legendary sunsets and sloping coastline packed with white-plastered residences, Santorini ends up on top of many travellers' Greece itinerary. Beyond photo opportunities, Santorini has numerous wineries, archaeological sites, and lookout points spread over its 90 square kilometres. Away from the cascading bars and narrow cobbled streets in the main town Thera, the island has delightful beaches, such as Red Beach. This thin seaboard sits under a staggering cliff formed out of red volcanic stone. Caldera Beach is another fine sandy beach and an exceptional spot to finish the day off with the setting sun in front of you.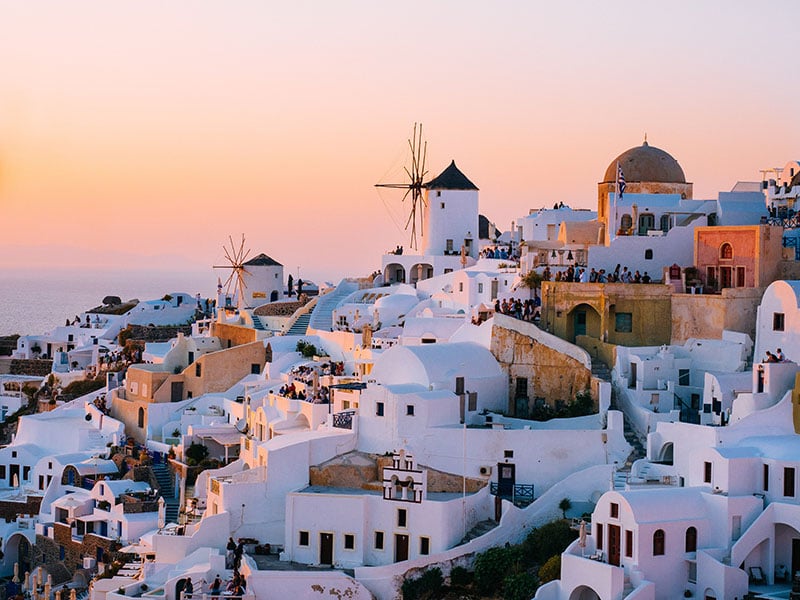 ADVERTISEMENT
CONTINUE READING BELOW
---
UK Package Holiday Options:
If you're travelling from the UK then here are some popular companies where you can book package holidays which include your flights, accommodation and transfers:
Note that we get a small commission should you book via our links. This helps us to run this website and create content.
Summary
With thousands of kilometres of coastline and a warm Mediterranean climate, Greece is one of the most desired summer holidays in Europe. Regardless if you're into nightlife, natural wonders, architecture, or simply the nicest beaches, at least one of the islands on this list will make you glad you picked Greece as a next destination. Want more holiday ideas? Check out Best Beach and Summer Holiday Destinations in Spain.
Ready to book? Search for:
---
---