Island hopping around Greece is a dream for many, but with so many Greek Islands spread across the Mediterranean Sea it can be hard to decide where to start.
If you're looking for a set of Greek Islands which are easy to reach and easy to get between, then the Ionian Islands could be for you. Whilst the name may not necessarily ring a bell, these islands are made up of, amongst others, the popular islands of Corfu and Zakynthos, and so are unknowingly a mainstream holiday destination for many.
However, there's more to the Ionian Islands than just the popular resort towns on its more well-known islands. Made up of several islands: Corfu, Paxos, Lefkada, Ithaca, Kefalonia and Zakynthos (the island of Kythira is also traditionally listed as an Ionian Island although it lies far away from the main group), the Ionian Islands are the perfect destination for those looking for an island-hopping trip in Greece.
---
How to Get There
The Ionian islands lie on the west coast of Greece, between the Greek mainland and Italy, and just south of Albania.
Corfu, Kefalonia and Zakynthos have international airports connecting them to most European cities and so can easily be reached by plane.
Otherwise, there are bus and ferry connections from Athens and other parts of mainland Greece, or if you're visiting as part of an extended Europe trip, it's possible to reach Corfu by ferry from Italy or from Albania, where the boat trip from Sarande takes a mere 30 minutes.
---
When to Visit
The Ionian Islands, like the rest of Greece, are famous for their beaches and so you'll want to visit when the weather is good. Saying that summer inevitably brings higher numbers of visitors together with higher prices, so visiting in the shoulder months of May/June and September is a good option.
---
Getting Between the Islands
There are ferries that run between all the Ionian Islands, especially the larger islands of Corfu, Kefalonia and Zakynthos.
During the summer, Lefkas Traveller has a ferry service running south from Corfu to Zakynthos stopping at all the islands on Monday, Wednesday and Friday, and back north again on Tuesday, Thursday and Saturday. See their website for the timetable (www.lefkastraveller.gr).
Another way to see some of the islands is through tours. You'll find some good tour options available through our partners GetYourGuide or Viator.
---
Getting Around the Islands
Most of the islands have buses connecting the main towns, but undoubtedly the best way to get around the islands is by having your own transport. Car or scooter hire is relatively affordable and discounts are available if you rent for more than a couple of days. It really is worth it for the freedom to explore the islands at your own pace, plus the views from the roads are incredible.
ADVERTISEMENT
CONTINUE READING BELOW
---
Top Islands to Visit
All of the Ionian Islands offer crystal clear water and gorgeous beaches, but if you have the time it's definitely worth visiting them all. The Ionian Islands, from north to south, are as follows:
Corfu
One of the most well known of the Ionian Islands, Corfu has an international airport and so inevitably has plenty of international visitors. But there are more than enough beaches and resort towns for everyone depending on what you're looking for. Agios Gordios is a good spot to base yourself, with a long sandy and pebbly beach, loads of beachside restaurants and a range of accommodation options, including the famous Pink Palace Hostel for those on a budget.
No matter where you decide to stay, take a day or two to explore the island. Visit the white, rocky cliffs of Canal D'Amour near Sidari and the viewpoint over the three beaches of Palaiokastritsa.
One of the most beautiful spots to visit is the unique twin beach of Porto Timoni (seen below). Accessible by only a 20-minute hike down from the town of Afionas, you'll be accompanied on the walk by views of the long sandy stretch of Agios Georgios beach, before coming to the Porto Timoni viewpoint over the twin beaches, and then eventually arriving down on the beaches themselves. The water here is crystal clear and jumping in is the perfect way to refresh yourself after the walk down.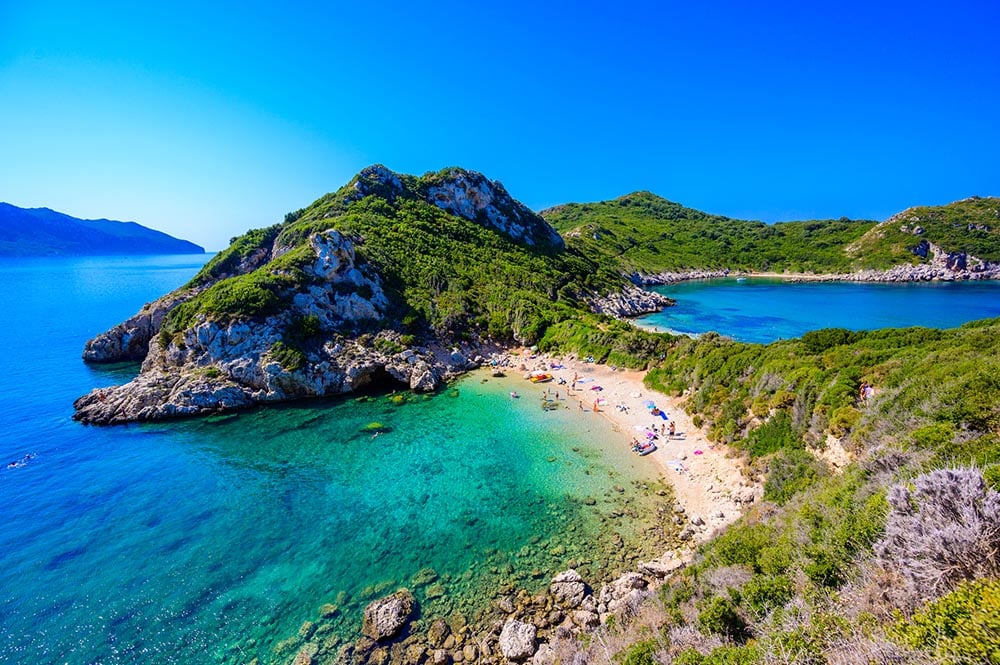 Whilst on the Island you should also try to spend an evening in Corfu Town. Full of windy alleyways, shops and restaurants, it's a great place to grab a drink and people watch by the harbour, before enjoying a traditional Greek meal in one of the many tavernas. Being so close to Italy, Corfu has its own unique cuisine with Venitian influences. Try the traditional Corfiot dishes of Sofrito (sliced veal slow-cooked in a white wine sauce with vinegar, garlic and parsley) and Pastitsada (beef cooked in a peppery red sauce served with pasta and topped with grated cheese).
Finally, if you want to party, Kavos is famous (or infamous depending on your perspective!) for its raucous nightlife.
Paxos (Paxi)
A small island sitting just south of Corfu, most people choose to visit here on a day trip.
Boat trips are available from Corfu and will take you to Paxos and its breathtaking sea caves, plus the tiny neighbouring island of Antipaxos where you'll stop at its unspoilt sandy coves to sunbathe and swim in the crystal clear water.
ADVERTISEMENT
CONTINUE READING BELOW
Lefkada
Lefkada Island is the only Ionian Island that is accessible to mainland Greece by bridge which makes it a popular spot for Greek holidaymakers. But lacking an international airport means it doesn't quite achieve the same levels of international visitors as the other islands. If anything, this provides even more of a reason to visit, and with some of the best beaches in Greece you'll be glad to have discovered this hidden gem.
The east side of the island is full of small sheltered bays, with calm, clear water perfect for swimming. Check out Mikros Gialos and the quiet bay of Desimi where sailboats often anchor in the calm, sheltered waters. The west side of the island on the other hand is full of long stretches of more wild beaches, the best being Porto Katsiki. Surrounded by white cliffs, the white pebbles against the blue sea are stunning and it's a must-visit whilst on Lefkada.
If you're after a quiet sandy beach, check out Milos Beach. Accessible only by a 20-minute hike or a 5-minute boat trip from Agios Nikitas, it's easy to find a peaceful spot here away from the crowds.
Finally, make sure to pay a visit to Lefkada Town, particularly for sunset over the harbour.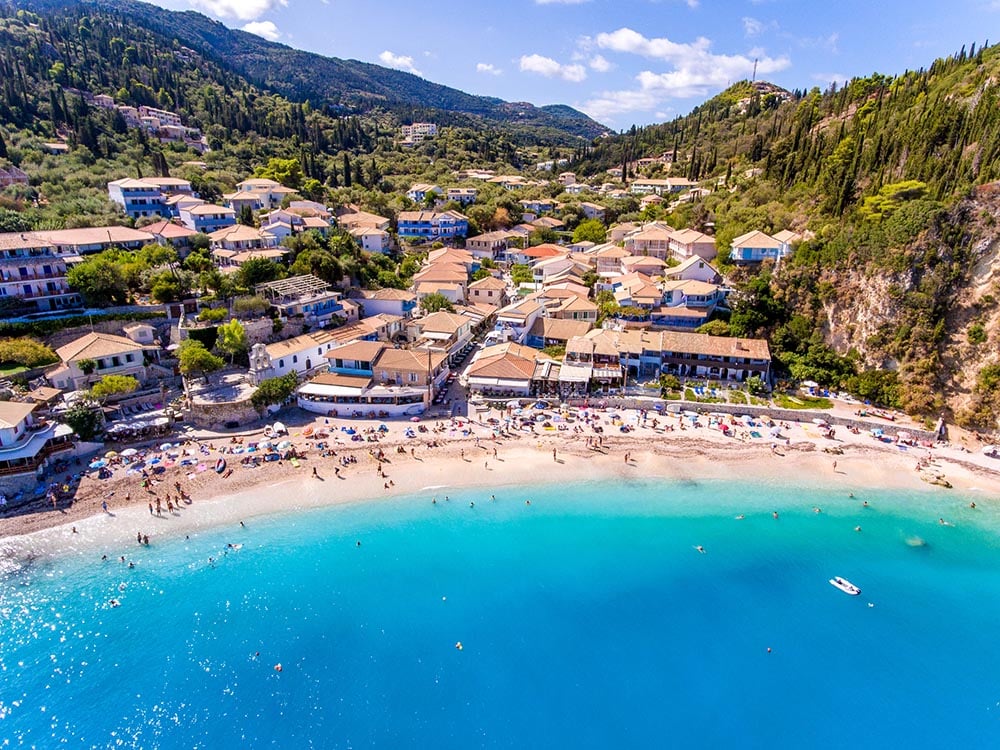 Ithaca
Like Paxos, Ithaca is a small island and so accommodation options are limited and tend to veer to the pricey side. However, if you're looking for a couple of days of peace and relaxation away from the more bustling resort towns, Ithaca is the perfect island for you.
ADVERTISEMENT
CONTINUE READING BELOW
Kefalonia
Kefalonia is one of the larger islands and there are a number of different resorts to stay at. If you want to be close to the beach, check out Lassi and its beach of Makris Gialos. Although quite busy, it's a long sandy beach with beach bars and other facilities, and calm shallow water perfect for swimming.
A must-do whilst you're in Kefalonia is to visit Fiskardo. Not only is this a picture-perfect Greek town sitting on the harbour, but the views along the road to arrive here are incredible. Winding around the side of the mountain, driving here isn't for the fainthearted, but the views over the coastline and Myrtos Beach are some of the best you'll find on the island and in Greece in general.
Myrtos Beach itself is also well worth a visit. One of the most famous beaches in Greece, the colour of the sea here is so blue it almost doesn't look real.
Another popular spot to visit on the island is Melissani Cave. Similar to the cenotes found in Mexico, inside is a lake which you can take a short boat ride on for around €7. Though the cave is small, it really is stunning and definitely worth a visit. Visit around midday so that the sun fills the cave opening and makes the water look the brightest shade of blue.
In the evening take a walk along the seafront at the main town of Argostoli. Keep an eye on the water as you can sometimes spot loggerhead turtles swimming right alongside the harbour. For dinner, make sure to try the famous Kefalonian meat pie.
See booking options for Kefalonia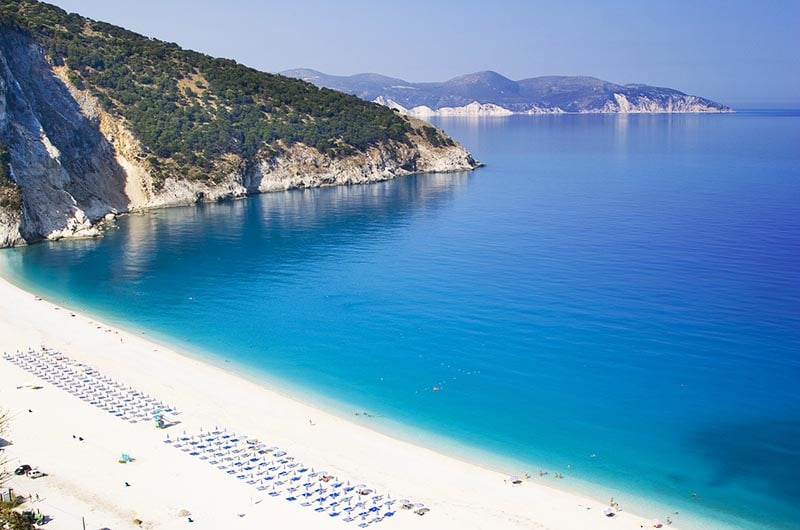 Zakynthos
One of the most well known Ionian Islands, Zakynthos is known for being a bit of a party island for young Brits, however, get out of the party area of Laganas and you'll find a more chilled atmosphere together with lots of nice beaches.
One of the most popular things to do here is to take a boat trip to visit the blue caves and the famous Navagio, or Shipwreck Beach. Enclosed within large steep cliffs, the beach is only accessible by boat, and trips here can be organised from most places on the island. Zakynthos is also home to loggerhead turtles and there are plenty of boat trips available in the south of the Island to try and spot these majestic animals.
If you're looking to get the famous photo of Shipwreck Beach which features on all the postcards, head up to the Navagio Viewpoint and walk around onto the cliff. The view here is incredible, even more so at sunset, but do be careful not to get too close to the edge in the quest to get the perfect photo.
See booking options for Zakynthos
---
ADVERTISEMENT
CONTINUE READING BELOW
Summary
If you're looking for a Greek island hopping trip, or even just a short holiday, the Ionian Islands provide the perfect balance of gorgeous beaches, resort towns, off the beaten track spots and all the traditional Greek charm. With warm temperatures for most of the year, affordable prices in comparison to other Western European destinations, and so many beautiful spots on offer, there is no reason not to start planning your trip to the Ionian Islands today.
---
Tours and Activities
Start Booking
Here are some top options to book your hotels, activities, flights and other transport:
---
---
Please note that we get a small commission if you purchase via our referral links. We use this to invest in new content and improving this website. Thanks so much for your support.
Related Articles