Summer is the perfect time for a relaxing holiday at the beach, but packing for it can be overwhelming. With so many essentials to remember, it's easy to forget something important. That's why we've created this guide to summer holiday packing for the beach. Whether you're planning a weekend getaway or a long vacation, this guide will help you to pack like a pro and remember the things to bring to the beach so as to help you make the most of your time in the sun. You can learn more about different items we'd recommend bringing or you can jump straight down to a complete list if you prefer.
---
Introduction to beach holiday packing
Packing for a beach summer holiday can be a daunting task. You want to make sure you have everything you need, but you also don't want to overpack and end up lugging around heavy bags. That's why it's important to have a packing list. Using a packing list can help you stay organized and ensure you have everything you need for your trip. Plus, it can help you to avoid the stress of last-minute packing.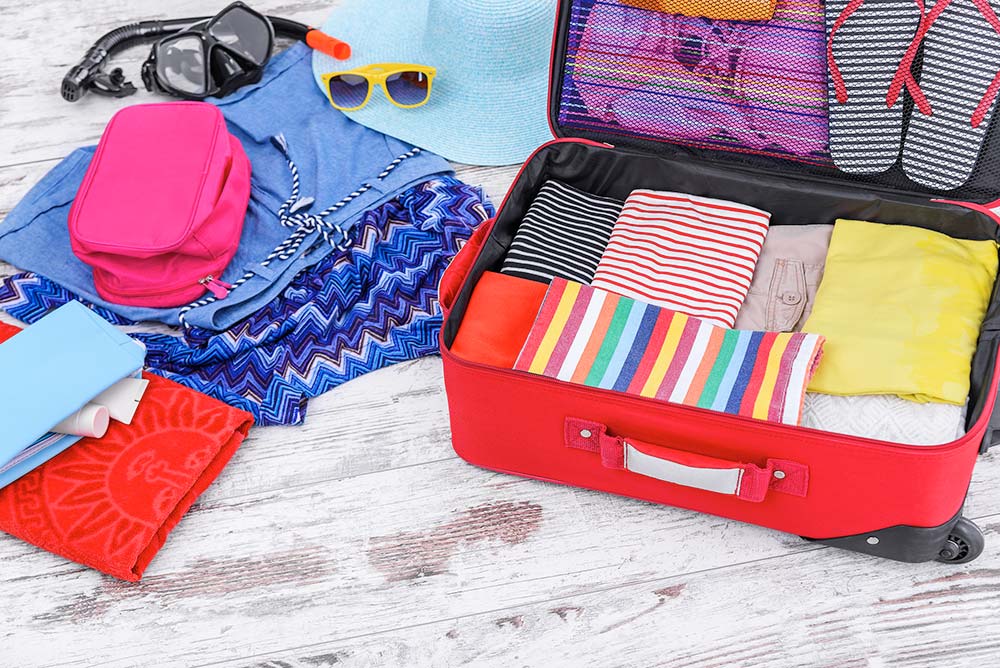 Advantages of using a beach holiday packing list
Using a packing list has many benefits. First, it can help you stay organized and make sure you don't forget anything important. Second, it can help you to avoid overpacking and keep your luggage to a minimum. This is especially important if you're travelling by plane and have to adhere to weight restrictions. Finally, a packing list can help you save time and reduce stress. Rather than worrying about what to pack, you can focus on enjoying your trip.
ADVERTISEMENT
CONTINUE READING BELOW
Beach vacation essentials
When packing for a beach vacation, there are several essentials you should bring. Sunscreen is a must, as it will protect your skin from harmful UV rays, as well as after-sun cream for relief from high sun exposure. A sun hat and sunglasses will also help protect your face and eyes from the sun. A beach towel is essential for drying off after a swim or lounging on the sand. Finally, a beach bag will help you carry all your essentials and things you need at the beach.
Clothing items for a beach holiday
When it comes to clothing for a beach holiday, the key is to pack items that are lightweight and breathable. Cotton or linen shorts and tops are ideal, as they will keep you cool and comfortable in the heat. For the ladies, a sundress is also a great option, as it can be dressed up or down and is perfect for a night out. Don't forget to pack a swimsuit or two, and a cover-up if you prefer to be less exposed.
As well as clothes for during the day remember to pack evening wear, such as for dinners and going out. Again you might want to consider clothes that will keep you cool if it's a particularly warm destination.
Footwear for the beach
When it comes to footwear for the beach, there are several options. Flip flops are a classic choice, as they're easy to slip on and off and can be worn in the sand and water. Sandals are also a good option, as they're more supportive and can be dressed up or down. If you plan to do any water sports or activities, water shoes are a must. They'll protect your feet and provide traction on slippery surfaces.
Crocs are also a great choice as you can often wear them in shallow water as well as on the beach, so this helps if there are lots of stones or pebbles.
Beauty and skincare products
When packing for a beach vacation, it's important to bring skincare products that will protect your skin from the sun and saltwater. Sunscreen (ocean-safe brands if available) is obviously the most important, but you should also bring a moisturizer or aftersun product to keep your skin hydrated. Aloe vera products are also a good idea, as they can soothe sunburned skin. Don't forget to bring lip balm with SPF, as your lips can also get sunburned. Finally, a leave-in conditioner can help keep your hair looking fresh and healthy.
Accessories for the beach
Accessories can make or break an outfit, and a beach vacation is no exception. A wide-brimmed sun hat will not only protect your face from the sun but also add some style to your beach look. Sunglasses are a must, not only for style but also to protect your eyes from the sun. A beach cover-up is also a good accessory to have, as it can be worn over your swimsuit and helpful as you travel from the beach to a restaurant or bar.
A camera can be a nice idea as well, so as to capture memories from your trip, although many smartphones now take photographs which are of great quality. It's worth noting that if you take a traditional camera then you should be extra careful to avoid any sand getting into the lens as this can ruin it.
Miscellaneous items to pack for a beach vacation
There are a few miscellaneous items that you should consider packing for a beach vacation. A waterproof phone case will protect your phone from sand and water damage, or a waterproof beach bag is also helpful. A power bank will ensure your phone stays charged throughout the day. A portable speaker is also a good idea, as it can provide music and entertainment for you and your friends, or headphones to keep the music to yourself. Books, magazines or a Kindle are a good idea, and finally, don't forget to pack a reusable water bottle to stay hydrated throughout the day.
We'd recommend a thermal-type bottle which will keep the water cool and stop the sun from warming it up. One of our favourite brands for these is S'well.
Backup items for a beach holiday
Of course, most people book a beach holiday for the good weather, but occasionally you may be hit by rain. Therefore it's always a good idea to keep an eye on the weather in advance of your trip and then add waterproof items if necessary, such as a coat and umbrella, plus extra items in case you get wet.
You may also want some extra entertainment to keep you busy inside such as travel games to play, books, as well as tv and movie downloads onto your devices.
ADVERTISEMENT
CONTINUE READING BELOW
Tips for efficient packing for a summer beach holiday
Packing efficiently for a summer holiday can help reduce stress and make your trip more enjoyable. Here are a few tips to help you pack like a pro:
Make a list: Before you start packing, make a list of everything you need to bring. This will help you stay organized and ensure you don't forget anything important. You can use our beach packing list further below to help you to get started.
Roll your clothes: A great tip to save space is to roll your clothes rather than to fold them.
Use packing cubes: Packing cubes (or travel organisers) can help keep your luggage organized and make it easier to find what you need. You can also try and roll your clothes and then the packing cubes can help keep them together
Wear your bulkiest items on the plane: If you're bringing bulky items like shoes, sneakers or a jacket, wear them on the plane to save space in your luggage. You can normally take your jacket off and put it into the luggage lockers as well.
Pack versatile items: Bring items that can be dressed up or down and worn in multiple ways. This will help you pack less and still have plenty of outfit options.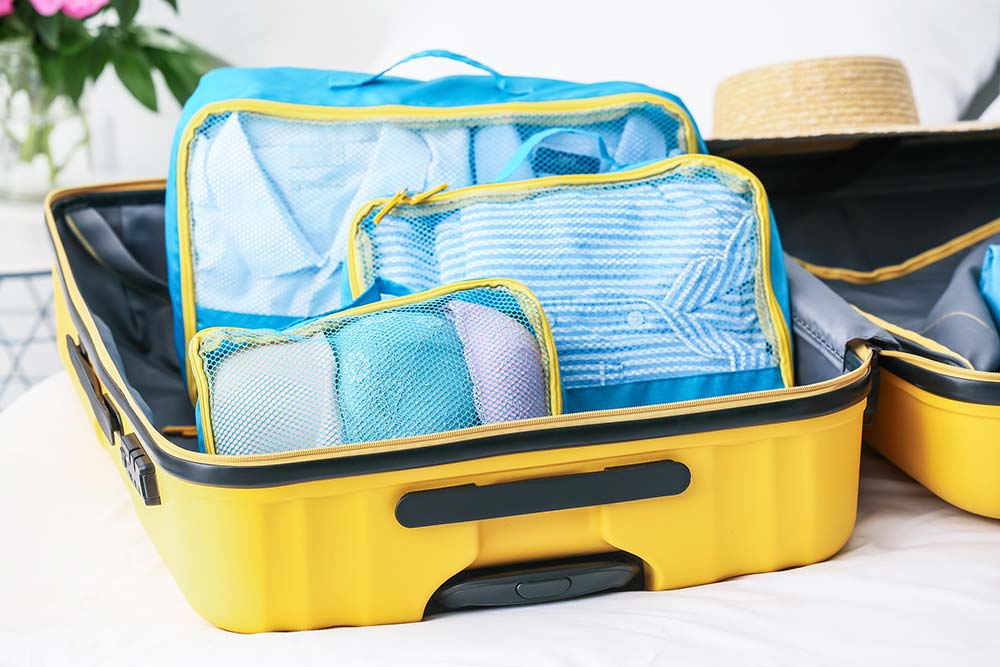 Complete beach packing list
Suncream
After sun
SPF Lip balm
Hat
Sunglasses
Beach towel
Swimwear
Beach cover-up
Light clothing
Shorts
Flipflops/sandals
Headphones and/or speakers
Reusable water bottle (thermal to keep your drinks cold)
Camera
Portable charger
Charging adaptor
Goggles
Books, magazines, or a Kindle
Backup items such as a light waterproof coat or umbrella
Small first aid kit (in case of accidents)
Note we've only included beach-related items above, not essentials such as your passport and other documents, as well as general clothes such as underwear, and also toiletries and other items which aren't specifically related to beaches.
Summary
Packing for a summer holiday can be stressful, but it doesn't have to be. With our ultimate summer holiday packing list for the beach, you can pack like a pro and enjoy your time in the sun without worrying about forgetting something important. Remember to pack your beach vacation essentials, clothing items, footwear, beauty and skincare products, accessories, and miscellaneous items, and use our tips for efficient packing. Happy travels!
Don't forget to share this packing list with your friends and family so they can pack like a pro too!
Ready to book? Search for:
---