Famous for the iconic images of hot air balloons floating high over the mars like landscapes, Cappadocia is a place that has only quite recently been added to lots of people's bucket list. It's a totally unique destination, with rock formations and scenery that can't be found anywhere else. Whether you want to visit as an independent holiday or as part of a larger Turkey trip, here is a guide on how to plan and make the most of your time in Cappadocia.
---
How to get there
Most European countries offer direct flights to Turkey's capital Istanbul. From here, the easiest and quickest way to reach Cappadocia is by a short internal flight to either Nevsehir or Kayseri airport (Nevsehir is closer but receives fewer flights). Otherwise, you can take an overnight bus from Istanbul to Goreme.
---
When to visit
The best time to visit Cappadocia is May/June and September/October when temperatures are warm and skies are clear, but it's not too hot for hiking and the crowds aren't as large as in the peak months of July and August. In early April it tends to be windier which can affect the schedules of balloon flights, so you may want to avoid visiting then. And remember that Cappadocia is a desert-like landscape so whenever you visit the temperature always drops significantly at night.
---
Where to stay
The best area to stay, particularly if you don't plan on having your own transport, is in Goreme. From here you can walk to most of the main sites listed further below and can get close up views of the balloons every morning. This is also where most budget accommodation options can be found, such as Kose Pension, which has a swimming pool and great free breakfast. Otherwise, you can stay in nearby Urgup, or in Uchisar, which has a number of hotels and, and as the highest point in Cappadocia, amazing views.
If you're willing to spend a little more on accommodation, then take the chance to stay in one of Cappadocia's unique cave hotels. There are tons of options available, ranging from budget-friendly to super luxurious. If you can, choose one with a roof terrace so you can sit and watch the hot air balloons whilst eating your breakfast.
Here are three top hotels in Goreme. Use your finger to scroll if you can't see the full table
| Name | Rating | Top Features | Details |
| --- | --- | --- | --- |
| Carus Cappadocia | 9.4 | Airport shuttle, pool, WiFi, free parking, spa, bar, tea/coffee makers | View Hotel |
| Stone House Cave Hotel | 9.1 | Airport shuttle, WiFi, free parking, terrace, family rooms | See Hotel |
| Grand Cappadocia Hotel | 9.2 | Airport shuttle, pool, WiFi, free parking, family rooms | View Hotel |
Note: Ratings and features are subject to change.
The interactive map below helps you to search for hotels and apartments in Goreme. Use the filters if you'd like to adjust your search:
---
How to get around
The best way to get around Cappadocia, especially if you're staying in Goreme, is by walking. Use the maps.me application to follow the hiking trails through the various valleys.
If you're short on time and want to see as much as possible, various tours are on offer which will take you between the main highlights in one or two days. Shop around the many tour agencies for the best offers, and make sure you check in advance what is included in the cost (entry fees, lunch, etc).
ADVERTISEMENT
CONTINUE READING BELOW
---
Things to do
Hot air balloon ride
Undoubtedly the most popular thing to do in Cappadocia is to take a hot air balloon ride at sunrise. This is probably one of the most famous places in the world to take flight, and seeing the landscape from above is simply breathtaking. It's also one of the most budget-friendly places to complete this bucket list activity, with prices ranging from ~€90-130. Shop around and negotiate to get the best price.
As well as taking a flight, make sure to wake up early to watch the balloons from the ground. If you're not lucky enough to be staying somewhere with a roof terrace, walk up to Aydin Kiragi Hill in the centre of Goreme just before sunrise (entrance is 3TL) to watch the balloons light up in the dark and then fly right over your head as the sun rises.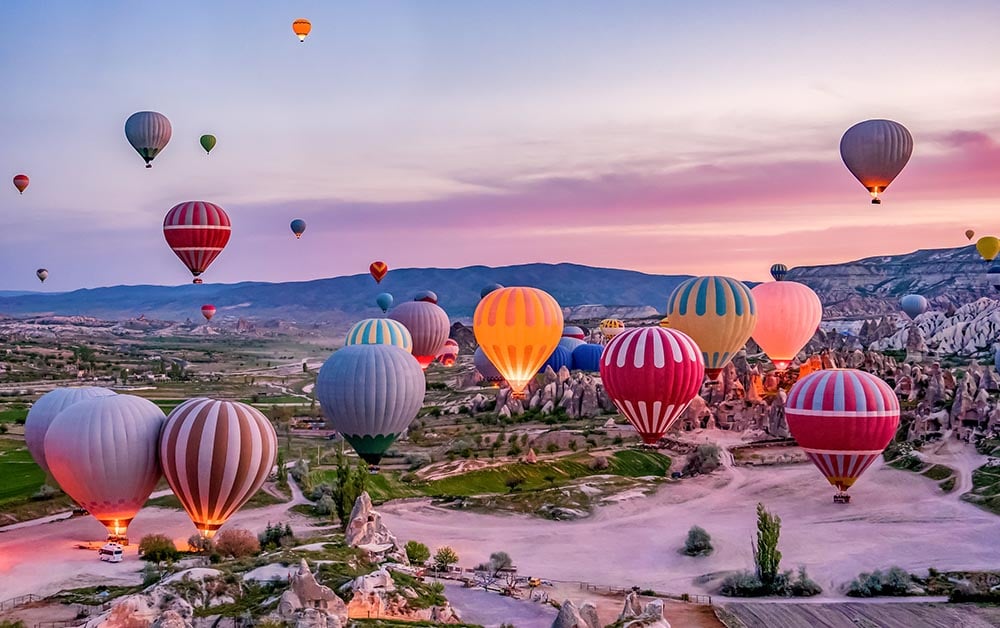 You May Like
Pigeon Valley
Cappadocia is home to a number of different valleys, each with its own unique type of rock formations.
If you look at the rocks in Pigeon Valley you'll see a number of small square-shaped holes carved atop the rock pillars. These are man-made pigeon houses, hence the Valley's name. Pigeons have traditionally been used in the Cappadocia region for food and fertiliser and whilst they are less in use today, the pigeon houses have still been maintained by the locals.
Pigeon Valley is located between Goreme and Uchisar so it's perfect to hike through if you are visiting the latter from Goreme.
Love Valley
Upon visiting Love Valley and witnessing the phallic-shaped rock formations you'll soon realise where this Valley gets its name.
The Valley can be seen from a viewpoint above, but for the best experience take the steep path down and walk through the Valley itself. It's only standing at the base of the towering rock columns that you can fully appreciate their size.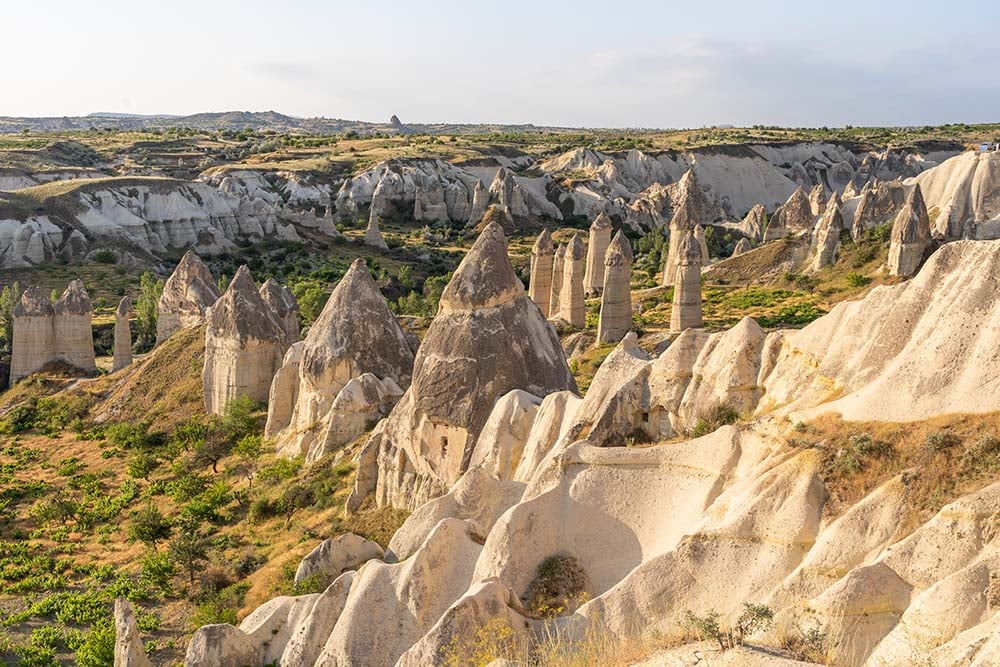 Rose Valley
One of the most stunning valleys in Cappadocia, if you only have time to hike through one Valley then this is the one to see. You can easily spend a good few hours here hiking along the sandy paths and witnessing the pink and yellow rock formations. The colours are incredible. Plan your hiking route so it goes via the Columned Church and the Grape Church (marked on Maps.me) for the most scenic views.
From Rose Valley you can continue on a trail through the Red Valley and finally onto the Goreme Open Air Museum.
Zelve Open Air Museum
Whilst most people only visit the more popular Goreme Open Air Museum, the Zelve Museum is arguably better. Although a bit further from Goreme, this means it is less busy. It's also significantly cheaper at only 20TL (~€2), and the walking trail through the three valleys here is stunning.
Previously home to one of the largest communities in the region, Zelve truly is a (now deserted) cave town, with dwellings, religious chambers and, interestingly, churches and mosques sitting side by side.
It takes about 1.5-2 hours to walk around the open museum, and a visit here should be combined with a trip to the nearby Pasaba Valley (entry is included in your ticket to Zelve) which is home to some of the largest Fairy Chimneys in Cappadocia.
Uchisar
The highest town in Cappadocia, Uchisar is worth a visit for its amazing views, especially from its central castle which dominates the skyline here.
Take some time to wander the small streets lined with gift shops and cafes, and then pick a spot to enjoy a Turkish tea or coffee whilst taking in the surrounding views.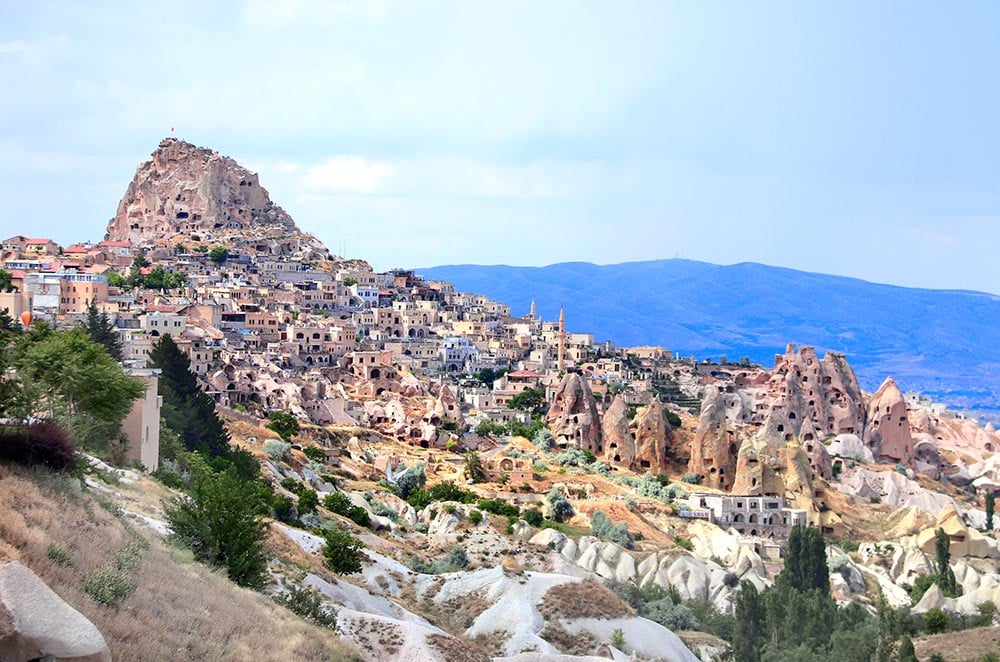 Avanos
If you want a day off from hiking in the valleys then catch the local minibus to the small town of Avanos. Set on the banks of the river with some nice shops selling homemade pottery and Cappadocian wine, it's a nice town to stroll around for half a day. Eat lunch at one of the many restaurants then grab a coffee and homemade cake at the Lemon Cave Cafe who have a great roof terrace overlooking the river.
If you can visit on a Friday when the local market is held, selling a range of goods from clothes to food for local prices.
Goreme Open Air Museum
A member of the UNESCO World Heritage List, this museum is probably the most famous attraction in Cappadocia. Home to the region's best collection of Byzantine cave churches, the museum is famous for its frescos and wall paintings dating from as early as the 10th century.
The Museum is a 20-minute walk from the centre of Goreme and costs 75TL (~€8) to enter. Being so close to Goreme it does get busy, so visit early to try and avoid the crowds.
You May Like
Horse riding or quad biking
If you're not into hiking or just want to try something different, then horse riding and quad biking are popular activities. Both are great ways to experience the valleys of Cappadocia and there are tons of tour companies around town offering these.
ADVERTISEMENT
CONTINUE READING BELOW
---
Summary
Cappadocia truly is a magical place like no other. It really is difficult to imagine the unique rock formations and stunning landscapes without witnessing it yourself first-hand. As you walk around you will be in awe of the scenery surrounding you, and seeing the hundreds of hot air balloons flying above the landscape at sunrise is a once in a lifetime experience.
So if Cappadocia isn't already on your bucket list then be sure to add it, and use this guide to plan a trip here soon.
---
Featured Tours
Related Articles