Italy is a unique blend of history, tradition, and lush lifestyle. From world-famous cosmopolitan cities to quaint villages, unspoilt countryside, and epic beaches, this country really knows how to define la dolce vita.
While Italy is beautiful all year round, it has a universal appeal in summer. Miles of coastlines spoil you with choices, and visiting all the amazing spots this country has to offer would take a lifetime. To get started, let these 10 most beautiful places to visit along the Italian coast inspire you.
---
1. Cinque Terre
The picturesque villages of Cinque Terre are a staple of Italy. Featured in travel and lifestyle magazines worldwide, they are as beautiful in reality as they are in the pictures. These five small towns perched on cliffs and overlooking the Mediterranean would inspire tranquillity but are buzzing with energy.
Cinque Terre is all beautiful, but its most iconic town is undoubtedly Manarola. Home to the famed Italian gelato, the lively village impresses with its pristine scenery and deep blue waters.
Colourful and attractive is also Riomaggiore. Stunning at sunset, it offers the perfect scene for a romantic dinner.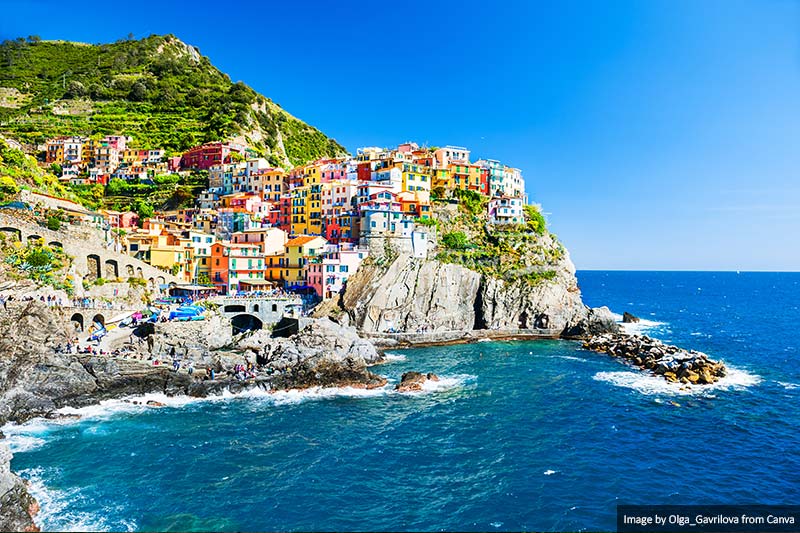 You May Like
2. Amalfi Coast
Moving south along the coastline, Amalfi Coast is another unmissable stop. Characteristic villages dot the cliffs rising from the sea. This is the home of Italy's famous Limoncello liquor, and also a trendy summer destination.
The biggest settlement is Amalfi, a quaint town lying at the mouth of a deep ravine. Modestly sized, it's the perfect place to explore by foot.
A maze of winding streets, sun-filled piazzas, and stunning beaches at the foot of Mount Cerreto highlight the town's unique personality and enhance the beauty of the magnificent Roman Catholic church.
At a stone's throw away, there is Positano, perhaps the most photogenic village on the Amalfi Coast. Once you've captured that perfect Instagram image, slow your rhythms and admire the rustic charm of this picturesque place.
Wisteria-draped buildings, sophisticated boutique shops, and two beautiful beaches to soak in the sun are guaranteed to spellbind you.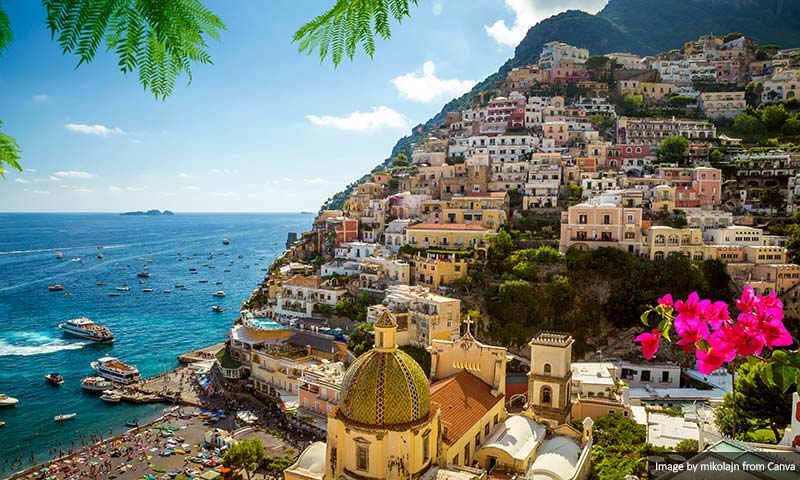 ADVERTISEMENT
CONTINUE READING BELOW
3. Sardinia
While Italy's mainland is extremely rich in beautiful places to visit along the coastline, it's impossible to ignore the islands. Sardinia is one of the best-known spots, attracting people with its pristine beaches, unique Nuragic heritage, and mind-blowing culinary scene.
Cala Corsara beach is perhaps the most popular, enchanting locals and visitors with its fine white sand and Caribbean-like waters.
If you'd like to spice up your holiday with a pinch of culture and history, Castelsardo is a must-see for its Nuragic ruins. Dating back to the Bronze Age, these primitive dwellings are surprisingly similar to the Scottish brochs.
While in Castelardo, make sure to enjoy a sweeping view of the Mediterranean from the town's 16th-century cathedral.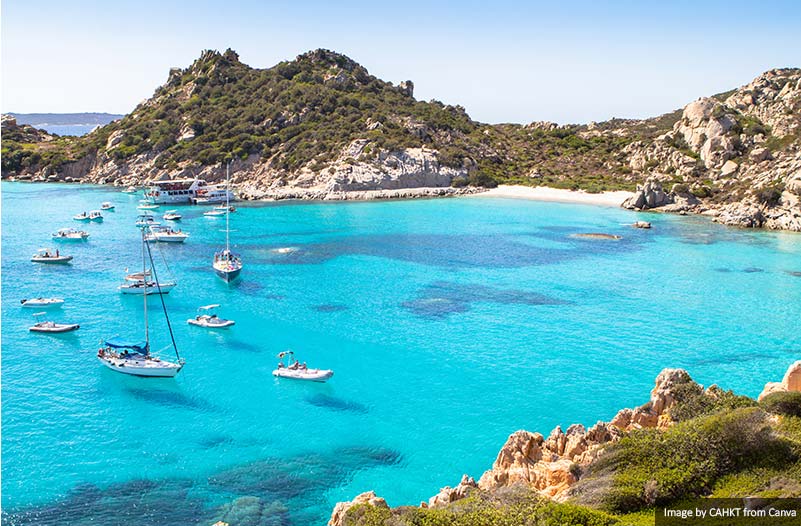 You May Like
4. Elba Island
One of the best off-the-beaten-path places to visit in Italy is Elba Island, the largest one in the Tuscan archipelago.
It was Napoleon Bonaparte's place of exile, and it is one of the most stunning islands of the country. Portoferraio is its largest town but still instils a sense of peace and complete harmony.
Expect stunning beaches hidden by dense vegetation, well-preserved forts built by the Medici, and a lush blend between the Italian and French lifestyles that is impossible to find elsewhere.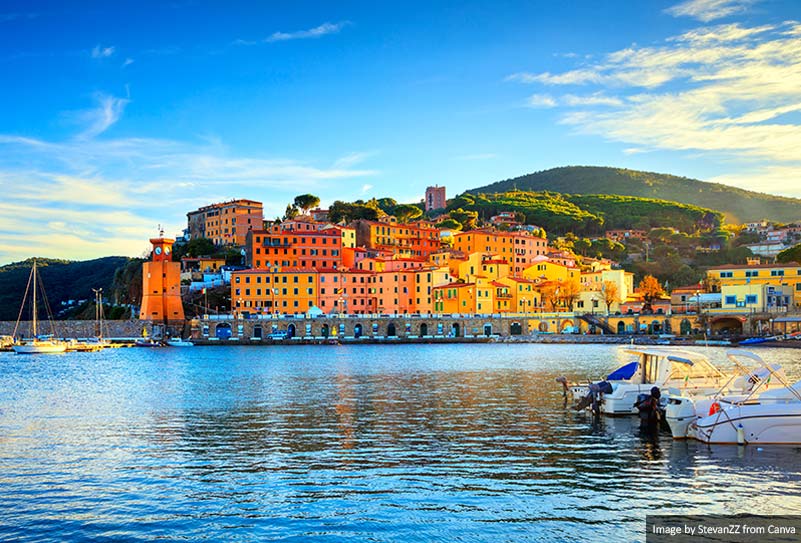 ADVERTISEMENT
CONTINUE READING BELOW
5. Cefalù
Closer to the mainland but still on an island, Cefalù is a tiny but idyllic town an hour's drive from Palermo. Defined by many as Sicily's gemstone, it's wedged between the coastline and mountains.
This quaint town transforms into one of the most lively destinations during summer. Treating its visitors with crystalline waters, stunning beaches, and a hip lifestyle, Cefalù boasts an impressive number of boutiques, hotels, and great restaurants.
Despite its quiet appearance, the town also impresses with its vibrant nightlife and countless entertainment opportunities.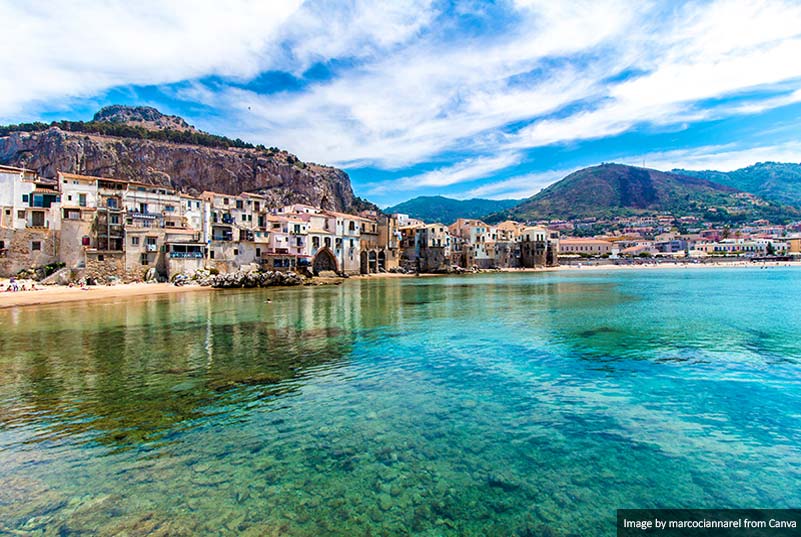 6. Capri
Capri has become a popular summer destination in the Roman age, and it didn't lose its glamour over the centuries.
Located in the Tyrrhenian Sea off the Sorrentine Peninsula, it is renowned for its rugged terrain and upscale shops and hotels. The island is all about fashionable glitz, from boutique shops to handmade leather accessories.
When you get tired, stop in one of the many cafes to admire the bustling life and the crowds of tourists.
Capri is also home to Grotta Azzurra. One of the most famous marine caves in the world, it's praised for the sapphire blue shades that make it feel like an enchanted place.
7. Polignano a Mare
Foreigners often ignore Apulia's charm, but this region is a true magnet for the Italians who flood the coastline each summer. If the saying 'do as the locals do' is true, then Apulia should top any list of the most beautiful places to visit along the Italian coastline.
The region spoils with choices, but if you'd like to start with a tiny yet cosmopolitan town, Polignano a Mare is a great choice.
This idyllic town perched on limestone cliffs and overlooking the Adriatic Sea is home to world-class cliff diving.
It doesn't have miles of pristine beaches, but it has panoramic terraces, narrow alleyways winding among romantic white houses, and Grotta Palazzese, a natural grotto that houses one of the most stunning restaurants in the world.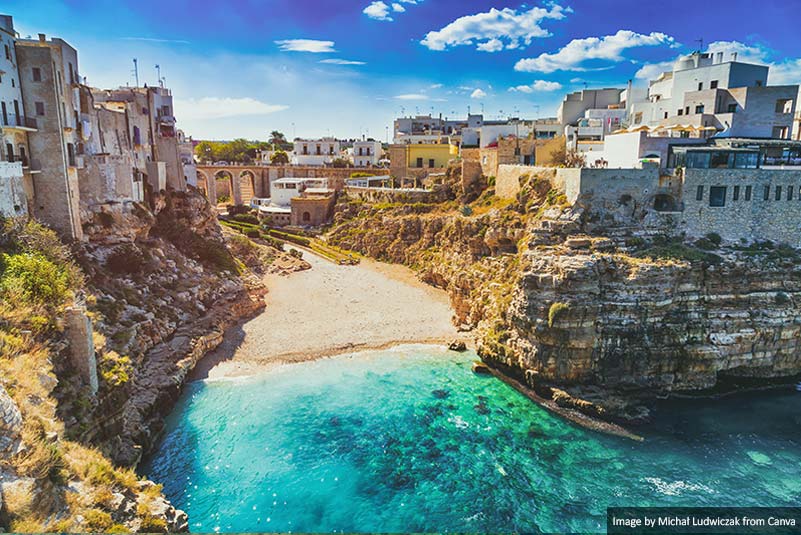 8. Levanzo
From the mainland back onto the islands, Levanzo is an unmissable stop and one of the most beautiful places in Italy. It is the smallest of the Aegidian Islands and is the perfect escape for anyone who needs a break from daily life.
Although tiny, the island offers plenty of experiences. Soaking in the sun or bathing in the crystalline waters are by far the most popular two.
A maze of hiking trails gently climbing towards the peaks or crossing fertile plains can satisfy those who don't really like to stand still. Then, there is Cala Tramontana, a beautiful isolated bay protected by limestone cliffs, which is ideal for all lovebirds.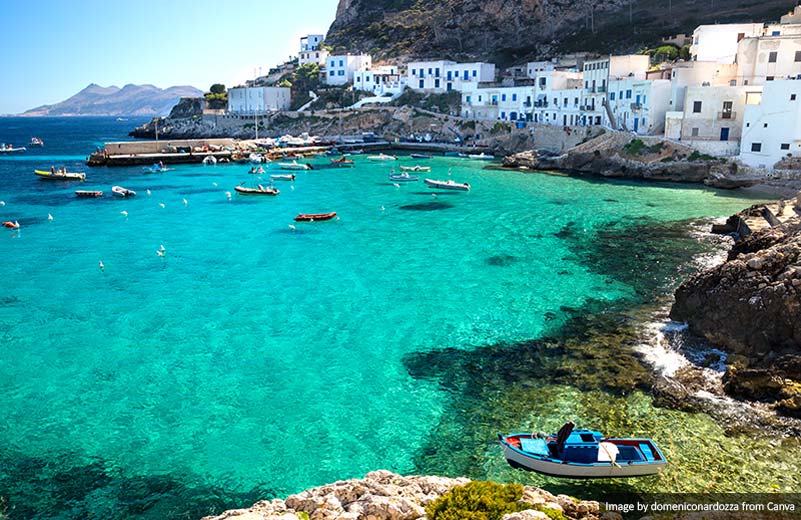 ADVERTISEMENT
CONTINUE READING BELOW
9. Ischia
Another marvel located in the Bay of Naples, Ischia is one of those not-so-popular-among-tourists but must-see destinations. Often considered Capri's poor sister, Ischia boasts slower paces and a much more affordable lifestyle.
It also has much more than amazing coastlines. The island is famous for its mineral-rich thermal waters and welcomes you with sun, sand, and healing treatments.
A wealth of tourist facilities, charming souvenir shops, restaurants, terraces, and ice cream shops attract loads of visitors each year. While here, make sure to pamper yourself in one of the many thermal parks and gardens.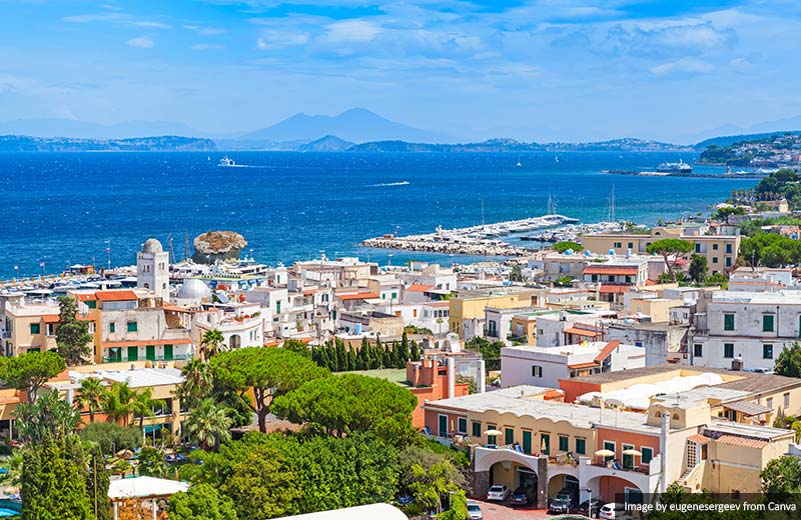 You May Like
10. Salento
Back to the Adriatic coast, Salento is another region you shouldn't miss. The short distances between attraction points give you the possibility to choose one main base and enjoy unique day trips to stunning places.
Lecce, the region's capital, makes for a great starting point. Known as the Florence of the South, it is famous for its Baroque architecture and unique Lecce stone.
Santa Cesarea Terme is one of the most popular seaside resorts, while Otranto blends the dolce far niente beach life with an amazing history.
Otranto is also the easternmost point in Italy, historically considered a gateway towards the East.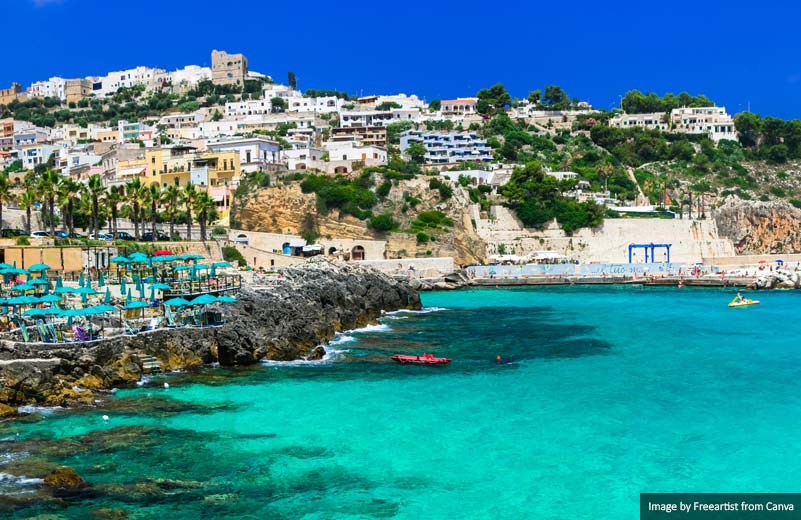 ADVERTISEMENT
CONTINUE READING BELOW
Summary
Showcasing countless coastal towns and villages, miles of epic beaches, crystalline shallow waters as well as deep seas, Italy is one of the best summer destinations. Loads of cultural attractions, a quaint lifestyle, and buzzing nightlife provide endless entertainment opportunities for all tourists. With so many beautiful places to visit along the Italian coast, you can surely find the one that suits your idea of the perfect summer holiday.
Have a read of Beautiful Places to visit in Calabria (Italy) for more ideas and inspiration.
Ready to book? Search for:
---
---
---
Tours and activities
Related Articles