Lying between Italy and Tunisia on the toe of Italy's "boot" is Sicily, the largest island in the Mediterranean. Easily reached by direct flights from most European cities, or by bus or ferry from other destinations in Italy, Sicily is the perfect destination for those looking for pristine beaches, amazing food, and a taste of authentic Italian culture most known from the movies (Sicily is where the Mafia evolved).
If you're thinking of visiting the whole island then hiring a car is undoubtedly the best way to get around. This gives you the opportunity to visit off the beaten path destinations. However, the island, and most of the places on this list, can easily be accessed by public bus or train with a little more planning.
So if you're thinking of visiting Sicily, whether for a short break or for a longer trip around the island, here are 10 of the most beautiful and best places to visit.
---
1. Palermo
Palermo is the regional capital of Sicily and boasts an international airport. If you're flying into Sicily then you'll either arrive either here or in Catania.
Sitting in the middle of the north coast, Palermo is an authentic and somewhat gritty city, not adapted for tourists but instead providing a taste of what local Sicilian life is all about. Give Palermo a chance though and you'll find a number of gems.
Like most Italian cities, Palermo is home to impressive churches, including the Cathedral from which you can climb up to the rooftop for amazing views over the city.
Palermo is also known for its street food, and the city is home to a number of markets serving an array of fresh produce. The markets are also the perfect place to start sampling all the Sicilian specialities, such as arancini, granita and cannolo, and a good place to have an aperitivo in the early evening. Talking of which, if you're looking for lively nightlife, Palermo is the place to be. Wander around at night and you'll find the streets packed with people, especially in the area around Vucciria Market. Whether you fancy a craft beer, trendy cocktails or live music, there is something for everyone here.
If, after all that, you feel like a beach day, then the beautiful sandy Mondello Beach is just a bus ride away from the city centre. Cefalu can also be reached by a 1-hour train journey.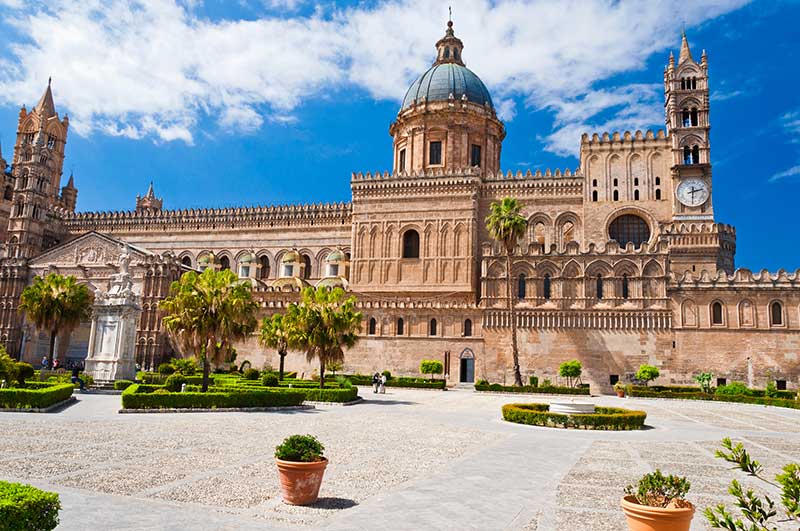 2. Cefalu
Whether you take a day trip here from Palermo or choose to stay for a bit longer, Cefalu is a charming little fishing town which definitely deserves a visit.
With whitewashed buildings sitting above clear blue water and colourful fishing boats, Cefalu is like a postcard picture. And with a popular sandy beach and small cobbled streets lined with shops, cafes and restaurants, Cefalu is a place where you can just relax and take it easy.
For those looking for a bit more, visit the Norman Cathedral and then climb to the top of La Rocca for spectacular views over Cefalu and the coast.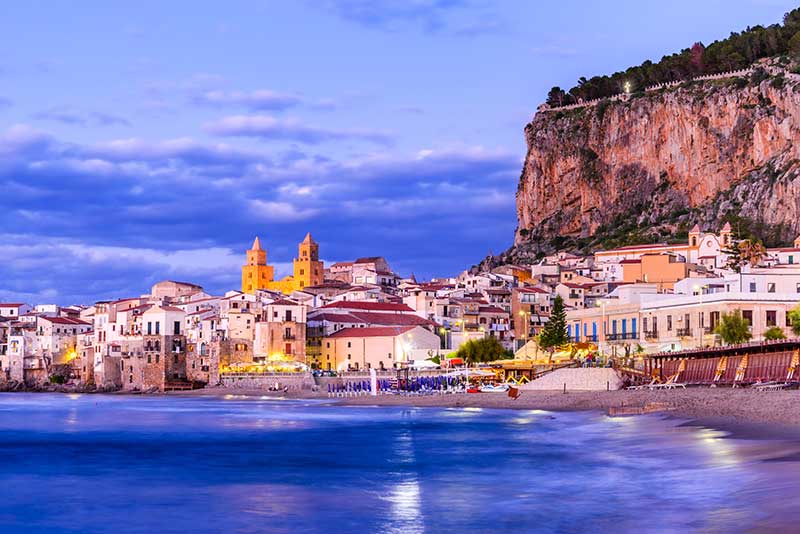 ADVERTISEMENT
CONTINUE READING BELOW
3. San Vito Lo Capo
To the west of Palermo lies the seaside town of San Vito Lo Capo. Popular with Italian tourists looking for a beach holiday, San Vito boasts one of the best sandy beaches on the island.
After the long hot beach days, there are also a number of hikes to points perfect for watching the sunset. Close by is the lighthouse sitting at the end of the promontory, but if you're after a bit more of a challenge, then take the 1-hour hike to the top of Monte Monaco for stunning views of the entire bay. Arguably the best view, however, can be seen from inside Grotta del Cavallo, or Horse Cave, where you'll have the unique opportunity to see the sunset framed by the cave opening.
Finally, be sure to try the local cuisine here. One particular regional speciality is Cous Cous di Pesce. Influenced from nearby northern Africa, the couscous is served with pieces of fish and a fish soup poured over the top. It is a must-try when in the Trapani region of Sicily where San Vito lies.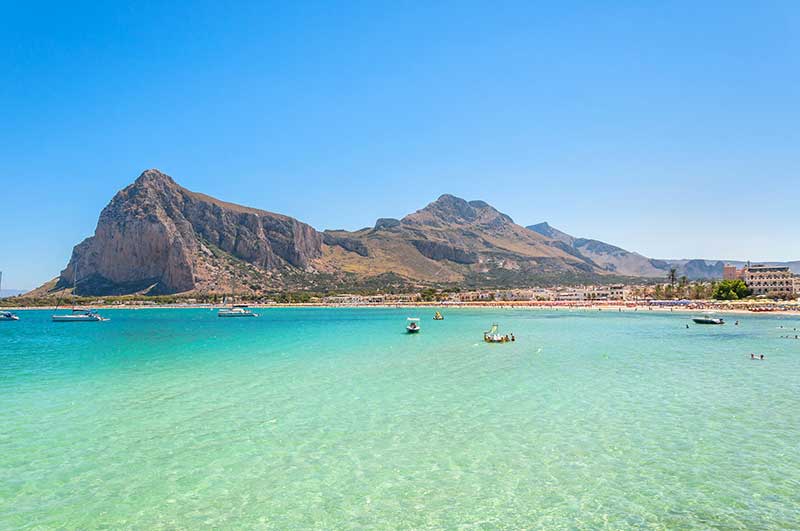 4. Favignana Island
In amongst the Egadi Islands lies Isola di Favignana, a popular spot for a day trip and easily accessible by ferry from Trapani.
Favignana is known for having some of the clearest and bluest water in Sicily, and the best way to explore the beaches and best swimming spots is to rent a bicycle and cycle around the island.
Starting at the port going clockwise, visit Cala Rossa, Bue Marino, Cala Azzurra and finally Cala Rotonda.
If you can, stay a night on the island to experience the beautiful sunset and the lively town once all the day-trippers have left.
Tour Idea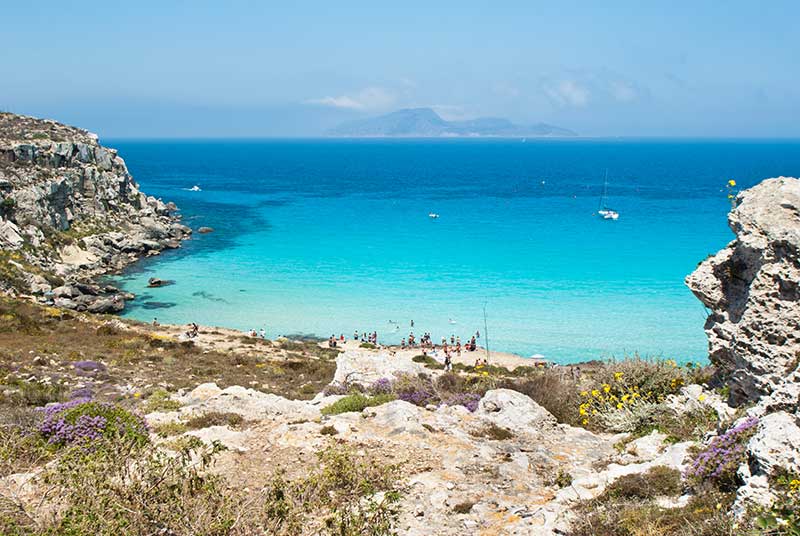 ADVERTISEMENT
CONTINUE READING BELOW
5. Zingaro National Park
Zingaro National Park is an absolute must-visit whilst in Sicily. It is a pristine reserve home to gorgeous coves and crystal clear water. Sitting between the towns of San Vito Lo Capo and Scopello, Zingaro is the only place on this list which can't be reached by public transport, and so you'll need to take a boat tour or hire a scooter/car to reach here. The inside of the park can only be seen by hiking or by boat, a fact which adds to the charm and prevents it becoming too busy (entry is €5).
The scenic hike is 7km and takes about 2 hours one way, and all along the route you'll be met with stunning views of the coastline and the sea. If you want to break up the walk, there are six beautiful beaches which you can detour to and take a swim to cool off.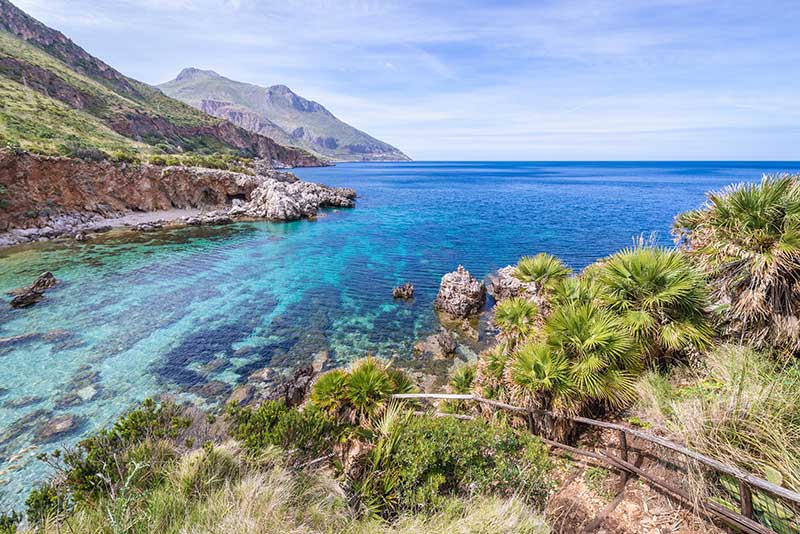 6. Ragusa
Sicily is home to a number of Baroque cities all of which are worth a visit, but if you want to base yourself in one for a night (or two) then Ragusa is your best choice.
Split into two hillside towns, Ragusa Superiore and the old town of Ragusa Ibla, walking between the two requires a lot of steps up and down (there is a bus if you prefer). However, it's worth it though when you see the amazing views of Ragusa Ibla from the hillside. Seeing this view at night is one of the main reasons you should stay if you can, added to the many nice restaurants on offer here. In fact, Ragusa is known as being somewhat of a foodie destination and is actually home to several Michelin starred restaurants.
Ragusa also provides a good base for day trips in the area. Nearby Modica provides more Baroque architecture, but perhaps more of a reason to visit is to try some of the speciality chocolate produced here. The chocolate is dairy-free which gives it a more grainy texture than usual, but also the unique flavour makes it famous worldwide.
Noto is another must-visit Baroque town in Sicily. Home to some of the most beautiful baroque architecture on the island, it can easily be visited on a half-day trip by train from Ragusa or Syracuse.
Finally, if you want some beach time, take the bus from Ragusa to Marina di Ragusa where you'll be greeted with a long sandy beach.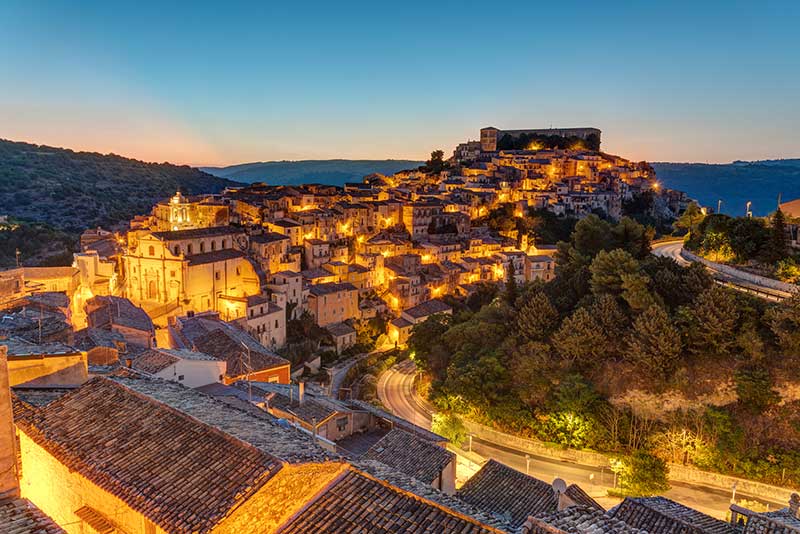 7. Syracuse
Syracuse is a charming city lying on the southeast coast of Sicily. A historically significant city, Syracuse is home to the Archaeological Park Neapolis which includes the impressive Roman Amphitheatre.
However, even if archaeology isn't your thing, you'll still want to pay Syracuse a visit to see the beautiful old town on Ortigia island. Connected to Syracuse by bridges, Ortigia Island is a place to wander. With tons of little alleyways to get lost down, you can easily spend a day strolling around the town, visiting the local market, and stopping in one cafe after another for an Aperol spritz or a Sicilian pastry.
Syracuse is well connected by train and day trips from here include the Baroque town of Noto, or the sandy beach of Fontane Bianche.
TIP
You can find day tours to visit and learn more about Syracus through our partner
GetYourGuide
.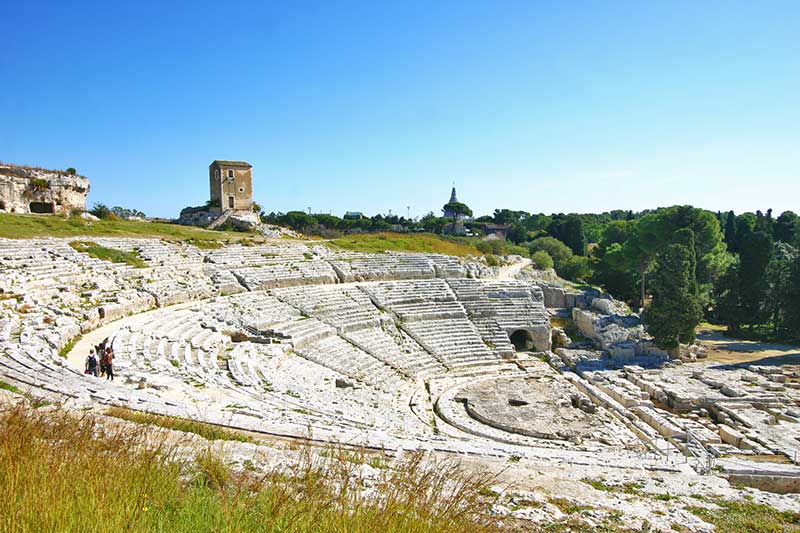 ADVERTISEMENT
CONTINUE READING BELOW
8. Catania
Catania (also the first photo) is Sicily's second-largest city and is perhaps a bit more refined than its counterpart Palermo. With a wide central boulevard running all the way from the main square to the city park of Villa Bellini, and stunning views of Mt Etna dominating the skyline, Catania has it all. There's even a nice sandy beach just south along the coast.
In the morning visit the bustling fish market, which has been around for hundreds of years and is now surrounded by cafes serving up freshly caught fish. In the main square of Piazza Duomo you'll find the Cathedral as well as a number of other impressive buildings. This is also a great place to hang out in the evening when street performers and live music provides a lively atmosphere.
Catania is also the perfect place to eat! Make sure to try the signature dish of Pasta alla Norma, which consists of fried chunks of aubergine, a rich tomato sauce and salty ricotta cheese. Another must eat here is the arancini. Whilst these balls of deliciousness can be found all over Sicily, the arancino in Catania is cone-shaped, not round, in homage to Mt Etna. Filled with delicious rich ragu, when you bite the top off, the steam escaping is said to resemble the volcano.
If you want to base yourself in one place for the duration of your stay in Sicily then Catania is ideal, as Taormina, Mt Etna, Syracuse and more can all easily be reached by public transport from here. There are also plenty of tours which offer another way to explore.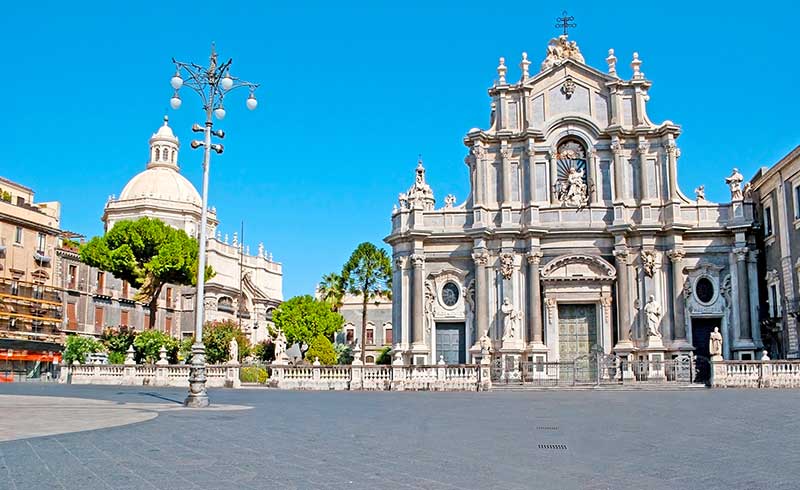 9. Mt Etna
If you're in Sicily then you need to take the opportunity to visit Mt Etna, the most active volcano in Europe.
There are many options to visit depending on your budget and the level of activity you want to undertake. You can also visit from the south (Catania) or the north (Taormina), although public transport is only available from Catania.
So for those visiting on a budget, you can simply take the bus from Catania. There is one bus a day leaving from the train station at 8.15am and costs just €6 return. The return bus is at 4.30pm giving you a full day on the volcano. The bus drops you at Etna's Refugio Sapienza, 2000m above sea level, and from here you can walk up. Otherwise there is the option to take the cable car to 2500m (€30 return) and/or then a 4X4 jeep to 2900m (€30 return).
However, all those options only allow you to reach 2900m, so if you want to visit the summit of 3329m then you'll need to take a guided tour. There's plenty of tours available and if you like wine, tours can often be combined with wine tasting at a local winery which produces wine from the fertile volcanic slopes.
A final bit of advice, dress warm! You may have been sunning yourself on the beach the day before, but at 3000m above sea level you'll definitely need your winter jacket!
Tour options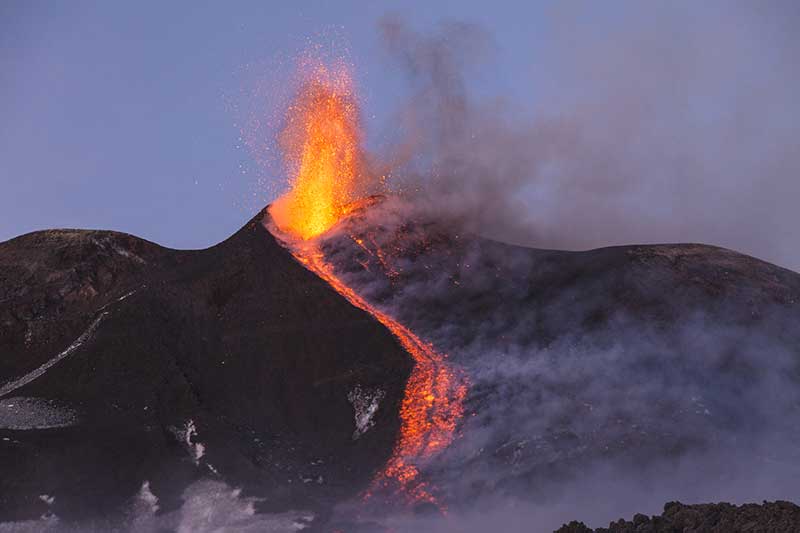 10. Taormina
A couple of hours north of Catania lies Taormina, probably Sicily's most famous resort. Sitting on a hillside high above the sea, Taormina boasts stunning views of the Sicilian coast and in particular of Isola Bella, a small island connected to the mainland by a small strip of pebbles. You can spend your days on the beach here swimming and snorkelling in the crystal clear water, or if you prefer a sandy beach then head to the nearby beach of Giardini Naxos.
Whilst in Taormina you may also want to visit the Greek amphitheatre, which on a clear day provides an amazing photo opportunity of the theatre with Mt Etna looming in the background.
Finally, spend your evenings exploring the small streets and the number of shops, bars and restaurants. Taormina is home to the legendary Bam Bar, which serves the best granita on the island. You'll probably have to queue for a table, but it's worth it to try the traditional Sicilian breakfast of a buttery brioche dunked in smooth iced granita.
If you want to get out of Taormina and away from the crowds, then take the bus up to the small village of Castelmola. At the top of the hill, even higher than Taormina, it provides amazing views and is a great quiet spot to wander for a couple of hours.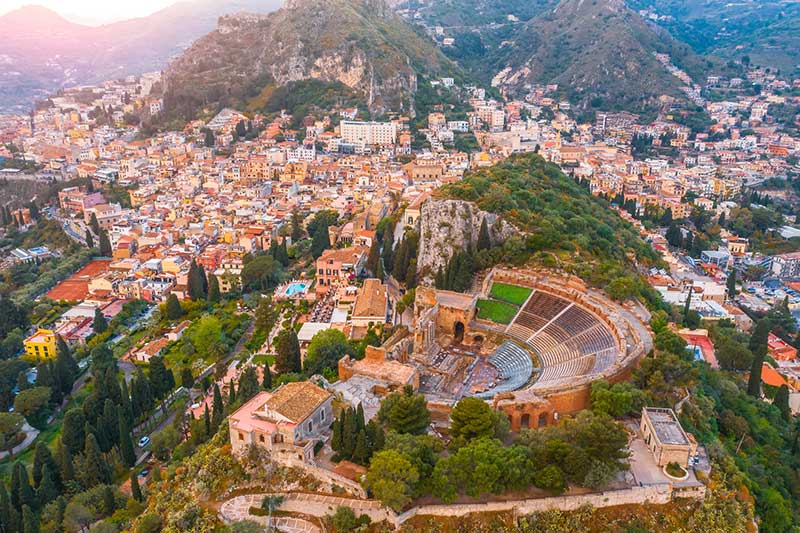 ADVERTISEMENT
CONTINUE READING BELOW
Summary
While popular with Italian tourists, Sicily doesn't boast the huge foreign tourist numbers of some other Italian destinations. This is surprising given the island offers lively cities, historical baroque towns, and some of the best beaches in Italy. It's also home to an amazing food culture, and with prices noticeably cheaper than other parts of Italy, you'll have no excuse not to try all the Sicilian specialities.
So whatever you're looking for in your next holiday destination, consider adding Sicily to your list. Here we provide a suggestion of the best places for first-time visitors (particularly those without their own transport), but there is still so much more to see on the island, including the Valley of the Temples near Agrigento, the castle atop Erice, the Aeolian Islands and more. Given this, you may find yourself wanting to return to Sicily again and again.
Ready to book? Search for:
---
---
Top tours and activities for Sicily
Related Articles