Bologna, capital of the Emilia Romagna region of Italy, is a university city in the northern half of the country. Looking at a map, you'll see it sits in the middle of Venice, Milan and Florence, and this may be why it is often overlooked in favour of its more famous neighbours. However, if you're looking for a relaxed destination with beautiful architecture, quaint Italian streets and amazing food, but without the hordes of tourists found in other Italian cities, then Bologna could be the place for you.
You could spend days getting lost among the streets of Bologna, soaking up Italian culture and stopping for a cappuccino/ice cream/aperitivo at one pavement cafe after another. But if you only have one day to spend in the city, then here is an itinerary to ensure you see all the best things that Bologna has to offer.
Piazza Maggiore
Start your day in the heart of Bologna, at Piazza Maggiore. Here, as with pretty much all the main squares in Italy, is where you will find the city's iconic church: Basilica di San Petronio. Whilst the outside remains unfinished (the bottom part is marble whilst the top is just bricks) and therefore not much to look at, inside you'll find an impressive 22 chapels which combine to make it one of the top 10 largest churches in the world. Entrance to the Basilica is free although it costs €2 to take photos, and there is a strictly enforced dress code so make sure shoulders and knees are covered.
The square is full of other impressive buildings, including the Palazzo Comunale and the Palazzo d'Accursio. A few steps to the north you'll also find Piazzo del Nettuno, home to the Neptune Fountain.
TIP
Consider a
walking tour
to discover more about the sights around Piazza Maggiore and other highlights in the city centre.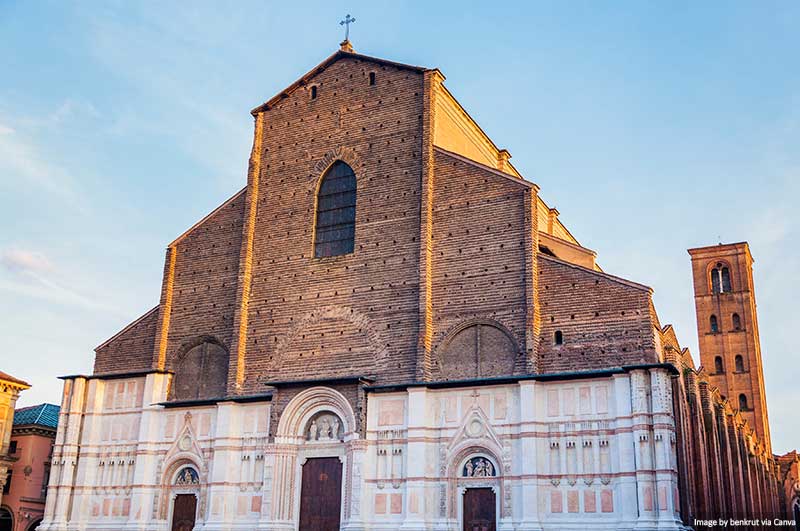 Lunch in Quadrilatero
After admiring all the amazing architecture of central Bologna it's time for lunch. Affectionately known as "the fat one", Bologna is regarded as the gastronomic capital of Italy, no easy feat in a country so renowned for its cuisine. Luckily, just behind Piazza Maggiore lies the Quadrilatero area with small streets lined with pavement seating from the many cafes and restaurants. Eating is one of the best things to do in Bologna, and here you'll find yourself spoilt for choice.
If you want to combine your lunch with a little history (and some wine!) then grab a takeaway panini from one of the cafes (try one with Mortadella, a type of ham which hails from Bologna) and eat it at Osteria del Sole. Osteria del Sole is the oldest wine bar in the city (it opened in 1465) and allows you to bring your own food whilst you sample their variety of local wines for very cheap prices.
The Two Towers
It's now time to work off lunch by climbing up to the top of Asinelli Tower, one of Le due Torri, the two towers that dominate the skyline over Bologna. From the top you'll be greeted with panoramic views of the red rooftops of the terracotta buildings (Bologna's other nickname is "La Rossa") spreading out before you.
The staircase to the top is narrow so entrance is limited to groups of 9 in specific time slots which must be booked in advance. Entrance costs €5 and tickets can be booked on the website or at the tourist office in Piazza Maggiore.
Italian Gelato
After all those steps you may want to make another rest stop, and what better way to take a break in Italy than with ice cream. Head to Cremeria Cavour on Piazza Cavour for some of the best artisanal gelato in the city. As well as the traditional flavours, it makes specialities including the Cavour, with ricotta cheese and Amalfi lemons, and the Piazza Grande, with almond cream and amaretto.
ADVERTISEMENT
CONTINUE READING BELOW
Sanctuary of the Madonna San Luca
A must-visit when in Bologna is the Sanctuary of the Madonna San Luca. Although quite a long way from the centre, it's a pleasant walk along which you can admire Bologna's many porticos. Bologna is famed for these partially enclosed walkways lined with arches and columns, and the one to the Sanctuary of the Madonna San Luca via Via di San Luca is actually the longest portico in the world at 3.8km long.
Once you reach the top of the hill you can admire the pink walls of the Sanctuary, which is one of the oldest churches in Bologna, and the views of the city-backed by the green rolling hills will really make you feel like you're in Italy.
If you don't want to walk to the top you can take the San Luca Express Tourist Train which takes you on a 1-hour tour from Piazza Maggiore to San Luca and costs €10. Another option is below:
Tour option
Aperitivo
After a full day of sightseeing, it's definitely time to relax. So do as the Italians do and have an aperitivo. Aperitivo is where you buy an alcoholic drink (usually an Aperol spritz, wine or beer) and it comes with free food. Depending on the cafe/bar, this can vary from small snacks like crisps and olives to a full buffet. It's perfect for the early evening until the sun goes down, and will keep you satisfied until dinner, which in Italian style should be late (most restaurants close after lunch and don't reopen until 7-8pm).
The student area around Piazza Giuseppe Verdi is lined with bars and cafes and so is great for aperitivo in a relaxed but lively atmosphere.
Dinner of Bologna specialities
As you're in the food capital of Italy you'll want to finish your day with a good meal. Bologna is famous for Tagliatelle al Ragù (don't try and order Spaghetti Bolognese!!) and so this is a must-try when in Bologna. Other local specialities include tortellini en brodo (tiny pasta parcels stuffed with meat and served in a broth) and lasagne verde (lasagne sheets covered with spinach).
The streets around the canals, such as Via Augusto Righi and Via Delle Moline, are lined with restaurants and bars and this is a good place to head for aperitivo or dinner. Check out Trattoria dal Biassanot or Trattoria Nonna Gigia for local specialities at reasonable prices.
Have more time in Bologna?
If you have more than one day in Bologna then you may want to take some time to visit some of the many museums and galleries in the city, such as the Archaeological Civic Museum which offers an insight into Bologna's history (€6 entrance). The Archiginnasio, once the main building of the University of Bologna and now home to the famous 17th century Anatomical Theatre, is also a popular attraction (€3 entrance).
Alternatively, you may want to consider a day trip from Bologna to one of the smaller towns in the region. Parma is just an hour away by train and worth a visit, not only so you can eat Parma ham and Parmigiano in Parma, but also to visit the beautiful cathedral. The other foodie towns of Reggio Emilia and Modena are close by, with the latter also being home to the Ferrari Museum.
ADVERTISEMENT
CONTINUE READING BELOW
Bologna one-day itinerary recap
Morning: Explore Piazza Maggiore
Lunch: Eat in the Quadrilatero neighbourhood
Afternoon: Visit Le due Torri (Two Towers), followed by gelato and then a visit to Sanctuary of the Madonna San Luca
Evening: Finish the day with aperitivo and a classic Bologna dinner
---
Tours and Activities
---
Summary
So if you're looking for places to add to your Italy itinerary or simply just looking for a weekend getaway, then Bologna is a perfect choice. It has all the charm, architecture and cultural sights of a classic Italian city but without the huge crowds of tourists. Ultimately it gives you an authentic experience of Italy, and that is something that is increasingly hard to find.
Related Articles