Venice is a city like no other. Emerging from the waters of the Venetian Lagoon, it has shaped the history of Italy for centuries. Today, it is the capital of the Veneto Region and one of the most romantic places in the world. Between architectural marvels, unique art, and superb sights, there are dozens of things to see and do in this city. If you're planning a trip, make sure to include these 10 best things to see and do in Venice in your itinerary.
1. Piazza San Marco and San Marco Basilica
Stunning Piazza San Marco is the perfect place to start an adventure in Venice. Renowned for its historical importance and framed by its famous ornate arched walkways, it's charming at dawn when the sun rises above the spectacular Basilica.
Built in 1092, San Marco Basilica is a sublime architectural piece and one of the most important Christian buildings in Northern Italy.
Fantastic in every aspect, from its ornate details to the artworks and sculptures on the front façade, this fine example of Italian Byzantine architecture surely knows how to conquer the hearts of those visiting it.
Next to the church, don't miss the San Marco Campanile; this bell tower dominates the square and the city, and you can enjoy amazing views from its top.
2. Palazzo Ducale
Easily accessible from Piazza San Marco, the Doges Palace was one of the most important buildings in Venice during the times of La Serenissima. The republic's former administrative centre, it's built in Venetian Gothic style and was converted into a museum in 1923.
Like most buildings in Venice, the palace impresses with its stunning façade decorated with white stone arches and ornamental diamond patterns on the walls.
The inside of the palace is as impressive as its exterior. Its intensively decorated walls still preserve original details, including artwork and furniture. A visit here is a must if you really want to capture the spirit of Venice.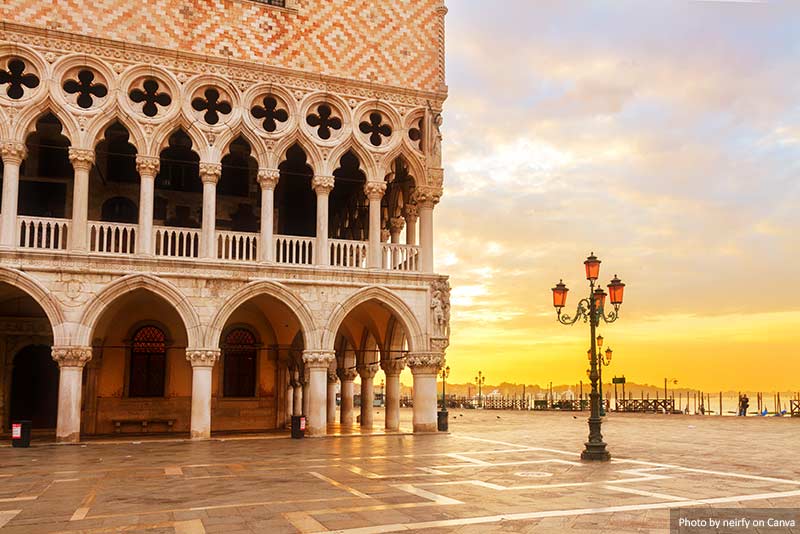 3. Bridge of Sighs
Passing over the Rio di Palazzo and linking a prison to Palazzo Ducale, the Bridge of Sighs (Ponte dei Sospiri) is more than a richly decorated small bridge.
According to the legend, criminals passing over this bridge on their way to the final judgment would sigh while catching a last glimpse of Venice before unavoidable imprisonment or death; hence the name of the bridge. Despite its grim history, this is one of the most iconic things to see in Venice.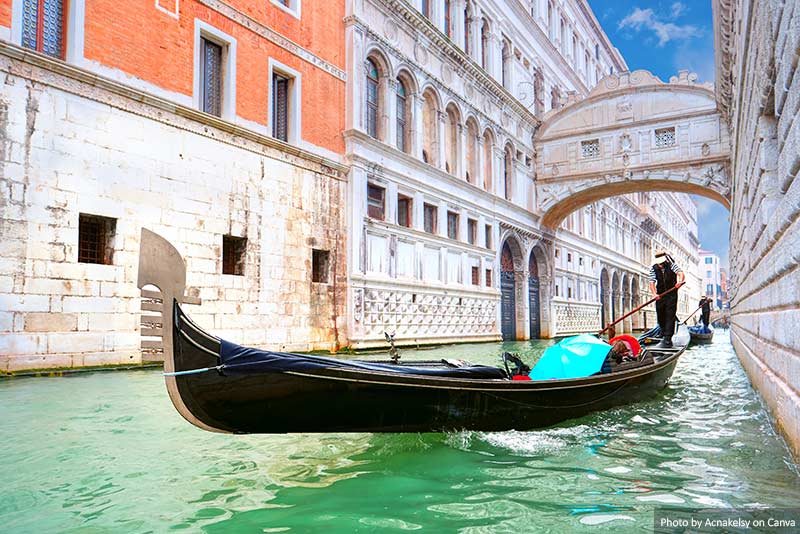 ADVERTISEMENT
CONTINUE READING BELOW
4. Aperitivo at Caffè Florian
There is hardly anything as rewarding as having an aperitif at Caffè Florian. Nestled in the heart of Piazza San Marco, this legendary café has been a staple for royalty since 1720. It's the first café in the world as well as a Neo-Baroque marvel.
Its interior hasn't changed much since the 18th century, and this place has attracted many personalities over the years, including Charlie Chaplin and Andy Warhol.
While having a snack here is by no means cheap, enjoying gourmet savouries, chocolates, and speciality coffee in this historical place is an experience like no other.
5. Rialto Bridge
Undoubtedly the most iconic bridge in Venice, Rialto Bridge (Ponte di Rialto) spans over the impressive Canal Grande and connects the districts of San Marco and San Polo.
Today a hugely popular stone bridge, it was originally built from wood. It was reconstructed in 1524, and the detailed design still reflects the decorative style of the Renaissance era. Embellishing Venice with its perfect symmetry, it's one of those unmissable things to see in the city.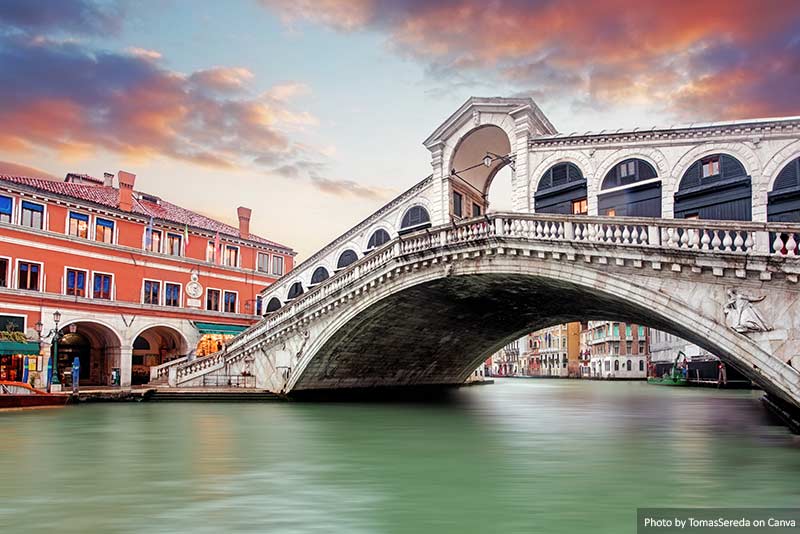 ADVERTISEMENT
CONTINUE READING BELOW
6. Murano, Burano and Torcello day trip
Venice is much more than the city spanning over the Lagoon. Its islands are as charming as the city, yet each displays a unique personality.
Murano is famous for its stunning glass masterpieces. Packed with ancient vetreria, it is the place to shop for unique souvenirs.
Torcello is famous for its cathedral, a fine example of Byzantine architecture built in the 7th century.
Burano is perhaps the most eye-catchy of them all. Known for its laces, it also impresses with its colourful houses and a slow-paced rhythm that encompasses the quintessence of life in the lagoon.
TIP
Consider booking yourself a
tour to visit Murano and Burano
. During the tour you'll learn more about the islands and also get to visit a glass factory and enjoy free time on both islands.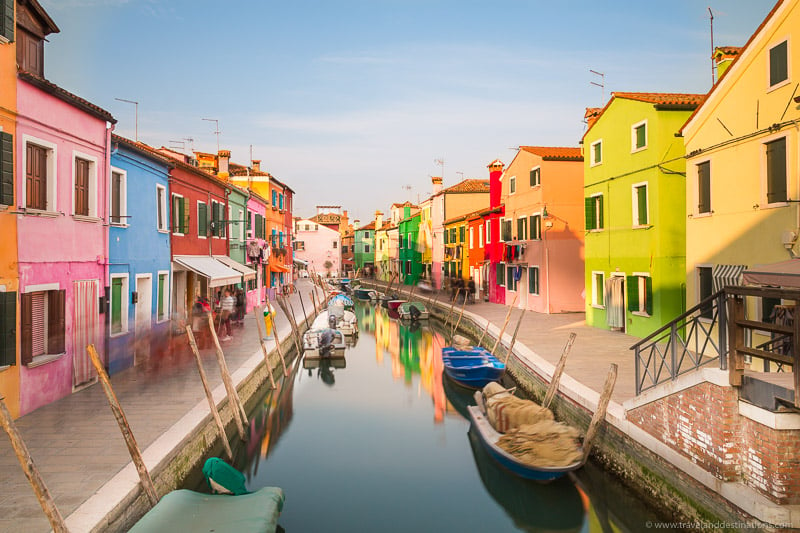 Tour Idea
7. Canal Grande
Cutting Venice in half, Canal Grande is the main canal in the city. Drifting along it is a must while in Venice, and you can do so with Venice's Vaporetto (public waterbus).
The equivalent of public transportation, these boats offer one of the most intense yet cheapest experiences you can find in the city. All you have to do is sit back, relax, and enjoy the amazing 13th-century buildings that line its banks.
If you don't feel like walking, know that the Vaporetto also passes under Rialto Bridge. This is also the most cost-effective way for accessing the nearby islands.
8. Gondola Ride
Gondolas are Venice's staple, and a gondola ride is one of the best things to do in Venice. But instead of taking a gondola along the Grand Canal, explore the smaller canals that wind along the city's districts.
9. The Jewish District
Established in 1516, the Jewish District in Venice is a true marvel to discover. It's the world's oldest ghetto and dates from the times of the Venetian Republic when the city restricted the area accessible to the Jews.
Dotted with synagogues, museums, and Jewish restaurants where to taste one-of-a-kind delicacies, this is a fascinating place for culture and history enthusiasts.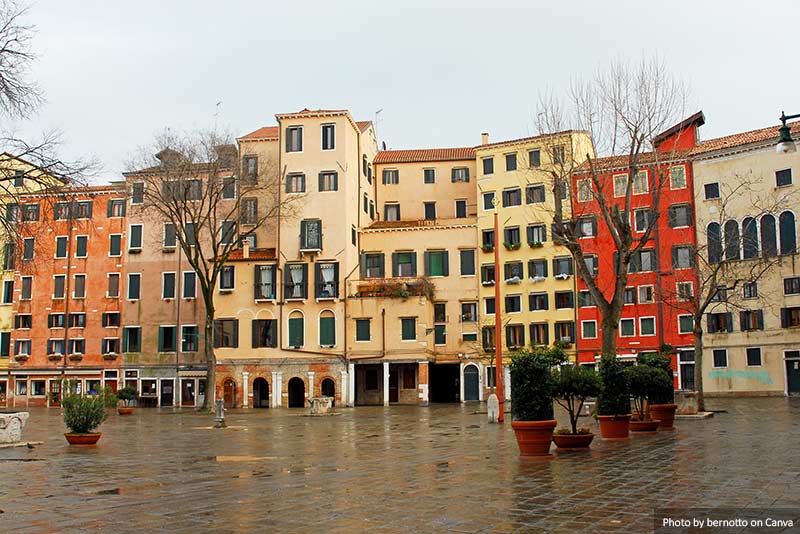 10. Basilica Santa Maria della Salute
Standing on the Punta della Dogana in the District of Dorsoduro, this splendid Roman Catholic church is another unmissable landmark.
This vast octagonal building impresses with its two domes, while its picturesque bell towers offer the postcard-perfect landscape you'd expect from such a monumental city. Stunning sculptures on the façade draw the attention, while the interior is as eye-catchy as the exterior.
Defining the Venetian skyline since 1681, this emblematic sight is an inspiring thing to see during your trip.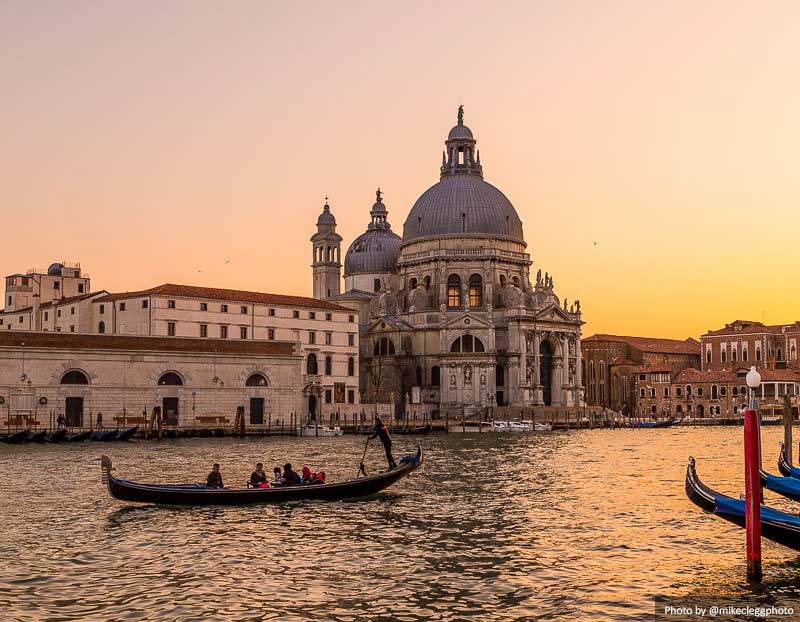 ---
Tours and Activities
---
Summary
Venice is a unique marvel to see at least once in your life. From stunning architecture to impressive art, rich history, and unique attractions, this place has it all. Make sure to include these 10 best things to see and do in Venice on your bucket list and get ready to live the adventure of a lifetime.
Start Booking
Here are some top options to book your hotels, activities, flights and other transport:
---
Please note that we get a small commission if you purchase via our referral links. We use this to invest in new content and improving this website. Thanks so much for your support.
Related Articles