Florence – the city of the duomo and Michelangelo's David – is the very heart of Italy and is home to some of the most remarkable museums and galleries in the world.
Florence is also among Italy's most popular tourist destinations, but just outside of the famous city there are the beautiful countryside, picturesque hilly landscapes, and charming villages that can be reached by a short trip.
Nestled in central Italy and well-connected as the capital of Tuscany, there is arguably no better place than Florence to use as a base for day trips in all of central Italy. As you'll see, the best day trips and tours from Florence are incredibly diverse, and ideal for a wide variety of travellers. Including activities that would be great for groups, families, and those looking for outdoor experiences.
Once you have ticked off all the major places and landmarks in the city, it is time to expand your horizons and venture a little further for fantastic day trips around and beyond Tuscany.
So, without any further delay let's explore the best day trips from Florence!
---
1. Pisa – See an iconic landmark in Italy
Visiting one of the most iconic landmarks in Italy (if not all of Europe), the Leaning Tower of Pisa is naturally the first thing to do in Pisa.
The Leaning Tower of Pisa is situated in the UNESCO's Piazza del Miracoli (Square of miracles), which itself is worthy of your explorations.
Once you've snapped your cheesy-but-fun selfies while holding up the tower, there is a whole bunch of other cultural gems to explore. Be sure to spend some time visiting the stunning Pisa Cathedral and baptistery!
The Pisa Cathedral is mighty and breathtaking with its white marble facade and heavy bronze doors. Climb and stroll atop Pisa's ancient city walls for a stunning bird's-eye view of the city.
A guided tour is a good option though if you prefer one. This half-day tour from Florence is a great option to explore and understand the city and its cultural gems in a lot more detail.
Pisa is an easy just over an hour regional train ride away from Florence and takes nearer an hour and a half by car. If you want to climb the tower, booking tickets in advance is a must to ensure you get a chance to head to the top.
You May Like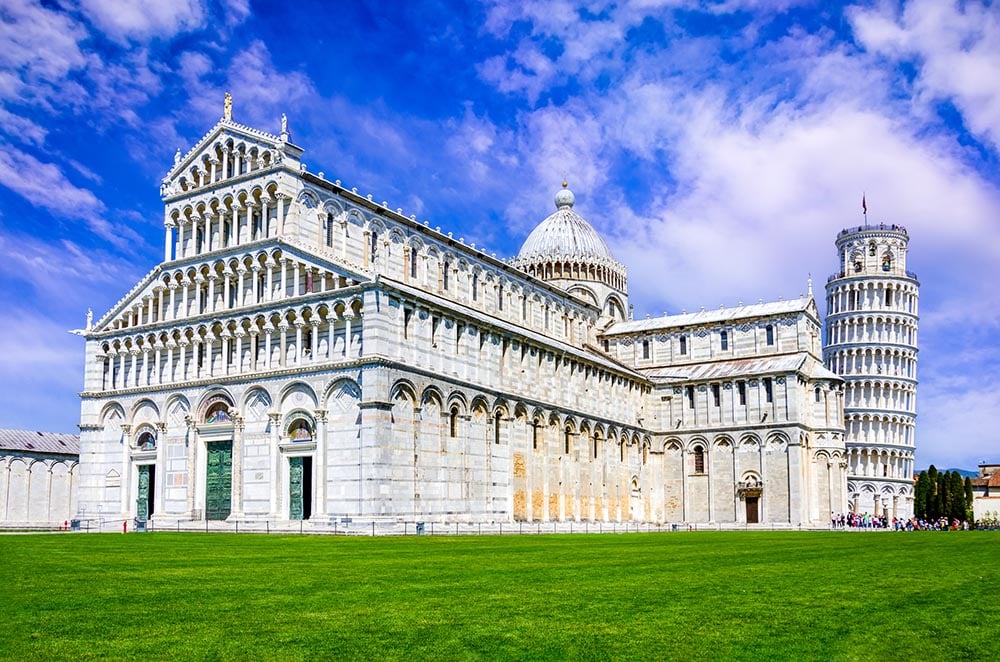 2. Chianti – Explore Italy's most unique winemaking region
Chianti – one of the most unique winemaking regions – is the most popular area in Tuscany for many reasons: charming landscapes, fabulous agriturismos, small towns, delicious food, and, of course, one of the best collections of wines in the world.
A trip to the Chianti countryside is a fast-and-easy option when looking for day trips from Florence that will offer you a chance to see the picturesque Tuscan countryside, visit the vineyards and taste wines, and enjoy some local delicacies in some of the best restaurants in all of Italy.
The Chianti region is world-renowned for its production of 'Chianti Classico' wine. You can explore the Chianti region by car, or if you want to be more active, a bicycle or bike is a great option.
The meandering, smooth roads are ideal for road biking and dividing the journey with wine tasting and olive oil sampling. A drive through the Monti del Chianti takes you through some of the most charming scenery in Italy.
A guided tour such as a Full-Day Wine tasting tour from Florence is another great way to explore the wine region of Chianti.
You May Like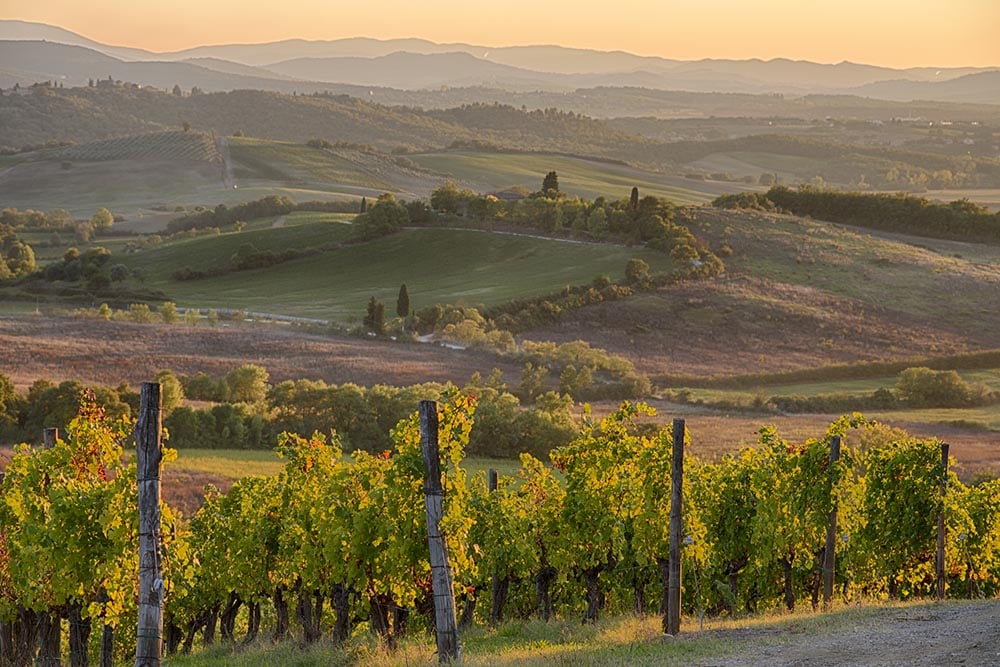 ADVERTISEMENT
CONTINUE READING BELOW
3. San Gimignano and Siena – Trip for an ideal Tuscan adventure
A trip to San Gimignano covers your morning and, in the afternoon, you'll be fairly relaxed enough to wander onwards to Siena, for the ideal Tuscan adventure.
Easily one of the most popular day trips from Florence, San Gimignano is known for its soaring towers (also called 'the medieval Manhattan' because of its ancient towers), beautiful views, prime location in Tuscany, and delicious gelato – Gelateria Dondoli is well-known for the best gelato in all of Italy!
The best thing to do here is to walk along the narrow cobblestoned streets and cherish the stunning medieval edifices.
Though you can't take a train from Florence to San Gimignano directly, you can travel there independently by bus or car. It is just an hour's drive from Florence and the road itself is a piece of art with its olive groves, vineyards, hills dotted with rustic agriturismos, and ancient farms.
A visit to Siena induces an architectural element into the day trip and takes you to visit the Siena Cathedral and the Palazzo Publico which are both in the Piazza del Campo town center, which is a UNESCO world heritage site without any surprise. Don't miss an opportunity to admire Siena's city view from above on a day trip.
Also, the Piazza del Campo is the venue for the famous Palio horse race which runs twice each summer and is quite the thrill to witness.
Siena can easily be reached from Florence by car, train, or bus. Below are also a few tour ideas you may also like.
Tour Ideas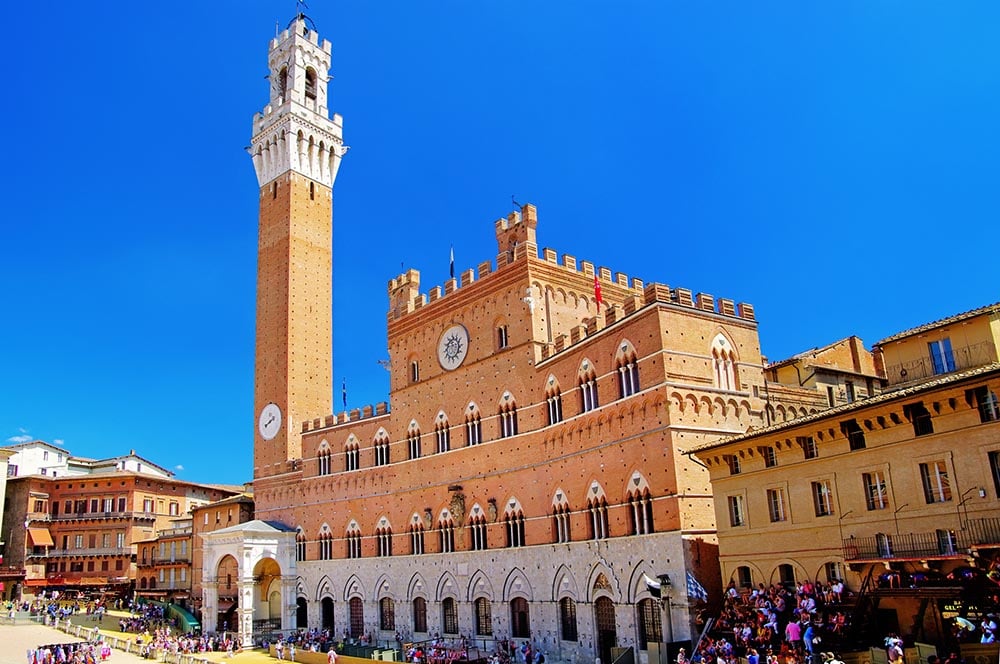 4. Cortona – Trip to one of Tuscany's classic hilltop towns
One of the prettiest and among Tuscany's classic hilltop towns, Cortona is captivating and charming with its historical stone walls and winding streets.
Nestling atop the hill means that Cortona offers stunning views of the sprawling valley at the bottom and features the magical Lake Trasimeno in the panoramic sight.
Cortona is known to English speakers mostly because of the Frances Mayes' best-seller book 'Under the Tuscan Sun' or perhaps seen footage of the town in the movie adaption of the book starring Diane Lane. It is equally as captivating in person as it is in the movie.
Cortona's perfectly preserved central medieval square, its churches and museums, and the nearby Eremo Le Celle (Hermitage) which dates back to St Francis' times are some of the must-see attractions that are not to be missed.
Also, make sure you have lunch in Cortona or at least go for aperitivo, so you can try the local specialties such as the delicious ciaccia (local focaccia)!
The town is just more than an hour and a half drive away from Florence. You can travel there independently by car or can book a combined guided day tour of Assisi and Cortona from Florence.
Tour Ideas
5. Montepulciano – Visit the jewel of the sixteenth century
Montepulciano is yet another best example of Tuscany's true beauty.
A medieval town placed high upon a hill that is home to Renaissance palaces, dozens of perfectly preserved churches, a maze of cobbled streets, thermal springs, and excellent wine. Moreover, it is famous for its Vino Nobile, an Italian product popular worldwide.
Due to its fabulous Renaissance art and architecture, Montepulciano is also known as a jewel of the sixteenth century. Rustic yet elegant, Montepulciano is an absolute must-visit.
Encircled by vineyards that stretch as far as the eye can see Montepulciano is the epitome of what travellers dream about in the run-up to their visit to Italy.
Montepulciano is less than a two-hour drive from Florence. If you are short on time, it is better to couple a half-day trip to Montepulciano with a half-day visit to Cortona.
Tour Ideas
ADVERTISEMENT
CONTINUE READING BELOW
6. Cinque Terre – Explore the coastal villages on the Italian Riviera
Cinque Terre is an area of striking natural beauty in Liguria.
There's no doubt that Cinque Terre is among the most sought-after day trips from Florence: these delightful collections of ancient coastal villages on the Italian Riviera have won hearts around the globe due to their incredible natural beauty.
There are five small towns and villages that formed the Cinque Terre which are Manarola, Corniglia, Monterosso al Mare, Riomaggiore, and Vernazza which are precariously nestled on cliff edges that stretch jaggedly downwards towards the coast of Liguria. Each one is uniquely distinct from the others.
The villages of Cinque Terre are fairy-tale-like in their structure and placement. The culture and land of the Cinque Terre is protected as a national park and has been designated as UNESCO World Heritage Site.
The Cinque Terre area is well-known for being the origin of pesto. Your visit to this place can't be complete without having sampled some of this world-famous sauce and perhaps purchasing some to take away with you at home.
To make your trip much simpler, the best way to visit Cinque Terre from Florence is by a guided tour that will ensure transport arrangements, not otherwise exceptionally straightforward in this area.
Tour Ideas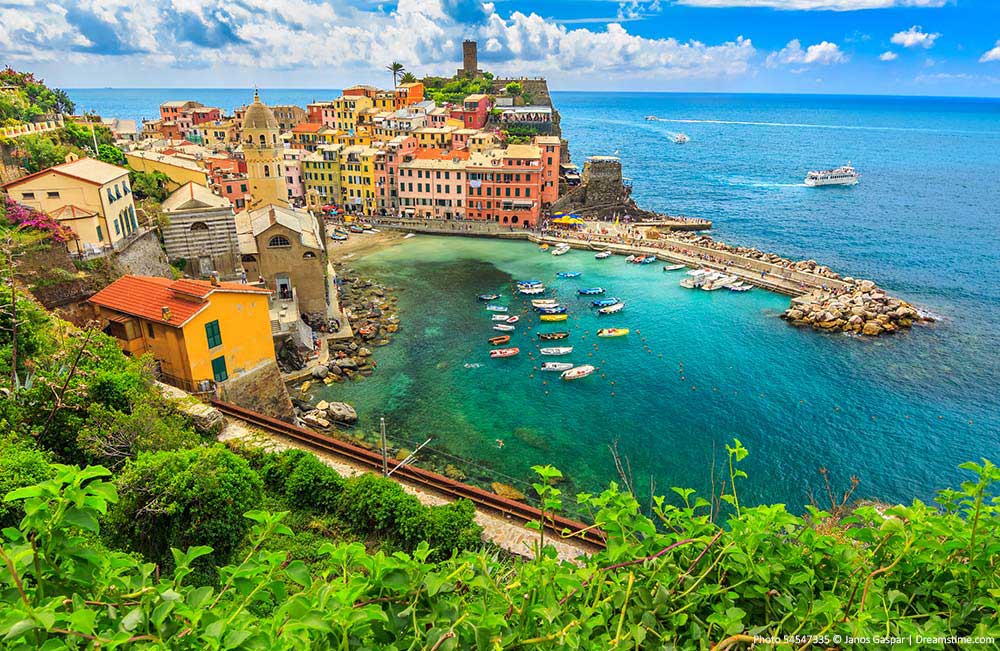 7. Lucca – A perfect destination for families with kids
Lucca is another pretty small town in Tuscany and an ideal day trip from Florence by train. The town has preserved medieval walls and a magnificent historical center with plenty of beautiful churches, restaurants, and shops, for a pleasant day of sightseeing.
Lucca is home to a lot of wonderful Italian architectural and historical gems that offer fascinating insights into Italy's past.
The Guinigi Tower in Lucca is among the most unique structures in Italy. Not to be missed in Lucca is the stunning Piazza dell'Anfiteatro, one of the most stunning piazzas in Italy with a local market and dozens of classic Tuscan cafes serving local wine and traditional dishes.
Moreover, Lucca is one of the most convenient Tuscan cities to explore for families with kids. The town's ancient walls are now a park and they have a beautiful cycling trail easy to manage at any age. Walk along the ancient city walls to adore the best panoramas over the city.
The best way to reach Lucca from Florence is by a drive which will take about an hour. Else, you can opt for a combined day tour to Lucca and Pisa from Florence.
Tour Ideas
ADVERTISEMENT
CONTINUE READING BELOW
8. Val d'Orcia – Trip to a picturesque area of Tuscany
Val d'Orcia is where the cypress trees, winding roads, rolling hills, and olive groves that most associate with Tuscany actually are.
The endless fields and rolling hills of the Val d'Orcia are often considered the most picturesque area in Tuscany–and with good reason.
This part of Tuscany is truly a treat for the eyes, and exactly the place to come if you are looking for the perfect Tuscan countryside of movies and postcards.
The entire region is protected as a natural park and includes several castles, hamlets, villages, and farmhouses that visitors can best explore during a day trip all of its own and can be easily transited from Florence city center.
The most popular town is a UNESCO world heritage site, the hilltop city of Pienza with fabulous architecture and fantastic views over the Crete Senesi area.
A valley that is known worldwide for its wine and cheese production (famous Pecorino Romano cheese which uses sheep's milk only made in this area of Italy), an excursion to Val d'Orcia is all about the food.
You can either choose a guided tour or just need to rent a car to effectively make the trip happen.
Tour Ideas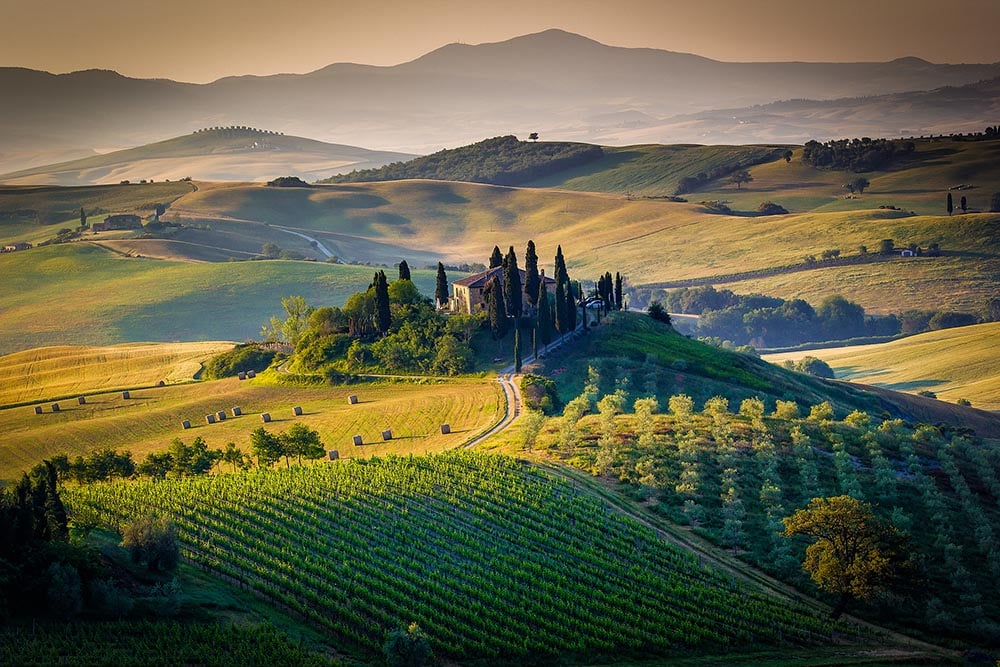 ADVERTISEMENT
CONTINUE READING BELOW
9. Volterra – Visit a delightful Tuscan hilltop town
A little more off the beaten track, Volterra is a traditional Tuscan town that is well worth a visit.
Volterra is a walled, hilltop town that houses just about eleven thousand people. It is a town steeped in mystic folklore and will be of definite interest for avid followers of the 'Twilight' saga, but fans might be disappointed to know that the movie scenes were actually captured in Montepulciano.
Try to have a conversation with locals about the vampire legends that originated in this town and have spread around the globe.
Visit Piazza dei Priori, check out the city's Roman ruins, stroll through the remaining Etruscan walls and gates, and the charming local cathedral and baptistery. The Alabaster Museum is a must-visit and home to the priceless stone that put this town on the map.
Volterra has a number of amazing restaurants serving traditional Tuscan cheese that are not to be missed.
Unlike most previous Florence day trips, Volterra is not reachable directly by train. However, driving is a convenient way to reach Volterra. Also, you can choose a guided tour or transfer from a train to a bus and reach Volterra in about two and half hours each way.
Tour Ideas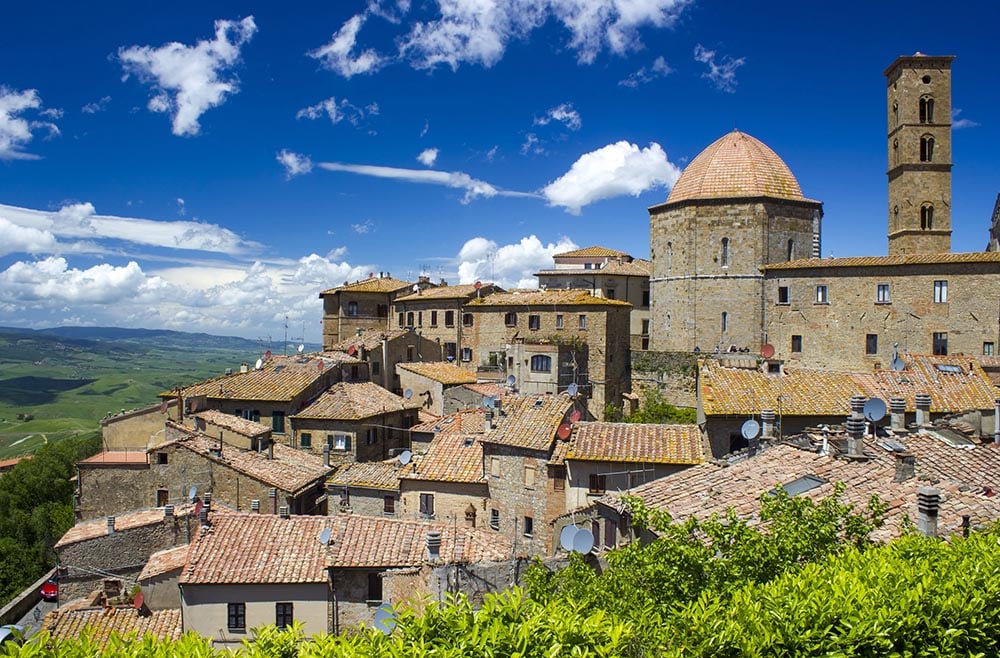 10. Arezzo – Visit to do a little shopping for antiques
Arezzo is not as well-known in the tourist circle as somewhere like Pisa or Siena, and this is the reason why you should explore it before everyone else discovers it.
Don't forget to check out the Medici Fortress while you're there. Pay a visit to the archaeological museum, and a central square that is as picturesque as it appears in Roberto Benigni's classic film 'Life is Beautiful' (La vita è Bella).
Another must-visit spot is the Church of San Francesco, which hosts the fresco cycle 'Legends of the True Cross' by Piero della Francesca. Climb to the top of the clock tower at the Palazzo della Fraternita dei Laici for some incredible panoramic views.
If you are in Arezzo on the first weekend of the month, don't miss the popular and fun Arezzo Antique Fair. Arezzo is also famous for its antiquing, so if you'd like to do some shopping for antiques during your trip to Tuscany, this is the ideal place to do so!
Situated less than an hour south of Florence by train, Arezzo is easy to reach and easy to enjoy, boasting gorgeous churches, beautiful views over the Tuscan countryside, and plenty to do.
Tour Ideas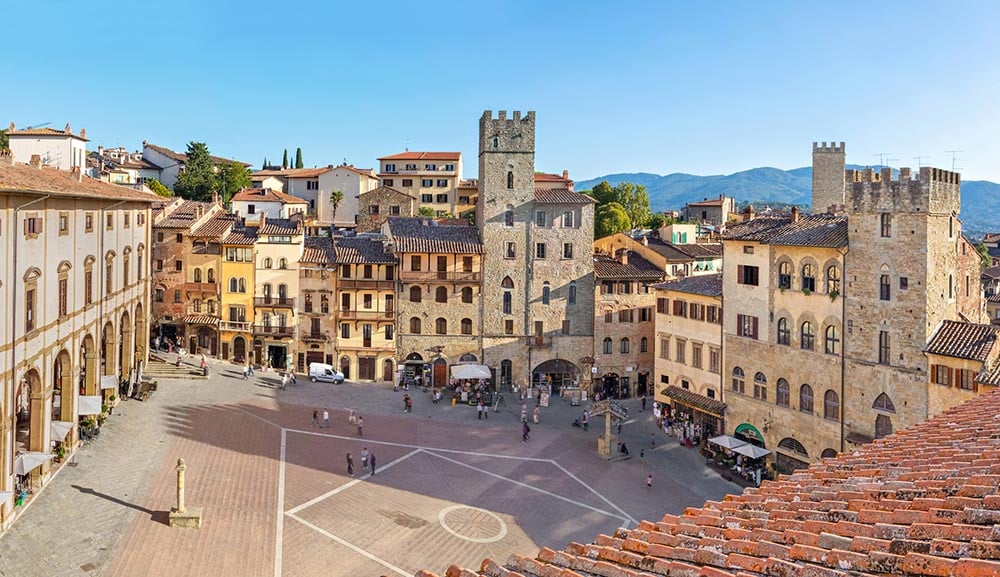 ---
More tours and activities
---
Summary
From medieval towns to wineries and areas of great natural beauty in Tuscany, these are some of the best day trips from Florence to take after you have enjoyed the city's must-see sites.
Rather than focus on a particular place or city, these easy trips from Florence are all about having some unforgettable experiences in Tuscany.
Due to some excellent road and train networks in the area and the vast choice of guided tours, it is going to be very easy for travellers to plan side-trips from Florence.
So, what are you waiting for? Just pack your bags and just leave for your ultimate Tuscany experience.
Ready to book? Search for:
---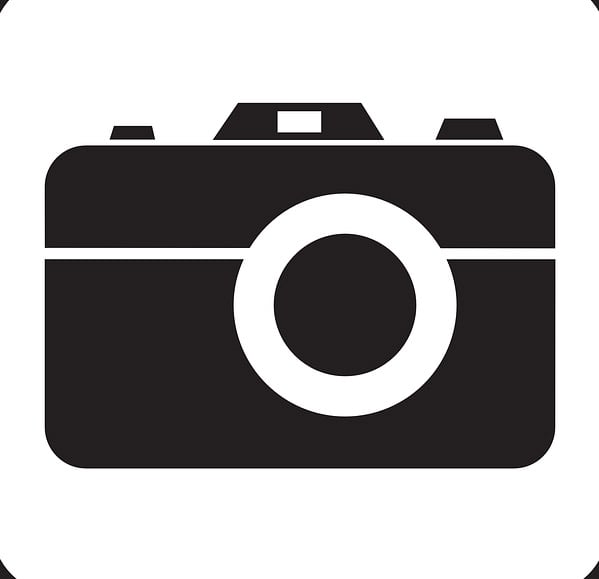 Related Articles