Visiting Venice in winter is a marvellous and memorable experience that you will cherish for a long time. Winter is mostly considered as a romantic season in Venice, and the smaller number of crowds, lower prices with some of the best things to do and witness during this particular period in Venice make it a wonderful time to visit.
Venice is a walkable city and if you are in good fitness, the ideal way to discover it is by foot or consider taking the vaporetti or water buses. These are a quick, affordable, and convenient way to move around, even in winter. Above all, transportation prices will be at a yearly low during the entire winter. So, there will be a great opportunity to save a lot of money by booking your trip to Venice in the winter!
The weather during winter in Venice will be a bit cold (average temperature of 38°F (3°C) in January and 41°F in February), but visiting Venice in winter is quite enjoyable. Always make sure to keep yourself warm and dry during your stay in Venice.
Winter in Venice is normally between December to February, but months such as November and March can feel wintery in Venice as well. Winter in Venice means Christmas decorations and Carnival, a foggy fairy-tale world, and the occurrence of snow and lesser crowds to fight.
With these 11 best things to do in Venice and a handy guide by your side, you will be off to a magical trip to the city of canals.
---
1. Enjoy a Gondola Ride Through the Fog
Although winter in Venice tends to be pretty cold, that definitely shouldn't be the reason to skip the ultimate experience of a gondola ride!
A gondola ride through the fog of Venetian canals is a magical experience that no one should miss while in Venice during winter. The winter mists can even add an extra layer to the experience as it makes everything appear extremely fuzzy in the winter season.
Meandering through the canal water with the buildings towering over you, regardless of whether it's sunny or foggy, is an out of this world feeling. During winter, the waterways will be far less crowded when visiting, and to keep you warm, lap blankets will be available.
You can go for a private gondola ride, but it's on the pricey side – around €70 for half an hour usually, but always be sure to check the rates online before going to avoid surprises later about the cost. You could also choose to go on a small group (up to six people) tour and split the cost. For centuries, gondolas have been the primary medium of transportation in Venice, which became an icon of the Floating City. There are many gondola stations located across the city to choose from.
A gondola ride should be the first and one of the must things to do in Venice in any season, and your trip to Venice may feel incomplete without experiencing this!
You May Like
2. Go to The Opera at Teatro La Fenice
Venice is the birthplace of the world-famous classical composer Vivaldi, and also home to one of the most renowned opera houses in Italy, Teatro La Fenice. It has been Venice's main theatre for almost 300 years!
Built-in 1792, La Fenice is well known for staging various popular operas all over the year. Today, it is not just considered as an iconic landmark but is also remembered for its dark past where it was burned down on three different occasions in its history and was rebuilt again from the ashes. The theatre is aptly named after the 'Phoenix', after rising from the ashes.
Watching an opera is a must-do activity on your trip to Venice, especially in the winter months with shorter daylight hours. La Fenice offers not only opera performances, but also ballets, musical concerts, and other events. There are some other places across the city, where you can also see opera performances, like the Palazzo Barbarigo Minotto, or at the Palazzo delle Prigioni. If you are curious about great operas and theatre history, go for a guided tour through one of the most famous theatres in the world. Don't forget to book early!
Activity Option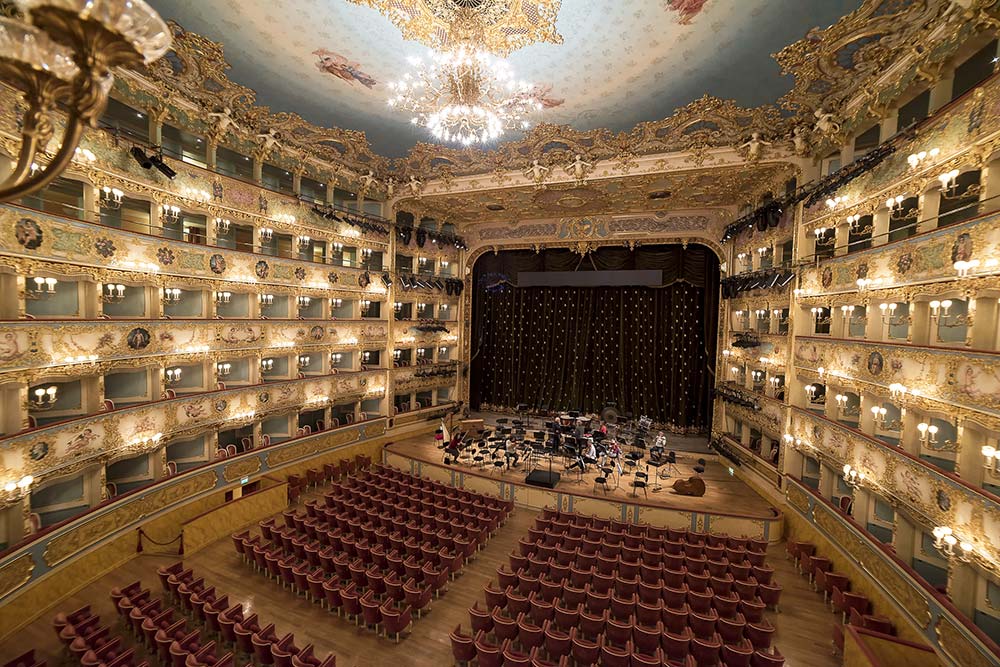 ADVERTISEMENT
CONTINUE READING BELOW
3. Enjoy The View from a Roof Terrace
One of the best things to do in Venice in winter is to enjoy a breathtaking view over Venice from a roof terrace! Don't forget to add this activity to your Venice itinerary.
The T Fondaco dei Tedeschi is a grand department store next to the Rialto Bridge which has a stunning roof terrace with a unique panoramic view of Venice. Entrance onto the terrace is free – you just need to book a 15 minutes time slot on their website in advance. Trust me, you will never get tired of this view.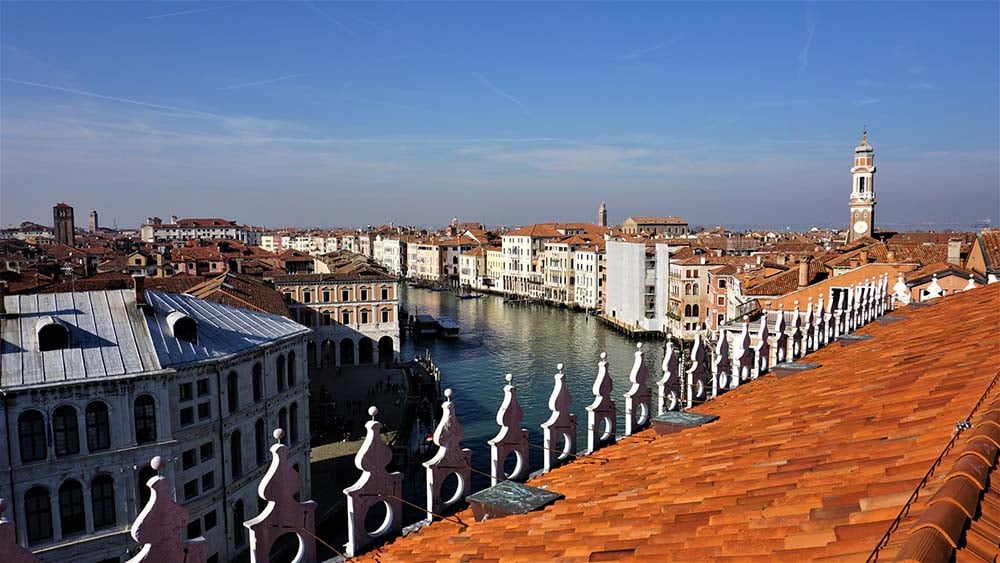 4. Ice Skate in Campo San Polo Square
What could be the perfect way to spend a very romantic winter day in Venice than with ice skating? It's full of fun and healthy activity at the same time!
The beautiful square of Campo San Polo turns up a grand temporary ice rink during the winter months in Venice. It normally opens in early December and closes in late February. Be sure to check the Campo San Polo skating timetable online before going for the Ice Skating as the schedule may be subject to change.
The rink offers skate hire, and a skate session costs for non-residents adults €12 and €10 for children under 12. If you have your own skates then charges are slightly reduced. It'll be the ideal pastime and one of the must-do outdoor activities in Venice during winter months with one of a kind experiences!
ADVERTISEMENT
CONTINUE READING BELOW
5. Unmask Yourself at Carnevale Di Venezia
Everyone has heard of the picturesque Venice Carnival, which takes place every year in Venice in February for around two weeks and finishes on Shrove Tuesday. Lavishly ornamented masks, period costumes, folk events, fancy balls, and fun for both adults and kids are the main constituents of these two weeks.
The city of canals wakes from hibernation with a colourful extravaganza, where carnival parties are held all over the city, offering dinner and entertainment. Venice is particularly famous for its masks, and tourists flock from around the globe to witness this spectacular gala.
Among the stunning events which are traditionally part of the Venice Carnival, don't miss the Flight of the Angel (usually on the Sunday before Shrove Thursday), the Water Parade (which takes place on Rio di Cannaregio – one of the main canals in Venice), and a masked ball in an ancient palace of Venice.
Try to visit Venice in winter so that you get to experience Carnevale Di Venezia for yourself!
6. Treat Yourself to the Venetian Hot Chocolate
Venice knows how to make hot chocolate (known as cioccolato caldo or cioccolata calda). Famous for making its chocolate, the city's version of this is more the consistency of a thick pudding, and easier consumed with a spoon than sipping it. Casanova himself called the drink his favourite.
While the historic Cafe Florian in St. Mark's Square might be the most ideal place to treat yourself to a delicious cup of hot chocolate, but Venice's traditional hot chocolate is served almost everywhere, at any time.
You May Like
7. Get Lost in The Venice Fog
Now, this might not seem like a great reason to visit Venice in winter, but there are few things as satisfying as wandering through the streets and alleyways to explore off-the-beaten track. Wake up early during your winter break in Venice and go for a stroll in the early hours of the morning when the city is misty to get the feel of a romantic city softened by the winter mist.
When the mist creeps in from the Adriatic Sea, the city takes on a totally new appearance. It feels as though you are in a real-life fairy tale, adding an other-worldly charm to an already stunning city. It's as if the city has been wrapped in a white woollen blanket; the sound is muffled, boats slow down to a walking pace and buildings disappear into the mist, leaving just fade outlines of themselves. The city is never calm or quieter than during the fog, and it adds an additional layer of magical mystery to an already obscured city.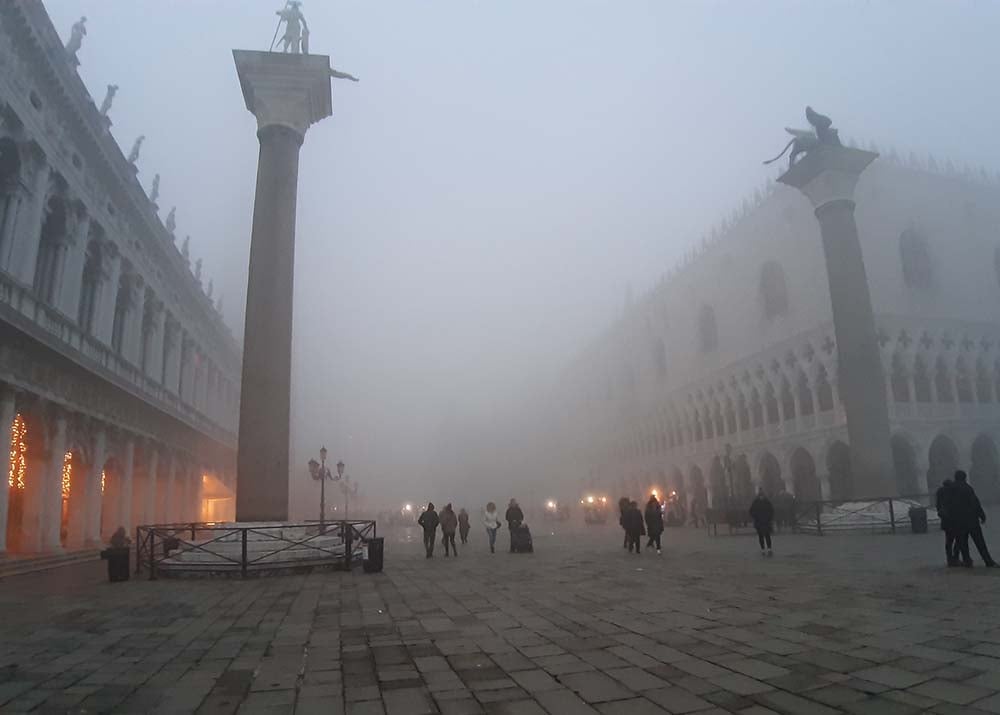 ADVERTISEMENT
CONTINUE READING BELOW
8. Adore The Christmas Lights and Decorations All Over the City
The City of Canals gets well, even more magical during the Christmas holidays!
One of the best times to visit Venice is the days leading to Christmas. You'll witness stunning lights and gorgeous decorations all over the city, and even on the gondolas. Due to shorter daylight hours, it gets dark pretty early in winter, so a fun thing to do is stroll around the city to see the lights.
There is a Christmas concert in almost every church and most of the popular sights are decorated beautifully, such as the Rialto Bridge (don't miss the 'Natale di Luce' event here!) and St. Mark's Square. Needless to say, this comprises a giant Christmas tree. The tree is usually placed in front of the Doge's Palace in St. Mark's Square.
Another special attraction is 'Natale di Vetro' (Christmas of Glass) on Murano Island. The event features incredible glass decorations including a glass Christmas tree. The main square of the Venetian Ghetto hosts many Hanukkah celebrations presenting the music, dancing, Jewish Menorah lights, and food. If you are in Venice during Christmas time, don't miss them!
You will also find lots of lights dangling in the streets and narrow alleys. The great thing is, the Christmas lights in Venice are usually there until the Carnival period is over. This means you have the chance to enjoy them at least up until mid-February!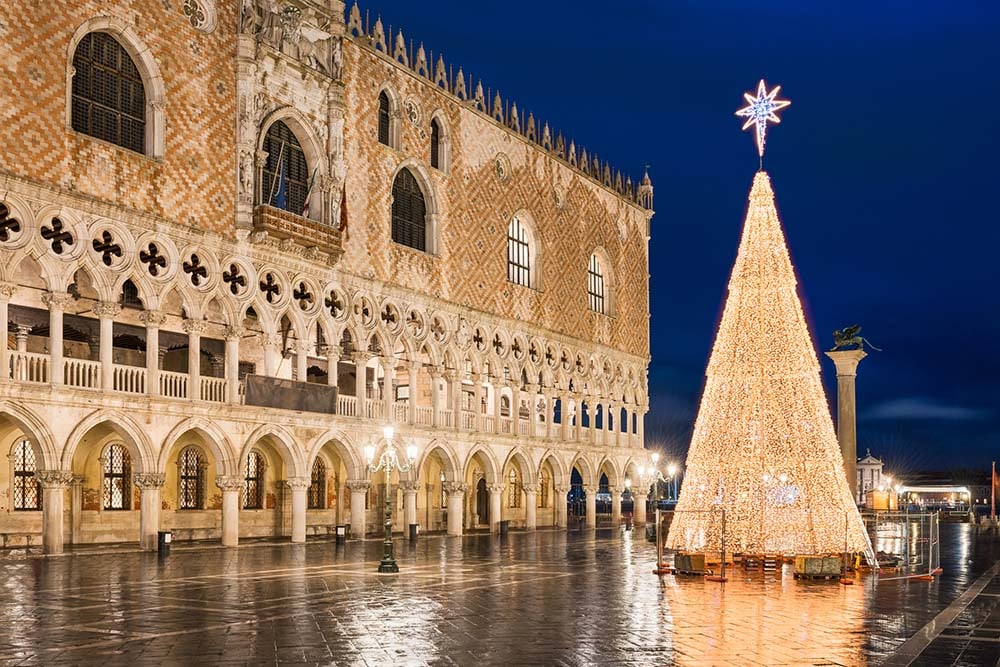 9. Embrace some shopping in Venice's Christmas markets
Venice is an incredible city for Christmas shopping, thanks to its unmatched handmade gifts like glass ornaments, shoes, wooden puzzles, and Burano lace decorations. Campo Santo Stefano square in the Dorsoduro district transforms into a festive emporium for the month of December and becomes the heart for Christmas shopping. The Christmas Market consists of around 30 wooden chalets with local food products and authentic handicrafts on display.
Campo San Stefano Christmas Market won't disappoint the food lovers either. Stalls offer traditional sweets like truffles, almond nougat, and panettone along with a selection of popular Italian foods, like olive oil and balsamic vinegar.
The grand Campo Santo Stefano square is an ideal place to sit in an outdoor café and enjoy the festive ambience of the Christmas Market. The square is located right in the heart of Venice and just a short walk from San Marco and Rialto will take you to the square.
A day trip to the nearby island of Murano for the 'Natale di Vetro' (Christmas of Glass) celebration can be a truly unforgettable shopping experience, with plenty of great glass gift options and grab a handcrafted piece to bring home.
10. Celebrate New Year's Eve in St. Mark's Square
Expect some fireworks if you're going to spend New Year's Eve in Venice. Mostly the heart of the celebrations locates around St Mark's Square in front of the Doge's Palace, where thousands of locals gather along the waterfront to raise a toast to the new year.
Restaurants provide banquets of numerous courses to kick-off 'La Festa di San Silvestro' or a traditional Venetian New Year's Eve. Bars throughout the city charge up the evening's party people with an 'ombra' (a small glass of wine) and aperitive. Make sure to ask for a slice of the traditional Tiramisu, before leaving.
For midnight, head to St Mark's Square to witness the Venice skyline lit up with spectacular fireworks and you can join thousands of people to exchange celebratory kisses in the annual "kiss-in". It's a great way to end one year and kick off the next, creating unforgettable memories.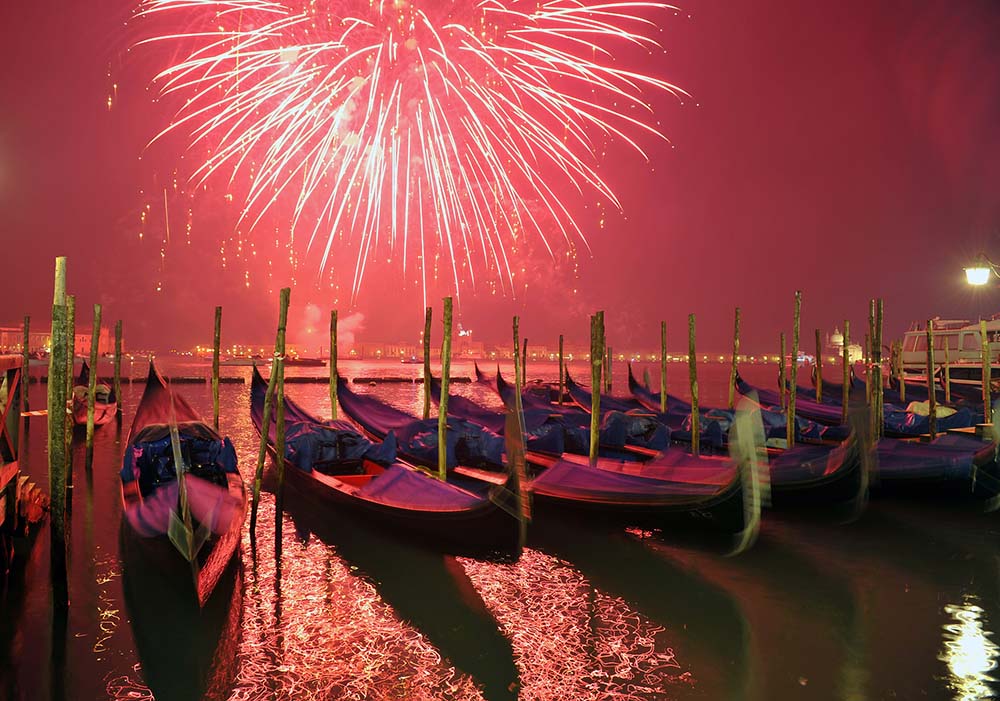 ADVERTISEMENT
CONTINUE READING BELOW
11. Be Prepared for Acqua alta
Venice is surrounded by its meandering canals, but there are always two sides to every coin. What many visitors to the city don't know is that the winter months are the season for high water (known as Acqua alta) in Venice. This is a natural phenomenon where high tides cause partial flooding of the city, waterlogging iconic places, such as St. Mark's Square (it can reach up to five feet of seawater).
While the experience can create incredible photo opportunities, it doesn't indicate well for things to come in this magical, floating city. In fact, there's no escaping Acqua alta, but booking a room on one of the top floors of any classy and unique hotel will keep your feet dry in your home away from home.
If you're planning to go out and explore Venice during high water, the most important thing you'll need is your wellington boots and thick socks for comfort and warmth!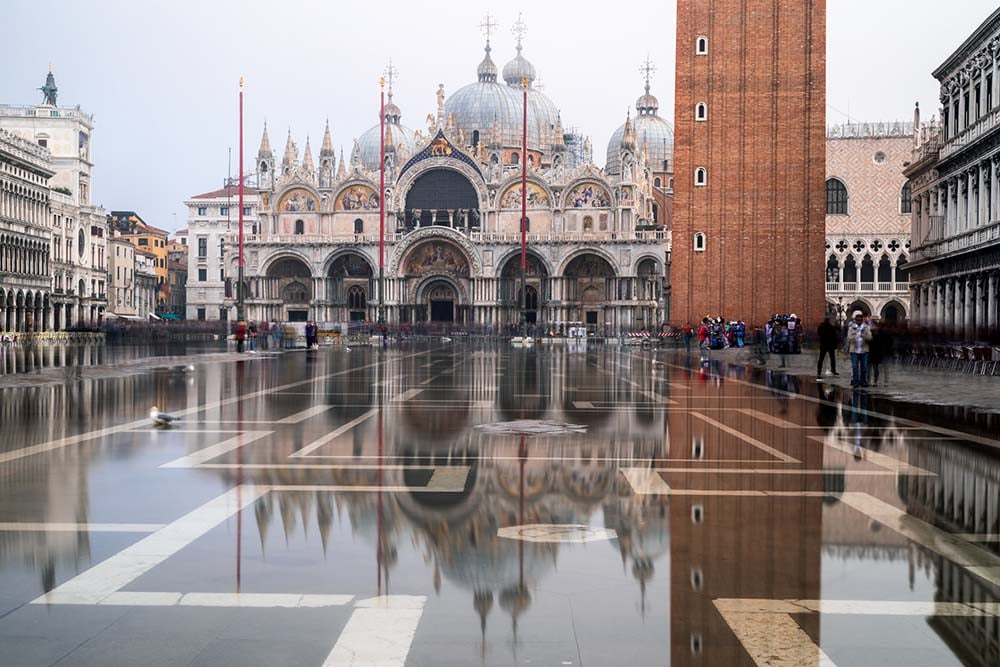 Summary
So, that concludes our list of the 11 best things to do in Venice during the winter months. If you are not bothered about cold weather conditions, visiting Venice in winter can be the best choice ever: a magical and romantic atmosphere, several exciting events, and a limited number of tourists than usual are some good reasons to start planning your next trip to Venice in winter!
We hope that this has been a handy and informative list that has helped you with planning your own things to do in Venice in winter.
Ready to book? Search for:
---
---
Tours and activities
Related Articles