When you imagine Italy the chances are that alongside images of the Colosseum and Venetian canals you'll conjure up images of colourful buildings perched on cliffs over sparkling blue water. These iconic images of Italy are found in Cinque Terre along the coast.
Cinque Terre, on the northwest coast of Italy, is an extremely popular destination for people wanting to experience and capture those iconic images themselves. Consisting of five small UNESCO protected villages: Monterosso, Vernazza, Corniglia, Manarola and Riomaggiore, each with its own charm, you'll want to spend some time exploring each one. But there's a lot more to Cinque Terre than just the famous five, and the surrounding area has some equally beautiful spots but without the hordes of people.
---
How to get to Cinque Terre
Cinque Terre is well connected to the rest of Italy by train. The closest city with an international airport is Genoa, which is just over an hour away by train, but you can also catch direct trains from Pisa or Rome. See trains on Omio or ItaliaRail.
Another option is to take a day tour which are available from places such as Milan, Florence, Pisa and many other places. See tours for Cinque Terre through our partner GetYourGuide.
---
When to visit
The best months to visit Cinque Terre are probably the shoulder seasons of April – May and September – October. Visiting at this time should mean you have the benefit of blue skies without the huge crowds that descend here in the middle of summer, and with more pleasant temperatures for hiking.
---
Where to stay in and around Cinque Terre
If you want to stay right in the middle of Cinque Terre there is a limited amount of accommodation available in the five villages, however, expect these to come with a suitably high price tag.
If you're looking for something a bit more budget-friendly but still convenient, look at accommodation in La Spezia. This is the closest town to Cinque Terre lying just south, and only 7 minutes by train, from Riomaggiore.
Trains run frequently throughout the day between La Spezia and Levanto (the town just north of Cinque Terre) and stop at all five Cinque Terre villages. The train station is in the centre of La Spezia and there are plenty of shops and restaurants here too. It's, therefore, an ideal base for your time in Cinque Terre. For other options have a look on TripAdvisor or booking.com.
ADVERTISEMENT
CONTINUE READING BELOW
---
The five Cinque Terre villages
Each Cinque Terre village is spectacular in its own right. From north to south the villages are:
Monterosso
The largest of the villages, it contains the most hotels but lacks a little of the small-town charm and colourful, cliffside buildings that Cinque Terre is known for. However, it has many restaurants running along the promenade and is also the only village with a proper beach.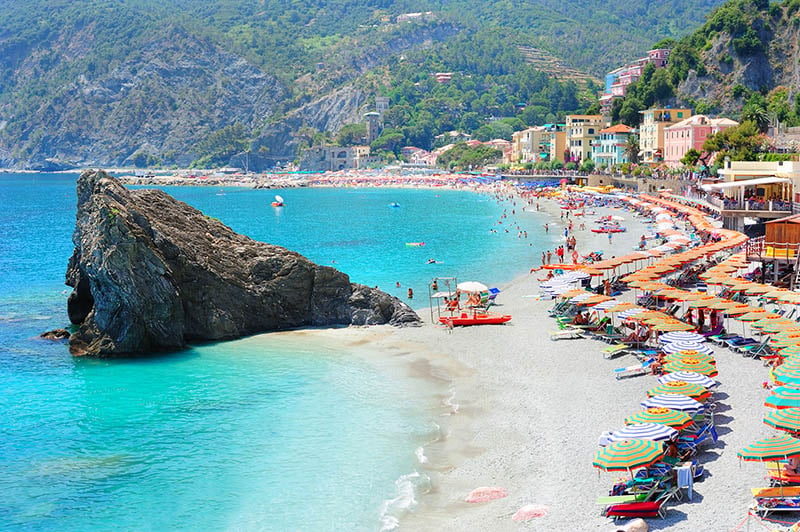 Vernazza
A pretty bay of colourful houses with a church at one end, if you walk here from Monterosso you'll come across an excellent viewpoint about 20 minutes from the town.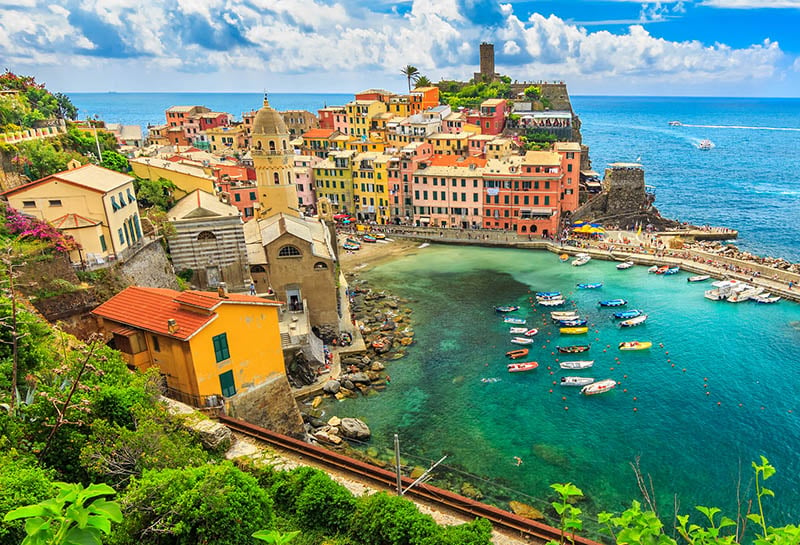 Corniglia
The only Cinque Terre village not by the water, Corniglia is perched on top of a hill and is probably the quietest of the five villages. With winding alleyways to wander through you'll find lots of cafes and restaurants with beautiful views overlooking the coast and the other villages.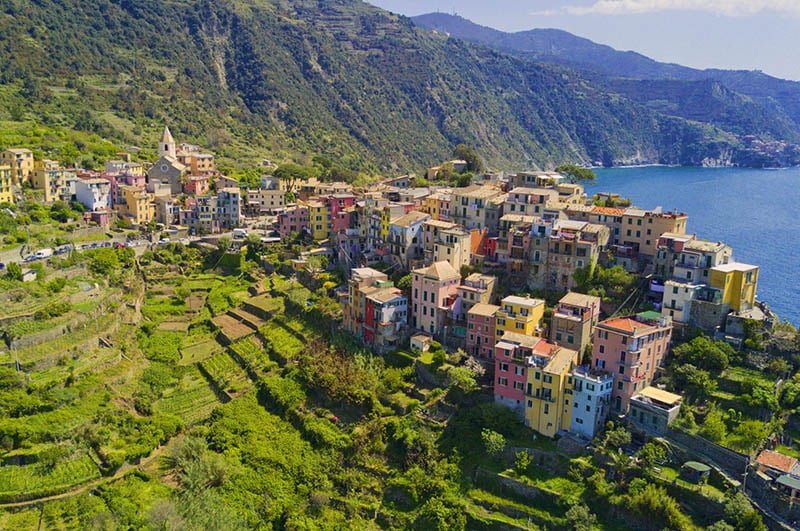 Manarola
A very small village perched on the cliffside and home to a viewpoint where probably the most famous image of Cinque Terre that is on all the postcards was taken.
Riomaggiore
One of the larger Cinque Terre villages and most hilly. Walk up to the castle for views over the town then down to the harbour for a picture-perfect view of the iconic colourful houses sitting perched over the small harbour filled with fishing boats.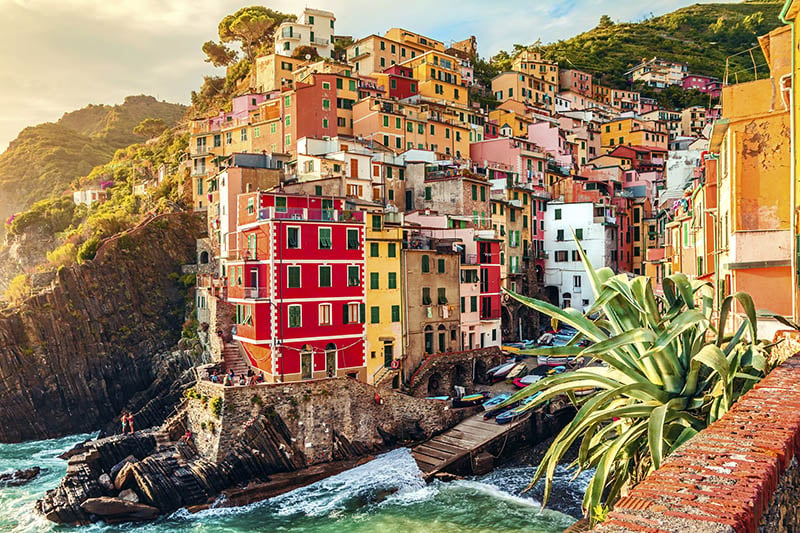 ADVERTISEMENT
CONTINUE READING BELOW
---
How to get between the Cinque Terre villages
As mentioned above, the easiest way to get between the villages is by train. All of the five villages have a centrally located train station and the journey time between them is only 3-5 minutes. You can find trains on ItaliaRail or Omio.
Train tickets are a flat fee of €4 per journey regardless of where you're going along the La Spezia/Levanto route, and can be bought at the train station.
An alternative to taking the train is to walk between the villages along the Sentiero Azzurro (the Blue Trail). Although it's up and down and therefore pretty sweaty on a hot day, the coastal trail is well maintained and relatively easy for anyone with a moderate fitness level. Not only will you get to see the beautiful coastal scenery, some parts of the walk are among the sloping vineyards and as you approach the towns from above you get the full panoramic view of the colourful facades that make Cinque Terre famous.
You do have to pay to hike the coastal trail. It's €7.50 and there are ticket booths located at the start of the trail in Monterosso and Corniglia.
Note that as of summer 2020 the coastal trail between Corniglia and Manarola/Riomaggiore is closed.
For views of the towns from the water, there are lots of boat trips on offer from La Spezia or Porto Venere which would provide a great alternative view.
Finally, if you have a car then it is possible to drive around Cinque Terre. However, we wouldn't recommend this given the narrow cliff edge roads and minimal parking.
ADVERTISEMENT
CONTINUE READING BELOW
---
The Cinque Terre pass
If you're planning on taking more than two trains in a day then it's worth buying the Cinque Terre pass.
This pass costs €16 for the day and allows unlimited hop on hop off travel on the trains between the villages and includes the coastal walk between Monterosso and Corniglia. Two and three-day passes are also available.
---
Other places to visit near Cinque Terre
Levanto
Whilst there isn't much reason to visit Levanto itself, if you like hiking then it's worth getting the train here and then walking back to Monterosso. The hike takes about 2-2.5 hours and isn't too challenging, although you'll want to wear proper footwear as the trail is uneven. Halfway along the hike you'll reach the Punta Mesco Viewpoint, the highest point of the trail offering amazing views over Monterosso and the whole of the Cinque Terre coastline. The best thing is that unlike the walk between the Cinque Terre villages, you'll probably have this whole route largely to yourself.
Porto Venere
Porto Venere is a small picturesque town lying south of La Spezia and easily reached by bus.
Visit the Church perched on the cliff overlooking the gorgeous blue sea and Lord Byron's grotto for views of the clear blue water. There is a pretty harbour and loads of shops and restaurants for you to stroll around, plus a number of small beaches if you want to take a break and go for a swim.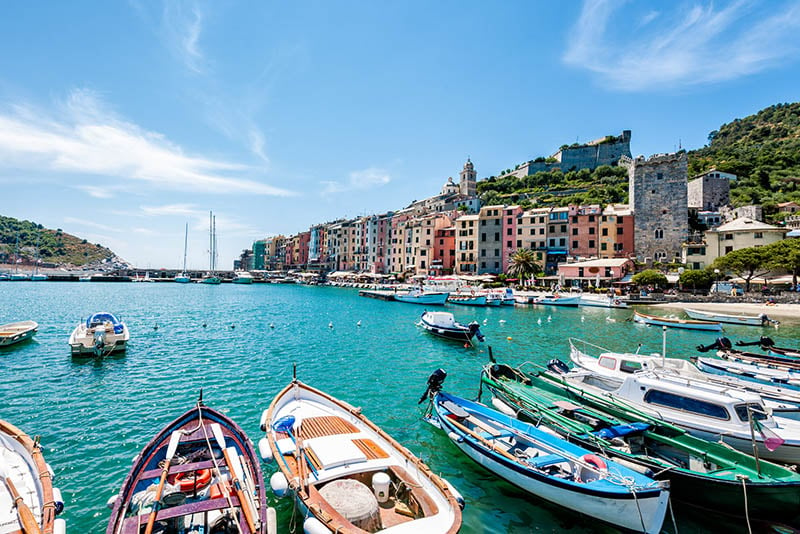 Lerici
Lerici is a beautiful town also easily reached by bus from La Spezia. Less visited than Cinque Terre and Porto Venere, it's a well-kept secret as it is gifted with a huge and beautiful harbour which you'll definitely want to see. Known as the Bay of Poets, a number of well-known poets and writers are known to have lived or stayed here, taking inspiration from the beautiful surroundings. To really appreciate it, climb up to the castle for views over the whole bay and the many boats anchored there.
One thing to do in Lerici is to sample the fresh seafood. Buy a cone of fresh fried seafood for only €5 from Siamo Fritti and sit by the bay admiring the views.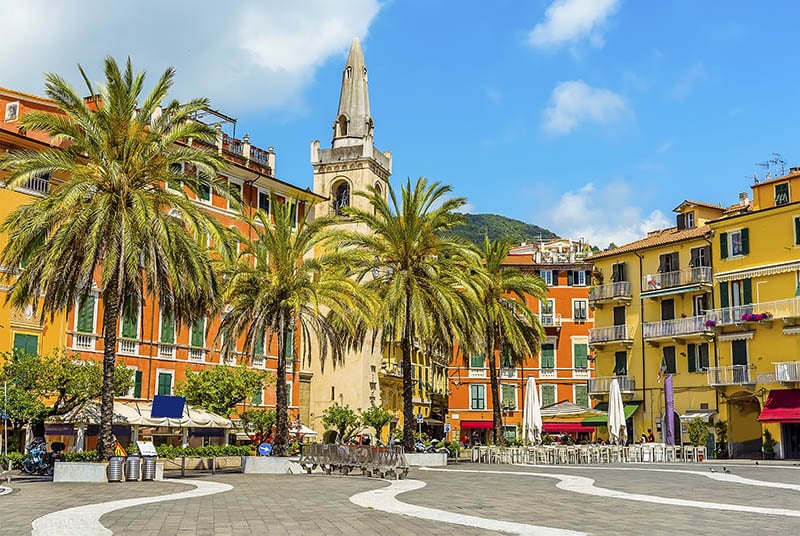 ADVERTISEMENT
CONTINUE READING BELOW
---
Summary
Cinque Terre is famous for a reason and unlike a lot of places, it really does look as stunning in real life as it does in the photos.
With a great public transport system, it's easy to plan a trip here. Just try to spend enough time here to really explore not only the five Cinque Terre villages but the surroundings too.
---
Tours and Activities
Related Articles