Italy is one of those decisively charming countries that you really have to tick off your travel wish list at least once in your lifetime!
Whether you're visiting historic Florence or trendy Milan, cruising along the canals of Venice, travelling through Puglia, or planning to spend a few days in the 'Eternal City' of Rome, you'll certainly never get bored!
Just like any other big European city, Rome comes alive at night. Between 7 pm and 9 pm, Romans enjoy the art of the aperitivo after a day's work and hang out with friends over drinks and small bites of food.
There may also be a stellar golden glow bathing over the city's iconic monuments and architecture during this time. Lights illuminate Rome's historic attractions as the evening progresses, making the Eternal City even more captivating than it is during the day.
If you happen to be visiting Rome for a few days and are wondering what to do in the city during the evening, then hopefully these 11 best things to do in Rome at night may provide some much-needed inspiration and get you exploring this magnificent city after sunset!
Here are some of the best things in Rome to enjoy at night.
Here are some top tours that you may like.
---
1. Rome at night tours – Explore Rome by bicycle or segway
Many remarkable and historic landmarks in this city are lit up after dark, and the temperature in Rome is usually quite pleasant at night too, so why not take a walk to cover some of the most important locations?
Doing some sightseeing on foot is among the best ways to spend a night in Rome. If you don't think you can cover much ground on foot, there are plenty of other options as well to sightsee in the city!
If you are looking for active outdoor adventure in Rome, a popular activity is exploring the city streets by Segway or bicycle. Fat Tire Tours is also a leader in conducting such active tours. Moreover, you can cover a lot more area by bike than you can on foot along with the opportunity to get some fresh air and exercise surrounded by the monuments of Rome.
Booking a guided Segway tour of Rome's most famous attractions is another exciting option. Experience the city as it lights up at night by simply wearing your helmet, and following your tour leader.
If you only have one night in Rome, the 'Secrets of Rome Evening Tour' would be a stunning way to explore the city. For those in search of a more 'exclusive' night tour of Rome, why not book the Private 2-Hour Rome by Night Sightseeing tour allowing you to tick off all the major sights at night with a chance to customize your tour as per your own preference!
Adding these tours of Rome at night to your itinerary are a must, so as to experience the city and your travel to its fullest!
You May Like
2. Colosseum – Visit the wonder at night
Rome's most universally recognized monument, the Colosseum, is an absolute must-see.
Did you know that you can visit one of the Wonders of the World, the Colosseum after dark?
This option is best if you struggle with the heat during the day, especially if you're visiting Rome in the summer – during July or August. Not many people do it, but visiting the Colosseum at night is one of the best and most unique things to do in Rome.
The only real drawback to this option is that Palatine Hill and the Roman Forum aren't open at night.
In order to visit this wonder at night, visitors have to book a guided tour. These can start from 7pm. So, make sure to have your dinner somewhere nearby beforehand. Tours last only a couple of hours and can include access to the underground, the arena floor, the second and third ring.
Visiting the Colosseum at night undoubtedly is more expensive than getting the typical skip-the-line ticket or even a guided day tour. If you're really keen on doing a night tour, make sure you plan to secure a ticket before you leave for your trip. These twilight and night tours are top-rated, and due to the limited size, sell out quickly.
Take a moment to think while standing under the moonlight to witness this magnificent marvel and ask yourself in the words of Maximus, are you not entertained?
You May Like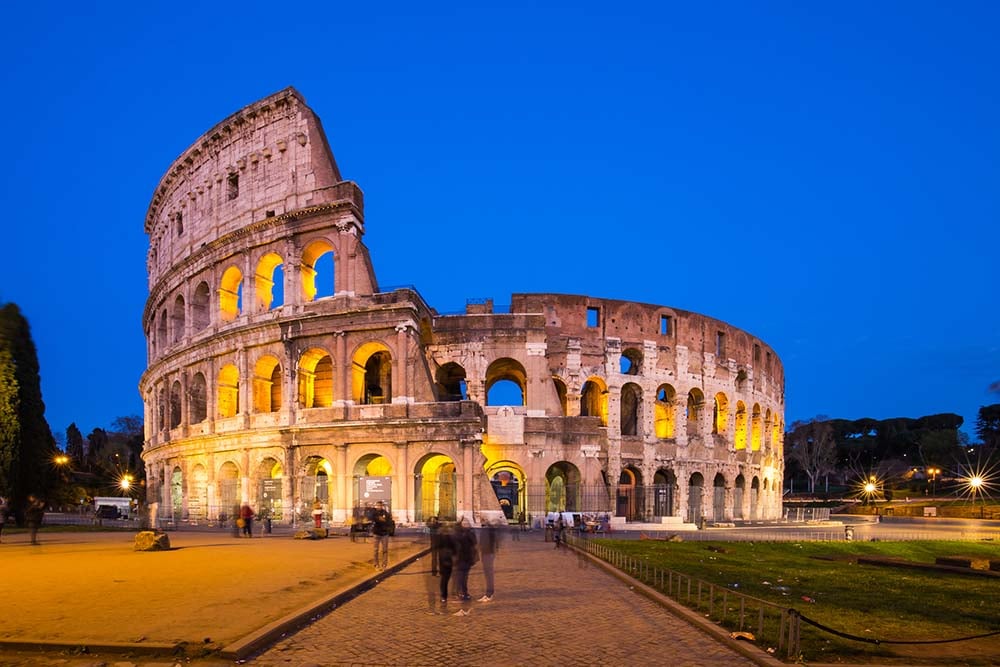 ADVERTISEMENT
CONTINUE READING BELOW
3. Vatican City – Tour the home of the pope
Seeing the major attractions in Rome at night can have its benefits! The same tip is applicable in the case of touring Vatican City.
Situated within Rome is the Vatican City State, home of the Pope, who commands this small independent state.
The Sistine Chapel is found here, well-known for the magnificent ceiling fresco by Michelangelo. This stunning mural has attracted visitors ever since it was revealed over five hundred years ago.
The Vatican Museum holds thousands of pieces in 54 galleries throughout the centuries. Every year, from April to October, the Vatican Museums are open in the evening (from 7 PM – 11 PM).
Even you won't be able to visit all of the galleries but it's still a brilliant way to witness the highlights without having to deal with crowds and the high temperature. For example, popular Vatican attractions such as the Sistine Chapel, Raphael's Room, and the Gallery of Maps are open after dark!
Since the museums are only open in the evening during the spring and summer, the availability of tickets can be challenging. Keeping this in mind, Check times and book tickets as soon as possible when planning for your trip. You can check out some of the tours as mentioned below.
To skip the long lines and enjoy a Vatican tour, visit the Vatican Museum and Sistine Chapel at night time and experience this marvel in all its grandeur of the Vatican City at night!
You May Like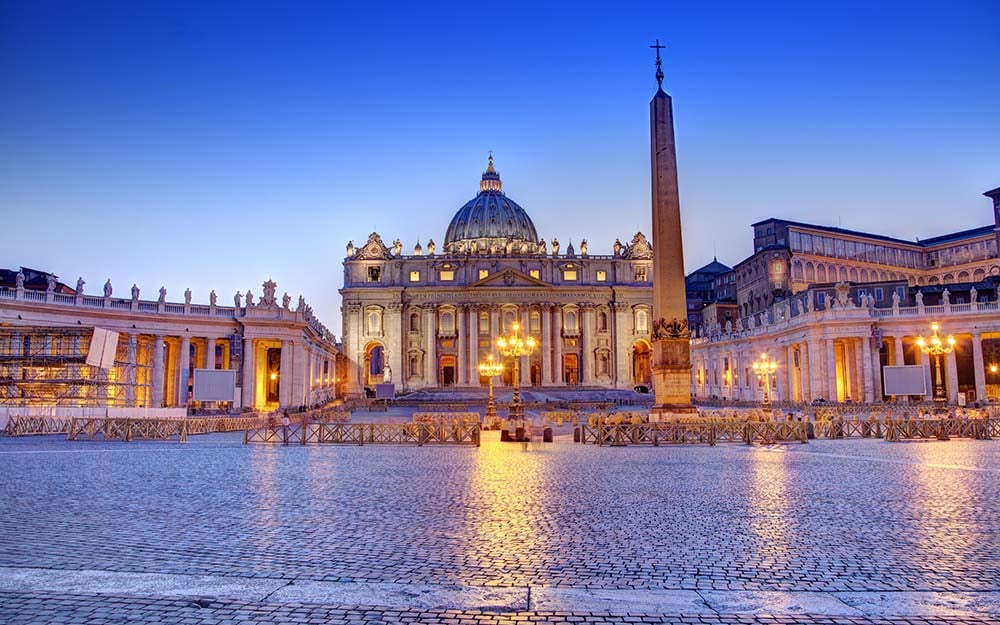 4. Rooftop bars – Enjoy the best views of Rome at night
The city of seven hills, Rome possesses a number of scenic spots with spectacular views, but especially between spring and early autumn Rome's rooftop bars and terraces provide fantastic opportunities for drinks and food with a view of the city.
Revering Rome's skyline with a glass of delicious Italian wine or a cocktail in hand is always full of fun. So, as the sun sets, get yourself to a rooftop bar or other plushy places to enjoy a drink with a view.
For the best view of St. Peter's Basilica and the Vatican, head to the Hotel Atlante Star's Les Etoiles Rooftop Garden. The classy setting, decorated with flowers and twinkly fairy lights, makes it a favourite spot for couples looking for romance. In addition, the prices here are reasonable, which attracts both tourists and locals alike.
Are you looking for an epic view of the Roman Forum at night? Consider heading to the old-fashioned Roof Garden rooftop bar at Hotel Forum. This is a must on the list of any rooftop lover.
Want a romantic roof garden with 360-degree panoramic views over Rome? Head to Mirabelle at Hotel Splendide Royal. Coupled with over 700 hundred wine labels, the view embraces Villa Borghese and Rome's monuments, making it the perfect culinary and visual experience.
Needless to say, it doesn't matter which rooftop bar in Rome you choose, be ready to pay fairly high prices for drinks in some places, and if you have your heart set on a particularly popular location, don't forget to make the reservations in advance to make sure you get a table!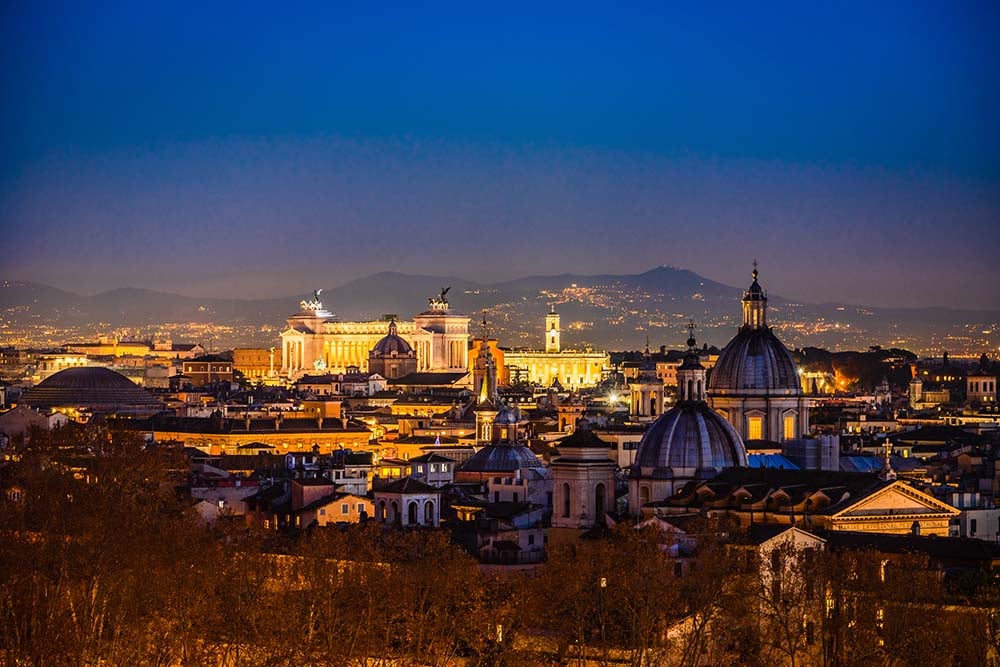 ADVERTISEMENT
CONTINUE READING BELOW
5. Aperitivo – Experience an authentic Italian tradition
If you're planning to spend some time in Rome, you should try an authentic Italian tradition: the 'Aperitivo'.
Aperitivo is an authentic Italian tradition that usually takes place at the end of a workday and is mainly a warm-up to dinner. You consume some light snacks and a drink, with this being one of the quintessential cultural expressions of a night in Italy.
The typical Aperitivo starts at around 7 PM and lasts for a few hours, so it's a perfect thing to do and enjoy at night. The purpose of aperitivo is to whet your appetite before dinner, not replace it.
So, head to a local bar to experience the local aperitivo culture and relax after a long day of sightseeing and have some snacks or drinks before a real dinner time at 9 PM. This is among the best ways to spend an evening in Rome as well as experience Italy at night.
There are also some guided tours that you can book which will help you to learn more about Aperitivo.
This could be an excellent idea for a night out with your special one.
You May Like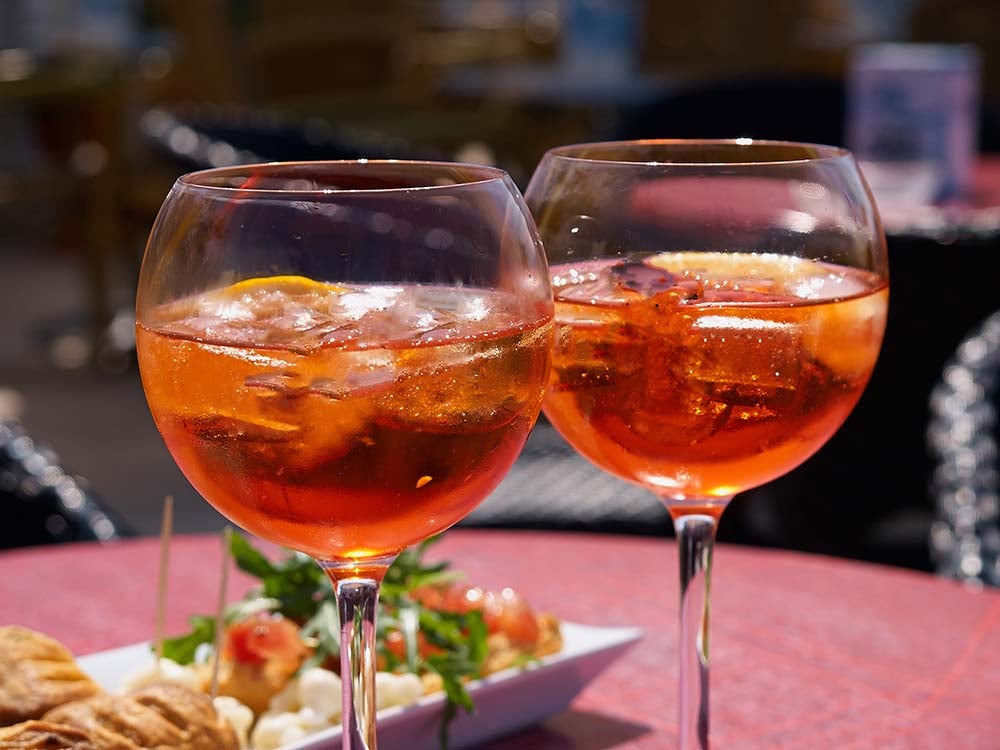 6. Evening food tour – Eat like a Roman
Italy is popular for its food, and once you have experienced the Italian tradition of aperitivo, it's time for you to take to the Rome streets at night and eat a proper Italian dinner, just like Romans.
Roman dinners are usually lengthy and slow with lots of conversation and wine between courses. These dinners can even last a few hours, so be ready to allot an entire evening aside for this. This is anyhow not an everyday experience, but something that you should do at least once while you are in Rome.
While you are in Rome, the best option is to go on a food tour on your first day in the city! One of the most popular choices is to explore the happening Trastevere neighbourhood. If you're a street food lover, then check out the Rome Street food tour with a local guide as mentioned below.
Moreover, other great areas to experience on a food tour are the Campo de' Fiori and the Jewish Quarter. Enjoy sightseeing on the way as your guide takes you to the best locations in town to truly experience authentic Italian cuisine.
After finishing your dinner, why not go on this after-dinner tour for some Roman coffee and desserts for a small treat, and end the experience on a sweet note!
You May Like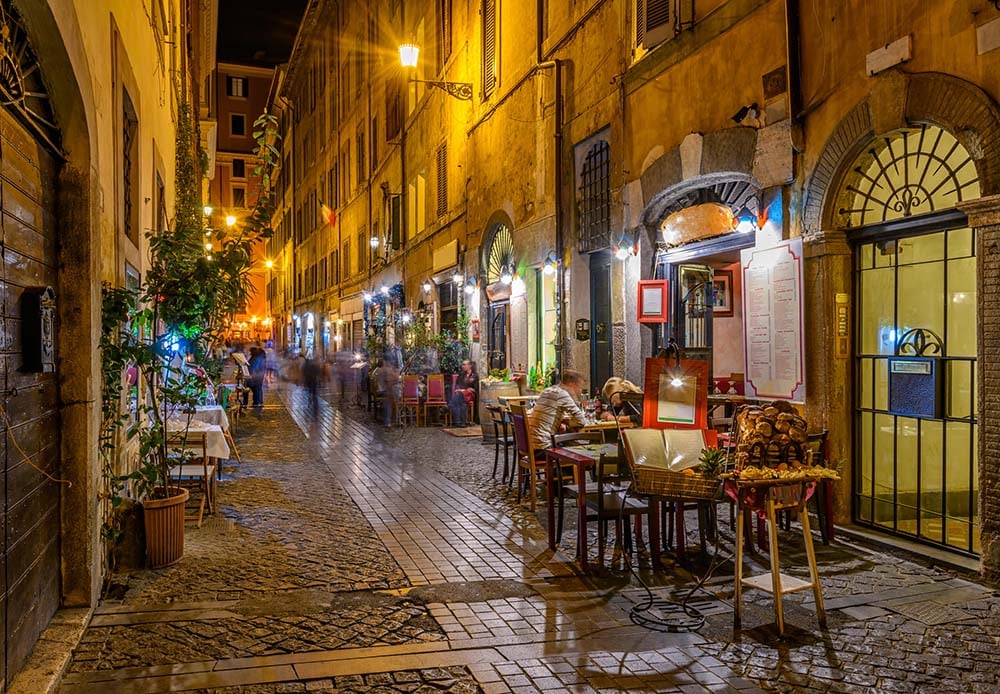 7. Trevi Fountain – Witness the Iconic Fountain at Night
Rome's architectural monuments are marvellous during the day, but after dark, they take on a completely new persona.
When the sun sets, witness the iconic Trevi Fountain as your first place to visit and you'll understand what we mean.
This is one of the best things to see in Rome at night, with the fountain being illuminated and adding an entirely new dimension to the experience. it is truly magical! It's also among the most romantic spots in Rome for those looking for a special moment.
According to the legend, if you throw a coin into the fountain's water, you will be coming back to Rome again, and if you want to meet the love of your life then toss in two coins.
Remember that there is technically a 'correct' way to throw your spare change into the Trevi Fountain as well! Make sure to use your right hand to throw the coin into the fountain over your left shoulder.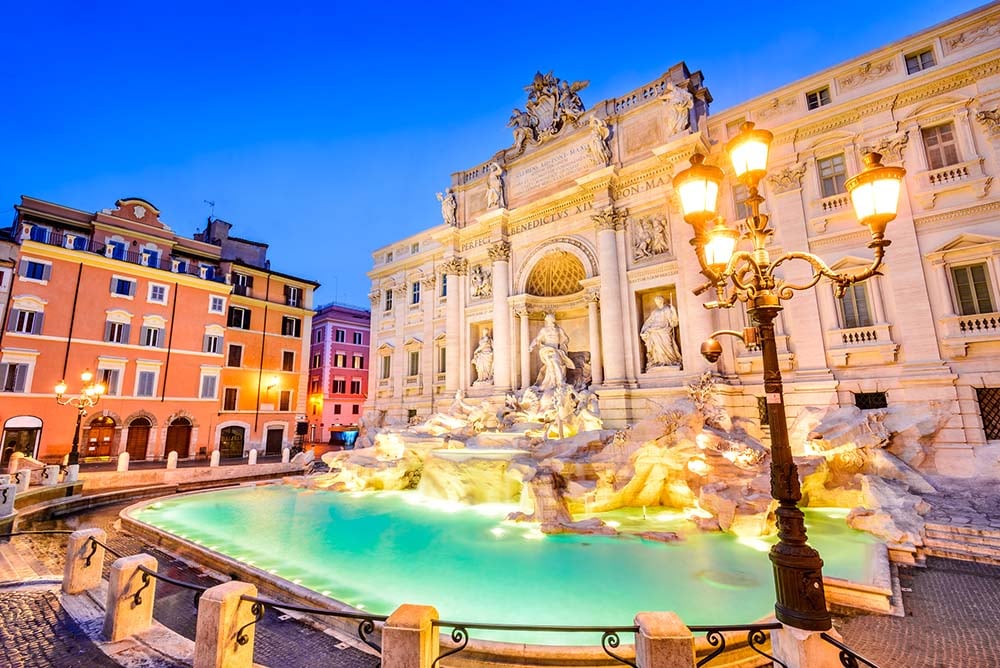 ADVERTISEMENT
CONTINUE READING BELOW
8. Teatro dell'Opera – Attend a Stunning Opera Performance
A visit to this beautiful theatre known as Teatro dell'Opera di Roma is a must for those who want to do something different. Teatro dell'Opera has undergone several renovations and improvements since its inauguration in 1880. One of which was a 6-meter chandelier consisting of 27 000 crystal drops.
Teatro dell' Opera regularly presents at least a few different opera performances, ballets, and other shows every month. This theatre generally sticks to the classics, familiar stories like Swan Lake, Don Quixote, Carmen, and more.
Teatro dell' Opera runs a special series of operas and concerts during the summer, which is held at the Baths of Caracalla. This is one of the rare opportunities to see a performance at one of the most historic landmarks in Rome.
These ancient Roman ruins provide a stunning backdrop for special concerts, operas, and ballets, from June to mid-August. If you are planning your trip to Rome anytime between June to August, keep an eye out for this splendid opportunity.
9. Spanish Steps – Walk the Steps at Night
Another iconic site in Rome is the Spanish Steps, featuring 135 marble stairs, that connect the Trinita dei Monti church with Piazza di Spagna square below. A UNESCO World Heritage Site, the square was built in 1725, and quickly gained popularity as being a primary location for people-watching.
People from artists to poets and later on models and photographers are all drawn to the monument themselves and also inviting aspiring models to pose for them. Due to all this gathering, usually, it's extremely crowded most of the time during the day.
At night, the fountain at the base lit up and the crowds sitting on the stairs are considerably less. It's the best time to get an entire view from the bottom all the way to the top. Don't forget to bring your camera with you to capture these unblocked views.
The best time to visit the square is to wait until late evening (after 9 PM) and climb to the top to Trinita dei Monti. From there, the view over Piazza di Spagna and the rest of Rome is truly special. Hold the moment and enjoy the serenity.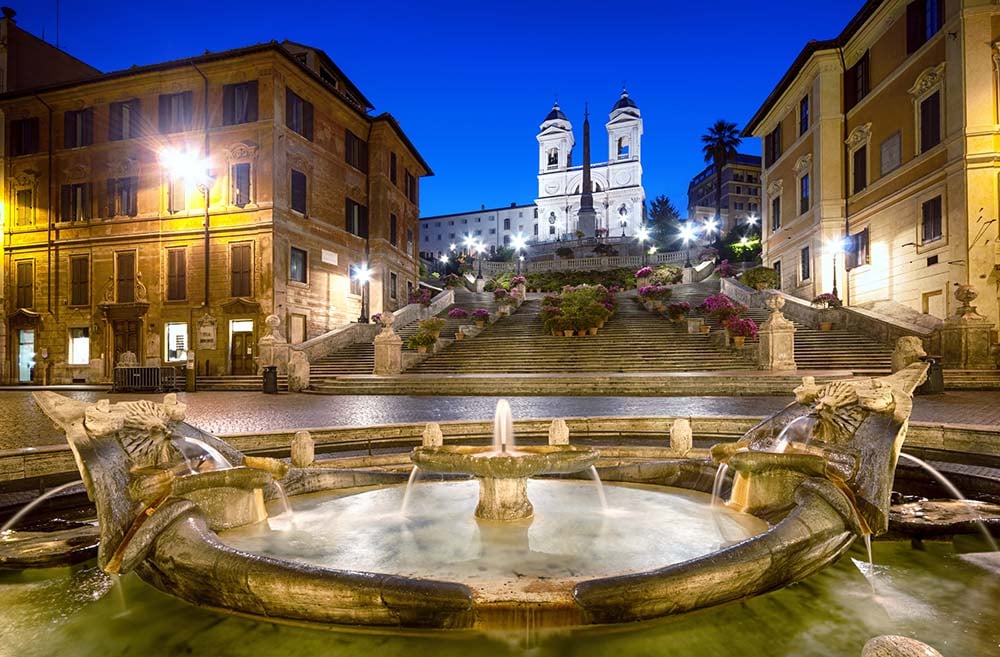 10. Ghosts Tour – Explore the Dark Side of Rome
If you're looking for creepy things to do in Rome and explore the 'dark side' of the city at night then you should not miss exploring the Ghosts and Mysteries Guided Walking Tour and Crypts and Catacombs Tour. It is the perfect addition to your Rome itinerary.
In particular, if you're visiting Rome during Halloween, the Crypts and Catacombs tour makes for a super creepy activity at night! The experience includes the visit to Catacomb of Callixtus, the Basilica of San Clemente, and the infamous Capuchin Crypts. If you're keen to visit this location, you may also want to check out some of the other catacombs in and around Rome. Most of them are easily found on the Appian Way.
Even though a trip to the Capuchin Crypt doesn't seem like the best idea, you may still consider taking a ghost tour in Rome. With a history dating back thousands of years, the city of Rome has a lot of creepy tales to tell.
On a fully guided ghost tour, you'll get to know about some of the more disturbing stories, incidents, and tales that have happened in this ancient city over the centuries. Many of these trips will take you to locations such as the Colosseum, the Trajan Forum, and Castel Sant'Angelo. It's a great way to learn more about Rome's history while also becoming familiar with some of its eerier characters.
If this sounds like an interesting activity, check these Roman ghost tours below to find one that fits both your schedule and budget.
You May Like
11. Olympic Stadium – Cheer for AS Roma Team at a Football Game
One of the best ways to experience Rome at night is through a European soccer game, popularly known as football. The city's beloved football team AS Roma plays in the northern part of the city and the games are full of fun.
The season begins in August or September and ends in May. During this time, AS Roma plays regularly in their beautiful home ground and historic Olympic Stadium. Watching AS Roma playing the game, you'll get the chance to feel like a local as you cheer for the team. It's a one of a kind experience that you'll go home telling everyone about.
You can book your tickets prior to your journey by visiting the AS Roma website. Make sure you carry your passport with you and only bring a small bag. Security is strict at the stadium and you may be asked to show ID a couple of times to check that your name and ticket match.
If you're looking for a fun thing to do with teens in Rome at night this is a great option to consider.
---
More tours and Activities
---
Summary
Whether you're staying for a day, a week, or for a longer duration, we've listed the best 11 activities and things that you need to do and see in this 'Eternal City' at night.
We hope this article provides several useful ideas for things to do in Rome at night, including, family-friendly as well as free attractions and activities you can enjoy after dark.
If you get a chance to visit Rome soon, make sure you try out all these 11 best things to do in Rome at night time to make your trip memorable.
Buon Viaggio!
Ready to book? Search for:
---
Related Articles