Whenever you think about a dreamy and romantic destination, Italy always seems to pop up in the suggestions. This is because Italy is one of the most beautiful places in the world. Not only is Italy beautiful but it is home to the most delicious cuisine, famous art, great culture, trendy fashion, and timeless historical monuments.
Italy is visited by millions of tourists every year and is one of the most visited countries in the world. The Bank of Italy estimated that tourism in Italy produces directly more than 5% of the GDP (Italian link). Moreover, Italy encompasses 55 World Heritage Sites making it higher than any other country in the world. If you are planning to visit Italy soon, make sure to visit these amazing cities below. Here are some of the beautiful cities to visit in Italy.
---
Rome
Rome is a city that everyone should visit once in their lifetime. This city is in itself a museum; walking around Rome is enough to take you back in time and give you this great overwhelming feeling. In Rome, you will casually see the huge Colosseum, the Vatican, the Pantheon, and the Roman forum, just by taking a stroll. Most of the famous landmarks are close to each other where you can discover each one on foot or by taking a tram.
While in Rome, visit some of the famous squares such as Piazza del Popolo, Piazza Navona, St.Peter's Square, and Piazza di Spagna (Spanish steps). Also be sure to visit the pretty Fontana dei Quattro Fiumi (Piazza Navona fountain), Arch of Constantine (near the Colosseum), Altar of the Fatherland (Piazza Venezia), Castle Saint Angelo and the Palatine Hill.
Rome has over 900 churches, with a few of the most remarkable ones including Basilica di Santa Maria Maggiore, San Giovanni in Laterano, Pantheon and St. Peter's Basilica. Do not forget to finish your day with a delicious Italian dinner and gelato anywhere in the city.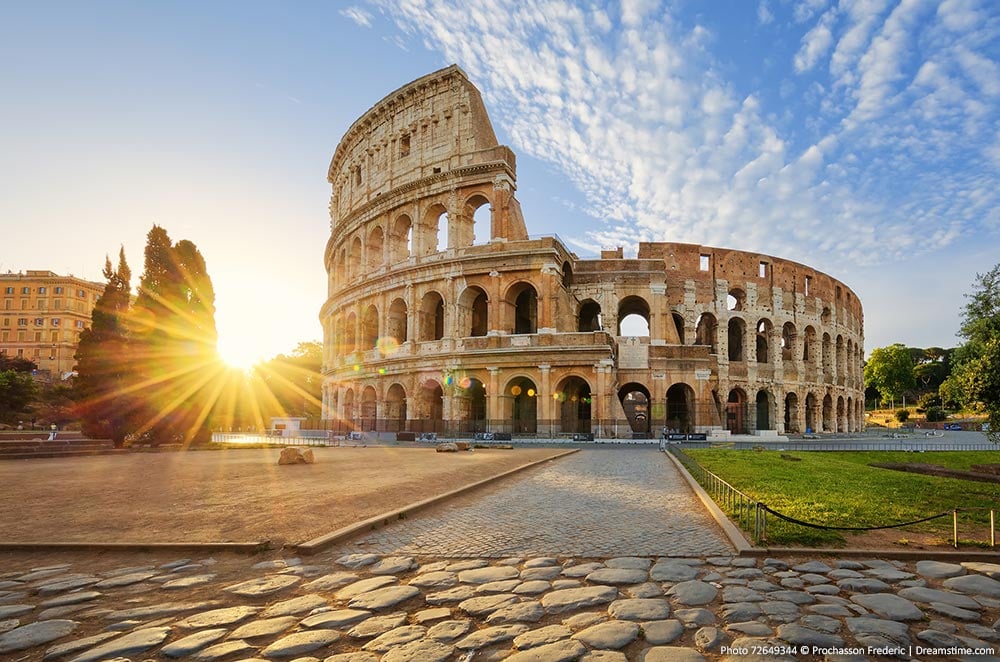 Matera
In Matera, it is all about caves; you can eat, sleep, shower, and drink in a cave. This place is extremely beautiful and has incredibly unique landscapes that makes it a special destination in Italy or even in the world. The history of Matera is crazy because this place was thought of in the past as the place of poverty, diseases where its people resided in these caves without sources of water, or electricity. Matera is a source of pride for Italy as it is now an UNESCO World Heritage Site that attracts a great number of tourists each year.
The first thing to do in Matera is to discover it on foot and enjoy its unique and mesmerizing structures and hidden alleys where houses and churches are carved in stone and located in caves. Some of the historical things to see are the Palombaro Lungo, Duomo of Matera, Santa Maria de Idris Church, and Madonna delle Virtù. Make sure to check out the amazing Casa Grotta di Vico Solitario (cave house) and the Matera Museum of Contemporary Sculpture.
Matera is also known for its great hike to Parco della Murgia. The hike is very scenic and adventurous as you have to cross bridges and climb up some rocks. The view at the top is priceless; luscious greenery and mouth-dropping bird's eye view of Matera.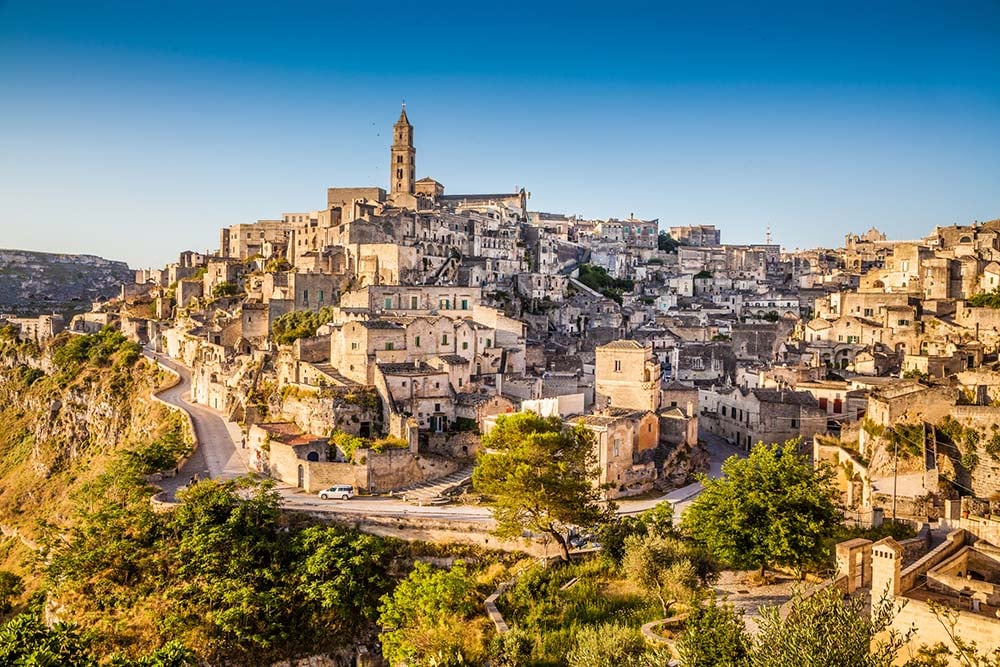 ADVERTISEMENT
CONTINUE READING BELOW
Palermo
Palermo is the capital of the island of Sicily and was known as the "Kingdom of the Sun". Sicily is actually the largest island in the Mediterranean Sea. Palermo is a warm and gorgeous island surrounded by a green mountain range. In Palermo, you can have a fantastic beach experience (Mondello Beach) where you can enjoy several water activities like Parasailing. Also, make sure to check the churches and chapels of Palermo, such as Palermo Cathedral, Capella Palatina, Martorana (Cathedral of St. Mary of the Admiral) and San Giovanni degli Eremiti.
The largest Opera House in Italy is actually located in Palermo and is known as Teatro Massimo. Sicily is also known for its delicious and cheap fresh food and markets; so, while there make sure to visit the markets of Ballaro, Cap and Vucciria which are located in the centre. Other things to look out for are the Palermo Archaeological Museum, Fontana Pretoria and the Capuchin Abbey and Catacombs.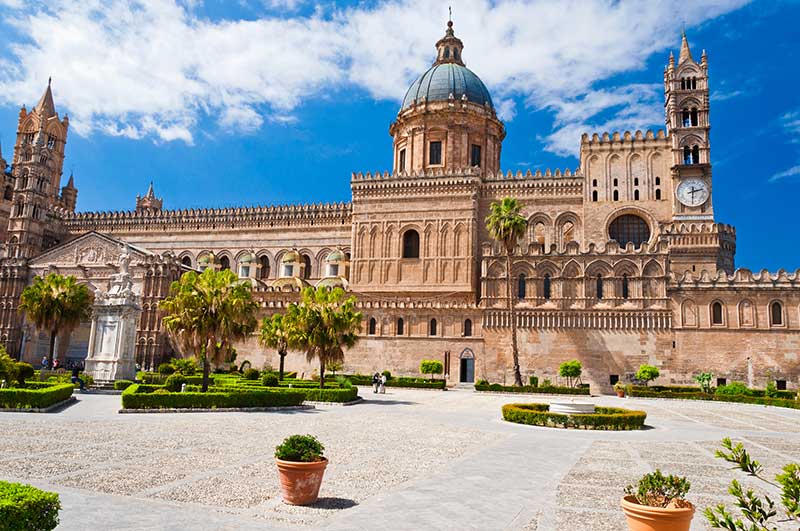 Florence
Florence is the capital of the Tuscany region and is known to be home to several famous masterpieces of Renaissance art and architecture. When in Florence, have a walk and check out the following squares:  Piazzale Michelangelo, Piazza Santo Spirito, Piazza del Duomo and Piazza della Signoria. Make sure to visit the gorgeous churches and cathedrals such as Florence Cathedral, Basilica of Santa Croce, Baptistery of St. John, Giotto's Bell Tower, and the church of Santa Maria Novella.
Florence is home to many famous pieces of art and museums. So, do not forget to visit the Da Vinci Museum, Galileo Museum, National Museum of Bargello, Archaeological National Museum, Casa di Dante Museum, and the dreamy Boboli Gardens.
It's also worth noting a popular Florentine and Tuscan dish to try which is "Pappardelle Al Ragù Di Cinghiale", a pasta dish with sauce and wild boar meat.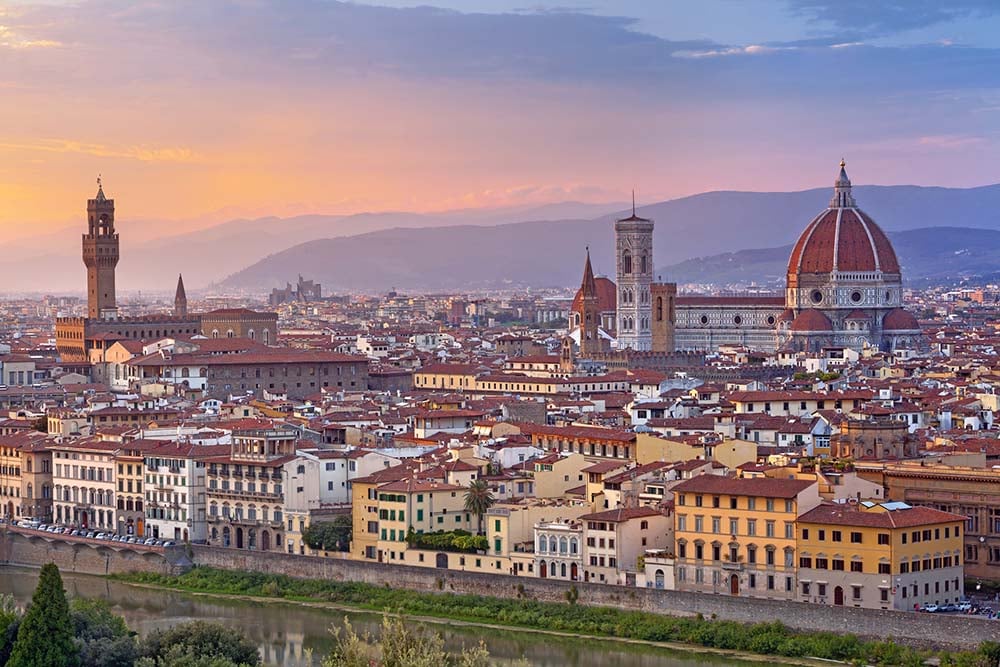 You May Like
Bergamo
Bergamo is a charming city located northeast of Milan, in the region of Lombardy known for its historic Venetian walls. While in Bergamo, hop on the old funicular to the old town (Citta Alta seen below) and stop to discover the beautiful squares of Piazza Matteotti, Via XX Settembre, and Piazza Vecchia.
Bergamo is known for its beautiful churches and cathedrals so make sure to visit the Basilica of St. Mary Major, Colleoni Chapel, San Michele al Pozzo Bianco, the Baptistery of St. Mary Major and the Cathedral of Sant'Alessandro. Other things to watch out for are the Museo di Scienze Naturali e Archeologico, Rocca Museum and Museo Donizettiano.
From Bergamo, you can enjoy a trip to the famous San Pellegrino Terme (Bergamo Alps), known for the production of the natural San Pellegrino sparkling water.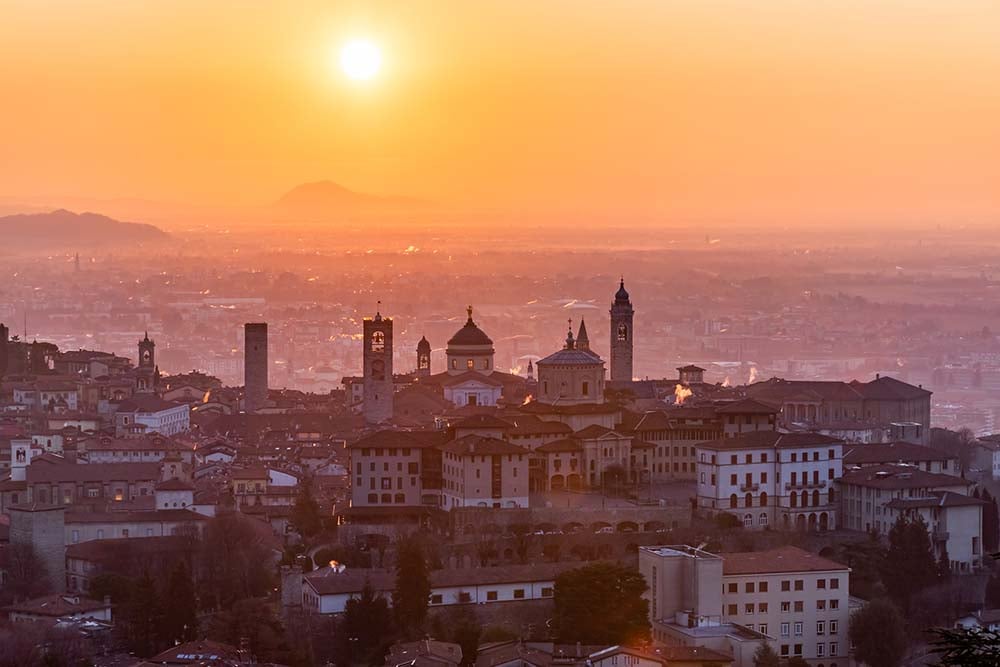 ADVERTISEMENT
CONTINUE READING BELOW
Catania
Catania is also located in Sicily and is an archaic port city on the east coast. Catania is located at the base of Mount Etna which is an active volcano. There are actually guided tours to Etna where you go to the foot of the volcano and discover the area around and end the day with a sunset over the Volcano.
Catania has some amazing squares that you must check out on your walks, including Piazza del Duomo where you can find the city's symbol: The Elephant's Fountain, and Piazza dell'Universita where you can find Palazzo dell'Universita and the Palazzo San Giuliano. Behind the elephant fountain, you can find the great Catania Cathedral, dedicated to Saint Agatha.
There is a street (Via Crociferi) in Catania dubbed "the Church Street" since you can find several famous churches along it. Other things to visit include Villa Bellini, Catania Roman Theatre, Ursino Castle, Museum of Contemporary Art of Sicily, and the Catania Museum of Cinema.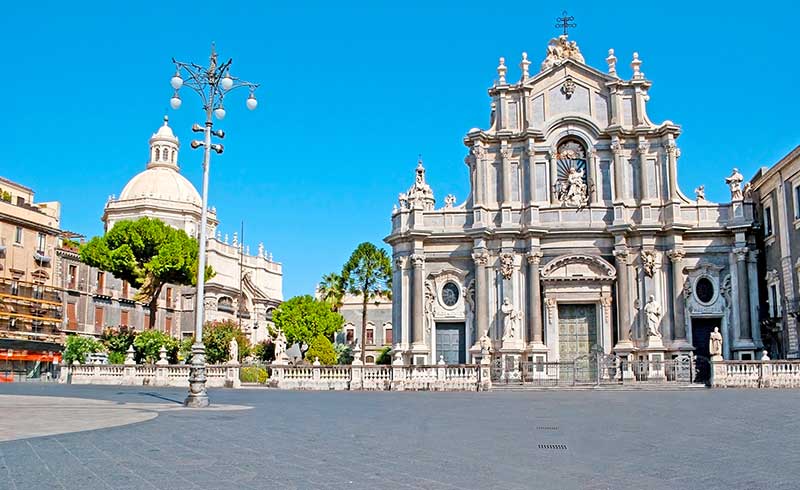 Venice
When you hear the word Venice, you may immediately think about the gorgeous canals, colourful facades, beautiful architecture, and dreamy gondola rides. Venice is indeed a fairytale place to be as it is a small and compact city that has it all. When in Venice, visit the famous landmarks like San Marco Campanile (the tallest structure in Venice), St. Mark's Square, Gallerie dell'Accademia, and Doges Palace. Make sure to take a boat or gondola ride along the beautiful Grand Canal and discover Venice from the waters.
Also, visit the town of Murano (island town) where many famous sights like the Basilica of Saint Mary and Saint Donatus, and the Palazzo Da Mula are located. Do not forget to check the churches of St. Mark, Santa Maria Assunta, and Santa Maria della Salute. Also nearby is the picturesque Burano which is just a little bit further than Murano and easily accessible through water taxi or a tour.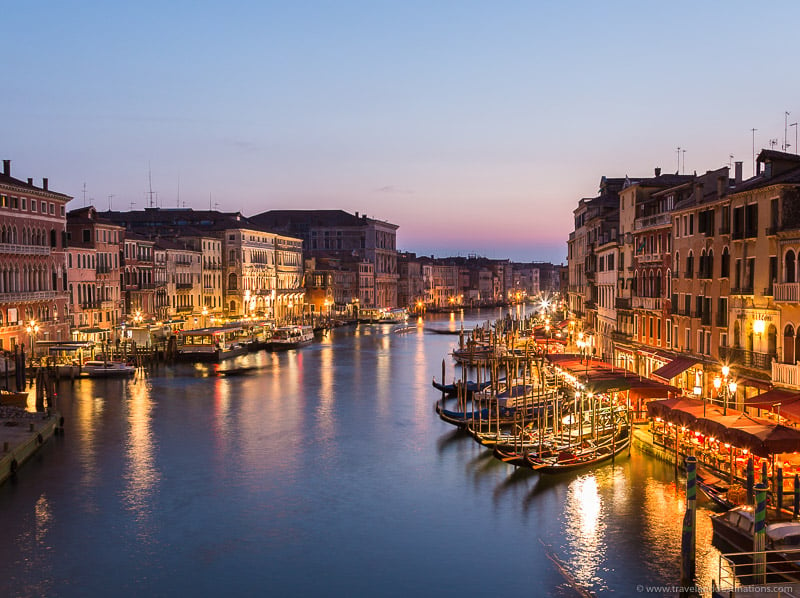 You May Like
Parma
Parma is a university-city located in the Emilia-Romagna region, famous for the delicious and vastly used Parmesan cheese and Parma ham. So, if you are all about cheese and ham, Parma is the place to be. You can visit the "Parmigiano Reggiano Factories" and take a tour to uncover the elaborate art behind the Parmesan cheese making. During the tour, you will see how the cheese is made and stored, followed by a cheese and local wine tasting.
Other "un-cheesy" things to do in Parma are several. Visit the Piazza del Duomo where you can find the Parma cathedral, and the Baptistery (1196 by Benedetto Antelami). Other churches to visit are St. John the Evangelist Church, the Shrine of Santa Maria della Steccata, Santa Croce, and the Baroque church of Santissima Annunziata.
A few other highlights include Teatro Farnese, Teatro Regio (Royal Theater), Palazzo della Pilotta, the National Gallery, Parco Ducale (the Ducal Palace), and Castello dei Burattini.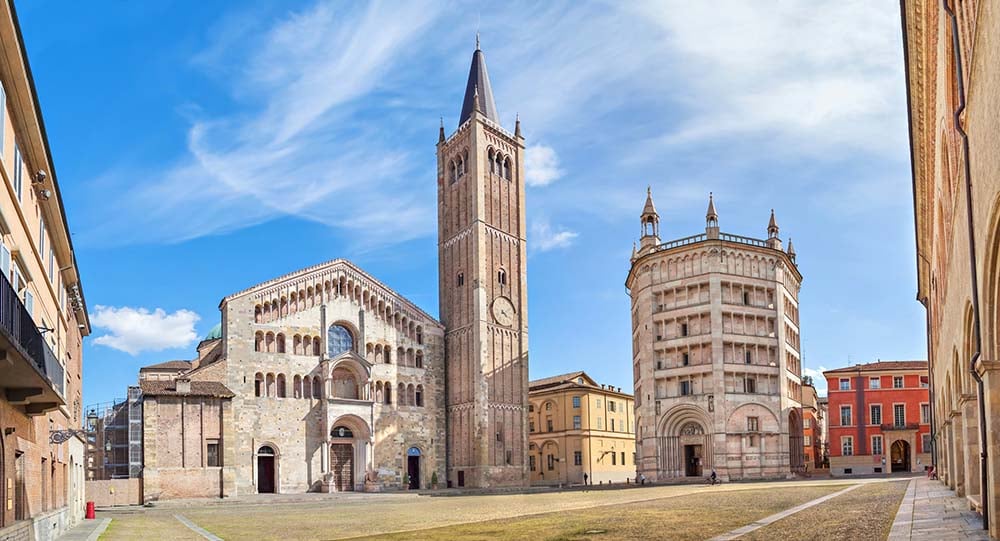 Cagliari
Cagliari is the capital of the beautiful island region of Sardinia. Cagliari is actually called "Casteddu" in Sardinian language, translated to mean castle. Sardinia is a dream destination due to its cyan crystal-clear waters, amazing nature, and great warm weather. While in Cagliari, take a stroll in the historical medieval center including Villanova, Castello, Stampace, and Marina. In the center, you will get to indulge in the beautiful scenes of churches, domes, palaces, and towers.
Later, visit the great churches located in Cagliari; Nostra Signora di Bonaria Basilica, the Santa Maria Cathedral (Cagliari Cathedral) where you can find the crypt which stands as one of the most fascinating places to see in the center. Also, make sure to visit the Roman Amphitheater of Cagliari, the Museo Archeologico Nazionale, Palazzo Viceregio, the Monumental Cemetery of Bonaria, and Palazzo Civico. You can also enjoy a beach day at the Poetto beach followed by a wildlife hike in Parco di Molentargius, which is situated next to the Poetta beach.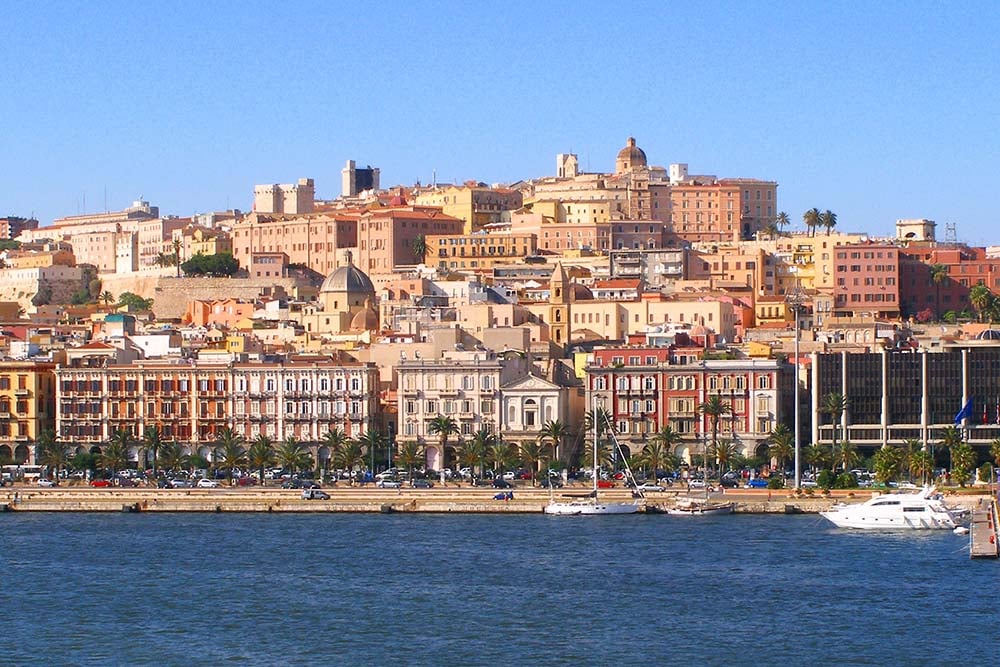 ---
Tours and Activities
---
Summary:
Italy is a great place to be in any season or time. It is blessed with everything from beauty, nature, landscapes, history, weather, culture, cuisine, and great architecture; it is a place for everyone. The cities mentioned are wonderful escapes; home to the most delicious food, most famous artists and architects, historic landmarks that stood time, endless beaches, great activities, and gorgeous natural landscapes. These will make any trip a "great vacation".
Ready to book? Search for:
---
Related Articles