Tours, activities and experiences can be a great addition to a trip and can help make your travels that much more special and exciting. You can now find tours, excursions and activities for most destinations around the world and these might include walking tours, day trips, cooking classes, entry tickets and much more. Below is a selection of 7 of the best places to book tours, activities and experiences online.
You may also want to check out our search tool to find top activities, tours and experiences for your travels.
---
1. GetYourGuide
GetYourGuide are a great option for finding and booking tours and activities for your destination. They offer over 60,000 tours, activities and attractions in 150 countries. As well as this their inventory includes options for 23 languages perfect for those where English isn't their first or preferred language. Some of the things to do on their website include day tours, walking tours, boat cruises, adventure experiences and a huge more to make your trip even more enjoyable. Things we love about GetYourGuide includes their user-friendly website which makes it easy to find what you're looking for, a smooth booking process and a great app.
Benefits and features
60,000 tours and activities
Eco-certified tour options
Free cancellation on many tours up to 24 hours before
Mobile tickets
Customer reviews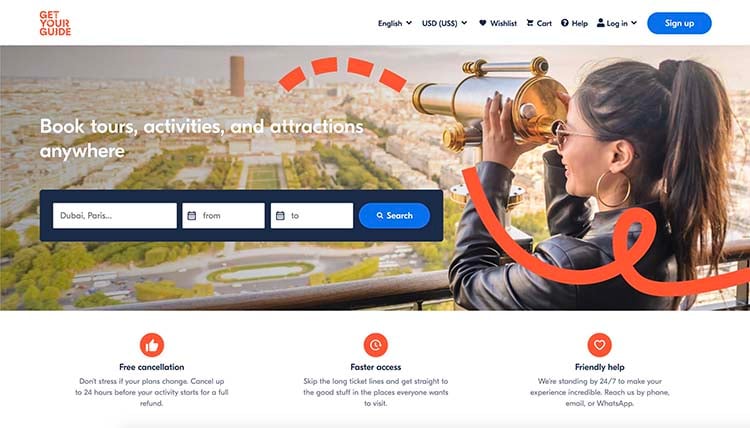 2. Civitatis
Civitatis list 46,000 products in over 2,000 destination and cover options from walking tours, attraction tickets to day trips. When searching their destination pages you'll find filters to narrow down your search and can even find 'free' activities for some places. To help you make a more informed choice before you book you'll also find reviews from previous customers as well as free cancellation for certain activities. Civitatis would be a great place to look for excursions for your travels.
Benefits and features
Over 46,000 products in over 2,000 destinations
270 free tours across many popular destinations
Free cancellation up to 24 hours in advance for many activities

3. Tiqets
Tiqets is one of the largest online websites to find and book tickets. On their site you'll find options to buy tickets for museums, shows, and all sorts of attractions, and in destinations all over our planet. A few of the things you'll find include sightseeing cruises, city cards (passes), guided tours, day trips and lots more.
The site also has a great design, and when deciding which tour or activity you want you'll find plenty of information to help you decide. Such as the duration, start time, what's included, FAQs, as well as customer reviews.
One thing we really like about Tiqets is the site design and user experience which is optimised to make finding and booking top activities for your trip that much easier.
Benefits and features
Mobile tickets
Multiple languages
24/7 support
Free cancellation on tickets
Customer ratings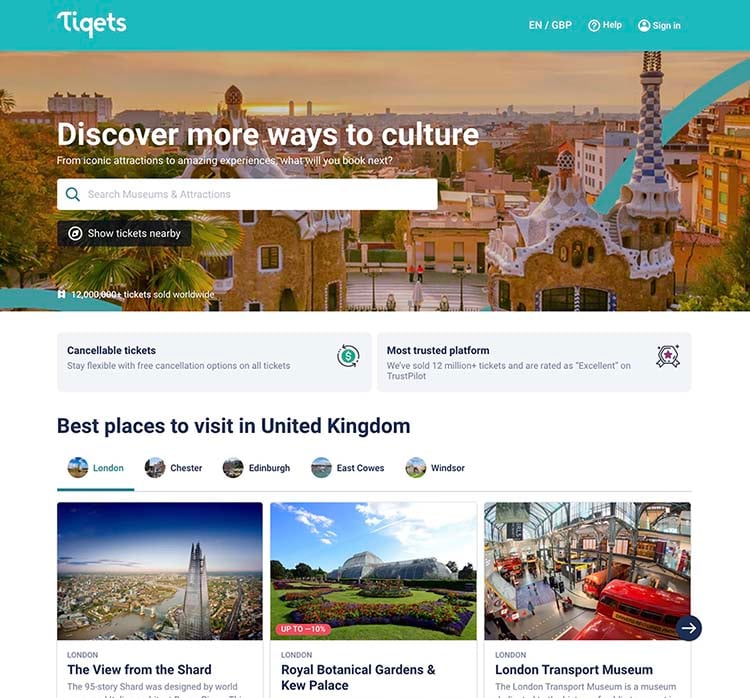 4. Viator
Viator are one of the biggest websites offering tours and activities online and list over 345,000 items in 2,700+ destinations. As well as this you'll find reviews to help you decide what's right for you and your travels. Whether you want a helicopter flight, a day trip exploring the pyramids of Egypt, or a peaceful river cruise you'll find it here.
Benefits and features
345,000+ tour and activity options
Free cancellation up to 24 hours in advance
Customer reviews to help you decide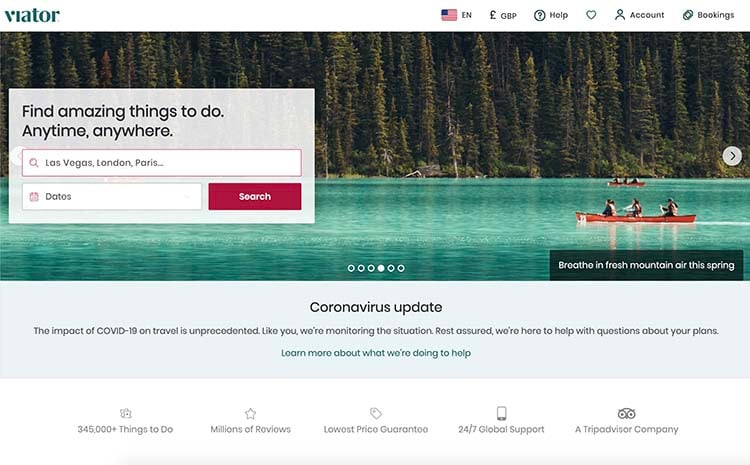 5. Tripadvisor
Tripadvisor is a popular website known for having user-generated content (UGC) where travellers can provide their first-hand feedback to help other travellers. Often people ask questions and other travellers will reply. Nowadays Tripadvisor is much more than that and offers hotels and tours. When booking tours and activities through TripAdvisor your booking will be facilitated through Viator (mentioned above) who Tripadvisor now own.
Benefits and features
Huge inventory due to their integration with Viator
Customer reviews to help you decide what's best for you
Established and trusted brand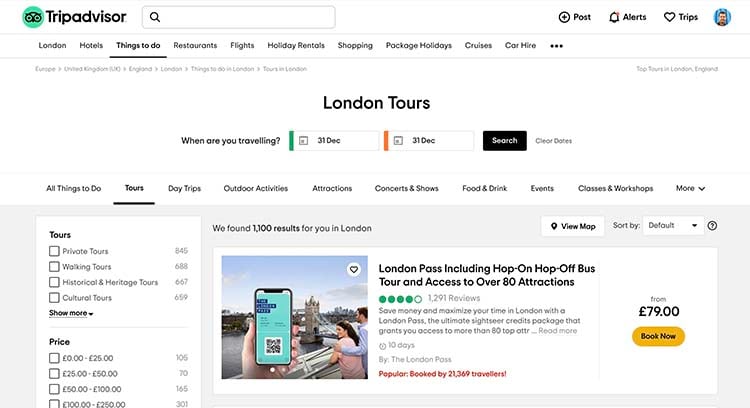 6. Airbnb Experiences
Airbnb Experiences are a unique way to discover your travel destination and are led by locals in the area. Activities might include tours with a local, cooking classes, nature experiences, as well as multi-day trips with meals, activities and overnight stays included.
Benefits and features
Small groups
Great variety of options for different travellers
Activities by local experts
Reviews to help you buy with confidence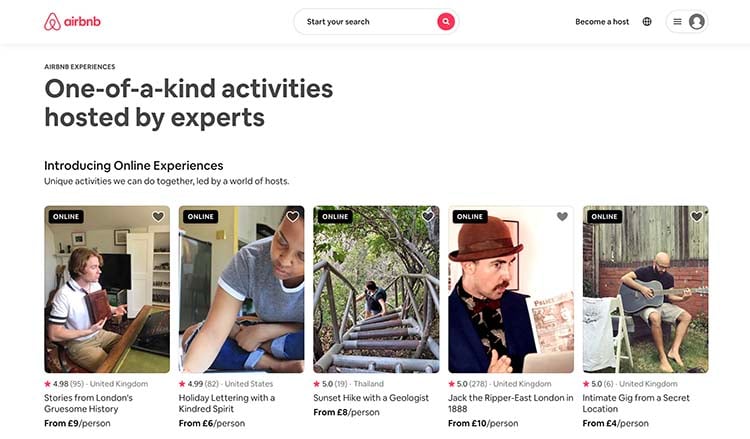 7. TourRadar
TourRadar search across 2500+ operators to provide you with the best multi-day tours. They have over 40,000 options across 160+ countries, so whether you're looking to visit Asia, Africa, Oceania or somewhere else you'll be sure to find some fantastic options available. Types of tours include hiking, safari, river, sailing, luxury and many more.
Benefits and features
40,000+ tours across 160+ countries
Pay over time with a 0% interest plan
24/7 customer support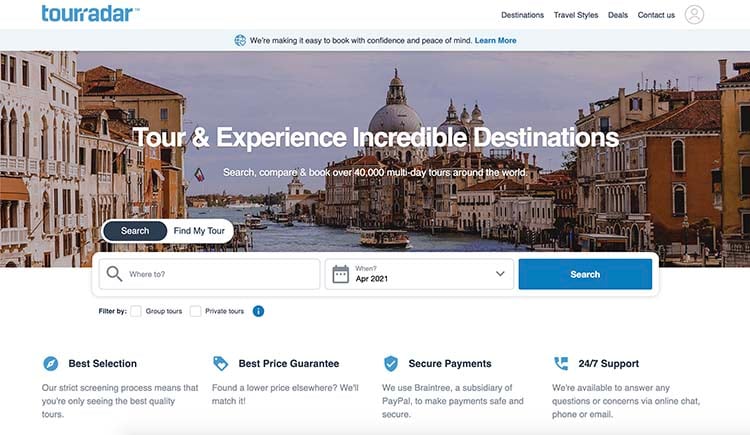 8. G Adventures
G Adventures (Good Adventures) are great for booking longer multi-day tours and cater for a range of travel styles from adventure travellers to those looking for a wellness break. They offer 800 options covering 7 continents including Antarctica, Africa and South America. They also offer a great selection of itineraries to suit different requirements and also tours in partnership with National Geographic. Group sizes are small (up to 15 people but with an average of 10). With G Adventures you don't tend to get your flights included as they cater for customers from around the world.
Benefits and features
800 tour options across 7 continents
Locally based guides
Small groups up to 15 people
Support local communities
Range of itineraries to suit different people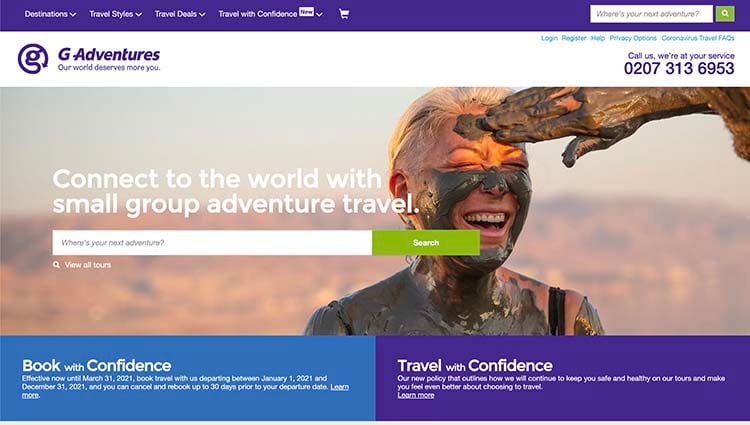 9. Klook
Klook lists and helps you find some of the best tours, activities and other things to do when you travel. On their site they list over 100,000 activities across 300+ destinations, and you'll find options in popular destinations including London, Paris, Lisbon, New York and other popular places to visit.
Activities they offer include tickets to attractions, day trips, city passes and sightseeing tours and much more to help you make the most of your trip.
Benefits and features
Over 100,000 activities in 300+ destinations
Flexible booking and cancellation
Mobile tickets
Customer ratings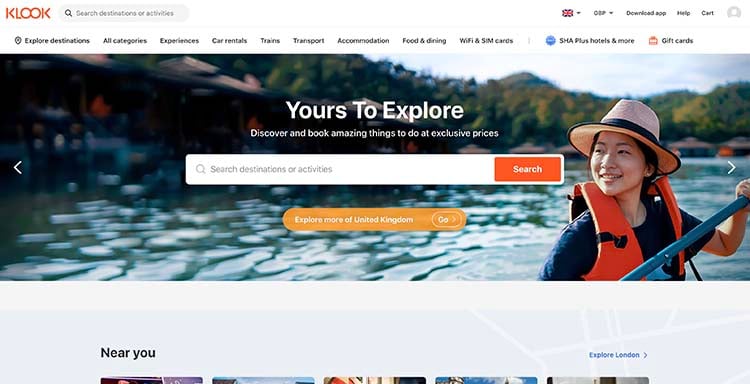 ---
Common questions
What are the benefits of booking tours and experiences online?
Booking tours and activities online can be a great way to plan your trip in advance, as well as be inspired on what to do at your destination. The tour providers are also specialists meaning they have curated or sourced the best things to do at each destination. Some providers may also provide additional benefits such as free cancellation and mobile tickets which make the booking process that much better.
What are the important considerations when booking tours and activities?
When choosing which tour or activity to book we'd recommend looking at previous customer ratings and reviews, as well as the cancellation policy. If you're booking a tour or day trip then you should also look at the pickup/start location which may even be your hotel.
Can you cancel tours after booking them?
Some providers such as Viator and GetYourGuide offer many tours and experiences with free cancellation up 24-hours before which is great should your plans change. When booking if this is something that would be important to you then it should be highlighted with the tour or activity as one of the benefits.
What are the different types of tours, activities and excursions you could book when you travel?
Depending on where you're travelling to you'll likely find a variety of tours and other activities to enjoy. This could include walking tours, boat cruises, cooking classes, outdoor adventure activities, guided experiences and a lot more. We'd recommend visiting some of the suggested websites on this page to find ideas and inspiration.
ADVERTISEMENT
CONTINUE READING BELOW
What are walking tours?
Walking tours are exactly as the name suggests and will include a guided tour around your destination or attraction. The walking tour may be in a large group or you can sometimes get private tours too. Also available for some destinations are free walking tours such as available through Civitatis. With free a walking tour it's generally expected to pay a little as a tip/donation once the tour finishes.
Bus vs walking tours?
Bus tours can be a great option if you're visiting a city or destination where the attractions are generally spread out, or you don't have a lot of time available. By going on a bus tour you'll likely get to see a huge variety of attractions in a short amount of time. Bus tours can often come with either a human guide or a headset with pre-recorded information.
Walking tours on the other hand as mentioned above will involve walking around your destination on foot and often as part of a group. Your guide will then talk about what you see as you go.
Walking tours can often be several hours and it can be quite tiring being on your legs for that long. Therefore we'd definitely recommend a bus tour if you think you may struggle to walk or stand up for long periods.
Can you find free tours online?
You can find free tours online which will generally be walking tours. Free walking tours can be fantastic and high quality and may consist of a detailed guide around your destination over several hours. When participating in a free walking tour you are often expected to pay a small tip or an amount of your choosing after the tour depending on what you think it was worth. Although this isn't compulsory we think it's a bit rude not to.
Where can I find cheap and discounted tours and activities?
To find current tours and activities that are discounted/on offer then head to this promo page on GetYourGuide. You can use the filters to narrow down the price, destination and other options that may suit what you're looking for. Also use the search to find the full range of tours, activities and experiences that are available.
What are day trips and day tours?
Day trips and day tours will normally involve a day or half-day experience and can often include transport, guides and entry into included attractions. They can be a fantastic way to get unique experiences which may not be easily done should you organise everything yourself separately.
Where can you find the best day trips and tours?
Many of the websites listing in this article will offer day trips. Consider having a look on GetYourGuide and Viator for great options. For many of the most popular destinations you may find everything from half-day options to multi-day excursions. These may also include private tours as well as those for larger mixed groups.
Where can I book multi-day tours and itineraries?
Consider looking on G Adventures if you're keen on a long multi-day tour with everything included. They have a great selection of options in destinations all around the world. Such as across South America, Africa, Asia, Europe – you name it! These tours often come with an itinerary packed with exciting experiences that will be sure to provide fantastic memories. You will often get internal transport, accommodation, guided tours, entry tickets and heaps more included as part of your package. These aren't necessarily the cheapest types of trips but can offer the benefits of a hassle-free, pre-organised trip.
---
ADVERTISEMENT
CONTINUE READING BELOW
Summary
Tours, excursions and experiences are some of the best ways to enhance your trips. From walking tours throughout a city, boat trips, day trips to a nearby highlight and much more, we'd highly recommend having a look to see what's available when you travel. We hope that these suggestions above point you in the right direction of some fantastic options for your next trip.