Most people will think of Spain as a holiday destination and many people will limit their visits to just a few cities. The fact is, this treasure trove of a country located in the Iberian Peninsula has cities and landscapes to satisfy every type of traveller. From crystal clear waters and golden sands to the spectacular art galleries housing the finest art, a trip to Spain will never feel quite long enough.
Read on for 10 of the best places to visit in Spain, including some must-visit sites.
1. Granada
History lovers, as well as those with a love for beautiful masterpieces, will love Granada. This Moorish jewel located in the south deserves at least a few days to explore. The Alhambra is one of Spain's most visited destinations. This enchanting palace is worthy of fairytales and is an example of some of the most beautiful Islamic art and architecture in the world. The gardens alone are splashed with every colour imaginable.
In addition, you will want to visit Sacromonte, which is an area of white caves known as the home of the city's gypsy community. It is where flamenco music and dance flourished and is a wonderful area to get lost in. Another district is The Albayzín, which is full of winding cobbled streets of picturesque quality. It is a great place to explore for stunning views of the city. The snow-capped peaks that surround the city feel a little unexpected, however, Granada has more extreme weather than neighbouring cities. You can expect dry heat in the summer and chilly spells in the winter.
Granada is also known for its delicious tapas, which are still served as they were meant to – free. They are usually served with any drink you order and therefore is a great place to taste some local cuisine on a budget.
2. Alicante
If you're hoping for some beautiful white beaches then Alicante will not disappoint. This coastal city is an extremely popular holiday destination and draws visitors from around the world. With a day or two here, you can explore the Benacantil mountain, which is home to the Santa Barbara Castle. Here you can spend a morning treading the footsteps of the ancients as you are inspired by the magnificent structure before you. Evenings can then be spent strolling along the city's beautiful marble promenade. Shaded by beautiful and exotic palms, it is an exceptional place to enjoy local food and drink whilst watching the nightlife unfold.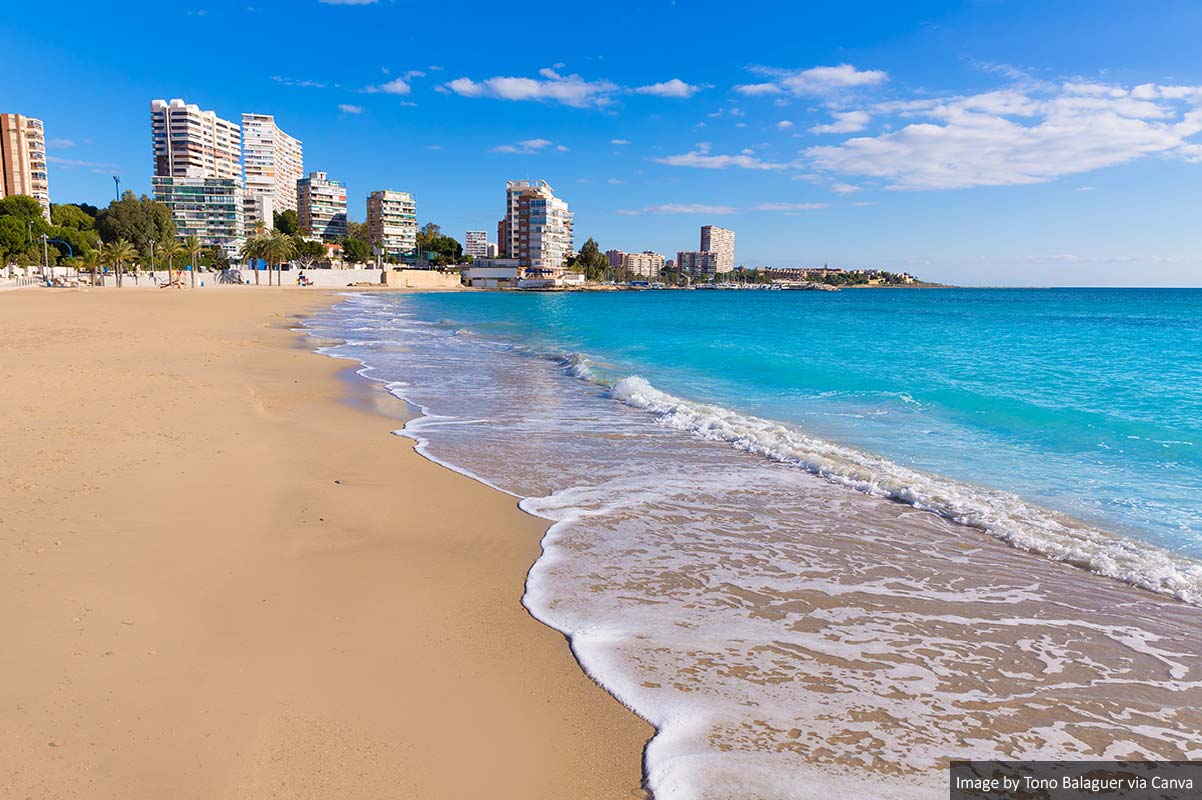 ADVERTISEMENT
CONTINUE READING BELOW
3. Barcelona
Barcelona will most likely remain one of Spain's most popular destinations. This Catalan capital is eternally colourful and exciting. You will find the modern, alongside the ancient resulting in a culture that is truly thrilling to experience. Not to be missed is the architecture designed by Antoni Gaudí, such as La Sagrada Familia, Park Güell and Casa Battló. You could also spend a morning taking in the views of the Santa Maria del Mar which is a Gothic temple with beautiful stained glass panels. Finally take a trip to Mount Tibidabo for stunning views of the sparkling sea, as well as the city as a whole. Rest assured that a few days in Barcelona will be both inspiring and relaxing.
See booking options for Barcelona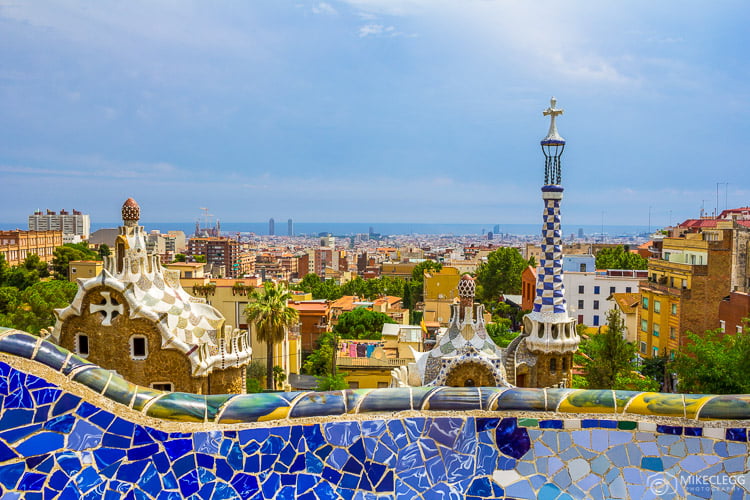 4. Seville
Seville is the capital of Andalusia in Southern Spain is a lively and fun city. You can explore its historical monuments to truly appreciate its rich past. Visiting the Real Alcázar, for example, will give you a taste of cosmopolitan architecture in this city. The Seville Cathedral is also breathtaking, and with 80 chapels it is the largest Cathedral by volume in the entire world, earning its status as a world heritage site. You can spend hours here exploring and admiring the many peculiarities of this structure. There are remnants of the mosque that it once was in the corner, giving testimony to Spain's tumultuous past. Also, ensure you visit Plaza de España (seen below) which covers an impressive 50,000 square metres and is one of the most beautiful places in the city.
Seville is also home to the lively flamenco culture. You have to witness a local show to really appreciate this passionate and dramatic visual art form.
5. Madrid
Like most capital cities, Madrid is a delight to explore at any time of year. It is a treat for those who appreciate art, and if you're on the fence, then Madrid's golden triangle of art might just make you into an art lover.
As you wander the city, the Royal Palace is a masterpiece to behold, and the city's cafes and restaurant all offer a wide range of cuisine for every taste bud. Fresh and delicious tapas are abundant. For a taste of local, you can get stuck into a paella for a sensational and authentic lunch. Madrid is also a shopper's paradise, and there is something for every budget in this spectacular city.
See booking options for Madrid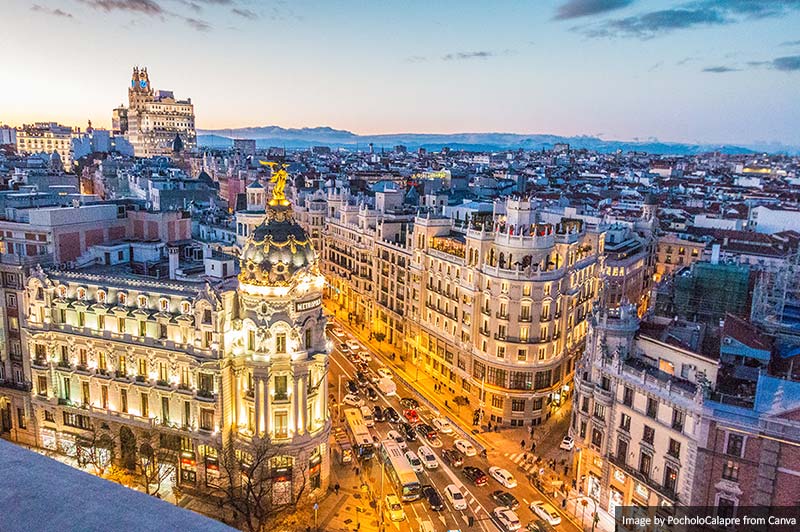 6. Cordoba
The main attraction to visit in Cordoba is the city's cathedral which was once the Grand Mosque of Cordoba. It is a huge and formidable piece of architecture that has retained much of its Moorish imprints and Islamic design. As you wander through the old town with its cobbled streets, you will be overcome with bouts of nostalgia for what was. Cordoba is definitely a city to visit for a taste of explosive culture and history.
7. Valencia
Valencia has a gorgeous old town with simple streets and winding alleys. Whether its medieval castles or the beautiful beaches, Valencia has something for everyone. In addition, if you didn't get stuck into some paella in Madrid, then Valencia is the best place for this. You can enjoy a steaming fresh paella dish at any of the seaside restaurants.
To continue on with the theme of great food, Valencia Central Markets are also worth a visit. The hustle and bustle, as well as opportunities to try fresh local produce will not disappoint. For a different experience, there is also the spaceship-style Valencia City of Arts and Sciences which is a fun place for all the family. It has a spectacularly beautiful aquarium with stunning species of fish and a cinema for some familiar downtime.
This sun and sea filled city is a great option if you want a destination with variety.
8. Toledo
The Cathedral is probably one of the most attractive things to visit in Toledo. It took over 200 years from the beginning of construction to complete. Which makes this masterpiece worth visiting to feel true awe and inspiration. After this, you may want to also cross the Puente de San Martín, which is a medieval bridge. Presiding magnificently over the Tajo river, it is one of Toledo's distinguishing symbols. The views from this bridge alone is worth crossing over for. This is also considered to be a romantic place for couples.
The Juderia district is also worth taking a guided tour through. It once used to be the city's Jewish quarter and has some of the most beautiful buildings in the city. A tour guide will be able to take you through the historical significance of different monuments within.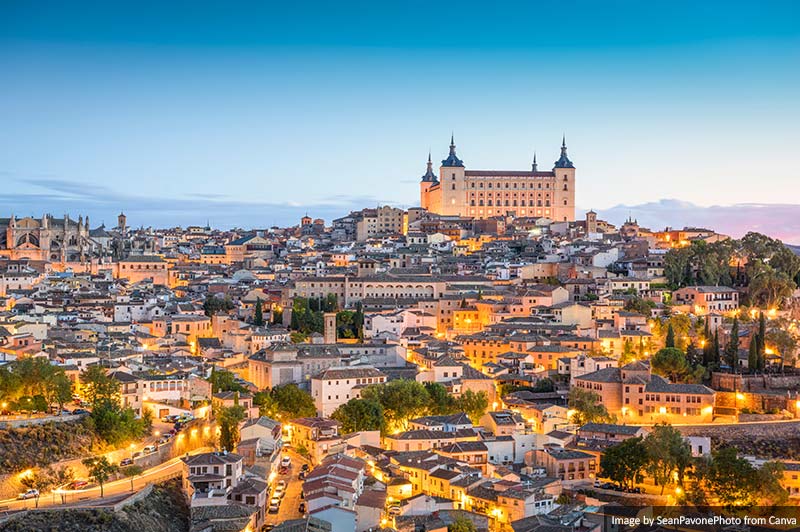 9. Galicia
While Spain is a place people think of when seeking sun and sand, there are also vast territories of spectacular and lush greenery here. Galacia, located in the northwestern regions, is one such place. A home to myths and legends, it is highly influenced by the Celtic. The local people are known to be proud, with their own language, and yet are also welcoming and gracious.
Galacia is a great place to indulge in fresh and aromatic seafood that you will remember for days to come. You can also reach the Cies Islands from here, which also has a peaceful nature reserve making it a great place to escape to for reflection.
ADVERTISEMENT
CONTINUE READING BELOW
10. Almeria
Spain is truly one of the most fascinating countries in the world. It has landscapes of every imaginable terrain. Located in the South, Almeria is considered to be the only desert region in Europe. It is a dusty and dry environment that has interestingly seen some classic Westerns filmed here.
Almería has wonderful historic sites to explore including the Alcazaba which was sanctioned by the Caliph of Cordoba during Moorish rule. It was meant to be the heart of the government and had houses, a mosque, as well as communal squares all built within its fortress walls. There are also ample sightseeing attractions and shopping areas to discover. For a change, you can spend time at the Cabo de Gata-Níjar Natural Park on the coast to truly immerse yourself in nature.
Summary
From breathtaking beaches to lush green foliage, as well as the local food and awe-inspiring history, Spain is a place of enchanting discovery. Inspiration lies within the walls of its architecture, as the bricks that have withstood the tests of time draw visitors from around the world. To truly appreciate this charming country, one needs to travel beyond the cities that are most frequented by tourists and venture out to experience the authentic and alluring culture that exists in its faraway regions and cities. See things to know when visiting Spain when planning your trip.
---
– Find Accommodation –
---
Clicking search will take you to our accommodation partner to help you find the best options. We may receive a commission at no cost to you.
---
Tours and Activities
Start Booking
Here are some top options to book your hotels, activities, flights and other transport:
---
Please note that we get a small commission if you purchase via our referral links. We use this to invest in new content and improving this website. Thanks so much for your support.
Related Articles