From the incredible coastline to the mountainous Basque country, Spain has history, cuisine, and architecture galore. From relaxing on incredible beaches to eating fantastic food to enjoying colourful and vibrant festivals, Spain has so much to offer. If you have some questions about things you should know before you get to Spain then good news —we've got all the all answers (or at least many of them). Here are things you need to know before visiting Spain.
---
1. Spain has some great historical spots to see
Spain's history is varied and diverse, from the Basque influence in the north to the Moorish past in the south. You won't have any problem finding spots to see impressive palaces and majestic gothic cathedrals.
Seville is known for its Moorish (Muslim-Iberian) cultural influence and is most famous for the 8th-century Royal Alcázar (palace/fortress). Perched in the hills of Granada is The Alhambra, a gorgeous palace-fortress that protected the city's people from invasion. Córdoba was once an important Roman city and later, a major center of Islamic and Jewish culture. It's best known for the 10th-century mosque La Mezquita de Córdoba.
2. The weather varies, so be prepared
For the most part, Spain has excellent weather but differs greatly from region to region. The interior has hot, dry summers and cold winters with rain in the spring and fall. Northern Spain, along the Atlantic Ocean, has warm summers and mild winters with a lot of rain in the fall and winter. The southern Mediterranean coast enjoys tons of sunshine and little rain, so be prepared for scorching summers.
3. The best time to visit is the off-season
If you don't want to battle the crowds then visit during the shoulder seasons (spring and fall) and the winter. The Mediterranean Coast in the summer is really hot! The off-season is also great value because hotels are so much cheaper.
ADVERTISEMENT
CONTINUE READING BELOW
4. Getting around is a breeze
Spain's public transportation system is safe and reliable. You can choose from many great options like Renfe (Spain's first-rate rail system), buses and coaches, the Metro (in the major cities), as well as domestic airlines.
Renfe is often the best way to get from city to city. It's quick, reliable, and affordable. It offers a variety of options, including high-speed, regular, and suburban train lines. Book your tickets ahead of time (they're cheaper), especially for AVE (high-speed) trains where you may need a reservation.
TIP
When traveling have some euros on hand because not all types of transportation take bank cards.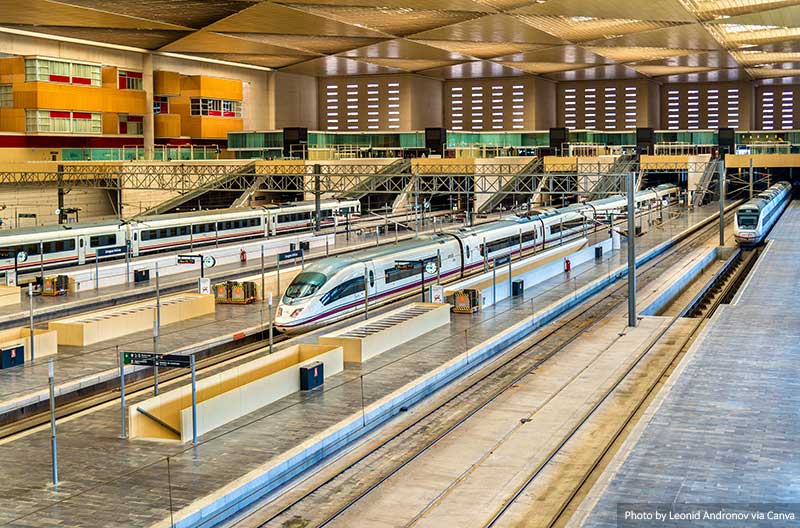 5. Many shops really do close for siesta
Yes, siestas are real, and some shops close during the day (it depends on the shop and the city). The siesta is not as widespread as it once was, but the custom is still alive and well. During siesta, shops will typically close from 2–5 pm. But don't worry, some supermarkets and stores in big cities and tourist areas stay open all day.
6. Currency and Credit Cards
The currency in Spain is the Euro (€), and most shops, restaurants, and hotels will also take bank cards. You can use your cards at any ATM to get euros, but play it safe and try and use ATMs in banks/ those that appear trustworthy. Keep small bills handy to buy stuff at places that don't take bank cards.
TIP
Take a fee-free card such as
Monzo
. This is available to UK citizens but you may find something similar in your home country if you're not from the UK.
7. Tipping
Tipping is not customary, but there are certain times when it's expected to leave a tip. The rule of thumb is to round up to the nearest euro in a cafe and leave 10 percent in an upscale eatery or if you feel your service was exceptional. Before tipping, make sure they didn't already include a service charge in the final bill. Rounding up your taxi fare is also okay.
8. Spain is one of the safest countries in Europe to visit
Spain ranks in the top 10% of the safest countries in the world, but as in any unfamiliar place, you will need to be aware of your surroundings and take precautions to make sure you stay safe. Pickpocketing and scams can certainly happen so always be streetwise to prevent mishaps. Read more about safety in Spain.
ADVERTISEMENT
CONTINUE READING BELOW
9. Seville is the home of Flamenco
For a night you'll not soon forget, catch a Flamenco show in Seville, which is the best place in Spain to enjoy this energetic art form. Flamenco developed over the centuries from the songs of Roma (gypsy) settlers. To see some awesome, authentic flamenco, head to El Tablao Flamenco Los Gallos. If you want to fit in with the locals, don't forget to yell "ole!" at the end of each set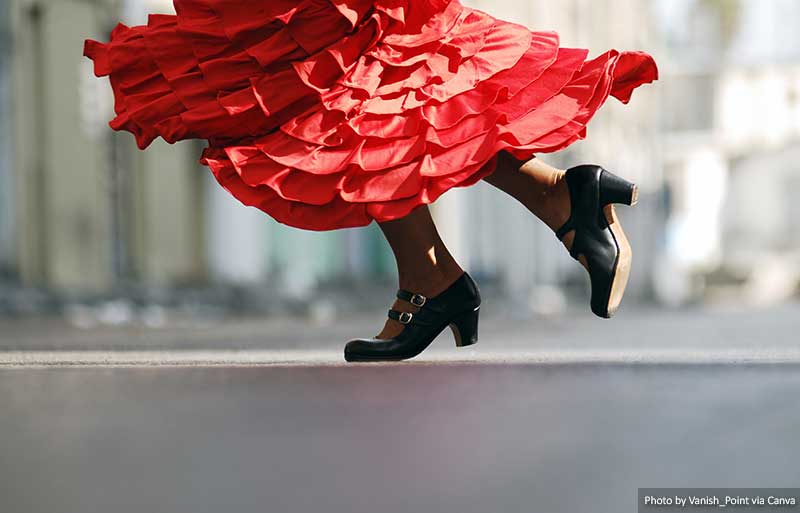 10. Spanish festivals are a must-see
Spain has some fantastic festivals, and you'll find them year-round. Here are a couple of fun and lively festivals to put on your itinerary:
La Ruta de la Tapas in Frigiliana. Frigiliana throws a giant party in August to celebrate its diversity through food, music, and art. The best part of the festival is Ruta de la Tapas (route of tapas), are only €2 each, and you can take a tapas crawl through Frigiliana.
La Tomatina in Buñol. Buñol hosts an over-the-top food fight in August, where thousands flock to Buñol for the Tomatina Tomato Fight.
11. The Spanish love their soccer
It's hard to find more passionate sports fans anywhere in the world than the Spanish. Their favourite sport is, of course, futból (soccer). FC Barcelona and Real Madrid are the two biggest clubs in Spain, and their home games are full of action. They play their home matches at two of the most famed venues in Europe, Camp Nou, and Estadio Santiago Bernabeu.
12. Learning a few essential words of Spanish will come in handy
Many Spaniards don't speak English, except in tourist areas. However, if you seek out young Spaniards, they may be more helpful because they learn some English in school.
Here are some useful phrases and words to know:
Hola – "Hello"
Buenos días – "Good morning."
Buenas noches – "Good evening."
¿Cómo está? – "How are you?
¿Habla inglés? – "Can you speak English?"
¿Dónde está___? – "Where is___?"
¿Dónde hay un restaurante? – "Where is a restaurant?"
¿Dónde está el baño? – "Where is the restroom?"
¿Puede ayudarme? – "Can you help me?"
Por favor – "Please"
¿Cuanto cuesta? – "How much is it?"
La cuente, por favor – "The bill, please".
13. Spanish Food is epic
If you were to pick the most iconic Spanish dish in Spain, it would have to be paella, and if you're looking for the best paella in Spain, then head to Valencia — its ancestral home. Try Valencia's original recipe (appropriately called Paella Valenciana) at any of the local restaurants, and you'll want to bring home the recipe to relive the fantastic experience again and again.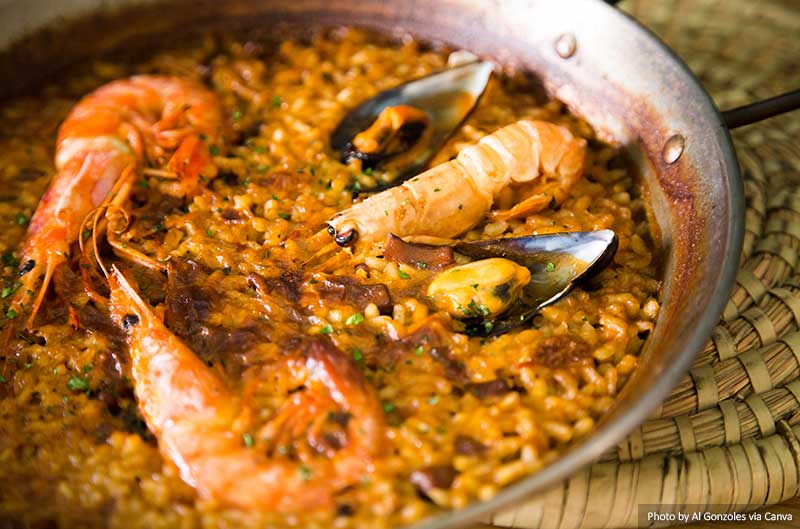 14. Sangria is incredible
Regarding drinks in Spain, Sangria is a must-try! The drink includes a delicious blend of red wine, fruit, sparkling water and other ingredients. You'll find it available in many restaurants and even in some grocery stores in cartons. When lounging on a beach or by a pool on a warm summer day it is especially nice, just be careful of how much you drink as a good Sangria will go down very easily.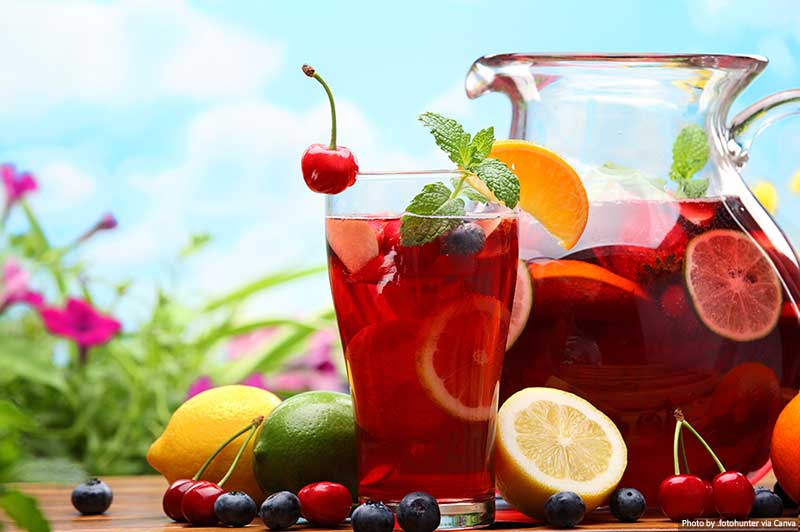 15. Toledo is famous for its steel
Toledo is a city of diverse cultures, but it's steel that's really put them on the map. For centuries, the best swords in the world were made here, but today, Toledo's fabled steel smiths make replicas and ceremonial weapons. Take a tour of the famed workshop of Mariano Zamorano where you can pick up a cool sword to commemorate your time in Toledo.
---
Find flights and hotels
Start your search using our form below:
Related Articles