Whenever you travel you should always ensure you are covered for emergencies or other issues. This may be the need for medical help, flight issues, stolen baggage, or a whole range of other potential problems. To ensure you have peace of mind you should buy travel insurance. This can be very affordable and in some countries such as the UK you'll find heaps of insurance providers. Before you buy your travel insurance here are some of the things you should consider.
---
1. Countries covered
First, which countries does the insurance cover. You can often get insurance that covers just Europe, Worldwide (excluding USA and Canada), as well as Worldwide (including USA and Canada). Still, even if it's a worldwide package you should always check the country you are visiting is included. Often the more comprehensive and countries that are covered in the insurance then the more it'll cost, so bear this in mind.
2. Excess
Should you have to make an insurance claim then you'll often have to pay an excess. This can range such as from £50-£300, but certain insurance plans even allow no excess. If you use a site such as moneysupermarket.com you'll find lots of options. Often (but not always) the lower the excess then the higher the cost of the insurance premium will be.
3. Duration
Travel insurance can often be purchased for a certain duration. Such as a few days, a week, two weeks or even an annual plan. If you're planning to travel a lot throughout the year, such as four or more trips then an annual plan is often a good idea. But if you're only going for one trip then this is probably not necessary. If you know your plans for the next 12 months then check the cost of a single trip insurance vs annual insurance to see what might be best for you.
ADVERTISEMENT
CONTINUE READING BELOW
4. Winter and other sports
Winter Sports is often not included by default on most travel insurance plans, so if you're going on such a trip, or there's a chance you'll need this then ensure it's included. You'll often have to pay a little bit extra, but if you're buying annual insurance then it may be cost-effective rather than buying it separately later.
5. Pre-existing medical conditions
Should you have any pre-existing medical conditions prior to travel then if applicable these should be declared. These might even be less serious conditions, including but not limited to, high blood pressure, depression, asthma, diabetes and much more. You should also ensure that the plan is suitable for you and would even cover you, as for serious medical conditions you may need special insurance.
6. Rating (if any)
Sometimes it's possible to see the ratings for an insurance provider or policy. Have a search on Google for reviews, or use a site such as moneysupermarket.com where you'll see a defaqto rating. This rating method means that the more stars, then the better and more comprehensive the policy.
7. Specific exclusions
Another very important thing to check when buying your travel insurance is whether there are certain exclusions. For example, after the Coronavirus Covid-19 pandemic you may find that lots of policies state that you aren't covered should something happen to you that's related to this. Ie you need medical help or your airline or another service provider goes bust specifically because of the Coronarivus.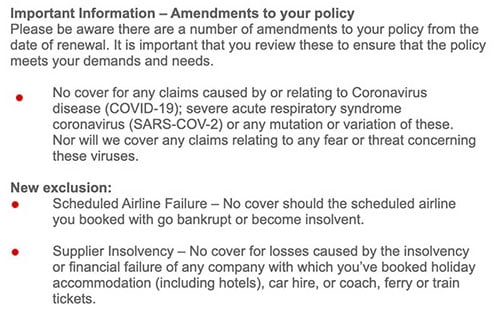 8. Insurance policy terms
Finally, always read the insurance policy terms. This might not be word for word, rather just a quick scan through. Such as exactly what is covered, how to make a claim and other important information that stands out. A few things you may want to ensure (depending on the country you live in) is whether you have to be a citizen and also registered with a doctor (ie UK).
Summary
Travel insurance is something you should always have whenever travelling abroad. This will ensure that should you have any mishaps then you'll be covered and can get the help you may need. If you have to pay for medical costs, extra flights or accommodation then you'd definitely feel thankful that you had it in these scenarios.
Related Articles