Neighbouring countries like India and Nepal have been discovered by travellers, whilst the kingdom of Bhutan somehow remains hidden behind a curtain of mystery. With its lush nature reserves and spellbinding monasteries, Bhutan is often considered to be a harmonious and peaceful destination. Bhutan boasts a carefully curated cultural heritage, lively traditional festivals, and pristine forests which are protected by law.
It's worth mentioning that Bhutan can only be explored through guided tours arranged by Bhutanese tour agencies. But, you can make requests to visit specific sites and create a customized travel route.
Do you need inspiration for your Bhutan itinerary? We have selected 10 of the most stunning locations to visit in this elevated empire.
---
1. Thimphu
The first stop on your Bhutanese adventure is presumably Thimphu, the largest and most populated city in this South Asian nation. Thimphu sits in a valley, sandwiched between rolling hills in the western part of Bhutan. The city is dotted with historical complexes that functioned both as a fortress and monastery, and are so typical for Bhutan. Dechen Phodrang Monastery is not to be missed, as this iconic priory has 12th-century paintings and admirable monastery buildings. The Chagri Dorjeden Monastery, built on a hillside just north of Thimphu, is also definitely worth the 20-kilometre drive.
If you're in Thimphu during the weekend, don't forget to wander around the weekend market. This is the best possible way to experience the local culture. Here you can buy traditional handicraft or snack on local delicacies like cheese and honey.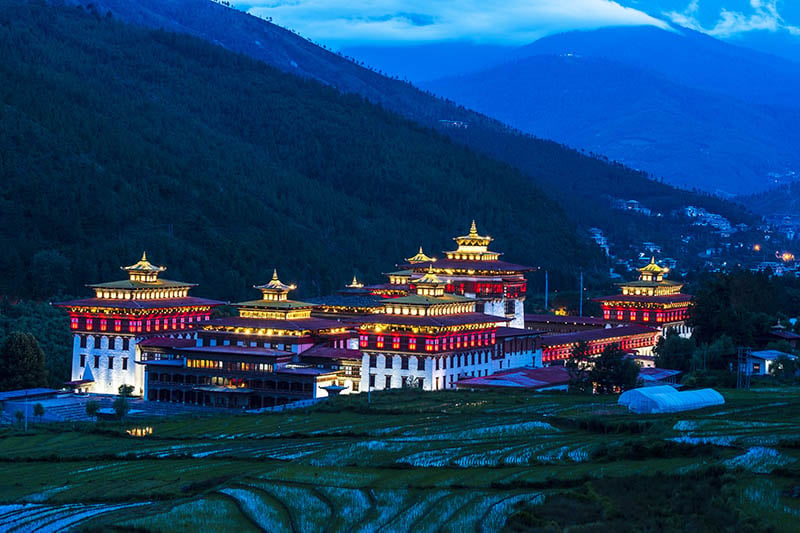 2. Jigme Dorji National Park
This protected reserve measures over 4300 square kilometres and lies in the northwestern part of Bhutan, on the border with Tibet. Thanks to its vastness, Jigme Dorji National Park has a variety of sub-climates and landscapes, ranging from the imposing peaks of the Eastern Himalayas to rainforests. The area is home to tiny communities with people who make a living out of crop growing and animal husbandry. Some of the activities in Jigme Dorji are forest trekking, wildlife safaris, and hiking amidst alpine scenery.
Jigme Dorji National Park is truly a natural treasure, and a habitat for some incredibly rare animals. Both the snow leopard and Bengal tiger reside in the park, which makes this unique place a proper pilgrimage site for nature lovers. You might also spot the adorable red panda during an expedition through the forests.
The park can be reached via road from the capital Thimphu, and the ride takes around 4 hours.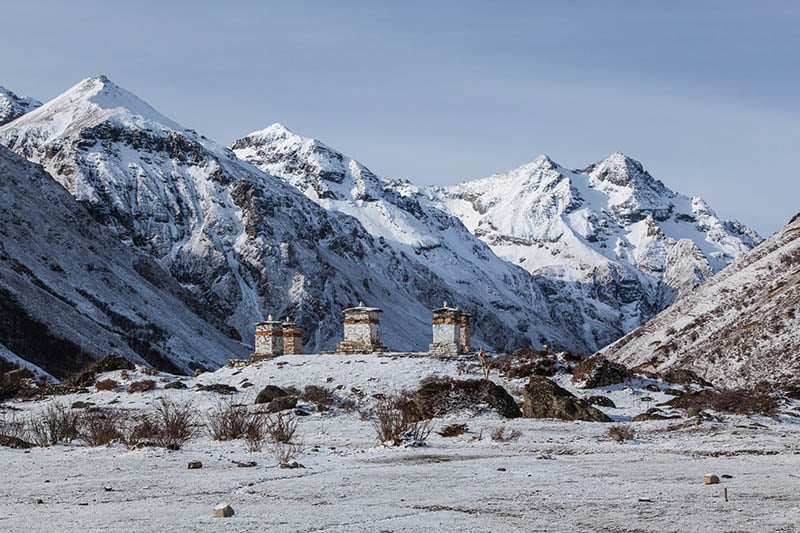 ADVERTISEMENT
CONTINUE READING BELOW
3. Mount Jomolhari
Bhutan is home to some striking summits, and Mount Jomolhari is one of the finest examples. This mountain, which rises 7326 metres above sea level, lies on the border with Tibet, and can be seen from afar. It is a holy grail for hiking fanatics. Hiking experience in an alpine environment is absolutely necessary, as the total trek takes at least a week and the oxygen level is very low along the way. You can pick from different routes, known as the Jomolhari Trek, Jomolhari Loop Trek, and Jomolhari Base Camp Trek. The 10-day Jomolhari Trek takes hikers to an altitude of up to 5000 metres. The Loop Track takes 7 days and starts at the settlement of Gunitsawa.
Along the way, your efforts result in stellar panoramic views over alpine lakes, neighbouring peaks, and beautiful flower fields in the lower areas.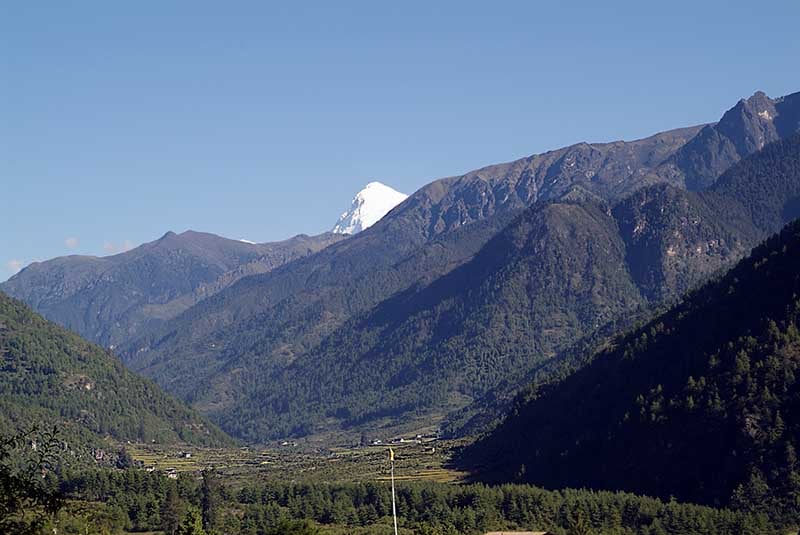 4. Paro Taktsang (Tiger's Nest)
If you pick up a brochure for Bhutan tourism, chances are that Paro Taktsang proudly shines on the cover. This Buddhist monastery is the most significant and iconic cultural landmarks and for valid reasons. Paro Taktsang – nicknamed the Tiger's Nest – is stunningly draped over a rock outcrop, and surrounded by a green valley and rugged mountain peaks. Within this stunning complex, you'll be able to visit praying halls, shrines, and four caves used as a living and meditation space for monks. Although the Tiger's Nest was wholly destroyed by a fire in 1998, the cloister has been restored beautifully, keeping its original appeal alive.
Paro Taktsang is accessible via a rocky path that winds its way up from the parking lot for 2.8 kilometres. You'll reach this magnificent monastery within 1 hour.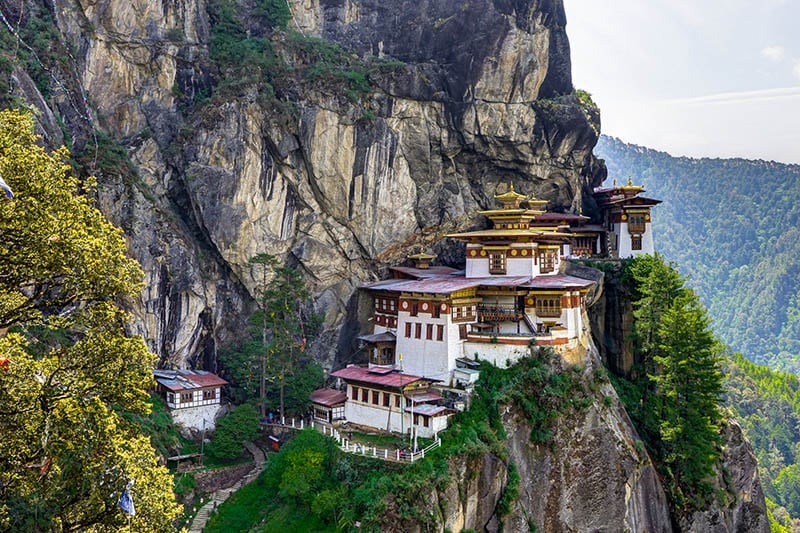 5. Trongsa
Trongsa is a town located right in the heart of Bhutan, 200 kilometres east of the capital Thimphu. The traditional Bhutanese architecture shines in this town that houses several palaces and a compelling heritage museum. An excellent location to kick off a trip to Trongsa is the Trongsa Dzong, the historical seat of Bhutan's kings. Within this 17th-century complex, you can explore the courtyards and admire the stunning architecture and ornaments. Trongsa Dzong still functions as a monastery.
The Royal Heritage Museum is the other eye-catcher in this ancient town. This institute is based in the brilliant 17th-century Tower of Trongsa and has exhibitions on Bhutan's legendary kings and the importance of Buddhism. From the viewing point, you'll overlook Trongsa and the lush valley it's located in.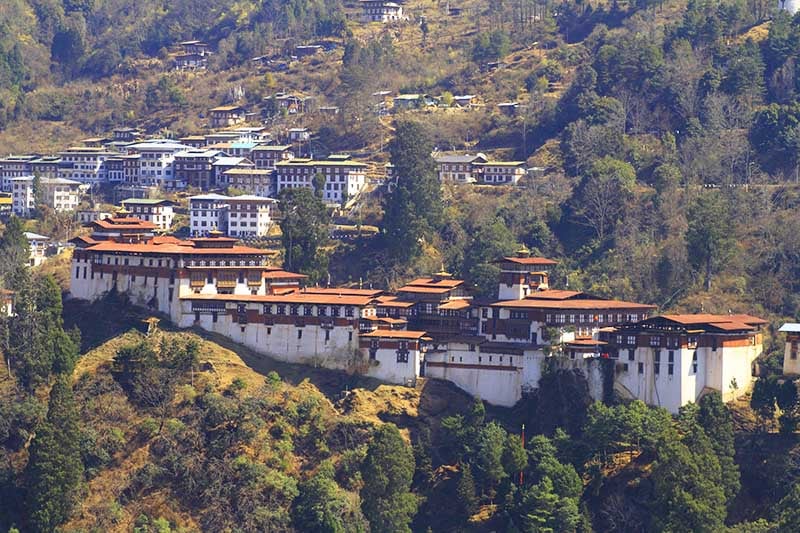 6. Dochula Pass
The Dochula Pass combines fabulous vistas with a great religious significance. This alpine passageway lies just 20 kilometres east of Thimphu at an altitude of 3100 metres and is often covered under a blanket of snow. Stop here for an impressive visit to the Druk Wangyal Chortens, a total of 108 stupas on the top of this mountain pass. A walkway lets you explore all of the 108 stupas, which were built in memory of 108 Bhutanese soldiers who died in the war with India in 2003.
Across the stupa collection, the Druk Wangyel Monastery is a wonderful place to see classic Bhutanese architecture. When you have a close look, you can clearly see all the delicate gold leaf details and windows with hand-carved decorations.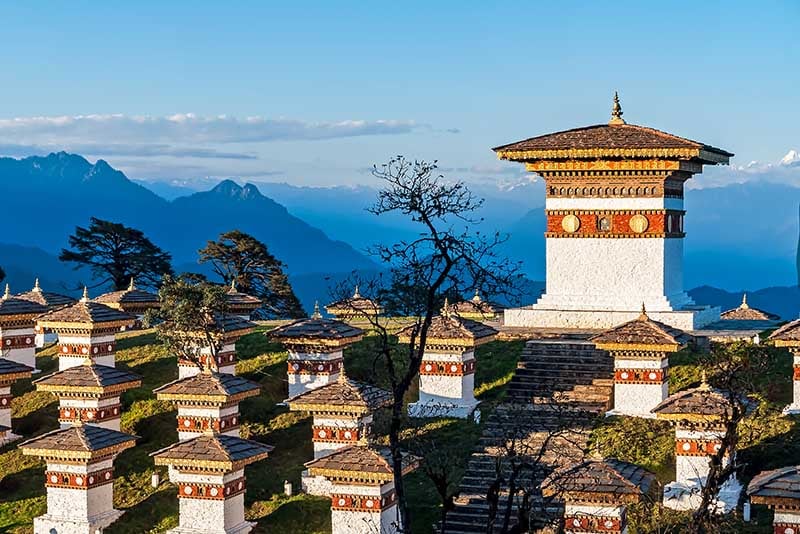 ADVERTISEMENT
CONTINUE READING BELOW
7. Punakha Suspension Bridge
Hanging over the Puna Tsang Chu river, the Punakha Suspension Bridge is a wonder of engineering. With a length of 160 metres, this Punakha is one of the longest suspension bridges in Bhutan and certainly the one that offers the most breathtaking scenery. While walking over Punakha Suspension Bridge, the roaring Puna Tsang Chu river flows underneath, and the hills of central Bhutan show themselves all around. The Punakha Suspension Bridge is only a stone's throw away from Punakha Dzong, a 17th-century fortified palace occupying the riverbank.
Although the Punakha Suspension Bridge is only 80 kilometres away from Thimphu by road, it takes more than 2 hours to tackle the winding roads.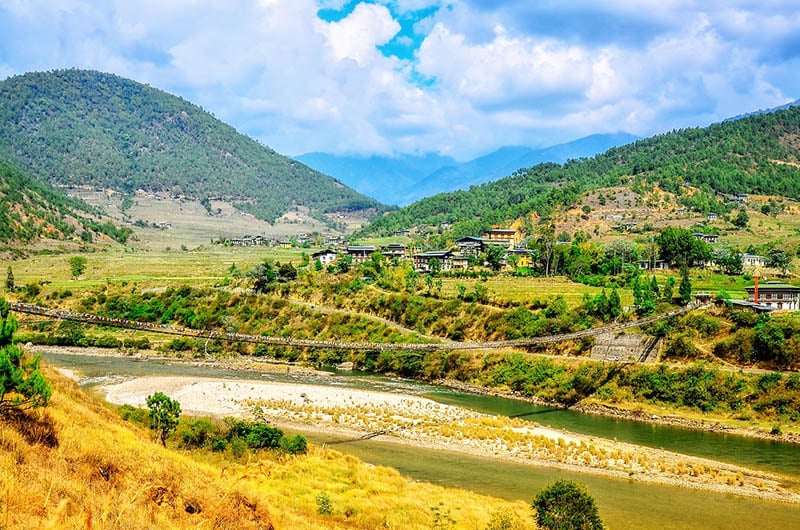 8. Royal Manas National Park
Royal Manas National Park was the first national park to be established in Bhutan in 1966. This vast reserve in the south of Bhutan is home to hundreds of species of flora and fauna and attracts travellers that want to experience Bhutan's biodiversity.
The best ways to delve into Royal Manas National Park is via a hike or wildlife safari. Keep an eye on the treeline, where elusive hornbills and eagles might appear at any moment. Other wildlife in this 1057 square kilometre park includes Bengal tigers, Asian elephants, rhinos and cobras. Perhaps one of the most enjoyable ways to navigate through Royal Manas National Park is via a boat trip, during which you might get a glimpse of the extraordinarily rare Gangetic dolphin.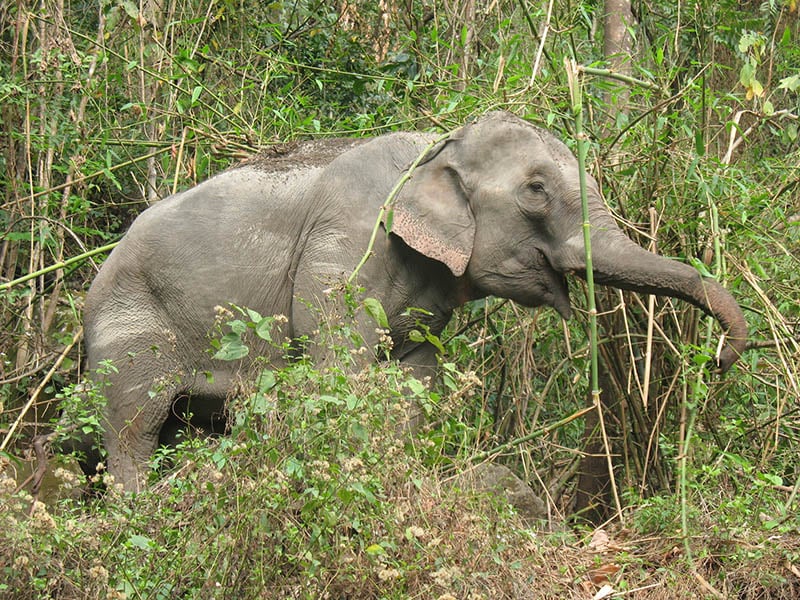 9. Drukgyel Dzong Ruins
The ancient ruin of Drukgyel Dzong is a remnant of a once-mighty fortress in Paro district. Drukgyel Dzong is inscribed on UNESCO's Heritage List for its cultural and historical value. Construction of this former fortress started in 1649, and it stood here proudly for 300 years until a devastating fire completely burned the complex in 1951. The remaining walls and watchtowers provide a hauntingly beautiful contrast to the intact palaces of Bhutan today. The Drukgyel Dzong Ruins are near the Tiger's Nest, which makes it easy to combine the two on the same trip.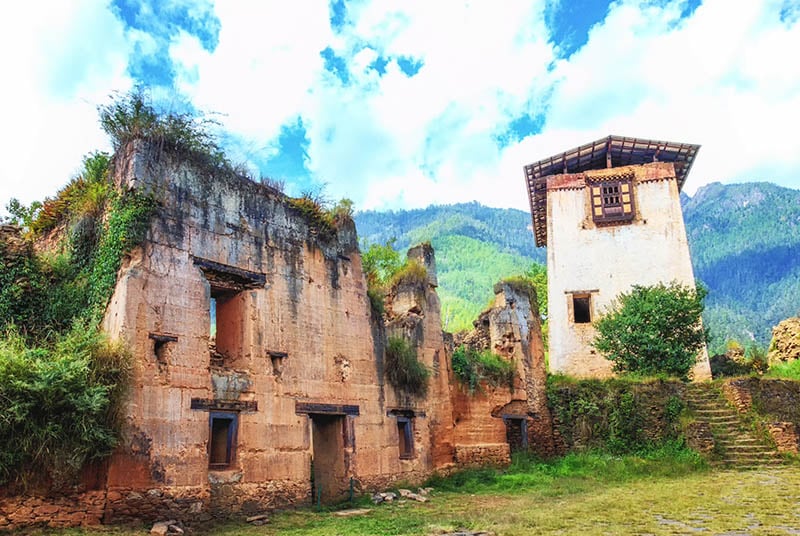 ADVERTISEMENT
CONTINUE READING BELOW
10. Druk Path
Bhutan is home to legendary peaks and mammoth hiking trails. But if you're short on time, this 54-kilometre route is a relatively compact alternative for monster trails such as the Snowman Trek. The Druk Path Trek only lasts 7 days, but the differences in altitude and landscapes create an incredible and diverse journey. The route meanders its way between the Paro and Thimphu regions and crosses through forests and over high mountain passes.
Along the way, you'll meet herds of yaks, pass by crystal clear alpine lakes, and traverse through vibrant flower fields. On the horizon, snow-capped giants like Jichu Drake and Gangkar Puensum appear on parts of the track.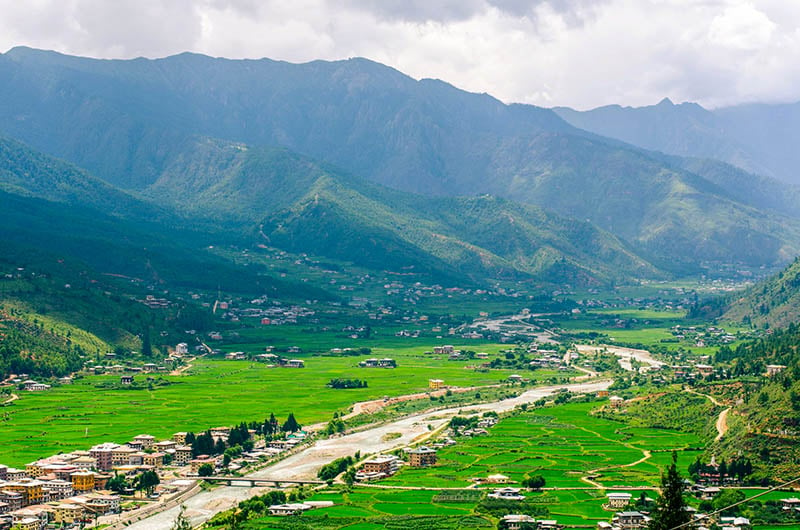 Summary
If wildlife and cultural experiences are high on your travel wish list, Bhutan delivers in spades. From national parks teeming with rare animals to majestic palaces, Bhutan mixes dreamy landscapes, a fascinating culture, and architectural wonders.
---
Tours for Bhutan
Start Booking
Here are some top options to book your hotels, activities, flights and other transport:
---
Please note that we get a small commission if you purchase via our referral links. We use this to invest in new content and improving this website. Thanks so much for your support.
Related Articles