Hungary is one of the most popular countries in Eastern Europe. Characterised by mighty castles, stunning countryside, glittering cities, and magnificent architecture. It blends an interesting culture with history and amazing food along with unique travel experiences. If you want to explore the secrets and treasures of this country, here are the best 10 places to visit in Hungary.
1. Budapest
The capital of Hungary and one of the most romantic cities in Europe, Budapest needs no introduction. It's crowned by the sprawling mastery of Buda Castle and cut in half by the winding Danube.
Over the years, Budapest shaped itself a mysterious yet glittering personality. From famous universities attracting erudite students to sleepless clubs and bars, bubbling thermal baths, and wide green areas, this city has it all.
History-seekers will be enchanted by the Buda Castle, a UNESCO World Heritage Site. Foodies will be satisfied by the countless food stalls in the central market, and in the evening, go to the Fisherman's Bastion to admire a sunset view to die for.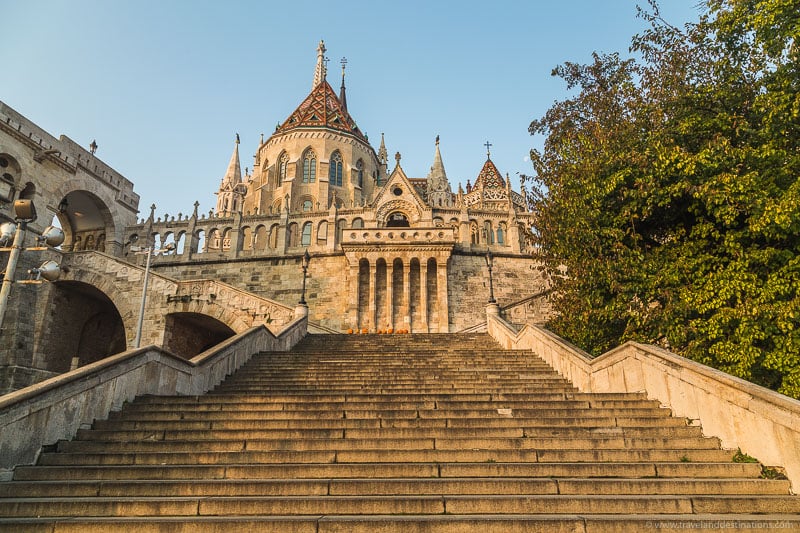 2. Eger
Budapest is not the only place where you'll find historical forts, palaces, and castles. If you're a history enthusiast, Eger is a must-see. The town is home to some of the most fantastic baroque buildings in Hungary, but it's best known for its medieval castle.
Located on the southern slope of the Bükk Mountains, Eger Castle was once the gateway to northern Hungary. Its current design dates from the sixteenth century, when it was renovated following the layout of an Italian fortress.
Once you've admired the remaining towers, ruins, and mesmerizing views over the surroundings, take some time to explore the medieval centre and relax in one of the many restaurants or bohemian cafes.
ADVERTISEMENT
CONTINUE READING BELOW
3. Szentendre
Draped over the Danube banks at a mere 20 kilometres away from Budapest, Szentendre rises in a symphony of cobblestoned streets and age-old Magyar houses.
This picturesque town impresses with an absolutely magical old town that bears the signs of its Mediterranean and Serbian settlers. Today, the city is a true magnet for upcoming artists and is home to many galleries, boutique shops, and colourful buildings. Undoubtedly, a fascinating place to visit in Hungary.
4. Debrecen
An underrated destination that truly deserves a bit of flashlight is Debrecen, the second biggest city in Hungary. This hidden gem close to the Romanian border is the best place in Hungary where to experience the authentic lifestyle.
A surprising cocktail of history and culture, it welcomes tourists with its neoclassical façades, museums, and an amazing city park.
After exploring this quaint city, indulge yourself with some of the many local delicacies or take a break in a cultural café for a dining experience like no other.
5. Tokaj
Tokaj is the staple wine of Hungary, as well as a region in the northeast of the country. The name is also of the main town in this wine district.
Whether you're a wine aficionado or not, visiting Tokaj is an experience like no other. The town is a UNESCO World Heritage site known for its rich history. Besides stunning Magyar architecture, it also offers postcard-perfect views over the vineyards and other villages in the region.
Stunning landscapes and history apart, wine is by far the main tourist attraction here. From free wine tastings to vineyard tours, there are quite a few things to do in the region while indulging yourself with a glass of this exquisite beverage.
6. Sopron
At only eight kilometres away from the Austrian border and 65 kilometres south of Vienna, Sopron is a popular destination for day-trippers. The town nestled near the eastern foothill of the Alps boasts impressive surroundings, a well-preserved historical centre, and countless baroque buildings.
Built on Roman ruins, the characteristic Old Town counts over 100 officially-listed monuments and over 200 protected buildings. The town contains features from different historical periods and interesting architectural elements. While visiting a stroll through the streets will turn into an unexpected travel experience.
7. Pecs
Another quaint town and one of the best places to visit in Hungary, Pecs is renowned for its worship buildings and medieval Old Town.
Dominating the northwest of the historic centre, the Cathedral of St. Peter shows the influences of many different cultures. It was founded in 1009, then rebuilt after suffering serious damage during a Mongol attack. Transformed into a mosque and then a store, the church was rebuilt again at the end of the nineteenth century, gaining its imposing façade.
After discovering the many treasures of St. Peter, walk over the nearby Mosque of Yakovali Hassan Pasha. Here admire its mighty minaret and museum, then stop at the lovely medieval marketplace for a well-deserved break.
8. Tihany
One of the most popular holiday resorts in Hungary, Tihany overlooks Lake Balaton and impresses with its extraordinary scenery.
Designated a nature reserve, the town is mostly closed to traffic, and you can only explore it on foot. Along the well-marked trail network, you'll have the chance to admire the beautiful Benedictine Abbey dating from the seventeenth century, as well as stunning views of the lake.
This place is a sweet treat particularly in spring when the almond trees are in bloom or in early summer when the fragrance of lavender fills the air.
9. Esztergom
Esztergom is believed to be the veritable centre of Christianity in Hungary, and it was the capital of the Hungarian Kingdom. It played host to revered monarchs over the centuries, and today, it showcases its sprawling religious constructions.
The huge Esztergom Basilica is the main attraction. A massive building complete with mighty cupolas and gloomy crypts. Around the basilica rises the Watertown district, a fascinating maze of cobbled streets, classical buildings, baroque façades, and sun-splashed squares that can easily conquer the hearts of all tourists.
ADVERTISEMENT
CONTINUE READING BELOW
10. Tapolca
Arguably one of the best places to visit in Hungary, Tapolca stands out thanks to its vast underground cave. A unique gem that will surely leave you speechless. Famous for its medicinal properties, the cave is located right in the middle of the town and is easy to explore by boat. Also a stone's throw away from Tapolca, you can also discover the Castle of Szigliget or have a day trip to Lake Balaton.
Summary
Whether you're a history junky, a nature lover, or a food and wine aficionado, Hungary knows how to please you. From vibrant nightlife in the major cities to relaxing Roman baths, this amazing country has it all. All you have to do is pick up your favourite best places to visit in Hungary from the list above and include them on your trip.
---
Tours and Activities
Start Booking
Here are some top options to book your hotels, activities, flights and other transport:
---
Please note that we get a small commission if you purchase via our referral links. We use this to invest in new content and improving this website. Thanks so much for your support.
Related Articles