India is a country where a traveller can find bliss in each and every corner of the country. A beautiful amalgamation of snow-clad mountains in the north to vast spaces of cool beaches in the southern regions, India has it all in store for you.
Of all the tourist attractions, beaches are often considered to be the most sought-after ones. They offer a beautiful mix of sunrays, feet touching water, exotic breeze and vast spaces of sand, all of it at the same time and at the same place.
Apart from their tempting natural affinity, beaches are also known for their mouth-watering coastal food, romantic honeymoon locations and a wide range of water sports and adventure activities. Beaches in India are prevalent in the states of Goa, Kerala, Chennai and Maharashtra and all are known for their exotic beauty.
Here is a list of the top 5 beaches in India that you simply cannot afford to miss while being in India.
1. Havelock, Andaman
What do you think would constitute an ideal beach for tourists?
From sparkling silver sand to vivid corals and from rich green waters to a serene environment, Havelock beach is the perfect destination for beach lovers in India. Apart from the above-mentioned features, this beach also attracts a wide range of tourists who are scuba diving lovers. Snorkelling is another attraction of this beach that separates it from the rest.
Havelock beach is particularly known for its beachside resorts that are among the best in the country. With accommodation facilities ranging from dirt cheap beach huts to luxurious resort villas, this beach is nothing short of a dream location for beach lovers.
2. Kovalam Beach, Kerala
Kovalam beach apparently marks the southernmost tip of the state of Kerala and is situated at a distance of over 17 km from the capital city of Thiruvananthapuram. A beautifully ordered range of coconut trees run alongside this beach and is among the cleanest beaches of the country.
Kovalam beach is naturally blessed with stunning views of sunrise and sunset which are considered as the most tempting features of this place. This beach is marked by the presence of two towers, popularly known as 'red' and 'white' towers and a lighthouse. These towers offer exhilarating views of the Indian Ocean and are usually filled with tourists. Kovalam also houses a handful of resorts that are natural yet beautifully built. If you want to explore the unexplored, Kovalam should be on the top of your list. To read more about Kerala, head to Tourist places to visit in kerala on transindiatravels.com.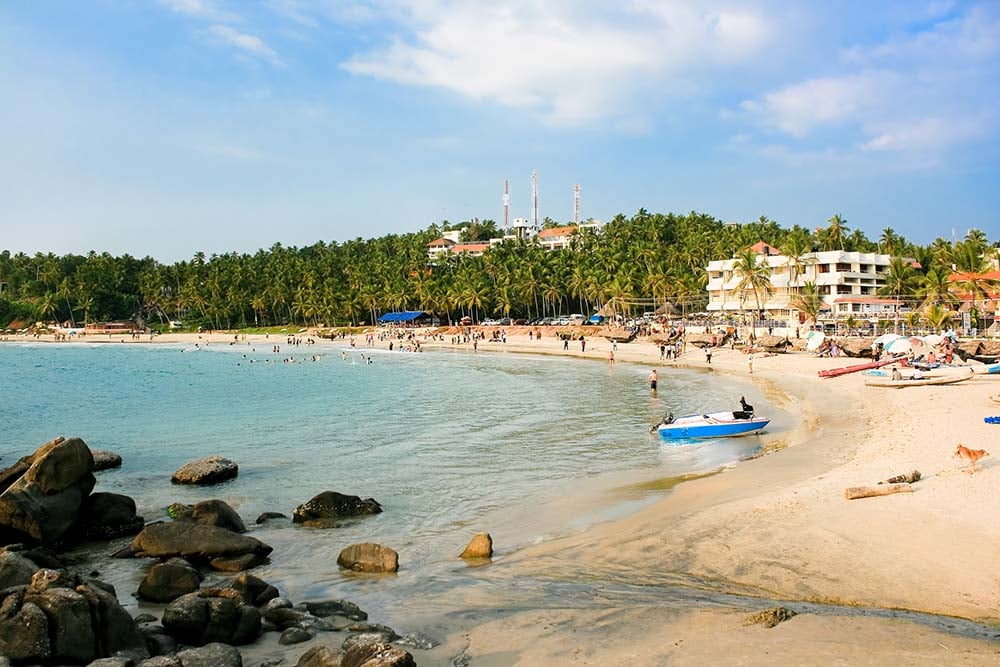 ADVERTISEMENT
CONTINUE READING BELOW
3. Baga and Calangute Beach, Goa
If you are one of those who love lively beaches filled with loud cheer and tourists from almost all the parts of the world, these beaches of Goa are the answers for you. From rocking music to a wide range of wines and from on boat casinos to delicious seafood, beaches in Goa are unmatchable in all such aspects.
Calangute beach is often cited as the 'Queen of Indian Beaches' as it is one of the largest beaches of the country and offers a unique experience altogether. Situated at a distance of just 16 km from the capital city, this beach is widely known for its traditional affinity. You can find some of the rarest handicrafts and food items on this beach. Baga and Kallangutte beaches, apart from the happening lifestyle that they offer, are also known for their serene nightlife filled with lights and calm music. To read more about Goa, head to Tourist places to visit in Goa on transindiatravels.com.
4. Varkala Beach, Kerala
Varkala beach is situated in close proximity to the capital city of Thiruvananthapuram and is specifically known for its divinely peaceful environment. It is one of those raw beaches that still thrive on the power of their natural beauty to attract tourists and not on commercialized attractions.
Varkala beach is covered with a wide range of flora and fauna that can be tracked along the entire coastline of the mighty Arabian Sea. If you are one of those who like secluded and blissful places to spend some time alone or with your loved ones, Varkala should be in your priority list. With the entry of some widely known international resorts, this beach is slowly gaining the due attention that it always deserved.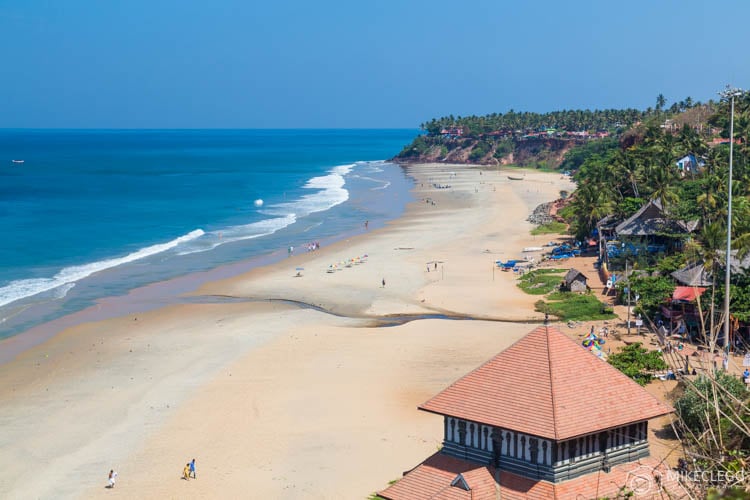 ADVERTISEMENT
CONTINUE READING BELOW
5. Ganapatipule Beach, Maharashtra
Named after the town it is situated in, Ganapatipule beach comes on your way to the famous district of Ratnagiri in Maharashtra. It is one of those rare beaches that provide you with an ideal experience of swimming. This beach is particularly known for its red sand and vast network of trees and villages running around its periphery.
Ganapatipule beach also holds religious importance for tourists as it houses the famous Swayambhu Temple of Lord Ganesha. Legend has it that this temple houses a naturally originated statue of Lord Ganesha and is a centre of attraction for thousands of pilgrims. If you are looking for an 'all in one' package of an Indian beach, Ganapatipule beach is for you.
India has a wide network of beaches running across its western and southern coastlines. The above-mentioned beaches are certainly the top 5 beaches of the country. They all outshine others in terms of weather, water sports, food, accommodation and various other factors. If you are setting out on a journey to a beach, feel free to go ahead with the top 5 mentioned above.
Summary
Be sure to check out some of these places on the Indian coast. Perfect if you're looking for a beautiful beach when visiting India.
Ready to book? Search for:
---
Related Articles