Elephant tourism in Thailand may be very popular, but it isn't always in the best interest of the elephants. Often at times, you see pictures of tourists riding the elephants and what may seem like a harmless activity, actually puts a lot of stress on the body of the elephants. While they are very sturdy and strong animals, their spines aren't really made for this kind of strain and for the elephants to be willing to let the tourists ride on their back often means they have to be physically forced to do so.
Luckily, in recent years there has been a development in elephant friendly tourism activities in Thailand. So-called "elephant sanctuaries" are rescue stations where elephants that are too old for the conventional business are taken and can live a happy life. As these elephant sanctuaries are heavily reliant on donations, they have opened up their doors to welcome tourists, who simply want to see the elephants in their natural environment.
Of course, you may interact with the elephants, for example feeding or washing them, but the elephants are not forced to do anything. If they are annoyed and just want to spend some time alone, they will wander off into the jungle.
Around the mountainside of Chiang Mai a lot of elephant sanctuaries opened up to tourists. Here are 5 elephant sanctuaries that are worth visiting when you are in the area of Chiang Mai. What they all have in common is that they don't let the tourists ride the elephants and only act in the best interest of the animals. The entrance fee is also spent directly on the care of the elephants and there aren't any business interests behind the sanctuaries as they all act as non-profit organisations. If you are still unsure then check out some of the reviews on tripadvisor.co.uk where you'll find all of these sanctuaries highly rated.
Elephant Rescue Park
The Elephant Rescue Park is one of the bigger addresses in Chiang Mai. They focus on elephants that worked in the fields or have been abandoned by circuses. The elephants range from every age group, including small elephants that are even born in the elephant sanctuary, to older ones that lived most of their life in logging camps or conventional businesses.
You can choose between a half-day package, which starts in the very morning and lasts until lunchtime, or a full daytime program. For additional comfort, they will pick you up at your hotel if it is in Chiang Mai. Their programs include feeding the elephants and bathing with them. In the full day package, you also get a traditional lunch, plant a tree and craft some herbal medicine.
What makes this elephant sanctuary so special is their overnight package where you can stay directly in the elephant sanctuary for two days and sleep in their wooden house. This way you can experience more of the life of the elephants. Definitely one of the best options available for elephant lovers.
Website: elephantrescuepark.com
Elephant Nature Park
Although the name suggests that they are only focused on elephants, this isn't true. In addition to rescuing elephants, they also house buffalos, dogs, cats, as well as other species that are endangered and needs their help.
They are also heavily involved in restoring the environment in the direct vicinity of the sanctuary. To complete this project, they are planting trees and aim at a complete restoration of the rainforest. Their aim is to re-introduce an area of 25 acres of rainforest near the elephant nature park.
In addition to taking care of animals, they also put a lot of weight on their social responsibility. They are focusing on the local communities in their area and try to employ as many locals as possible to help their community.
As a visitor, You may choose between a half day, a full day or a two-day program. They also feature two other packages, where you are wandering next to the elephants.
In addition to these programs that are aimed at tourists, they also have a volunteering program which allows you to stay for seven days at the park. There you can learn more about the elephants and take care of them. For veterinarians, they also have special programs where they also support students to complete their project or welcome qualified veterinarians who want to gain some experience in this field.
Website: elephantnaturepark.org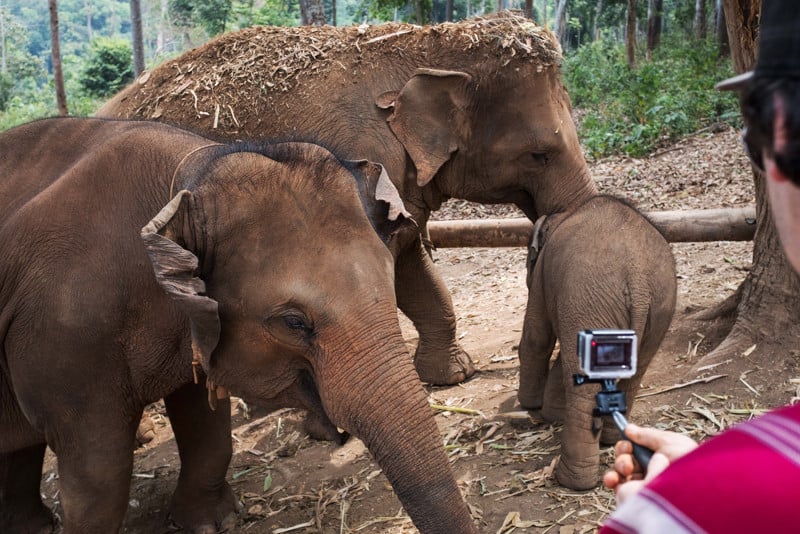 Chiang Mai Elephant Land
Another alternative as a sustainable elephant sanctuary is the Chiang Mai Elephant Land. A sanctuary that is specialized on taking in older elephants that have worked in traditional circuses and can now live a happy life at their sanctuary.
You can choose either between a one-day program, where you meet the elephants, feed them and have the usual interaction, or a two-day stay at the sanctuary. The two-day package includes a bath in the mud with the elephant, as well as getting clean again under a waterfall. Also included are four traditional meals, fruits as well as drinking water. So you will not only get the full experience of the elephants but get accustomed to the Thai culture in general.
Make sure to look good, because you also get to choose to take home some of the best photos that they have over the course of the two days.
Website: chiangmaielephantland.com
Happy Elephant Home
Can you still not decide which elephant sanctuary is the best for you? Then there is also the Happy Elephant Home near Chiang Mai.
The Happy Elephant Home is one of the smaller elephant sanctuaries and is very restrictive to tourists. They only allow a maximum of 15 visitors per day, to preserve the natural environment of the sanctuary and to focus on improving the conditions of the elephants.
They currently have 5 elephants in their sanctuary and you're able to choose from a half day package, either in the morning or the afternoon, or a full-day package.
This sanctuary is ideal if you want to accompany the elephants during the sunset on their small trekking tour in this valley. You are also able to learn more about the elephants during their program and swim with them in the river.
Website: happyelephanthome.com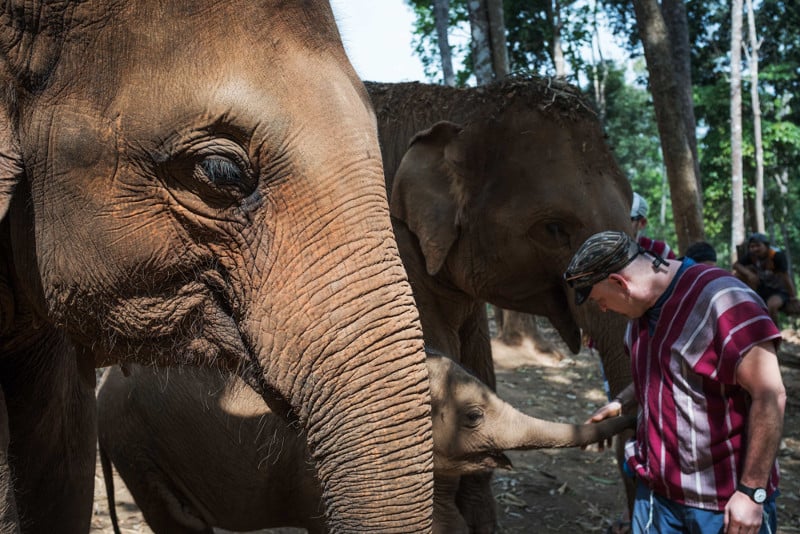 Elephant Jungle Paradise Park
The elephant sanctuary that I was able to visit in Thailand is the Elephant Jungle Paradise Park in the mountainside of Chiang Mai.
In the morning I was picked up in Chiang Mai to be transported to the Elephant Jungle Paradise Park. After a drive of around 2 hours, which was quite an adventure itself, our group arrived in the elephant sanctuary and were greeted by the elephants who were behind low wood fences. We then fed them and they became more accompanied and joined us.
The Elephant Jungle Paradise Park is also focused on taking in elephants who have worked in traditional businesses and give them a new home. During my time, they had around a handful of elephants, from small playful babies to fully grown adults.
After the initial meeting, we had a traditional Thai lunch, which included a buffet and vegetarian options. We also prepared some food for the elephants, who would join us in the afternoon again. Although our group was quite hesitant at first, we enjoyed the mud bath with the two elephants very much and it was great to see the elephants enjoying the bath as well. To get clean we went under a waterfall and the elephants joined us.
The experience is great and I loved seeing the elephants being genuinely happy and being taken care of. The admission of around $50 also goes directly into the care of the elephants, covering medical bills and the food.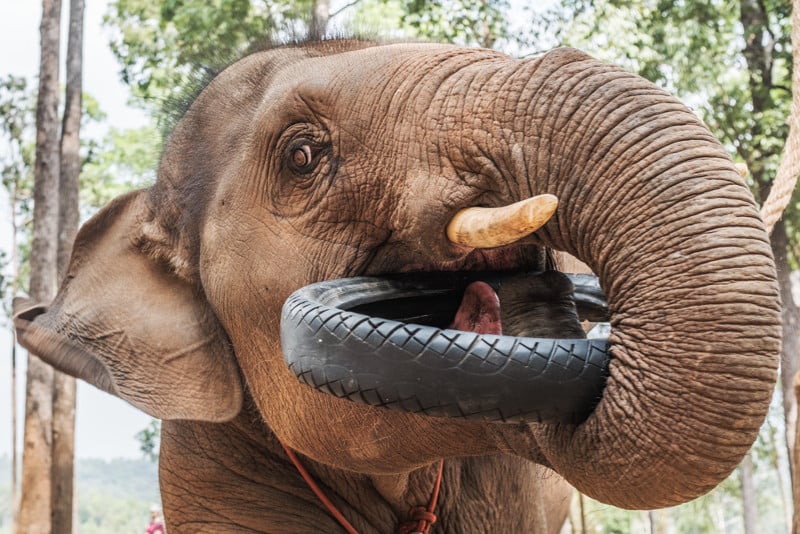 Some additional Tips
If You are interested in photography, all of the pictures here have been taken with a FujiX100F. There might be better cameras for hiking, that you might want to try out.
It is no problem to go close to the elephants and pet them. Just be careful, because the elephants might be very docile, but they are still very heavy and even a small baby can be very powerful and not realise how much strength they've already developed.
I would also recommend wearing some really good hiking shoes, as the elephant sanctuaries are located near the mountains and having some good shoes definitely helps. Be sure to also include swimming clothes, as the sanctuaries will allow you to swim with them.
Afterwards, most of the sanctuaries will upload the pictures they took during the day. These they put on their Facebook page, so you can share the beautiful day with your friends all over the world.
All of the elephant sanctuaries also have excellent ratings on Tripadvisor as well as Facebook. This should underline the great experience and since the entrance fee is invested in the elephants there is probably no better tourism activity you can do.
So please stay away from businesses that allow you to ride on the elephants and rather choose one of these elephant sanctuaries.
ADVERTISEMENT
CONTINUE READING BELOW
Related Articles