During a visit to Bangkok I started my trip with a night at the Plaza Athénée Bangkok, which is A Royal Méridien Hotel in the centre of the city. This beautiful luxury hotel has been built on the site of the former Kandhavas Royal Palace, which was a palace for Princess Valaya Alongkorn. The design of the hotel is Thai-colonial based on the time when Princess Valaya Alongkorn was living, and throughout the hotel you'll find beautiful decor and art with some motifs and design elements based on the old palace.
The hotel has recently been remodelled by Niratt Design Corporation who's objective was to bring back this Thai style. The remodel was completed in 2015 and the redesign brings out the cities history and immerses visitors into Thai-colonial style.
Every aspect of the hotel I saw was beautiful, and when you walk through the main entrance the first thing you see is this incredible lobby. If you are like me this will make you stop for a moment to admire in awe.au
Note: My stay at The Athénée, A Luxury Collection Hotel was complimentary. However words and opinions about the hotel are my own. Details and features mentioned in this article may have changed since my stay.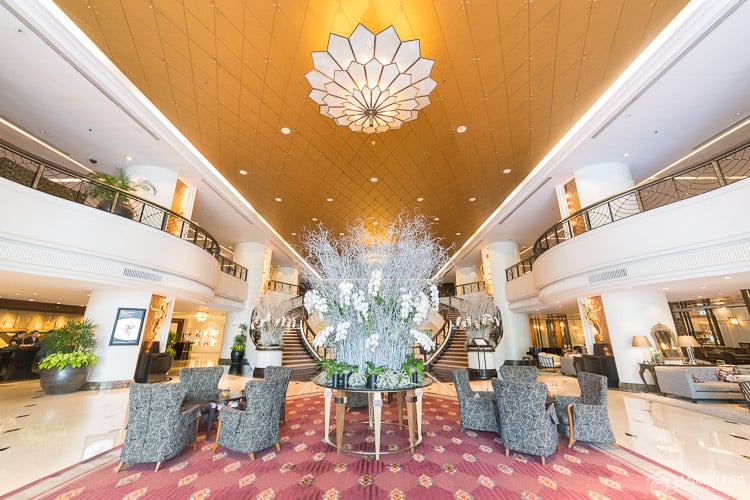 ---
Rooms
The hotel has 29 floors with 374 rooms. There are 10 room types for you can stay in, from the standard Athénée Room to the top Ratanakosin Theme Suite. Prices start from THB 4,299 for a standard Athénée Room and from THB 7,600 for an Athénée Suite. Most of the rooms have been designed with a light blue or red theme and incorporate Thai elements into the design.
Royal Club Room
During my I stay I had a Royal Club Room which is a spacious 44 sqm. The room consists of a main bedroom, desk space and a separate bathroom. The room contains a large 48″ led flat-screen TV, drinks facilities, minibar, safe, umbrella, hairdryer and many more facilities.
When the room was designed during the remodel the objective was to reflect the summer palace, and I found the room large and bright, with a beautiful light grey/blue colour and lots of straight lines, as well as Thai Patterns and shapes in the details.
The bed in this room was incredibly comfy and actually quite firm which I liked. After my long flight from Vienna this was just what I needed to refresh.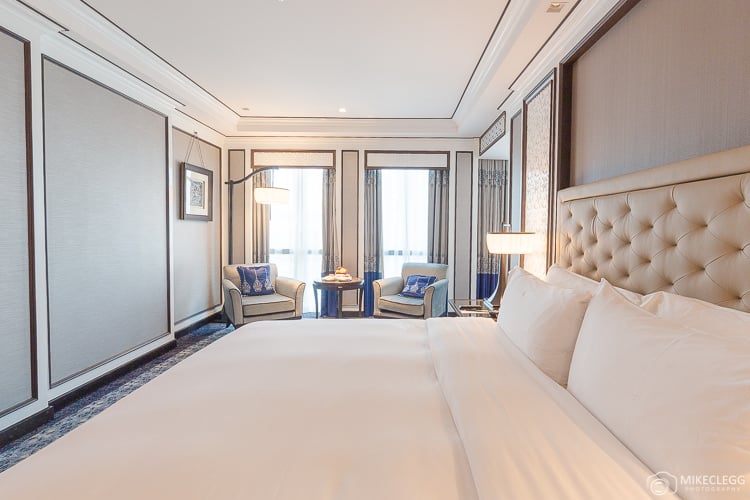 Bathroom
The bathroom was large and well equipped with a separate bath and shower, and the shower area was very large and contained both a handheld and an overhead rain shower head.
You get provided with lots of toiletries by brand Cinq Mondes, including shower gel, shampoo and conditioner, shaver and cream, spare toothbrush and toothpaste, small pack for grooming and soap. Also included making your bath more pleasant are salts and eucalyptus.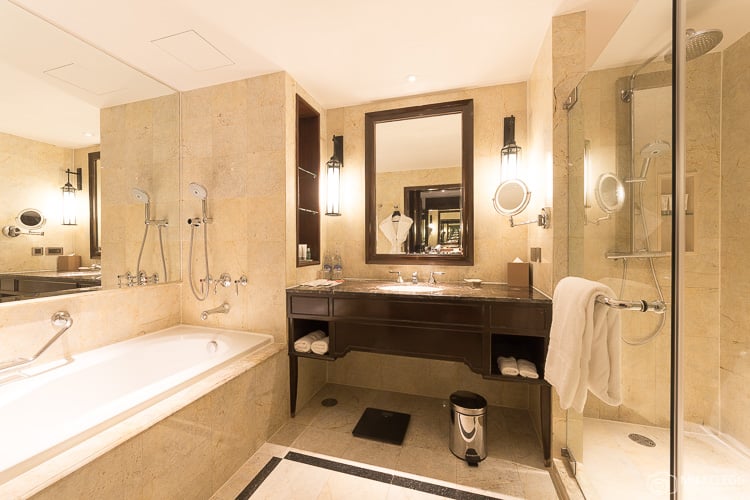 Other notes on this room
On check-in to the room, there was welcome fruit and chocolate. During turn down service you get more chocolate treats, the curtains pulled and the room made ready for winding down ready for bed. I always like this service in luxury hotels.  It's worth noting that I bumped into one of the Room Attendants in the corridor who asked if my room was ok and if I needed anything or any more water. Even though guests may not always bump into anyone I was impressed by her service and felt she went beyond my expectations.
Ratanakosin Theme Suite
The top room in the hotel is the Ratanakosin Theme Suite which is an impressive 350 sqm. I had the pleasure of seeing this room during my visit. On walking in I think I said wow under my breath, the decor is stunning and can almost take your breath away. This room has a huge living area as seen below, as well as a master bedroom and a large connecting bathroom. The bathroom also contains a beautiful freestanding bathtub in the centre. The Ratanakosin Theme Suite also has a beautiful office area, small gym/exercise room with a view out towards the city, a bar area, dining area and a separate bedroom which would be ideal for groups, kids or larger families.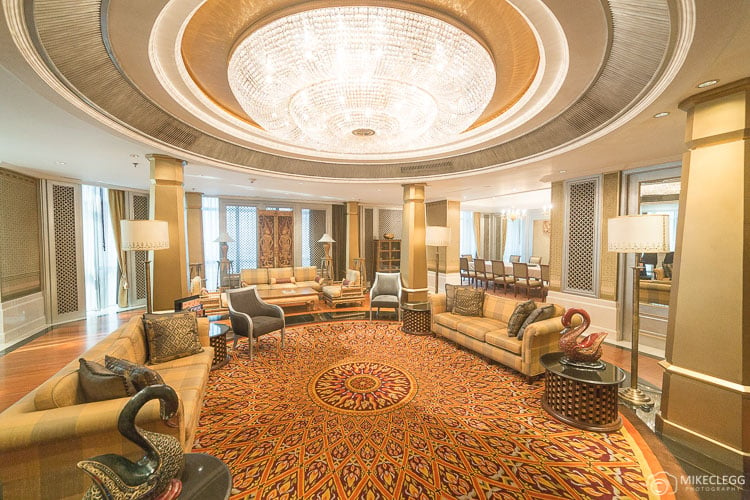 ---
Club Benefits
Some of the rooms have the added benefit of Le Royal Club Lounge which is located on the 26th floor. These benefits are included with Club Rooms and Suites. A few of the benefits include:
Lounge access for tea, coffee and non-alcoholic beverages
Afternoon Tea 15:00-17:00
Evening cocktails 18:00-20:00 with a complimentary drink selection
Laundry of 2 items per day non-cumulative
Late check-out till 14:00 if available
Note: details may have changed since my stay.
---
Restaurants and Bars
I was very impressed by the hotel's range of restaurants and bars, which consists of eight different options offering different cuisines.  A few of the specialities include Smooth Curry serving Thai cuisine, Silk Road serving Chinese/Cantonese, Utage serving Japanese, The Reflexions serving French, and there's even a bakery cafe. Head to plazaatheneebangkok.com/dining to see all the restaurants and bars available and more pictures.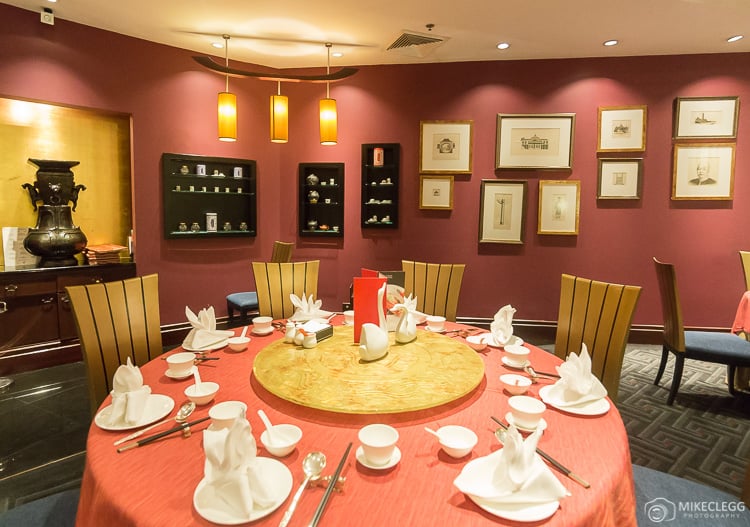 Breakfast
The breakfast is in the Rain Tree Cafe is one of the best international breakfasts I've had. You are provided with a huge variety of cuisine options to choose from. Some of which include Sushi (Japanese), Western-type food such as baked beans, bacon, french toast etc, Indian Curry, Thai and Chinese options. On top of this are standard breakfast items including cereals, fresh fruits, coconuts, juice presser and much more. I also enjoyed the coffee. It was quite strong and after my long trip I needed it to get me going. Below you can see part of the restaurant which looks beautiful and grand. I took this at a different time hence you can't see any of the breakfast items.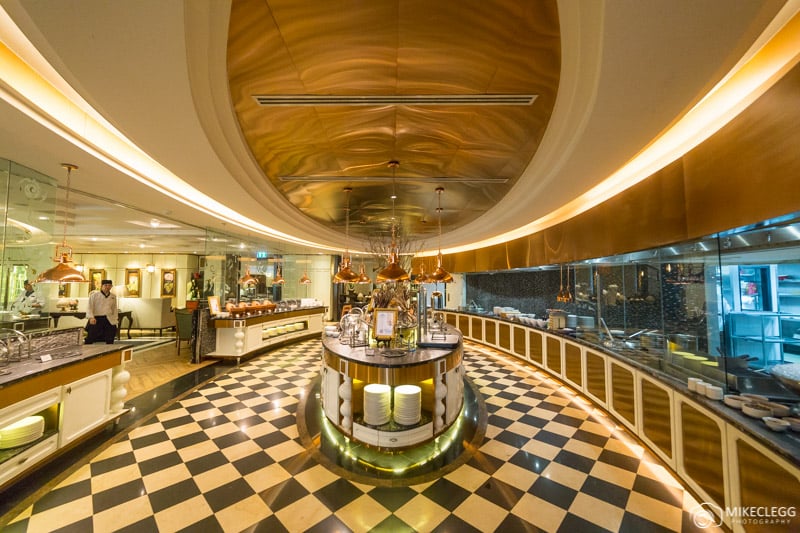 Smooth Curry
I could have easily eaten at any of the restaurants in the hotel as the menu's all looked delicious, but as my trip was short I only had time for Smooth Curry. At this restaurant, I enjoyed a Thai curry which was delicious and well presented. The service was also great and very personal. It was a good way to start my trip by having some traditional Thai food at it's finest.
---
Fitness, Pool and Spa Facilities
One of the highlights of the hotel and actually one of the reasons I wanted to stay here in the first place, is the wonderful elevated pool which is on the fourth floor of the hotel. Around this area is a lovely outside bar, patio and beautiful gardens, whilst surrounding this area you get fantastic views of the city. I saw lots of people just relaxing, reading and it definitely felt like a peaceful space, deep within the city, but easy to feel away from the bustle and hustle
As well as the pool the hotel has a large fitness gym with lots of equipment for cardio or weightlifting type workouts. If you want to read more about how to stay fit whilst travelling, have a read of my fitness post: Travel Tips: How to Stay Fit Whilst Travelling.
If you wanted to pamper yourself there is a large range of spa treatments available on the fifth floor and some are even tailored to your blood type. For more information on the spa treatments available head to plazaatheneebangkok.com/spa-hotel-bangkok.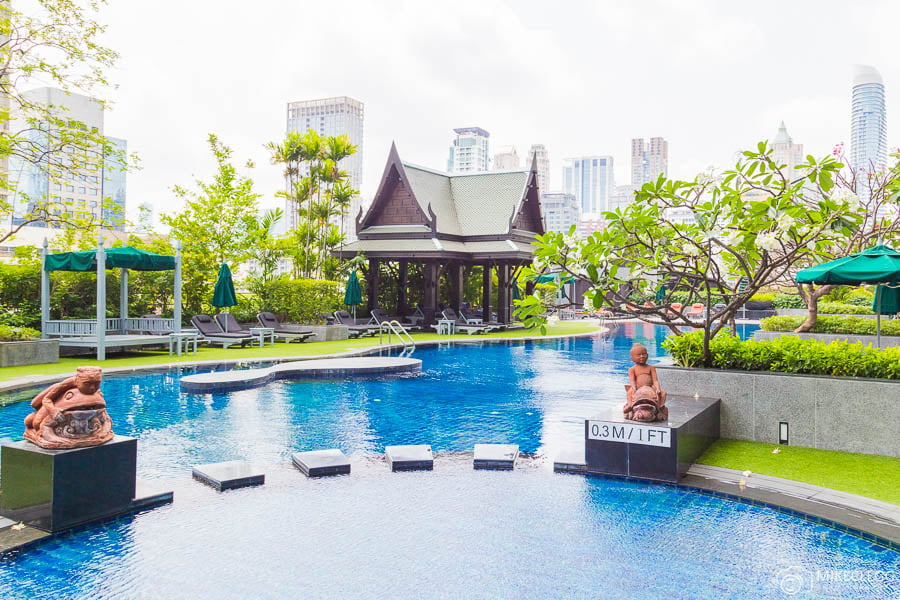 ---
Meeting Rooms
The meeting, conference and banquet facilities must be some of the most impressive I've ever seen at a hotel. Amazingly the hotel has 28 meeting rooms which cover a total of 5,600 square meters. Many of the meeting and event practices have been designed to incorporate ISO 20121 sustainable practices, which is a wonderful feature and you'll find more information about what this is in the next section. Also within the hotel is a special room which is designed for breaks between meetings. This is a nice little addition that I don't think many hotels offer.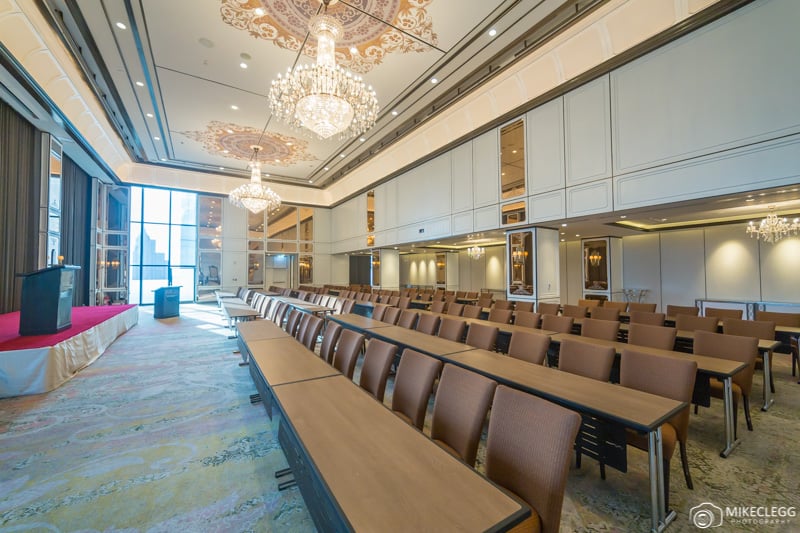 ---
Other Notes on the Hotel
Transfers – The hotel has a range of transfer options that can cater for up to 7 guests. The transfer price ranges from THB 2,350 – THB 3,500. It's worth noting that although some hotels in Asia mention limousines as transport options, these are other vehicles not the long stretchy ones (but still nice).
Public transportation – If you wanted to travel by public transportation the hotel is easy to get to. Take the airport rail link to Phaya Thai which takes around 20 mins. You then change to the BTS Skytrain to Phloen Chit Station and then the hotel is just a short walk away.
Wifi – You log in with your username and password and the connection was fast and reliable.
ISO 20121 – Another impressive feature of the hotel, is that it's one of the first hotels to be certified ISO 20121. This certification is based on sustainable meeting practices and incorporates a system where an organisation can be more socially responsible, the organisation will reduce their environmental footprint, but the organisation will still have success financially. Here are a few of the things the Plaza Athénée does to achieve this certification:

The hotel replaces disposable items with reusable ones
All meeting rooms have recycling bins
Use of whiteboards to reduce paper flip charts usage
Use of Linen Napkins to reduce Paper Napkins
Lights and air conditioning in the event area will be used as sparingly as possible
Floral centrepieces replaced by pot plants
Use of projector instead of styrofoam backdrop
Excess food from a company's event is donated to charity
Eco-friendly coffee break and lunch menu

Plug socket – The plug sockets in the rooms took multiple inputs catering for travellers from different countries around the world. Note you may need a converter if your devices use a lower voltage.
---
Things to Do Nearby
Here are some of the things to see and do that are close to the hotel.
Jim Thompson House
One of the top attractions to do nearby is to visit Jim Thompson House. Jim Thompson was a famous silk trader and you can visit his house and have a tour. I really enjoyed the inside (you can't take pictures of the interior unfortunately).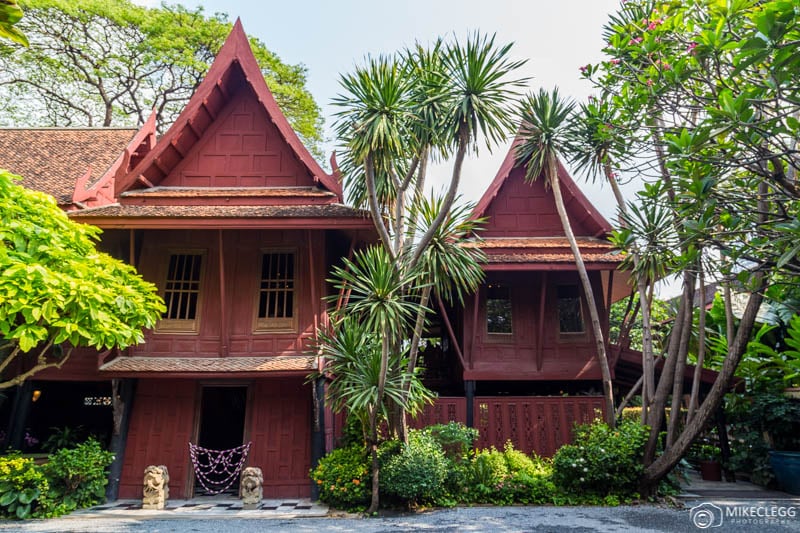 Jim Thompson House
Bayoike Tower II
For incredible views of the city head to one of the tallest skyscrapers in Thailand, Bayoike Tower II. From the top you will stand on a revolving platform that slowly takes you around the top of the tower whilst you snap away with your camera or just enjoy the view.
Lumpini Park
A short walk or quick taxi ride south of the hotel is Lumpini Park, which is one of the cities most famous parks and in the heart of the city. I didn't have a chance to visit during my trip but it was high on my list.
Further afield
A few things to do further away include the Grand Palace, Wat Pho and much more. An upcoming blog post will contain lots more things to do in Bangkok.
Tours and Activities for Bangkok
---
Conclusion
The Plaza Athénée Bangkok is a great way to experience Bangkok and Thailand in luxurious comfort whilst embracing Thai design at its finest. With a large selection of high-quality restaurants and cuisines, pool and fitness facilities, you may not even want to leave the hotel.
Hotel website: www.theatheneehotel.com
Disclosure: I was hosted as a guest at Plaza Athénée Bangkok. All comments, words and opinions truly reflect my personal opinion. Details and facts may have changed since my visit.
Related Articles