The Be Live Collection Marrakech Adults Only is a fantastic hotel located just outside of Marrakech. Coming packed with all you need to have a comfortable and enjoyable trip you could easily stay in this resort and never leave. However, it's definitely worth seeing some of the other exciting attractions in the city, as well as accessible from the city during your trip.
Below you can read more about this hotel, its features, why we recommend it and also some booking suggestions too, such as for a package deal, or hotel only. I personally stayed in this hotel during a November visit and absolutely loved it and it is a hotel that I am now wanting to stay in again one day in the future.
Note: This is not a sponsored article and I paid for my own stay. Facts and details may have changed since this article was published.
---
About the hotel
The Be Live Collection Adults Only is a 5-star hotel located just outside of Marrakesh and it's around 30 minutes to the airport and around 20-30 minutes to the city centre. The hotel is part of the Be Live hotel brand.
Within the grounds of the hotel you'll get to enjoy a high-quality room, multiple swimming pools, lots of activities and entertainment and tasty food. As well as this to help make your stay even more comfortable are the friendly helpful staff.
The hotel has great attention to detail, with nice plants and gardens, a well-decorated lobby and beautiful rooms. The design feels very Marrakesh with orange-style facades and other intricate details.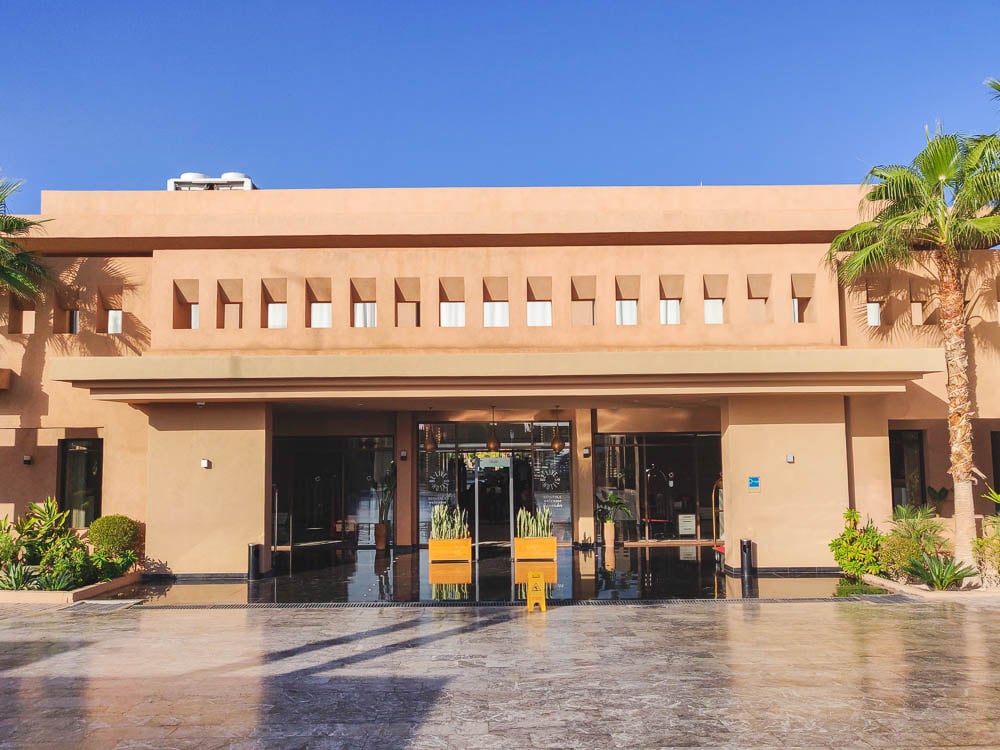 ---
The rooms
The room I stayed in during my trip was a double room and came with a large bed, tv, plenty of clothes storage, mirror, balcony, fridge (optional minibar), and safe. The bathroom contained him and her style sinks, a rain shower (my favourite) and also a large bath, a separate toilet, a hairdryer, as well as complimentary shower gel, shampoo, soap and various other things.
The room felt very clean and well looked after. You can choose to get it cleaned and serviced daily, although to be as environmentally as possible I choose not to do that.
There are also various other rooms available, including suites and swim-up rooms (where there is a sun lounger in a little pool on your balcony. This water is shared though with other rooms).
---
Facilities
A few of the facilities you can enjoy include:
Two outdoor pools
Small basketball and football court
Ping pong tables
Various on-site bars
Evening entertainment

Spa facilities with heated indoor pool (chargeable services)

24-hour reception
Tour desk
Fast WiFi
Gym
Aerobics
Archery
…and lots more
ADVERTISEMENT
CONTINUE READING BELOW
---
The outdoor pools
The hotel has two outdoor pools, as well as a heated indoor pool which is part of the spa (the indoor pool is chargeable).
One of the outdoor pools has a pool bar and also felt more like the relaxing area (the first one below), whilst the other pool (the second picture below) had music and lots of activities happening in and around it throughout the day, including water aerobics, pool games, darts (at the side) and even archery.
There were plenty of sun loungers across both outdoor pools during our visit (November) and towels are provided for a deposit (you'll get given cards on check-in). There was some people putting their towels down and leaving, but this didn't seem to cause any issues with availability.
Near to the outdoor pools is also a snack bar where you can get food and drinks, including alcoholic. All of this is included as part of the all-inclusive experience (see below).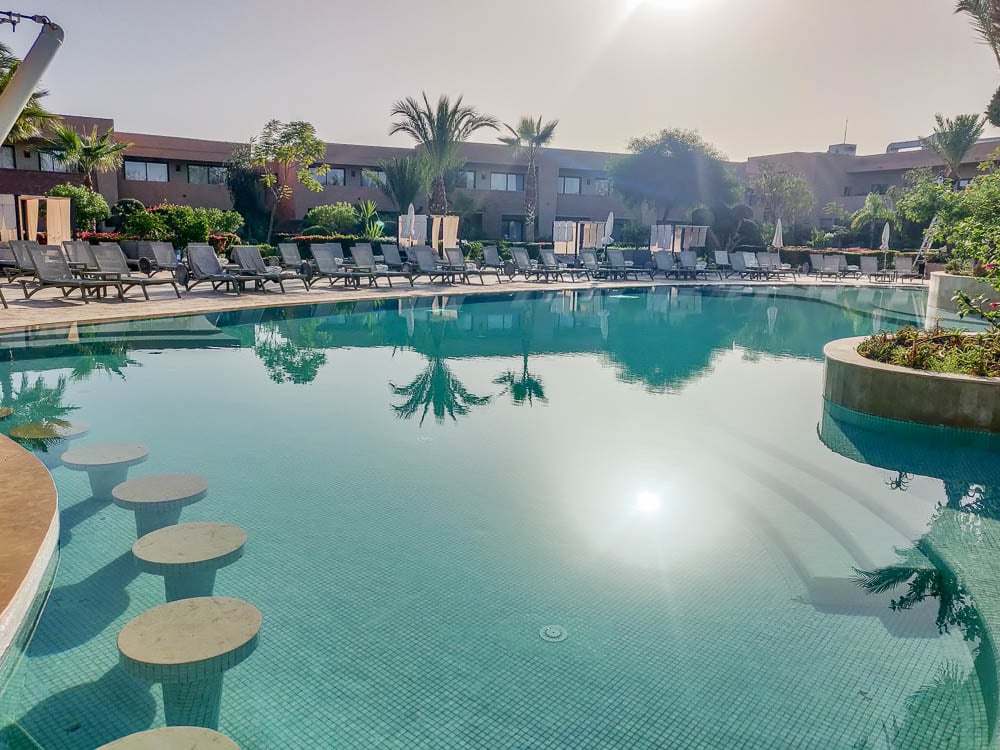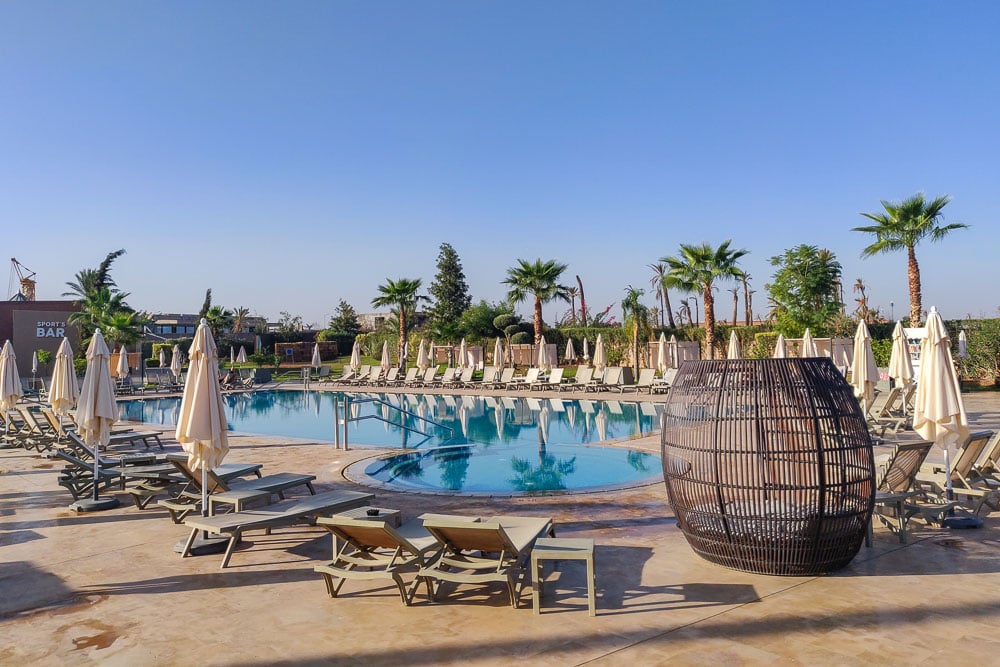 ---
Spa
The Be Live All Inclusive Adults only hotel also offers a beautiful spa where you can get a range of treatments. Helping you to unwind and pamper yourself a bit more during your vacation. The spa facilities available also include a heated pool, Hammam, Sauna, Beauty Center, as well as massage and treatment options. My wife visited the spa during our stay and loved it.
---
The Sports Bar
The Sports Bar was one of our favourite aspects of the Be Live Collection hotel in Marrakesh. It is a great place to hang out and included lots of activities as well as some screens for watching sport.
The bar had a Fussball table, pool table and also a good selection of board games such as Marrakesh (a fun local game I'd recommend trying), as well as a trivia game and many more.
ADVERTISEMENT
CONTINUE READING BELOW
---
The all-inclusive experience
The all-inclusive element of the Be Live Collection Adults Only hotel is definitely one of the highlights of this hotel. When checking in you'll get a wristband which you should keep on for your entire stay.
The all-inclusive package included:
Soft and alcoholic drinks (including beer, spirits, wine and cocktails)
Breakfast, lunch and dinner (buffet style but high quality)
Snacks at the pool bar
An a la carte dinner once per week (stays of 4 nights or more) at their Ksar Asni restaurant where you can enjoy Moroccan cuisine.
The buffet selection was really good with a large selection, including local tagine dishes, meats, fish, basic options such as pizza, pasta, healthy salads and grains, fresh fruit and desserts. I eat meat a little but my wife is a veggie and we found plenty to keep us both very happy. The service was also very good and friendly and the staff will bring you the drinks you want, such as coffee, mint tea, soft drinks, beer, wine etc.
Should you want to eat outside of the main meal times then there is also a snack bar near the pools which serves food and drinks during the day.
I didn't get any good photographs of the food and buffet but trust me when I say it was good.
---
Evening entertainment
During the evening there is plenty of entertainment and the staff really do a great job. They were so smiley, friendly and helpful and you can sit and enjoy the entertainment and the waiters will serve you, or you can go up to the bar.
Some of the entertainment that I saw during my visit included a Halloween party where the staff dressed up, live singers and dancers, and a DJ. The entertainment went on until around midnight.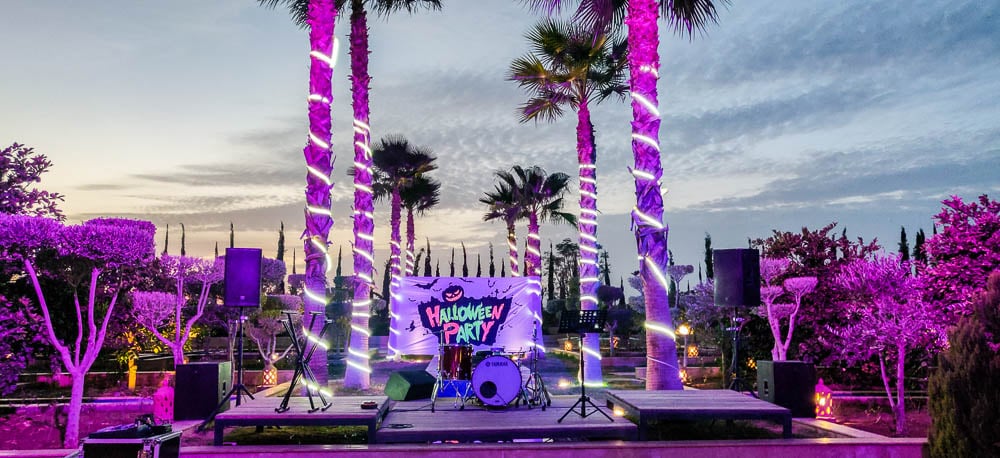 Those staying in the rooms near the entertainment area might find the noise from the speakers a bit loud such as if you wanted an early night. If this sounds like it could be you then consider making a request to be far from this prior to your visit.
---
Shuttle bus
There is a shuttle bus which you can use for free to get in and out of the city center. This goes into and out at various times throughout the day and you need to book your time slots in advance (so as to get a ticket). Some of the time slots into the city included 9:20am, 10:35am, 15:35, 17:35 and 20:15 and some of the return slots included 12:30, 13:45, 18:30, 21:00 and 23:00 (these may change).
The drop-off point is very central and from there you can walk into the famous Jemaa el-Fna market in around 5 minutes and it's not that easy to get lost. However, I would still recommend downloading offline maps such as on the Google Maps app.
It's worth knowing that central Marrakesh is great to visit both during the day, but at night the main market really comes alive, so I'd recommend visiting a few times both during the day and at night if you have the time.
---
A few other notable features
Check-in time of 1500
Checkout time of 1200
Reliable and free wifi which seemed a good speed
---
Few things we didn't like
Plastic – There is a heavy use of plastic and I wasn't seeing many guests re-using glasses very often. However we did see recycling bins and it makes sense to use plastic glasses around the pool.
Noise between separating doors – If you have a room with a separating door (which are good for groups/families), then it's not completely soundproof and you may be able to hear the other guests tv and them speaking (muffled). Although we slept fine and it didn't both us too much
Rooms near the entertainment area – There is potentially too much noise in the rooms close to the entertainment area. I think the evening entertainment stops around midnight though
Restaurant – They could do with more small bowls/ plates in the restaurant. I felt I was often searching for these.
Currency exchange – They didn't have much currency in the hotel to exchange into smaller notes – this was quite annoying as we wanted to tip more but they only had large notes. (tipping didn't feel expected though at all).
ADVERTISEMENT
CONTINUE READING BELOW
---
Why I love and would recommend the Be Live Collection Adults Only hotel
There are not many hotels that I've visited and would be super keen to re-visit, but the Be Live Collection Marrakesh Adults only is definitely one of those places. I left wanting to stay longer and just had such a good time during my visit.
Here are a few things in particular that make me want to go back:
Lots of friendly smiley and helpful staff, from gardeners, security, reception, room service and entertainment
Clean facilities throughout
A fantastic selection of food and drinks is included, including local options
Lots of fun games to play in the Sports Bar (we loved this and it was great for couples and friends)
Beautiful pools with plenty of sun loungers
Fun activities during the day and different vibes at the different pools
Great attention to detail
Spa facilities
Adults only so a different vibe than if there were children around (although kids are great of course)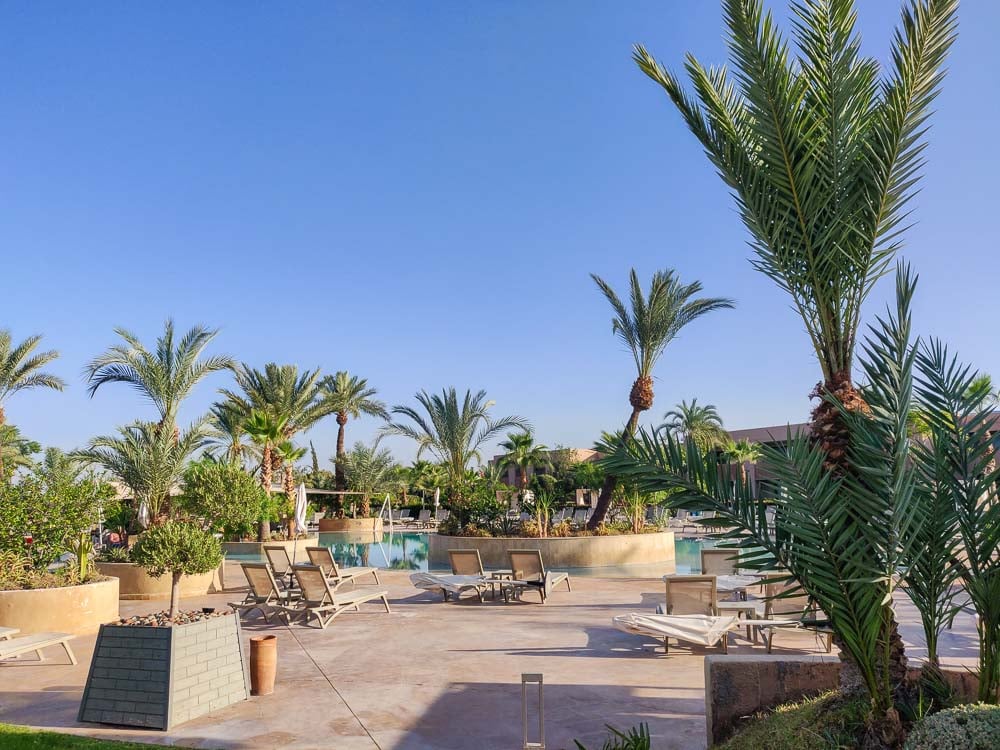 ---
Where to book your stay at this hotel
Here are some places to book this hotel. You could also choose to book direct as well of course.
Expedia – A reputable service to book hotels and you can often book flights and tours through them too
Booking.com – A hotel leader and perfect if you'd like a hotel-only deal
Love Holidays – This is who I booked with when travelling from England and I was impressed with their service. With Love Holidays you can easily book your trip including flights and transfers as well
easyJet Holidays – A European flight operator that we highly recommend who now also do holiday packages too
On The Beach – Another highly rated holiday company where you can get packages
Tui – One of the biggest package holiday companies in the UK
Direct – Of course you can also book direct as well if you prefer
Other accommodation providers – Should none of these providers suit you then have a look at your favourite provider for options.
When booking our trip from England we used Love Holidays and booked as part of a package holiday deal. The complete package we booked included accommodation, flights, shuttle transfers and luggage. If you plan to do the same then make sure you check if luggage and transfers are included or you might have to add it on (which is what I did).
---
Recommend experiences to enhance your trip
Here are a few tours that you may like to see and learn more about the city, as well as other places within reach of the city on a day trip. One in particular I enjoyed during my visit was visiting the Ouzoud Waterfalls, but you can also visit places such as Ouarzazate and Ait Benhaddou, the coastal city of  Essaouira, or even the desert.
---
Summary
The Be Live Collection Adults Only hotel was a lot better than I had expected. Coming with great facilities, fantastic staff, tasty food and for a good price we'd highly recommend considering this hotel during your visit to Marrakesh.
Travelling with kids? Then consider the Be Live Experience Marrakech Palmeraie hotel Instead. See this hotel on Expedia, booking.com or through Love Holidays.