With a land area of over 320,000 square kilometres and just over 5 million inhabitants, Norway is a country full of untouched landscapes. From the jaw-dropping fjords along the west coast to captivating islands teeming with wildlife, this Scandinavian country houses numerous natural gems. But the country also packs some beguiling towns that often have colourful wooden houses, a long history, and contemporary museums.
Although Norway is home to dozens of stunning locations, we have selected 10 of the absolute must-sees in the country.
1. Trolltunga
Trolltunga – or Trolls' tongue (seen above) – is an incredible sight to behold on the western edge of Hardangervidda National Park. This natural viewing platform is a rocky outcrop from a mountain, in the shape of an enormous tongue. Trolltunga rises 1180 metres above sea level, and from this astonishing location, you can overlook the scenic Ringedalsvatnet Lake and surrounding mountain peaks.
To get to one of Norway's most striking wonders, one has to tackle a 20 or 28-kilometre return hike. Start at Mågelitopp for the shortest route, and make sure to start the trek early to be able to return before darkness falls. This route is only open from June to September if you're hiking alone. In other times, you'll need a guide to complete this enchanting tramp.
2. Lofoten Islands
The Lofoten Islands are undoubtedly some of the most photographed locations in this northern European nation. Once you've arrived, you can't really blame the photo fanatics: charming fishing communities, pointy peaks covered in snow, and abundant bird populations have transformed the Lofoten Islands from a sleepy archipelago to one of Norway's major outdoor destinations. This group of islands has stunning natural features, including the Trollfjord with its spellbinding lake and towering peaks, and the picturesque Kvalvika Beach.
To capture the beauty of the archipelago, it's recommended to follow the Ryten hiking trail. This easy 3.5-kilometre tramp provides you with excellent views of the fjords, Kvalvika Beach, and the mountains that rise up straight from the bottom of the ocean. Another way to see some of the best photo spots is through a photography tour.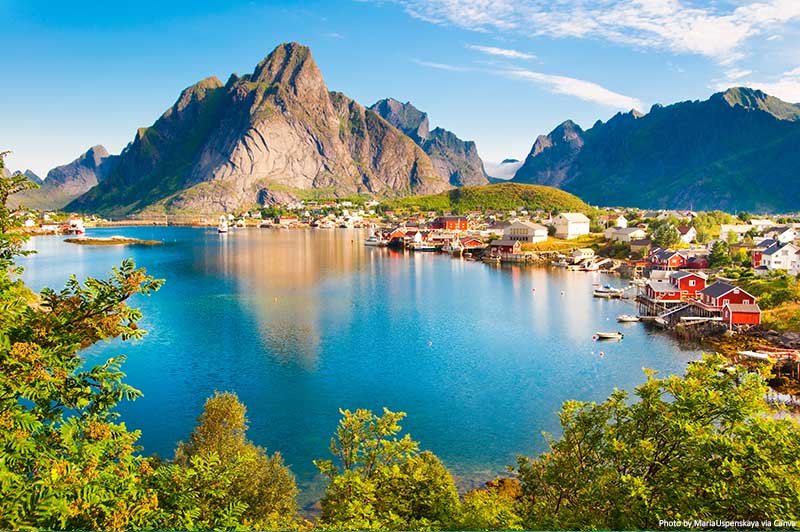 ADVERTISEMENT
CONTINUE READING BELOW
3. Preikestolen
Preikestolen (Pulpit Rock) is one of Norway's most beloved landmarks. Similar to Trolltunga, the Pulpit Rock is a natural panoramic platform hanging above a deep fjord. From the tip of the Preikestolen, you look down on Lysefjorden, 604 metres below. The surface of the flat rock measures about 25 by 25 metres, which gives you the freedom to stroll around and find unique perspectives for your photos. Hiking up to the scenic spot takes a couple of hours from the parking space at the Preikestolen Mountain Lodge, and requires reasonable fitness. Preikestolen is only a short drive away from the city of Stavanger on the country's southwest coast.
TIP
Also available are
guided hiking tours
which can offer additional benefits such as hotel pickup and drop-off, a guide, and any fees.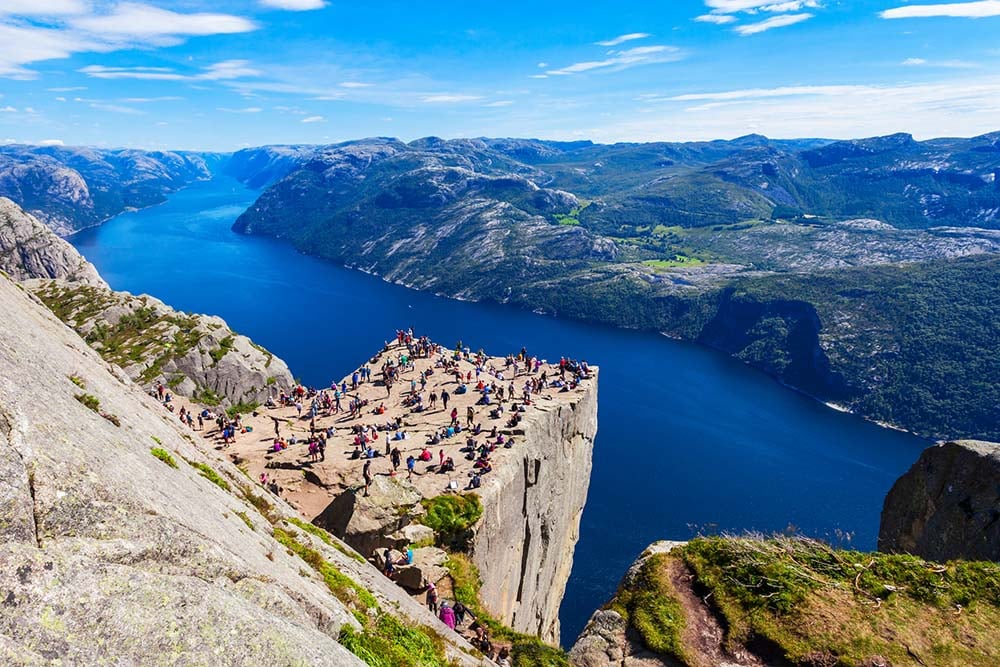 4. Alesund
Alesund is a port town on the North Sea coast, located between Bergen and Trondheim. This town lacks the medieval beauty that places like Bergen possess. This is because the city was largely destroyed by a fire that raged here in 1904. This resulted in a charming style of architecture that was typical for the 1900s and 1910s, which gives Alesund its unique character. To discover more trivia on Alesund's resurrection from the fire, go to the art nouveau centre of Jugendstilsenteret in the heart of the city.
For a grand overview of Alesund, head up to the Aksla Viewpoint or the Byrampen Viewpoint. Learn more about the city's past in Aalesunds Museum, or make a brief trip to the Storhaugen hiking area if you want to be one with nature.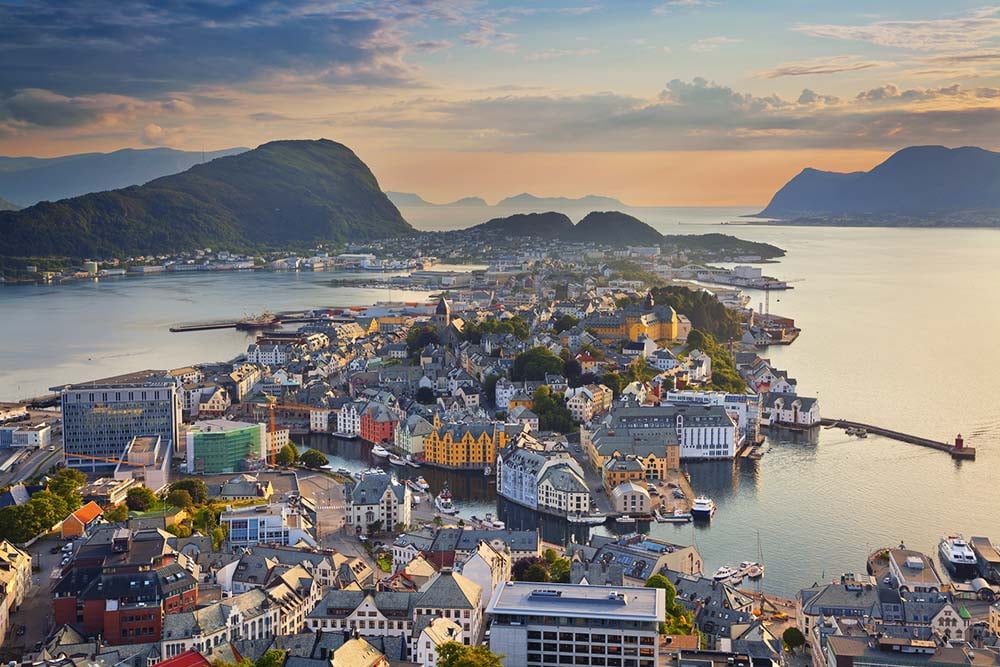 5. Jotunheimen National Park
Jotunheimen National Park or the 'Home to the Giants' measures 1150 square kilometres and is home to Norway's highest summits. Jotunheimen is a playground for outdoor-minded travellers, as it has 250 mountains, biking routes, hiking trails, and fantastic skiing areas in winter. The Besseggen mountain ridge is one of the finest locations to tie your hiking shoes, as this area gives visitors 360-degree views of alpine lakes and snowy peaks. If you're into mountain biking, the Mjølkevegen route with a length of 250 kilometres makes for a phenomenal biking experience through the enchanting landscapes of Jotunheimen National Park.
To see the region from a different perspective by joining a white water rafting adventure on the Sjoa river, or explore the wondrous caves near Lom.
ADVERTISEMENT
CONTINUE READING BELOW
6. Bergen
Only a few other towns in Norway can compete with the charm of Bergen, the second-largest city in the country which is situated at the west coast. As Bergen is traditionally a trading community, it's recommended to start your journey at the Bryggen quarter, where colourful wooden merchant houses remind visitors of Bergen's glorious history. But downtown Bergen houses more treasures, such as the fascinating stone Bergenhus Festning and the gorgeous St Mary's Church.
After delving into Bergen's historical centre, consider jumping on the funicular to the Fløyen summit. From the top, the views over Bergen, its inlets, and the North Sea are unrivalled. Fløyen, which is part of the Bergens fjellstrekninger reserve, also is an excellent location to take on some scenic forest walks.
Tour ideas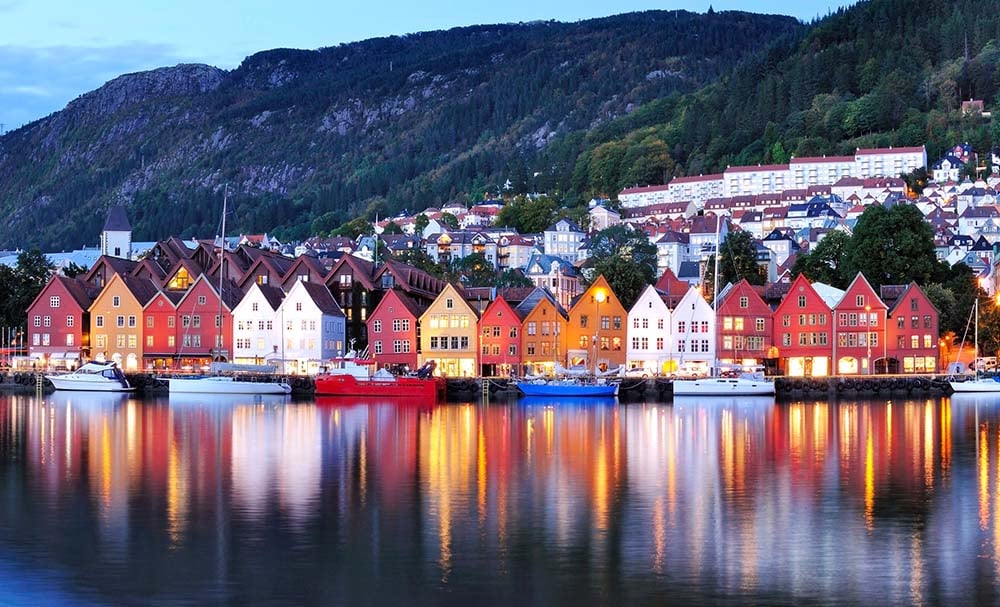 7. Geirangerfjord
The mighty Geirangerfjord is listed as a UNESCO World Heritage Site, and possibly the most visited fjord in the country. In this long-stretched sea arm, you'll find snow-capped mountains on all sides and thundering waterfalls. One of the most fun ways to discover this gem is by kayak, which enables you to get close to stellar sights like the Seven Sisters waterfalls and the Bridal Veil Falls. When travelling by car through this spectacular region, the Ørnesvingen viewpoint is worth stopping by. Here, the Geirangerfjord curls like a horseshoe around the impressive mountains of western Norway. The Geiranger Skywalk at Dalsnibba is an excellent alternative to soak up Geirangerfjord's unreal panoramas.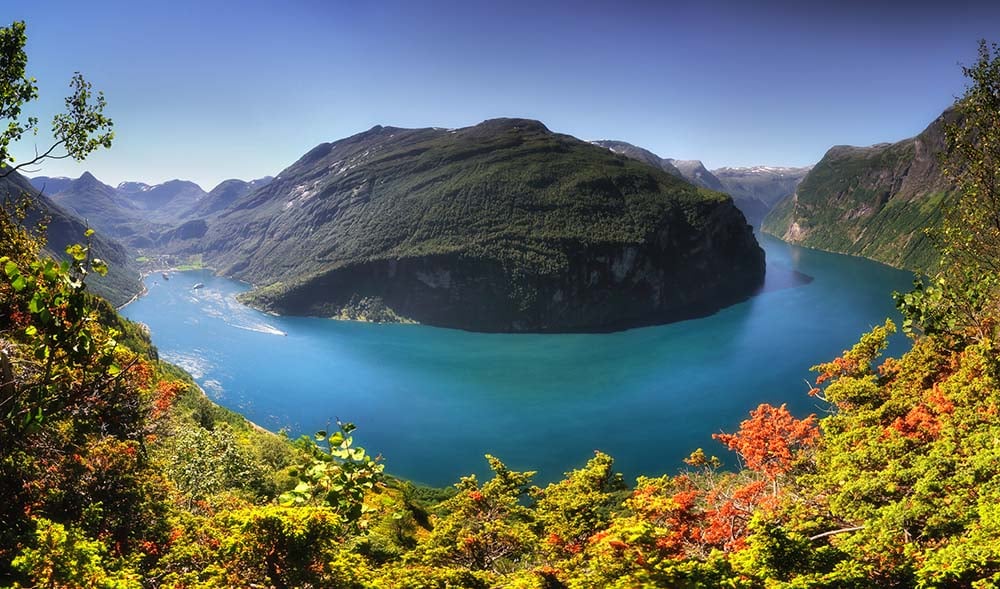 8. Stetind
Stetind has been Norway's national mountain since 2002 and is characterized by its extremely steep, nearly completely vertical slopes. Stetind has an elevation of 1392 metres above sea level, and its shape truly makes the mountains stand out in its environment. If you're into mountaineering, tackling Stetind's summit is almost a holy grail. Prepare for a challenging ascent, finished off with unforgettable outlooks over surrounding fjords and endless mountain ranges, including the pointy peaks of the nearby Lofoten Islands. Less bold explorers will be pleased with the views of Stetind from road number 827. When coming from the direction of Kjøpsvik, several kilometres before the peak a resting area offers splendid vistas over the fjord and Stetind itself.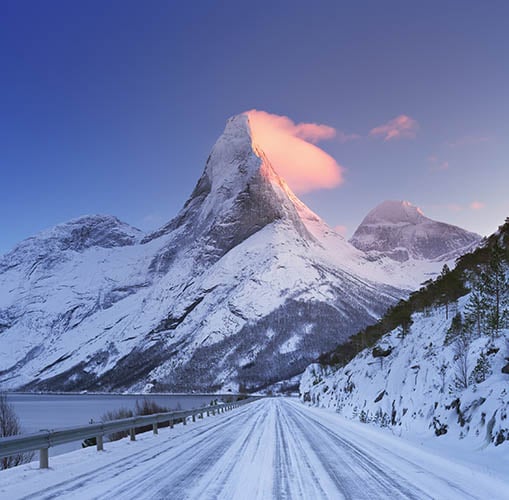 ADVERTISEMENT
CONTINUE READING BELOW
9. Oslo
Home to nearly 700,000 people, Oslo is the capital and largest city of this Scandinavian nation. Culture lovers rejoice by Oslo's vast collection of historical buildings, significant museums, and parks to unwind in. One must-see in the capital is Akershus Fortress, a late 13th-century stronghold that you can explore by yourself or through a guided tour. Other architectural jewels of the Norwegian capital include Oslo Cathedral and the Royal Palace, where the king and queen reside.
Oslo also has a contemporary side, which is perfectly displayed in the futuristic shapes of the Oslo Opera House, the gigantic City Hall, and the collection inside the Munch Museum, dedicated to Norway's most well-known painter Edvard Munch.
Oslo is situated at the end of the Oslofjord, and you'll also be able to enjoy several coastal walking tracks.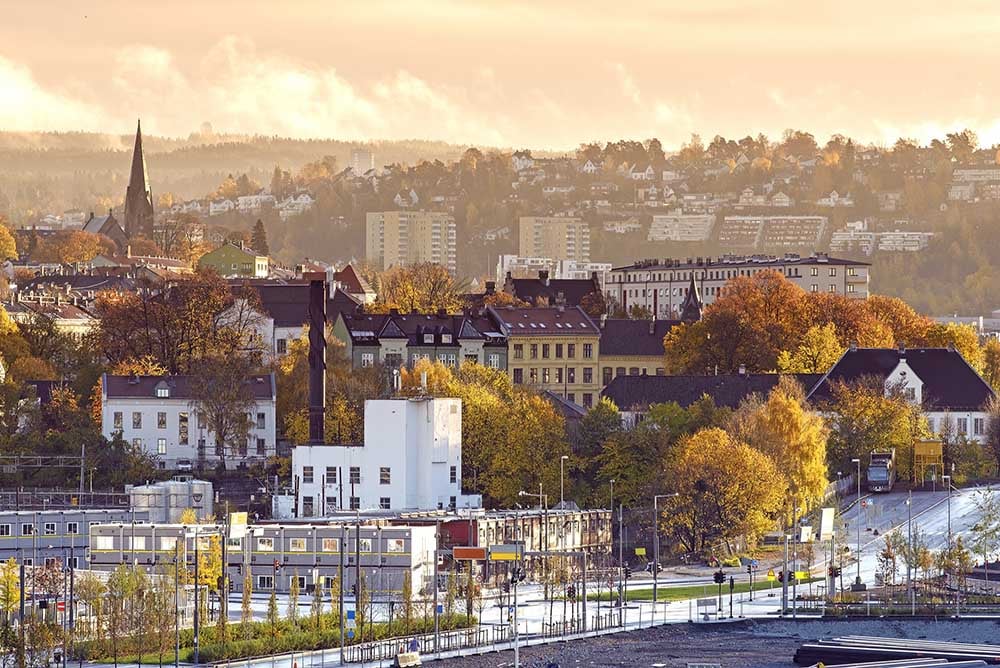 10. Runde Island
Runde Island is the ultimate getaway for birdwatchers and nature enthusiasts with over 500,000 birds coming to the island during nesting seasson. Runde is a small isle in the west, only 80 kilometres away from the city of Alesund, but urban life seems to be lightyears away from this place. The 6.2 square kilometre island has stunning cliffs that form a perfect breeding ground for aquatic birds. The most common fowl here is the Atlantic puffin, a bird so adorable it's worth travelling to Runde Island alone for. The puffin season lasts from April to August, and the best time to see them on land is just before sunset. Around this time, parents return to their chicks with the catch of the day. Runde Island has some exceptional hiking routes, giving visitors the chance to get very close to the cliffs and the birds.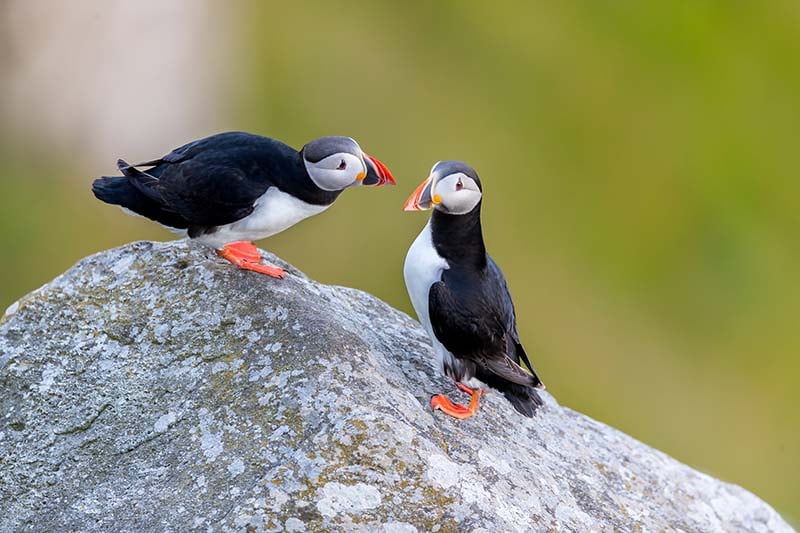 Summary
Norway is known for its legendary landscapes, from the imposing fjords to mountain massifs and waterfalls. Whether you wish to dream away under the Northern Lights on the Lofoten Islands or to say 'hi' to seabirds on Runde Island, Norway won't easily bore you. However, some of the country's cities also wouldn't look odd on your travel itineraries, as they pack heaps of exciting architectural wonders and museums.
Tours and Activities
Start Booking
We recommend the below options to book your hotels, activities, flights and other transport:
---
Please note that we get a small commission if you purchase via our referral links. We use this to invest in new content and improving this website.
Related Articles