Book your trip to Toronto and experience one of Canada's best cities. Located towards the centre of the country away from the coasts Toronto is easily accessible from cities across the USA border, as well as internationally through its Pearson International Airport.
Some highlights in the city include the Toronto Islands, the parks and beaches, views from the CN Tower, museums and top restaurants. What's more, the majestic Niagara Falls is easily accessible from the city giving you an even stronger reason to visit. Still not convinced? Then read these other top reasons to visit.
Below you will find tours and activities that you may like during your visit, as well as an interactive map to help you find accommodation. You'll also find our suggestions of top hotels you may like in Toronto.
---
Accommodation in Toronto
Find your perfect Toronto accommodation using this interactive map.
You can search for both hotels and apartments. Use the filters to adjust your search such as dates, number of guests, cost and more.
Note: Please wait a moment for the map to load as well as the suggestions of places to stay. Sometimes you may also have to just move the map slightly or zoom into your desired location to see additional properties which are available.
Click the buttons below to visit booking.com or hostelworld.com to find more accommodation options:
---
Accommodation Deal
Here is a deal that you may like:
ADVERTISEMENT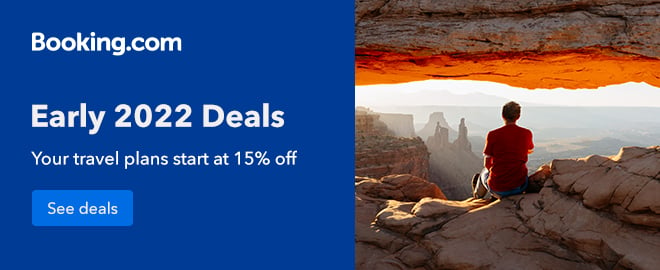 ---
5 Top Hotels and Places to Stay in Toronto
Here are 5 great places to stay in Toronto:
---
Top Tours and Activities for Toronto
Here are some top tours and activities that you may like for Toronto. These are provided through our partner GetYourGuide. You can also use the blue-button a little below where you can be more specific with your search, including adding your dates, filtering by type of tour and many more options.
---
Airport Transfers
For transfers between your accommodation and the airport then have a look on HolidayTaxis for options.
---
Ground Transport
Below are services for finding transport. Head over to their site to start your search.
---
Our Articles on Toronto
Here are some recent articles about or that include Toronto:
---
ADVERTISEMENT
CONTINUE BELOW
5 Top Reasons to Book a Trip to Toronto
Why should you book a trip and visit Toronto? Here are some top reasons:
The Toronto Islands – Offering skyline views, beaches and even a theme park the Toronto Islands is one of our favourite places to visit in Toronto. Head here at twilight to enjoy stunning views of the city or visit in the summer to simply relax on the beaches.
To enjoy a game – If you like your sport then Toronto has you covered. Watch top sports events in the city from baseball, ice hockey or basketball in some of the city's top venues.
Niagara Falls – Toronto is only a short distance to Niagara Falls making it a great place to base yourself and visit one of the world's best waterfalls. To learn how to get there read How to Get to Niagara Falls from Toronto.
For the CN Tower – Wherever you go in Toronto you'll likely see the CN Tower. If you have a head for heights then be sure to head up the 553-meter tower for top views of the city, or if you prefer then just enjoy from the street – especially at night when it lights up.
For top dining experiences –  Toronto will be sure to provide you a delicious experience with top restaurants and places to dine throughout the city. What's more, the price of food is very reasonable meaning you can get a lot of great quality dishes without breaking the bank.
Read more: 7 Top Reasons to Visit Toronto
---
Want to book somewhere else in canada? You can use the button below to go back to the list of places.